Records pre the Cherwell League are a little sketchy (as indeed are the earlier years of our time in the CL), however all recorded runs and wickets in the league since 2004 are listed here and the top ten performances since the Cherwell League merged with the Trinity League (1994) are shown below. If you have any definitive data that is not listed, please get in touch by emailing here.
You can access cumulative performances for the last 5 years (all runs, all wickets, all catches and top partnerships) by clicking here
A short description of recent seasons is listed below and to access the stats for that year, click on the year number.
For a full list of all league hundreds and 7 fors click on the Honours Board here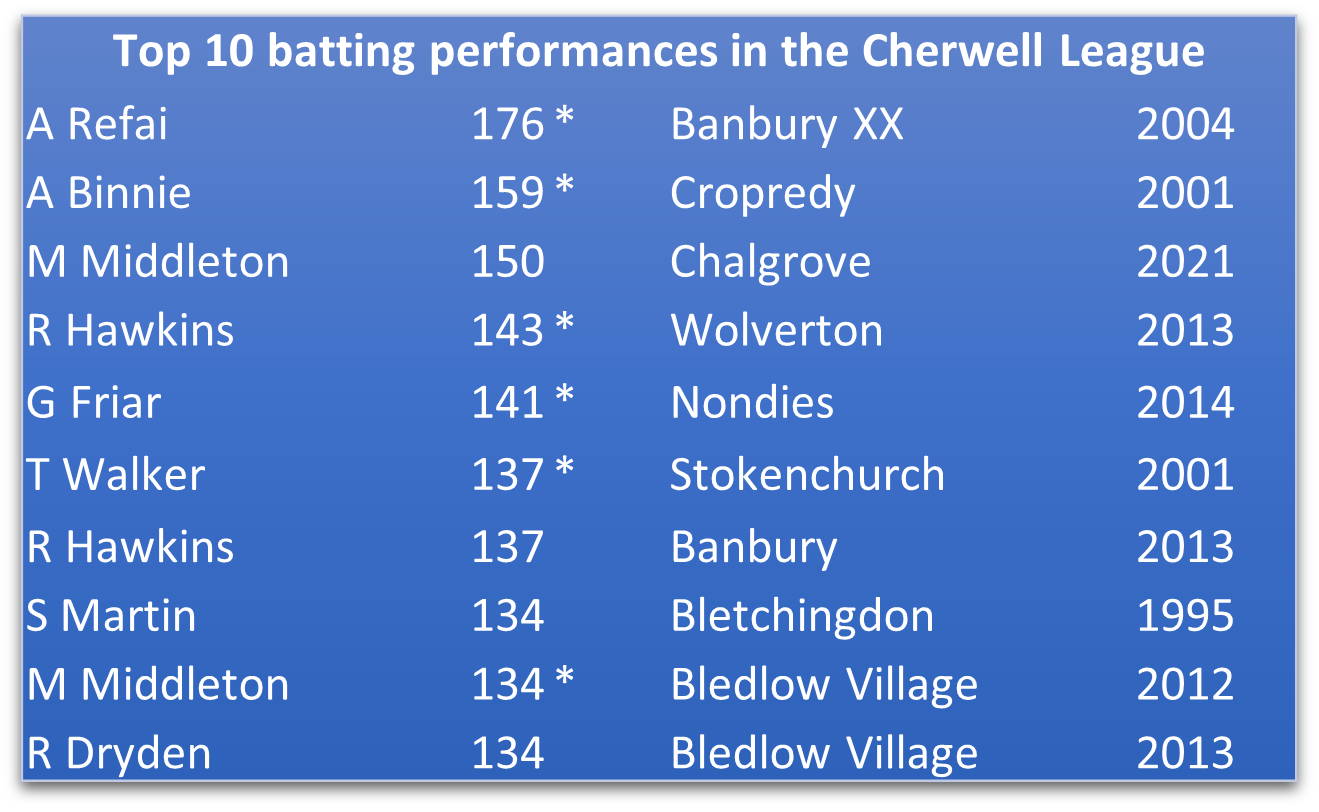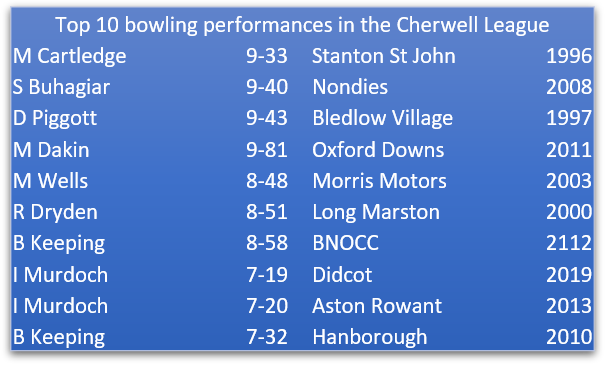 So what did you do during lockdown? Some people learnt to knit, some learnt Spanish and the rest rebinged GoT and the Walking Dead. Taggart and his cronies at the Cherwell League however got really bored so decided to merge the two biggest cricket leagues across 5 counties, double the team roster, triple the player roster and construct an entirely new 17 division, pyramid structured set up. Passed the time I suppose.
The result was that the 1s found themselves in a new 2 division Tier 4, where they were the lowest ranked CCL team in the tier and the 2s were in a regionalised division of Tier 7, with just 2 of the teams they had finished above in 2019 (remember 2019? It was when you could see the whole of people's faces unless they were robbing you), 4 that had finished above them and 3 from the OCA we knew nothing about. On the face of it, survival looked a legitimate target for both teams.
We had organised an ambitious (by previous seasons' standards) pre-season programme of a game 2 weeks before the League started and a double header against Risborough the week before. When we sent out the request to find out who would play in the first, the answer was .......... everyone! Lockdown was virtually over, but there were still enough restrictions in place to make the prospect of 6 hours out of the house the best offer anyone had had in 18 months, literally. A Sunday fixture was hastily arranged and an additional game for the following weekend which saw 31 players represent the club over 2 days.
The embarrassment of riches continued into the first League games, leading to some awkward selection conversations, however the 1s had identified the first three games of the season as an opportunity to get off to a good start. The weather gods however had clearly been bribed by the Groundsman's Association ("Bake it hard all week so it's a great track and then chuck it down all day Saturday so no-one can play on it") and the Long Marston game never started, the Tiddington game didn't finish and it wasn't until game 3 that the 1s were able to eke out a well deserved victory against Westcott, who would become the early pace setters in the division. There then followed a difficult run and it wasn't until week 8 that the second win arrived and heralded the start of a 4 game winning run (would have been 5 but for the reappearance of the rain), which all but assured the 1s safety in the division. It was backed up with a couple of wins in the last 2 weeks to finish comfortably in mid table in some strong company.
When Dakes jokingly commented that even Taggart couldn't get us promoted from 6th, the reply was simply, "Leave that one with me".
Perhaps more impressive than the results was the availability. Debutante Mike Winson (Winny/Whinny/Ray. Really? We need to do better) opened his account with a 70, got 2 more 50s and finished just south of 350 at 33.9. He also doubled as the Pied Piper of Speen leading a steady stream of new recruits. Most of the club, didn't even know where Speen is (it's just north-west of the stomach). One of these, Toby, started with a 50 in a Sunday game, followed by a 50 for the 2s and then went on to top the 1s batting averages with 205 at 41. Alex started well, lulled a bit and was getting better and better as the season closed, Sam and Dakes were steady and Birdie made the 1s only hundred and was promptly donated to medical science.
With Dakes down to a 4 pace run up, the bowling was a slight concern but a couple of early games from Cooperman and the return of RAJ in July ensured there was some firepower. It was BFFs Hollywood and Gilet however who held it together with the former bowling some hostile spells (25 @ 13.16) and the latter metronomically accurate (again) and running through a couple of teams to finish with an impressive 33 @ 15.21. Sufi played 1s all year and returned decent numbers in a season where his development was probably more important than his outcomes.
The 2s managed to dance between the raindrops and got all of the first three games in. A team that was too good to include Martin Middleton (9,306 CCL runs, currently ranked 4th all time), saw off Thame in game 1 and pulled off an unexpected win against Tetsworth in game 2. Despite an availability hiccough in game 3, the 2s won 6 of the first 7 games, which included the prodigal Midds follow up his 70 against Dinton with a career best 150 against Chalgrove, and it was week 9 before we were ousted from top spot in the table. This was in no small part thanks to the mountain of runs that Chesh was accumulating (359 @ 44.88, including 4 50s) which would have been more had he not been pinched by the 1s often enough to finish 5th in their averages as well as third in the 2s'. Fats bashed off 278 (with very few quick singles) and Wellsy, Birdie and Rolfie all made significant contributions and a late in the season reappearance of Ben Keeping saw him annihilate Westcott's attack for 103 and dish out similar to Long Marston (73*) where he was only denied a hundred when we ran out of runs to chase. Newcomers, Toby (as above), Al Scott, Stu Podmore and Jon Gardiner (who remarkably is not from Speen), all chipped in, but the biggest cheer of the year went up for James Dow, aged 14, when he raised his bat for his maiden 50 in the last game of the season.
Our bowling proved highly penetrative in win/lose cricket, but after skittling Chalgrove for 70 odd in the first win/lose/draw match, we failed to bowl anyone else out until we were back in win/lose. The explosion in Taggart's knee that saw him out for 6 games was partly responsible for this despite valiant efforts from Fats (16 @ 22) and Hilarious (10 @ 32), and a very solid season from Taj (83 overs, 8 @ 46), who became a highly reliable death bowler by the end of the year. Taggart remained the top wicket taker with 17 (@17) and that is never going to be enough to win a division, however we produced some excellent team performances and held on to 3rd to be promoted by some 48 points.
Fats spectacular catch in game 1 at backward point looked nailed on for catch of the season, but was run very close by Jovan (twice) and Taj and was symptomatic of a good year in the field.
James Dow's and Taj Angell's efforts in the 2s were a credit to the junior academy and the emergence of George Caille at the end of the season, who showed great wheels for a 14 year old, promised much to come. There were league debuts also for Max Modray-Lane and Malekei Shard, both of whom will surely feature next year.
For all the season's number, click here.
Right .... well that was a funny old season. Nets were underway and all was going well back in March when someone sneezed in a market in China and we all got locked down .... completely. No more nets, no more meetings, no more anything that you couldn't do in your own house and by the way, no-one else is allowed to come in. By the end of April, the question "Do you think we'll get started on time?" was giving way to "Do you think we'll get any cricket at all?" By mid-June things weren't looking much more hopeful, although we were now allowed to net (with one other person and remain 2m distant), but as our esteemed PM declared the cricket ball a ''vector of disease' the prospects of playing any actual cricket seemed to disappear completely. Turned out Boris knew about as much about that as he did about ... well anything else really and when the Chief Medical Officer was asked, suddenly the official line was "Cricket? Yeah I suppose that would be OK, but no showers, no changing rooms, no teas (unless you bring your own), wipe the ball down every 6 overs, sanitise your hands and don't hug anyone if you get a wicket, which will be increasingly unlikely as you are not allowed to shine the ball, but if you do all that you can start on the 11th July". This announcement went out on the 8th July, giving the League 72 hours to devise and implement a completely new season.
Promotion and relegation were shelved for the year and we were split into tiers with a view to playing 7 League games against (slightly) more local teams, followed by a play off match on the 8th week of what was left of our season. The 1s were put in a tier with mostly teams they had been involved with in 2019, but the addition of division 4's Tiddington 2. The 2s were thrown in with 6 teams that had finished between 7 and 16 places above them in 2019, and one that had finished below; Kingston Bagpuize (so not completely local), who we had inadvertently played on the 11th in a friendly.
The 1s, perhaps slightly less motivated by the lack of the promotion incentive/relegation threat, started slightly off the pace but were well on the way to anihilating a severely weakened Tiddington when the heavens opened (not a drop of rain during lock down by the way), but turned a corner when pitched up against Bledlow Village whom they soundly spanked. A further win against Dinton secured 5th place in the tier but we were once again a victim of being rained off against the team that everyone else thrashed and would have undoubtedly finished higher had it not rained aginst Tidds. The play off game against Challow was one way traffic (in our favour) so the season finished as about a B-. That final game saw a maiden 5 fer for virtual debutant (he did play one game in 2019) Robert Lllewellyn Merigold Posh-Bloke Armstrong-Jones, aka Birdie's Bitch, who had done enough practicing during lock down and after to raise the 1s average level per player to about 4 hours a week (from 15 mins). it jumped up abourt another hour when you took account of actual debutant Shorty, a man who it seemed was playing cricket for 4 clubs in 5 counties about 9 days a week but still seemed to find time for a job and a good 8 hours a week of netting. The aforementioned game also saw the well deserved 1st team debut of Sufi who helped himself to 3 wickets on his first outing with the grown ups.
On the pitch, we were delighted to welcome Hamsah back into the fold and although he never quite tee'd off with the bat, he mixed spin and seam to finish top of the bowling averages. Alex Perry topped the batting with a couple of big knocks and Rolfie and Brooksie did what Rolfie and Brooksie always do. Dakes had one big dig against BV but in the lockdown period had managed to find an entirely new injury so didn't bowl much. Hollywood was highly acrtive in WhatsApp but totally invisible anywhere else and Gilet wheeled away manfully in a type of cricket less suited to him than the longer version. We had the unexpected presence of Cooperman who made almost as big an impression on the pitch as he did with his guitar post match and Hugo spent probably more time batting in the nets than in the middle which just goes to show where practice gets you.
The 2s started well with a comfortable victory over Shipton and a narrow defeat to Abingdon. They lost comprehensively at Nondies, but remained competitive in every other game and finshed with 2 wins, 3 losses, 2 of which could have gone either way, and lost 2 to the weather (one against the top team and one against the bottom, so that was probably fair enough). We amassed a good clutch of bonus points at Aston Rowant and thus secured 4th place in the tier, which, given the company we were in, was probably worth about a B+. Our reward was a play off game against a tier 4 side (not sure how that worked) where we came second, but gave a decent account of ourselves.Jovan had a good season with the bat and topped the averages thanks to a consistent level of performance and got his first 50 for the club. Chesh didn't get the 'flattening the curve' thing at all and started low, peaked with an excellent 62 at Rowant and finished with a duck, but added a decent amount to his run total and Geoff got runs most times he went out. Bowling was harder with only 40 overs an innings and a ball that you weren't allowed to look after properly, but Taggart was particularly miserly at the start of the season and found enough 12 year olds and girls to rack up 15 wickets in the shortened season. Sadly no-one else got (close to) double figures but the return of Al Loxton and Jim Cornish were very welcome.Taj, Carter, Tom Hickey, Lewy Miller and James Dow all kept the U15 and below flag flying in the 2s and the challenge for 2021 will be to get them all playing more regularly.
We played at least as many Sunday games this year as any other, if not more than most years and got a number of the younger kids out for senior debuts. Tilly Fellows, Tor Ramsden, Olly James, Anoushka Modray-Lane and James Dow all did well in the games they played in and perhaps we are starting to build that long awaited bridge between junior and senior cricket.
It is safe to say that it was not the season we would have chosen, but it is one that should be remembered as a good one for the club. If you come out of a year like that better than you went in, you must be doing something right. For all the numbers, click here.
A season that started in the tragic shadow of the death of James Goodband, Hairbear to those who knew him, saw several players playing in his memory and although the goal of winning the League for him was to be beyond the 2s, there was much good cricket played.
Having been declared champions of div 6 in 2018 by virtue of having won more games than Challow (after Challow had been deducted 3 points for over bowling a bowler), the 1s opened their div 5 campaign against the same team and narrowly lost a low scoring game. They were robbed by the rain in game 2 and recorded their first win at Leighton Buzzard when Hamzah, revelling in the pinch hitter role, lit up the innings with 75 of the opening partnership of 91.Hamz was also experimenting with some very effective left arm spin and picking up wickets, but sadly went off to pastures new after 6 games. There were 5 further wins in the season, but also 4 high scoring draws (in terms of points), and while we were never seriously in contention for promotion, we were also never in any great danger. Alex Perry was the best kept secret in the 2s for just 1 game before being extracted to the 1s and making his maiden 100 in his second outing and he went on to make more runs throughout the season. Rolfie was consistent throughout, finishing as the highest scorer for the season (393) and also made his maiden hundred in a run fest at the Ridge as we piled on 343-3. Dave Wells made it 3 tons for the year with 114 and there were a further 9 innings of 50 or more.
Dakes was taking wickets for fun in the early part of the season, reaching 38 after game 14, but adding just 1 more in the last 4, however as the wickets dried up, the runs flowed and in the same 4 games he added 173 including 2 50s to finish just short of 300. Jai Angel had some promising innings in the top order without ever really going on, Birdie topped the averages with some consistent late order batting and despite an attempted assasination by Junaid's bullet arm, Gilet continued to be metronomically accurate with the ball. Junaid and Hilarious provided important contributions with the ball and Cooperman's busiest season to date saw him pick up 20 wickets including his first 5 for. With Cooperman, Hollywood, Hugo and Midds all playing regularly, and a couple of appearances from Gorgeous George, we were the self declared tallest and best looking team in the league, but this yielded precisely no points so we had to settle for 5th position.
The 2s achieved the same finishing League position, but took a very different route, winning 10 of the 18 games. 2 wins from the first 2 weeks of the season after The Real Saint (61*) and Dales (48) rescued the batting at Didcot, were then followed by 3 consecutive losses against what proved to be the top 3 teams in the League. There then followed a 4 game winning run (including a forfeit by KBCC) to put us right back in the mix, but despite beating Cumnor in the return match in a last ball nail biter thanks to Carlton smacking 49*, losses to Kimble and Thame left us too much to do and we lost touch with the top 3. The Real Saint and Taggart traded places at the top of the batting averages with Taggart finishing with the highest total (230) including 2 50s) and TRS the highest average (24.67). Shaun chipped in as the only other batsman to pass 200 and the return late in the season of the legend that is Geoff Tombs provided some fire at the top of the order. Guest appearances from Midds, who got the 2s only ton of the season, Wellsy and Birdie helped prop up some of the scores, but apart from the above, only Chesh and Jovan passed 100 runs for the season.
The bowling showed a lot of promise in that there were a number of younger players making good contributions. Shaun was too intimidating for a number of teams with the new ball and Sufiyan became his regular new ball partner. Carter Holbrook, Charlie Carter, Taj Angel and Tom Hickey have a combined age lower than Taggart and all looked good longer term propects, However Taggart was the only bowler to go past 20 wickets (30 @ 11.23) and despite contributions from Carlton, TRS and Shaky, we were always a little short of league winning penetration.
Overall it was 2 top half finishes and that was probably about right. If the youngsters keep improving and the geriatrics keep contributing, the goal for 2020 has to be to do at least as well. For a full breakdown of the season, click here.
What a difference a winter makes, although it didn't feel like it at 4.30pm on the first game of the season. Playing in our first ever win/lose league game at Challow, we had bowled pretty well to restrict them to 226-6, but then found ourselves 12-3 with Rolfie, Hairbear and Hollywood back in the hutch and Keeps lucky to have none having played a horrible swipe at his first ball. That however was the last derogatory thing anyone said about Keeps' batting for the next 17 weeks. He got himself stumped on 98 admittedly, but by the end of the year had passed this number twice, added another 90+ (and 3 more 50s) and built a mountain of runs (779). New skipper Dakes chipped in admirably with 400+, Birdie got more than anyone can remember him getting before, Brooksie had a quiet season but still topped 300 and after not being able to buy a run in early season, new vc Samdog bashed 132 in his last game. The 1s topped 300 on 4 occasions peaking at 382 against Sandford and if you wanted an entry in the top ten batting performances, your opening gambit needed to be in the 90s. Hollywood didn't make it on to that particular list, but did pass 50 on 3 occasions. When the availability spectre raised its head this year, instead of raiding the graveyards, we called on Gorgeous George and Midds and they dutifully piled on some more runs.
The bowling was less dramatic and not having to bowl sides out in the win/lose format definitely helped. There was a little concern when Taggart picked up an injury in week 2 that would ultimately prevent him bowling for the rest of the season, but Gilet moved up and took over the mantle of measley bowler of the year, taking 25 wickets with an economy rate just over 3. With just 3 weeks left, the peculiarity of the rain rules meant that we had lost just 1 match, beaten Challow twice, but were still behind them, however the aforementioned 382 in week 17, inspired by a record breaking partnership of 236 between Keeps and Sam, secured promotion with a week to spare. Going into week 18, we were still 3 points behind and when the results came through confirming that Challow had won, that seemed to be it, but then it transpired that Challow had over bowled a bowler by one over (we know your pain). They were now subject to a 3 point deduction in line with a rule that had been proposed 2 years previous by .....us. With more wins, that would make us champions, and after an agonising wait while the Cherwell league committee investigated, we were finally declared to be so.
The 2s however did suffer from Taggart's injury. The loss of Gilet to the 1s in week 3 and Taggart's inability to replace him (through injury) left the bowling cupboard a bit bare. We saw a hint of what might of been when on the day we played the weakest team in the league, we fielded our strongest team of the year, with Hari Balakrishnan and Junaid bowling out Nondies for a poultry 40. Alas, this was to be Hari's only game and Junaid was whipped up to the 1s shortly after and we never had the firepower to finish off some better batting than the previous season. There were some notable highlights however. Shaun Dryden got his maiden 50 against Thame in a partnership of 138 with Dave Maunder and we had our youngest batsman to get a maiden 50 (Jai Angell 91 (14 yrs old)) get it on the same day as our oldest batsman to get a maiden 50 (Taggart 91* (56 yrs old)) as we smashed Stokenchurch for 233-3. Ironically, this was the day the bowlers fired and when the heavens opened, we had Stokey 96-6, but that was a fair assessment of our luck generally. Chesh got a couple of hundred runs in his first full season back and was the only batter to pass 50 twice in the year, and Fahan was consistent throughout, topping the runs total without ever passing 33, until week 18 when a well constructed 68 took the 2s to an exciting climax to the season with a game drawn with scores level.. We were glued to 8th place, some 70 points clear of 9th and at time of writing we await the League's decision on how many new teams will be admitted, and how many will be thrown out before we will know which division we will be in next year.
It all started so well! Week 1 was a 50 pointer, with Hamsah rescuing an abject top order performance to post a competitive 159 at Cropredy, which Dakes and Taggart never gave them a sniff of. Lord Keeping was unable to travel further than 50 yards and so smashed 66 for the 2s so that Ben Hillary could chip in with the remarkable figures of 5-4 to wipe out Buckingham. Strong middle order batting for the 1s (including Dakes' maiden 1st team hundred) against Abingdon Vale in week 2 got us a strong draw and after week 3 was washed out, we recorded an excellent 6 wicket win at Long Marston. Our middle order however was masking problems with the top order and eventually we ran out of recoveries and luck and went on a horrible run of 14 games without a win, and just one high points scoring draw. As the mid season came upon us, availability problems were never far away and had Tew 4s not forfeit against our 2s, we would have had to. The 2s had kept their momentum a little longer, winning games 3,4 & 5 and took decent points in subsequent losses, but the biggest problem we faced was the form of our top order in the 1s.
There were brief glimpses of hope. Brooksie had missed all the games we won with a foot injury, and having not bothered the scorers in his return match, went on a decent run with a couple of mid 40s and a 50. Sam chipped in with a 60 and Hollywood got a few, but the end of season stats would show that only Dakes would pass 300 runs for the year and he got 190 of those in the first 5 games. The bowlers never had much to go at, but nevertheless Dakes and Taggart still toiled away for 53 wickets between them, but we lost Hamsah for 6 of the last 7 weeks, which made it a grind. We weren't helped by the fact that we lost just 2 games to rain, both of them against Oxford, who everyone else hammered.
After a mid season dip, the 2s came back with wins over Cumnor and Shipton, but when forced to forfeit against Didcot, the resulting penalty 5 points, plus whatever we would have got from the game had we played, left them precariously placed in 8th. Mike Gillet stood alone as a bowling force, taking 31 wickets, before being drafted into the 1s where he picked up a few more, and even a few late performances from the legend that is the Shakester couldn't drag it around, but the batting was the real problem here also with not a single batsman getting over 150 runs for the season.
At the end of the season, the Cherwell League opened its doors to a couple of extra clubs, so relegation went way beyond the standard 'one down' and alas, after a season where we had managed to keep both teams where they started, both went down.
After 7 consecutive seasons in which one or other of the teams ended the season leaving the division they had played in (mostly through the trap door), we finally had a year where both teams achieved the giddy heights of mid table mediocrity. The 1s had a calamitous start to the year, losing game 1, forfeiting game 2 on account of Taggart's inability to count to 17 and being washed out in game 3, but came back with a strong run of 7 games during which they won 4, had 2 strong draws and lost just 1. Brim full of confidence, we then proceeded to throw away the next 4 games, but recovered well to beat Didcot in game 15. The last 3 weeks of the season were all affected by rain, but we got 2 good draws from 16 and 17, but soaked through and washed out at Horspath in September.
Phil Brooks had another strong season with the bat, passing 50 on three occasions, but on discovering that the price of a jug had increased significantly since his last ton, thought better of converting his 90 or his 70. Upset at missing out, Dakes, who was enjoying an elevated position in the batting order for a change, decided that if Brooksie wasn't buying, then neither was he and got out once in the 70s, and once in the 80s. John Rolfe could barely buy a run at the start of the season, couldn't stop scoring them in June and then put the brakes on for a gradual deceleration through July and August.
Our bowling attack looked a little short with the disappearance of Hari and Rory and the liklihood of Matt Donnelly not being around much, but the introduction of Hamsah, who had played a couple of games as a 15 year old two years ago, added some venom and Matt Brightwell was finally prized out of his mate's 2s team and as his injury improved, so his bowling became a genuine threat. Taggart and Dakes toiled away manfully for well over 300 overs between them and finished level on 27 wickets (much to Dakes' disgust) with Hamsah just 1 behind. The highlight of the year bowling wise however belonged to the youngster (that's Hamsah Dakes in case you were wondering), who took a 6 for at Leighton Buzzard, including a hat trick that very nearly turned a rubbish score into a winning one.
The 2s were, as ever, hostages to availability, and despite the fact that we still had to forfeit 2 matches, the situation was better than in previous years, with several weeks actually requiring us to select sides. There were encouraging performances form the gradually emerging youth policy. Hairbear, who we should probably now start calling James on account of him not being 6 any more, smashed 70 odd in his first innings, Ben Hillary scored consistently, and Jai Angell proved that if you're good enough, you're old enough, even if you are only 12, and got runs and wickets. New captain Mike Gillett and debutant, David Saint were taking wickets for fun but in the early part of the season, the batting remained fragile. Enter Shaky with a match winning 55, Lord Keeping with a match winning 107 and latterly Mohsin, who after a bit of a run in the 1s decided that hoovering up wickets and smashing hundreds in the 2s was much more fun (are he and Shaky related?). All the while, Sniff wheeled away, opening the batting every week (except when kidnapped by the 1s) and finished top scorer in the 2s in his best season for 11 years. The 2s finished with a secure 5th place and much optimism for next year.
Whilst there are obvious performances which grab the attention, there were 2 in particular which I want to highlight. At a point in the season where the 1s were not scoring heavily, James Goodband's 32 no against Didcot in a low scoring match was the platform that set us on the way to winning. Ben Hillary's 11 no for the 1s at Kingston Bagpuize, was by no means the highest score in the innings, but he batted through with the tail for 13 overs during which we added 80 odd to secure a decent total, showing a maturity well beyond his years.
The priority for 2015 was to halt the slide and this at least was achieved in the first team with an exciting last match victory against Long Marston securing 6th place in a division where all outcomes were still possible with 4 weeks left. We started the season with a barrage of runs but failed to convert these to wins in the first half. New recruit Rory Spiers passed 50 five times and on the 6th occasion got a ton in the last game on his way to 515 runs for the season. John Rolfe (372), Phil Brooks (254) and Simon Lloyd (249) made important contributions and Steve Bird was averaging over 50 before he got injured (I know, Birdy injured! Hard to believe) Wickets proved hard to come by on the early season batter friendly pitches, but Ian Murdoch plugged away for almost 200 overs and picked up 38, with support from Mark Dakin (15), Matt Donnelly (17) and Rory again (18).
Life was less comfortable for the 2s, who despite some fine individual performances from Rob Hawkins (95), Sam Rolfe (94), Vajid Idrees (6-41), struggled with availability. Most of the season was spent at the bottom of the table, but an excellent win away to Abingdon in the penultimate fixture and a walk over in the last match saw them finish 9th. Alas, at the time of writing it looks unlikely that this will be enough to stave off relegation. Newcomer Hari Balakrishnan made a big impact with the bat, passing 70 on three occasions and also picked up 16 wickets. This however installed him as the highest wicket taker in the 2s and although fellow newcomers Gary Tarr and Mike Gillett bowled with some promise, the team did not have enough penetration to win the key matches. Full details of the season are here
A difficult season for both sides with the 1s relegated from div 4 and the 2s from div 6. We were however competitive in both teams on many occasions and persevered with a conscious decision to push youngsters through the system. The resulting performances of Joe Mannion (5-46 against KB), Shaun Dryden (5-44 against Challow), James Goodband (59 against Challow) and Jake Easton (7 wickets @ 36 and averaging 25 with the bat), alongside the emergence of Efan Morris and a few others, suggested that there is much to look forward to. An exceptional year for Russ Turner, who made 464 runs at 42.18 (incl. 119*) and solid performances from John Rolfe (289 @ 22.23 across both teams) and Ian Murdoch (27 wickets @ 20.48 ). Mark Dakin also scored a hundred for the 2s against Long Marston. Click here for the season breakdown.
Some early season instability set the 1s off on the wrong foot, and despite being competitive on many occasions, a lack of a bowling penetration left us with a mountain to climb and we were relegated from div 3. The 2s, fresh from being promoted, had a solid season with some excellent performances (Rob Hawkins averaged over 60 including 2 hundreds, a hundred for Richard Dryden and Ian Murdoch took 7-20 and 6-26). For a full breakdown of results and averages, click here.
An excellent season for both sides. The 1s were in the mix for promotion from division 3 right up to the end of the season, and despite a wobble at the end of the year, the 2s secured promotion to division 6. Ben Keeping starred with the ball, taking an 8, 2 7s and a 6 on his way to 38 div 3 wickets, and Paul Brezezcki's 11 wickets in the 2s took him to 40 for the year. There were hundreds for Martin Middleton, Conor Taylor and Phil Brooks in the 1s and Rob Hawkins in the 2s. For full results and averages, click here.
A steady year for the 1s but a lack of availability and a sudden change of heart by the league on numbers up and down saw the 2s relegated from 9th in the division. Martin Middleton and Phil Brooks scored heavily for the 1s, and wickets came predominantly from Mark Dakin and Paul Brezezicki. In the 2nds, John Rolfe and Doug McIndoe were the main contributors with the bat, and Malcolm Ashby and Ian Murdoch toiled away manfully with the ball, but we didn't take enough wickets to survive in div 6. For 1s averages, click here, and for 2s here.