2022 Junior season opens 29th April at 6pm
Newcomers welcome.
You can register and pay subs in advance online for Junior Academy here,
We are very much looking forward to welcoming all the players and parents back to Bledlow Ridge Cricket Club from Friday 29th of April for a jam-packed summer of cricket and socialising. We have so much going on, here are some highlights:
· 7 mixed and 3 girls teams entered into Bucks league and cup competitions
· Over 115 matches with 60 games at Meadow Styles Playing Field
· ECB Level 3 qualified Richard Langan has been appointed as Junior Head Coach, leading the coaching for all age groups
· An extended BBQ menu every Friday night providing a more substantial food offering for hungry kids and parents
· The bar will be back to its pre-COVID best.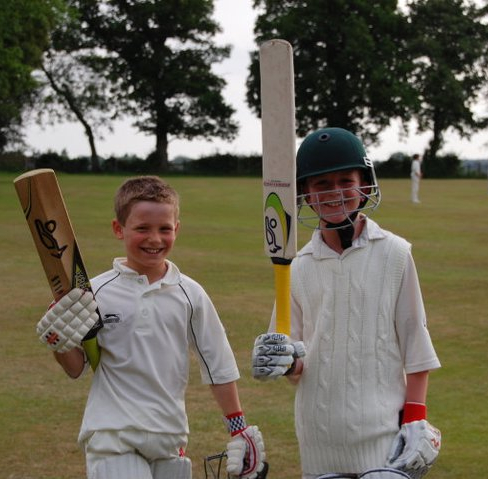 2022 BRCC Junior Membership
Bledlow Ridge Club Juniors registration is now open for our 2022 season. Due to the growing popularity of the junior section, numbers are limited; priority will be given to paid-up members from the 2021 season.
Register now at https://go.teamsnap.com/forms/310195
Please DONT register if you are interested in younger players programmes; for All-Stars and Dynamos, see below.
Training starts on Friday 29th April and runs through the school summer term to Friday 15th July. Following that, every Friday over the summer holidays there will be social events such as parents v kids matches and friendly matches v local groups.
What you get:
· 13 ECB Qualified Coach led training sessions
· Bledlow Ridge Cricket Club Junior teams play in league and cup fixtures in the Buckinghamshire County leagues and cups. Over 130 games over the summer.
· Older and more capable players are invited to play for the new Bledlow RIdge Senior Development Programme and into the senior squad.
· New junior focussed cricket training equipment at the club.
· Regular BBQ on Friday evenings, weather permitting.
· The clubhouse bar is open to all our members when a senior match is on and Friday evening
· Use of the nets at Bledlow Ridge Cricket Club when there is no game or senior training
Timings for Friday nights at Bledlow Ridge
Age
All-Stars Y1 to Y3
Dynamos Y4 to Y6
U10/Y5
U11/Y6
U12/Y7
U13/Y8
U12/Y7 & U13/Y8
U14/Y9 & U15/Y10
U14/Yr9 & U15/Y10 boys will train on a Wednesday evening
2022 Membership Fees
· All Stars £50 - register direct on the ECB website https://www.ecb.co.uk/play/all-stars
· Dynamos £50 - this programme is full
· All other juniors - £90, 2nd child discounted to £70, 3rd child discounted to £50.
Parents of registered children will receive a free social membership giving access to the bar and BBQ.
We also offer discrete membership assistance; please get in touch via email.
Junior Kit
We will continue with coloured playing kit for 2022 for all teams (expect for the U15 boys who will continue with club whites).
Kit can be ordered from https://www.hawkinsport.co.uk/clubs/cricket-clubs/bledlow-ridge-cc Hawkins Sport will attend the first training session of the season on Friday 29th April. If you order kit before that date they can bring it along that night.
2022 Managers and Assistance
The club runs on the goodwill of volunteers and we are looking for more assistance, specifically new U9 and U10 parents and help with our ECB All Stars cricket.
Team managers will need support; each game will require a manager, umpire and scorer - all easy tasks.
Age group managers
All Stars Richard Langan
Girls Cricket Anne Dow
U15 Duncan Dow
U14 Dave Bird
U13 Humphrey Grimmett
U12 Savinda Gunawardana
U11 Oli White
U10 David Williams
U9 TBC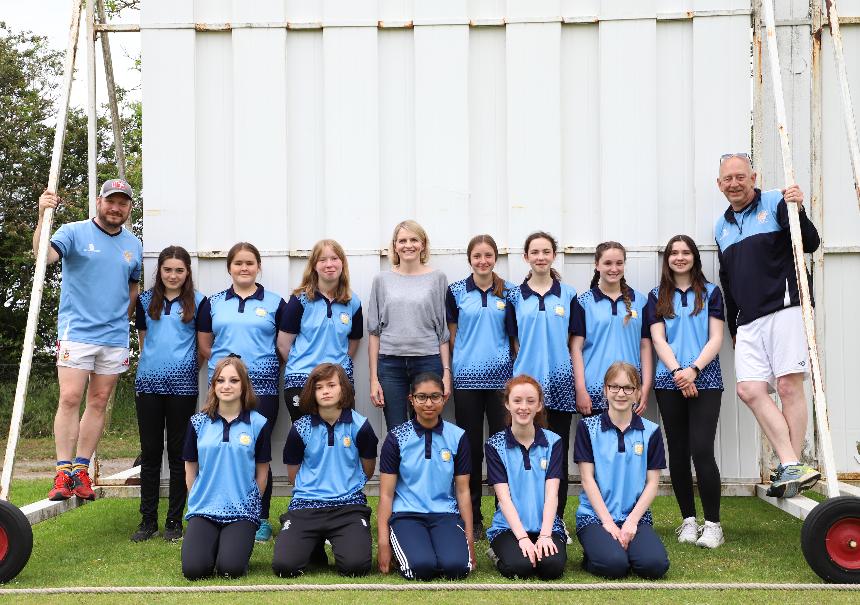 Girl's cricket is one of the fastest growing sports in England, and the Ridge is no exception with over 30 girls taking part last year.
We made our first forray into League cricket in 2021 and our U13s made the semi-final of the cup and were runners up in the County league competition. Our U15s won as many as they lost and produced two county players in the age group.
For 2022 we will be running teams at U15 and U13 (both playing with the hardball) and U11 (windball) and weather permitting, will have over 20 fixtures.
We are always looking for willing helpers and are particularly in need of adult women who wouldn't mind at the very least, doing a DBS check and being present as a responsible adult. If you would like to help, mail Anne here or Ian here.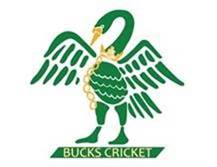 Representing the County
Over the last 5 or so years the club has have proposed almost a hundred youngsters, boys and girls, across a range of age groups into the Buckinghamshire youth county trials process. We are delighted and very proud of the fact that many of them have gone on to be selected to represent Buckinghamshire, including 12 of this year's cohort.
A Typical Friday night at the Ridge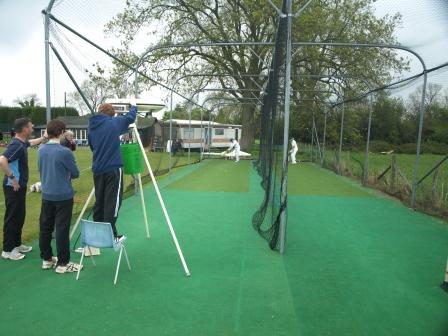 The Bowling Machine
Youngsters typically progress faster with their batting than bowling (hitting things is much easier than putting them where they're meant to be!) and once we're confident that they can take care of themselves at the crease, the bowling machine allows the coaches to precisely control the length, line and pace of the delivery.
The nets are often the first experience the kids have of suiting up in pads, gloves and helmets (don't worry if you don't have all that yet, we have loads of kit) and facing a hard ball (net balls are not as hard as real cricket balls, but you wouldn't want to get a smack without pads on), and is a great place to build confidence
We gradually increase the difficulty and learning capacity in a safe and controlled environment. It's only when one of the kids asks what it's like to face a hundred mile an hour delivery that you'll hear Pam (our Safeguarding Officer) come running across the outfield screaming Nooooo!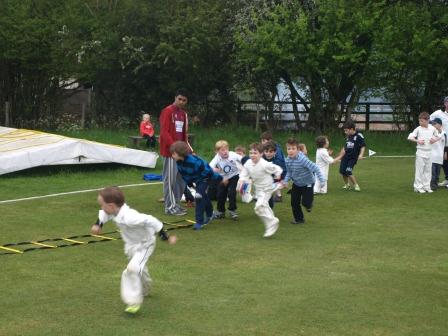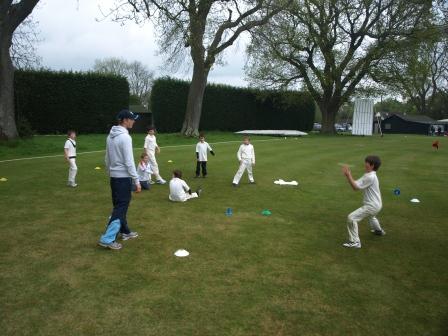 This might look like the start of a fun assault course to you, but actually it's a method of improving pedal dexterity and developing speed, agility and concentration
But if your 7, it's still a fun assault course!
Catching and throwing practice with soft and semi hard balls helps to increase the kids' hand/eye coordination and confidence.
And when it's played as a game of catch/volley ball, it's fun!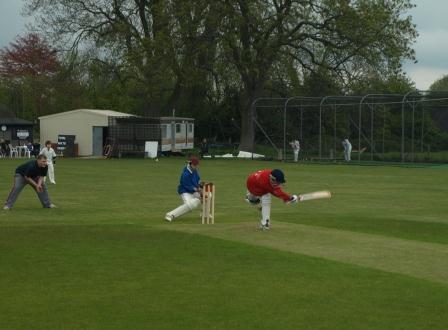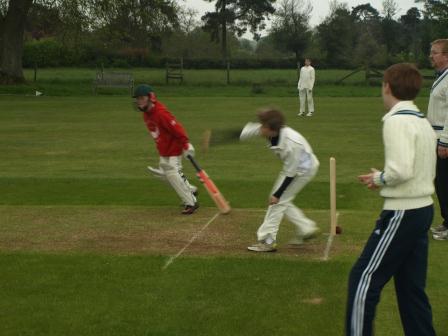 On the Pitch
Once the kids have learnt the basic skills to a level where they can play meaningfully and safely, it's time to don the pads, gloves and helmets and get out onto a pitch to play real cricket.
As well as experiencing the wonders of a real pitch, this gives the coaches (liberally sprinkled around the outfield) the chance to bring the kids game awareness up to speed in areas like calling for runs, backing up and sharpness in the field.
It also ensures that the groundsmen are kept busy