From famine to feast. Another blog. Rolfedog's holiday in Yorkshire must be dragging a bit.
30/4/15
Gazebo Gate
At Juniors on Friday nights we have to know who's there. The answer is a Gazebo, with Tina Carter in it. Nothing else will satisfy the English Cricket Board (ECB) whose representative will be at the club on June 5th as part of our Clubmark assessment.
We get good marks if there is a howling wind with no flaps like on the first Friday session. For 5th June, Tina has kindly agreed to register our Juniors while being pelted with orange peel and doused with water from a bucket. This should shorten our application by at least two months.
Gate Gate
A parent and club benefactor has made a revolutionary suggestion that we open the steel gate at the entrance to the clubhouse on Friday nights. Indeed it is hard to envisage how Registration-by-Gazebo could happen without this, not least because we'd have to be very accurate with the water bucket.
There are times in life when you realize the obvious has been staring you in the face for ever. The Mesopotamians experienced this when they invented the wheel about six thousand years ago and I still can't believe I did not think of the selfie-stick first. But opening a gate…it seems so obvious now, yet without Marcus' initiative the club could have remained in the doldrums for years with a wasted Gazebo and no chance of Clubmark accreditation.
Clock Gate
There is currently no outside clock at the club. Outside clocks are important for cricket matches and for knowing when to wrap up he Friday night barbecue. Last year Ady Summons attempted to solve the rainproofing issue by buying a £5 clock from the market and wrapping it in polythene.
Following its demise, this year we have gone the whole hog by ordering a waterproof clock for £80. It has been tested by Taggart to a depth of 50 feet in the North Sea, but it has one drawback: the hands don't go round. So we ordered a replacement and its hands don't go round either.
So you get a working clock with a polythene bag or a clock capable of surviving Depth Charges from U2 submarines but whose hands don't go round.
What a cLock up.
The third one is on its way. Digital of course.
Net Gate
One of the mobile nets has been dismantled as some of the stanchions have buckled. Fortunately help is on its way. Rob "PoleBender" Hawkins has a vice.
No not that kind, East Europeans have nothing to fear - this vice is attached to a workbench in a workshop. What on earth were you thinking?
Secretary Gate
Change is in the air. The formal gown has been ordered, the anointing oil is on its way and the blindfold has been found. A local farmer has offered up a goat to be sacrificed on the Altar of Taggart and tickets for the swearing-in ceremony will be on sale shortly.
With processes like this, Clubmark should be a breeze. Someone order the orange peel.
Can it be nearly 18 months since the Rolfedog blogged? It seems so, but he's back
1st March 2015
SID
It can have escaped no one's notice worldwide that Sid's funeral took place on Friday. On a wonderful suitably sunny day the church was packed and there were up to 150 people outside. There were warm tributes and bright music and then time together at The Boot.
Not many funerals I have attended have transformed into a Karaoke evening; well not until Friday; in fact I'd say the number was less than one. But this one did and was still going strong well past midnight.
THE WORLD CUP
The number of teams
Yes the Cricket World Cup is a long and drawn-out affair but what does the planned reduction from 14 teams in 2015 to 10 in 2019 mean? There will be up to four teams competing this time who will not be allowed in next. This could mean that promising performances now are ultimately of no value for 2019. And what happens to all that expertise and experience gained? It does not look like the ICC wants to encourage continuous development.
Slow bowling – well sort of
A bowling change is made and the enthusiastic commentator exclaims that the new bowler has bowled a 'slower ball' first up. Pardon me for being a bit fussy but if this is his first delivery, how can anyone say it is 'slower'? Slower than what? Well slower than the commentator thought it would be and perhaps slower than the batsman expected but until we have had an over or two to compare it with it can't be a 'slower' ball – can it?
Lots of sort-of slow bowling
And (call me pedantic) we have apparently had one bowler who was 'only bowling slower balls' at the end. If we take for granted that every bowler bowls slower than say Dennis Lillee or Michael Holding (sorry youngsters, no one really bowls that fast nowadays) then these so-called 'slower balls' are not 'slower' at all. They are simply what the bowler is bowling. And if that's that case the batsmen should not be surprised by another one. Simples.
Is this really batting?
When I turned the TV on last week, New Zealand need 21 to beat Australia with 6 wickets left in 28 overs. If ever there was time to bat as if it was a test match, then that was it. They batted like baseball players lost five wickets and just scraped home with a wicket to spare. When I turned on the TV later in the week, to find England batting against Sri Lanka with the score at 103-3, watching the batsmen pat the ball back or leave it altogether I thought it must be a test match. England lost by 9 wickets.
There's something about batting that frazzles the brain.
Beautiful grounds
Lords, The West Indies (anywhere), Cape Town. Well I have never been to New Zealand but they seem to have the most beautiful grounds in the world - and you can bring your deck chair and picnic, find an area with no plastic seats and set up camp on a grassy area.
They are a bit small some of them. I am delighted that New Zealand is jointly hosting this World Cup but the trouble with small grounds – and this applies to T20s even more than ODIs, is that we see few spinners because even the mishits go out of the ground. OK Brendan McCullum will hit the ball for six anywhere in the world but we must preserve the spinner as a one-day species. Perhaps even England would have the courage to pick one at the MCG… or in the Sahara!
England's Chances
We will beat Bangladesh and Afghanistan won't we? Surely? I mean…we beat Scotland after all.
DREAMING ABOUT PLAYING FOR YOUR COUNTRY
Pam and I recently visited a couple who were once heavily involved at High Wycombe Rugby and Cricket Clubs. Phil played rugby for HWRUFC 1s and for HWCC 3rds at a time when West Indies cricket ruled the world.
Phil is or appears to be, as English as you or I. Well I guess this site has Scottish, Irish and Welsh readers too, so let's say British. We were reminded that for reasons too detailed to recite here, Phil was capped twice at rugby for Norway, scoring five tries in a demolition of mighty Finland. Phil could just as easily be passed off as your typical Viking descendent as your average Great Briton.
What I am trying to say in as PC a way as possible is that one might be surprised to learn that Phil's mum is West Indian.
Now all of us cricket-mad nutters have dreamt of playing for our country and have imagined we are a little better than we are. So it came to pass that as we were all reminiscing about Phil's international sports career he pointed out that "I could have played cricket for the West Indies".
Well it's true that High Wycombe's 3rd X1 was pretty decent in those days and Phil could put in a decent shift behind the stumps or with the bat. Nevertheless I couldn't help thinking, as we shared another bottle of wine, that with the likes of Viv Richards, Michael Holding and Jeffrey Dujon around, Phil might have needed to 'up his game' a bit.
OTHER SPORTS
Rugby and Soccer
Changing to other sports "That was a dreadful dive" opined a commentator on Match of the Day this week "Someone should have a word with him" - to improve his diving presumably?
International rugby coaches keep talking about bringing on their "impact" players. I have always thought that if these impact players are so good they should be in the starting XV. Or is that too obvious?!
AND FINALLY
Nets
…are going really well at Princes Risborough Upper School. They are being attended by those as young as Evan Morris and as old as… on second thoughts forget that last bit.
Anyway, there are four more sessions running through to the end of March. They are 10-11 on Sunday mornings but we will start earlier next week at 9.30.
Pledge Auction Lunch
It's great fun. It raises essential finance for the club. The club needs you – or your friends – to a) make a pledge, and b) come to the Auction Lunch on Sunday 21st March at The Boot.
So! You don't have an apartment in the Seychelles to offer as a pledge item, or a signed Picasso. Then bake a cake or donate some wine. Somebody always makes a generous bid whatever's on offer.
Brian Blessed is unwell
ROLFEBLOG August 2013
Tombswatch
This furtive creature spends extensive periods out of sight from all but the most determined nature-watcher. When he emerges however, all thoughts of Simon Cowell disappear and onlookers are treated to an unusual mix of action and psychobabble.
Thus it was that after the Tombsdog was spotted out of his normal habitat, he by-passed all normal selection processes and batted for the 1st X1 last weekend vs Oxford Downs.
Nature watches benignly on the righteous and so GT ("yes please – with a slice" is his usual response to this acronym) somehow overcame the worst knee injuries that his surgeon had ever seen, not to mention a history of arm and other injuries and made 59 runs for the Ridge.
Isn't nature wonderful?
Other injuries
I heard Brooksie say that he only bowls 'sparingly' because he has a dodgy back. I hate to be the one who breaks the news to you Brooksie, but that might not be the only reason.
Selection and replacements
Reading back over one of McTaggart's old match reports and in particular his description of late changes to the team I was particularly taken with one comment that "Nathan replaced Tombsy's knee". No wonder Geoff is up and about again and scoring runs. And fair play to Nathan too.
Airplanes
Nothing to do with cricket but this knee or leg stuff reminds me of a comment I came across while surfing cheap air travel lately. One carrier claims to offer you 'more legroom'; personally I have never had the need for more than two.
Lord of Bledlow
The Lord owns the rights to all land over three feet below the village of Bledlow. If you strike oil it is his. If you strike beer, inform the Junior Dads from Downley. If you strike wine, inform Tombsdog… but before you do, check it out and make sure it is not just any old rubbish.
Caravan? What Caravan
Exactly! Luckily just in time: it was about to become a Listed Building.
Shakey
It is with great pleasure that we announce that Lord Shakey of Bledlow Juniors has been admitted to the Worshipful Company of Match Report Writers. Buy that man a large glass of red on the off chance he has not already got one.
Andy "Strange" Murray
Has no one else noticed that Andy Murray looks dangerously, or strangely, like our own Dan Strange?
Protect the language of cricket
To the sports reporter who recently said that Broad suffered an injury "while on bat", it's cricket not baseball! The only acceptable phrase would have been "while batting". Microsoft spell-check with abominations like "meter" and "canceled" might disagree so, but we are not all Americans yet.
DRS
In amongst all the dross served up by DRS this summer may I make two observations?
It may well be the right of any batsman at Test level to hang around when he has nicked one, in the hope that by some miracle of the digital age, he may be reprieved, but the trouble with this is the example that this sets to players at our level. More and more players think it is the norm to wait and see if they get lucky from the umpire rather than walk off, even in Sunday cricket.
Secondly the umpires in this Ashes series have copped a lot of stick. Yes there was Broad's thick edge to 3rd slip given not out and one LBW that would have hit middle stump given not out. But generally these guys are managing to guess with some accuracy the trajectory of a small spherical object some 22 yards away, which may be travelling at over 90 miles an hour, to within one half of the width of the ball and the stump. They get it right most times. And I would suggest that, aided by what technology has taught us, today's umpires at Test level are easily better than those of yesteryear.
Sightscreens
Lovely touch from Saeed's lady-friend at Cublington as she walked in front of the sightscreen during play. Saeed frantically waived her on so we could get on with the game. Recognising Saeed's unique figure, she sweetly stopped for a few moments and waived back, before slowly moving on.
Auction
An auction of cricket memorabilia is to be held in the inter. First two items on the list are McTaggart's cricket bag and Sniff's shirt. If anyone has any interesting item that is less than 40 years old, please let us know.
Ramadan
Our playing members who observe Ramadan have been resolute in their observance. I did see one member of an opposition team break his fast temporarily. I cannot find anything in the League Handbook but surely this is worth a 3 point penalty?!
Talking about Laws
If a cricketer in the Cherwell League arrives more than a quarter of an hour late for the start of a game he cannot bowl until a further length of time matching his lateness has passed. (eg arrive 30 minutes late, can't bowl for another 30 minutes).
So having been disadvantaged by fielding with ten men his team is further disadvantaged by losing a bowler for a good while.
This applies whatever the reason: say, he has been running a youth football tournament for hundreds of kids, or he has been accompanying his partner to her MRI scan – yes Ridge players have had to be late for both these reasons.
The idea of the law was to stop cunning bowlers at the top level from taking time off resting between bowling spells. Despite all this when Stephen Finn was released from the England squad at the start of a test match I noticed he was allowed to bowl as soon as he arrived at Sussex...and without as much as a doctor's appointment on the way.
Well batted Sir
Lord BenDog batted particularly well at Cublington for a rapid 30 not out. The best ball he hit all day however was on the return journey when a young lad on the pavement in Aylesbury bounced his basketball off his foot into the path of said Lord's Range Rover. The timing could not have been better, resulting in a most satisfying explosion and the sight of a stationary, flattened basketball, not to mentioned a crestfallen youth, in the rear view mirror.
Malcolumn
You thought I'd forgotten didn't you?
He has been turning out quite regularly, which just proves that retirement at the Ridge is not allowed. There is a personal battle going on with Malik the new Governnor however, to see how late one can arrive before the start of the match and how slowly it is possible to run between the wickets. Malik has trumped the Gov'nor by recently managing to completely miss the first over after tea, something the Giv'nor has not done for at least a couple of years.
All we need now is for Malik to organise an airshow…or a bonfire…or do some recycling.
Romance
Remember from an earlier Blog how BenDog romanced Hermione with films like Invictus or the Jersey Boys? Well story of Ridge Romances are proving popular. Brooksie says his relationship is particularly special because Roz "loves my chickens".
Please forward your own touching story for inclusion in our Romance section. You will do well to beat David Oxford English Graduate and Laura though. Laura can explain the offside rule. Lucky that David is a good listener.
RolfeBlog – Two days at the Test
A fun two days in magnificent sun at Lords with Brooksie and on the second day, Russ Turner.
On the first I sat next to a charming elderly man who at quieter moments was able to tell me about the book he was reading called "Churchill's First War" and describes how battles with the Taliban are nothing new. It all added to my general education and understanding of the world we live in.
In contrast on my other side Brooksie talked about early Sunday morning TV shows such as Clik" where he has learned the numerous different ways of turning off a PC.
I really should really have seated these two guys together.
On the second day I happened to travel up on the train with the wonderful Douglas Miller of Monks Risborough CC. A true British Gent if ever there was one, who has just added an autobiography of double-international MJK Smith to other books he has written such as the history of Bucks County Cricket.
Little did I know until the day after, that ShakEy on his usual commute, had spied us and decided to sit in another carriage. What a lost education that was.
During the afternoon Russ, Brooksie and I were able, through the binoculars, to spy, from 150 yards the slightly bedraggled figure of a BenDog slouching slovenly inside the JP Morgan media centre. Not only did Lord Keeping spend an arduous day at Lords in the good name of British Banking he also had to put himself out at the end of play by talking to Alistair Cook. As England's current captain, Cook (Captain Cook – geddit?) is short of people to talk to and needed a good pep-talk after his second low score of the match. What better after a long day, than Ben Keeping to put you right where the likes of Andy Flower have failed.
The Lords Ashes test is a huge Who's Who of former cricketers and if you keep your eyes peeled you can spy former greats such as John Edrich, Brian Lara and Steve Bird taking in the atmosphere or cleaning the odd carpet here or there. Top of the list of other stars was Liz Hurley who received rather more attention than Shane Warne when the latter was being inducted into some Hall of Fame or other during tea,
On the return train journey on the second day three middle-aged men, Brooks, Turner and RolfeDog, fortified by the odd ale and in high spirits after a wonderful time, sat together reflecting upon all the good things in life. Opposite them sat an elderly lady who we suspected might have been the Queen, dressed as she was in an impeccable floral dress, colourful hat and neat lipstick. She dozed quietly all journey with her eyes closed in some far off land of Nod.
It is just possible that we three made the odd slightly chauvinistic remark; certainly the opposite sex could have been mentioned from time-to-time and without doubt there might have been an occasional reference to the not-so private life of Tombsdog. But generally I thought we behaved like the best of British Gentlemen.
When we disembarked at Princes Risborough we generously let the Queen off first. As she stumbled slightly on my outstretched toe and I apologised for my carelessness, this dapper lady who had apparently been fast asleep all trip, looked at me briefly and said "I have learned a lot".
We looked at each other stunned. What had we said?
The Queen then topped it all by driving off in a 4X4 while Brooksie and I left an abusive note on a van we recognised as belonging to Sid Bird. Now there is someone from whom we have all learned a lot.
RolfeDog
ROLFEBLOG June 27th 2013
Flexible Working
This business concept has now reached the Ridge 2nd X1 where by arrangement a number of players can arrive after the start of play so long as they stay behind after the end. Hence the captain's panic (see match report) at the lack of players on the ground when he won the toss and elected to field last Saturday.
Malcolumn
Remarkably one of the on-time arrivals was a certain garden gnome, not usually known for his good time keeping.
Yes, every Saturday a gnome goes missing from a garden in Bledlow Ridge, sometimes to run an airshow, sometimes to go swimming where he dodges the rocks being thrown at him by an – apparently – gorgeous life-saver.
This Saturday it was mission impossible: to make 20 runs for the last wicket to win a match. This he did at a canter, or maybe in this gnome's case, a slow stroll, before leaving as soon as the game had ended to honour a booking as one half of the Chuckle Brothers.
What's in a Name?
This season we have welcomed Ady Summons, not to mention the rest of his family to the club. You may be interested to know that Ady was once in the police force. "PC Summons": I like that. Rather like Judge Ivor Verdict or QC Ann Argument. I feel a game of Happy Families coming on.
Backs and heart attacks
Talking of Happy Families, up at the club on Tuesday night there was Shakeey practising his bowling, desperately trying to bowl as fast as Shaun.
Shaky (No E) had back surgery 10 days before. Pretty tricky stuff when they go into your back. What did the surgeon prescribe to get back to fitness? Constant bowling. He has not stopped since, either at the weekend or in the nets. Somehow this reminds me of the time I dropped in on a Friday night, the evening after Bill Potts once let me know that Pete Walker had just had a heart attack.
Pete was there in the bar with a fag and a pint. "I thought you'd just had a heart attack Pete" I enquired, "That was yesterday" said Pete.
The spirit of Pete Walker lives on. Shak(e)y is still grumbling about LBW decisions.
Tombswatch
On Saturday last, our injured hero Tombsdog was sighted when he helped the club out by standing in as our panel umpire representative for the Division 3 match between Horspath 2 and Dinton 2. There was only one match abandoned in Division 3 without a ball bowled. Now which one was that?
Benches
"Please go and field on the boundary" said Captain BenDog to Conor at Shipton on Saturday. "Where exactly?" asked Conor. "By the bench" replied the Captain helpfully. There are seven benches on the far boundary at Shipton. As Doug pointed out. Helpfully.
Fields and benches
Talking of, no one seems to be able to see the horses in Lord Keeping's extensive paddocks. He insists they are there though. Apparently like the Thestrals in Harry Potter that were only visible to those who had seen death, the horses in our Lord's paddock are only visible to those who have scored seven ducks in a row.
Champions Trophy
Did anyone notice that the final of this 50 over competition where squads and teams are specially selected for their expertise in this particular form of cricket was in fact a T20 match? If we play India in the final of the next World T20 competition perhaps we can change it to a 50 over game. Or a test match.
Romance
Finally, those of us who ended up at The Boot on Saturday got some insight into how Lord BenDog romanced his future wife a few years ago. For their first date he took her to see Invictus: A film depicting how South Africa won the Rugby World Cup in 1995. He then took her to see The Jersey Boys: A film about Frankie Valli and the Four Seasons, a band famous in the 1960s some 30 years before Hermione was born.
No wonder it only took another 37 dates before they realised they were made for one another.
15th June 2013
ROLFEBLOG
This blog introduces some topics headings for the first time. My in-mail has been full of enquiries lately. Lots of readers think I do not mention Mr Malcolm Ashby enough so he will have his own column from now on, and many readers are so concerned as to condition of Geoff Tombs' – aka Tombsdog – knee and to his general whereabouts that there will be a section based on the format of BBC Naturewatch-type programmes. Some of you wonder why people such as Middsy scarcely get a mention and may be unaware that I do have small private arrangements with a few individuals who prefer to remain out of print although I have to say that Middsy has not coughed up for a while.
Most of you think that BenDog gets about the right amount of personal abuse (although there is always scope for more) and some of you have mentioned the promise being shown by a young 2nd X1 match reporter who has his own section this week below, our one and only English Oxford Graduate … or is it Oxford English Graduate?
Was that play on words a pun? or a palindrome? or even a metronome? Perhaps I should check my Thesaurus which in case you didn't know is the name of a large prehistoric land mammal with a strange body and particularly small brain. Come to think of it that sounds rather like any one of us.
Malcolumn
So, this section is dedicated to the feats or feets of one man. Yes, after long spells at airfields and in swimming pools, he is back. Malcolm the Guv'nor played four games in a row over two weekends (that's 'row' rhymes with 'owe' not, 'row' rhymes with 'now') and topped this with a spell behind the bar. Added to his Services to Junior Cricket, one must ask: Is there no limit to this man's talents?
Malcolm in Quick Single Scandal
Well the answer is yes. Batting on a Sunday his partner Martin King who was putting up fierce resistance and bashing the ball all over the place, was surprised at The Guv'nor's invitation for a quick run.
If you have seen the speed at which Malcolm walks or for that matter bowls, then you will know that a quick run is unlikely.
Regrettably the two batsmen were in completely different time zones and Martin was comfortably run out attempting a third while Malcolm had almost completed his first.
Dom Gabrielle, who has repainted the sign at the entrance to the club is due to put up a new road sign outside Bledlow Ridge School saying "Slow Down for Malcolm".
Maunder
"To Maunder?" This verb could mean a lot of things such as 'to ramble on aimlessly in search of an intellectual argument' but currently it means 'to bat, to keep wicket with three-year-old's gloves, to do the bar and to support Brentford FC'. Normal activities for an Oxford Intellectual.
The keeping-wicket thing is a bit of a surprise given his injury two years ago after which he was given morphine. If you speak to David at all now, you will be aware that this morphine has yet to wear off which might explain his willingness to keep wicket again despite a painful injury. ..and to talk rubbish about Brentford FC.
This week brother Dan joined him in he seconds at Rowant. Dan is now at St Andrew's University studying golf mostly it seems. There is a chance that at the end of three years he will be made an Honorary Scotsman which in turn means that the winner of our award for Grumpiest Scotsman, presented at the Annual Dinner may no longer be so predictable.
Tombswatch
Less predictable currently are the movements of TombsDog, so we will endeavour to keep track of this shy creature and his curious habits. Following a long winter in which he had gone to great lengths to get fit by playing tennis, drinking wine and learning new long words, extensive damage has been discovered to the "articulatio genus". This, as Oxford intellectuals, - or Cognoscenti (See Bicester and North Oxford Match Report) - will know is the latin word for "knee joint" and should not be confused in any way with "articulate genius".
Worse still, his computer has been on the blink and so he has been cut off from our world and unable to expand his vocabulary.
It is rumoured that during his absence from cricket he is working his way across Eastern Europe which is another in-joke which certainly make Brooksie laugh so ask him. No emails to me please on that one but do report any sightings however compromising.
Good looking cricketers
Completely unconnected to the above obviously, when Doleful Doug received a text during a 1s match from one Shaky (No E) that a "good-looking" batsman had made 134 for the 2s at Bledlow, Doug immediately and understandably texted back: "Malik? Saeed?". The modest Shakeeey had simply been too self-effacing to mention himself by name. This prompted thoughts as to whether his score of 134 had ever been beaten in a 2s game.
It had: Rafai - remember him? - made an unforgettable 176 not out a few years ago at Banbury XX. It was lucky it was unforgettable otherwise we wouldn't have remembered it. Unfortunately for Shakyye, Rafai was also better looking than him.
Under the same heading of "Good Looking Cricketers" I believe we will welcome back George next weekend. I hope so: people seem to come up and say "Hello Gorgeous" to me when he is around.
Unlikely branding
The Lord of Bledlow is now sporting a new pair of cricket shoes branded "Speed Menace". At first the shop salesman refused to make the sale fearing a sanction under the Sale of Goods Act however after some Quantitative Easing he was evidently persuaded to change his mind.
This choice of footwear by Our Good Lord has prompted a good deal of mirth. In fact "Ironic Product Branding" is a totally new concept that is about to take Bledlow Ridge by storm. The possibilities are endless and you may wish to think up some of your own and submit these to RolfeDog (cricket whites branded "Fashion King") or Ian McSecretary ("Smiley Faces Scottish Suncream Lotion").
Socialism or Autocracy
Finally it is worth noting how well management of teas and the bar is going during matchdays this season. Mc Taggart has made it very clear that everyone should just do as they are told "as we are not a Democracy at BRCC" and it is working very well. When the Scottish finally have their vote for independence – and I am still adamant that it is the English and not the Scots who should be entitled to vote for this – expect McTaggart to carry out a coup and run the country as a Dictator. Their people would certainly be too frightened ever to drop out of a cricket match at the last moment.
Yes, inspired by a Sniff of victory, RolfeBlog is back
Injuries and other things
Hamstrings, calves shoulders, knees, hips. Wheelchairs, zimmer frames, walking sticks, ASBO tags, 5-a-side, Marlow, golf, Romania, GCSEs.
All these have been mentioned as reasons for missing matches, not all are attributable to BirdDog (eg GCSEs naturally,) but Taggart who has taken on the task of running all the cricket that Doug does not, has ensured we have nevertheless turned out a team for every game so far. I know it is what we expect but in the light of various happenings and all the above, the Scottish contingent has done rather well.
Umpires reports on Umpires
Talking of…the League now requests a Report Form with marks out of 10 for umpires in Divisions 1-6 even though in Divs 5 and 6 they are supplied by clubs and not independently nominated. Thus it is that our very own Ian Murdoch who has been umpiring the 2nd X1 in Div 6 while injured, has been receiving extremely high marks. These reports have been submitted by the 2nd X1 captain who by coincidence is also called Ian Murdoch.
Reporting, bankers and maths
On the subject of match reporting the club received a phone call from an Oxford newspaper following Saturday's 1s fixture v Sandford along the lines of "How'd they manage that?"…. Manage what?
WelI, our captain, an Investment Banker, who doubles as a Lord in his spare time of which he has too much, had submitted the information that Russ Turner took six wickets and that one Ben Keeping did the same.
Ian McSecretary explained that as our captain was one of Britain's more prominent bankers, he was instigating a process of quantitative easing into cricket, by gradually expanding the number of wickets available…to himself of course.
Hat-tricks and things
During the aforementioned match, our bright keeper SamDog got quite excited about a hat-trick when Russ Turner took two wickets in two balls. He started shouting "Russ took a wicket last ball of previous over too". It turned out he was quite right: Russ had indeed taken a wicket on the last ball of the previous over. Only trouble was, that the next two wickets were off balls 4 and 5 of the following over. Will someone please take him to one side and explain?
Soccer
Yes I know it is not cricket but two recent minor resignation events struck me as interesting:
Firstly the day that Sir Alex resigned, one radio reporter said we will all be able to remember where we were when we heard about the Great Manager's Resignation -'"Just like we can remember the moment we heard that the Berlin Wall was coming down or that Take That was breaking up".
With all due respect to everybody, I cannot help thinking the journo was a little off the mark.
And secondly: when David Beckham announced his retirement and was asked "Why now?", our Becks thought for a moment, looked almost studious for even less time and replied "I have always been told I will just know when it will be time to give up"… pause for dramatic effect… "And…" he went on " … "I think I know it is time to give up"… Gawd bless you son.
More injuries
It is amazing that any RolfeBlog gets this far without mention of Tombsdog. Yes Tombsdog just paid an important visit to a knee specialist. The verdict? The specialist said the knee is fine but that he had never come across such a dramatic patient.
Advances in scoring
The scorer for Sandford 1s used a laptop to score. I guess he was unlucky that for once it was a sunny day and had to construct a shade from a seat perched on another seat. Fortunately our own Griff had no such problems with technology having not brought a laptop to score with, for some time now.
Lords and Keepings
You may remember the challenge posed to Lord Keeping of Bledlow last year by the advent of emails from Lord Anthony R. Royalty generally trumps any claims from those of other High Office. I have noticed however, that recent emails from the MCC are trying to help. They all sign off with the phrase "Keeping Lords First Class". These are four words not often uttered in the same sentence.
Clock-ups
If you have read the report on the 1s v Sandford you will know that our Chairman claims to have a 20-inch clock. Well we can all pretend.
Lines and boundaries
Those of you who frequent the tip at Wigans Lane may be aware that you can no longer back your car with your heavy load right up to the appropriate skip. A walkway about 5' wide now has to kept clear at all times. I was reminded of this on Sunday when in error I encroached at least 6 inches into the protected area and was asked to move my car forward in case anyone over 4'6" wide happened to be walking by in the next few moments.
No doubt this is a Health & Safety thing but I am unaware that anyone has been seriously injured walking into a stationery car up there.
Why is this relevant to anything? Well I can't help reflecting that the same authority who deemed there must be a 5' walkway for safety reasons is most probably the same body who has shortened the boundary in front of the Lord's Pavilion also by about five feet.
Yes, traditionally, well forever really, the boundary has been the foot of the lower wall, where the outfield slopes upwards to meet it.
I am not aware that at any time since 1812 any single player has ever injured him or herself there. In any case the up-slope prevents a serious attempt by a fielder at a modern T20-style slide. Nevertheless you can now walk a wheelchair between the pavilion and the now smaller boundary and we all can relax in the knowledge that there is even less likelihood of a minor injury occurring here than in the previous 201 years when there hasn't been one. What a relief.
More Shrinking Boundaries
Speaking of… the boundary at the Ridge has also been shrinking bit by bit in recent times. Conspiracy theory has it that Rodney has to cut less grass this way. My view is that the boundary rope has been regularly chewed up in machines and the size of our boundary is now governed by the length of the ropes remaining.
I was put firmly in my place by a Mr Sniff whose response to the above suggestion was simply: "We bring the boundaries in whenever you are playing to make it easier for you to hit one".
Now that really hurts.
And finally…
By far the best thing that has happened in the senior section this year is the Sunday home match just gone, versus White Waltham.
I will not attempt to pre-empt the forthcoming Match Report by David Maunder albeit I am fully aware it will somehow be used to further damage my failing reputation despite not even playing. The really great news is that Robbie Carter was not once called for bowling underarm.
Look out for the report.
RolfeDog 4/6/13
Lords
At Lords last week it struck me that the pre-match fielding practice on the outfield is almost as good as the cricket itself. There can be 100 people on the field of play if you include all the TV people. In the old days the first sign of life would be when the umpires appeared at 11.25am followed by the fielders then the batsmen. No huddles and batsmen certainly did not run on to the playing area. In many ways the Good Old Days are here and now.
Umpires, Laws and Decisions
Brooksie and I found ourselves sitting with some friendly umpires. It was very enlightening, particularly in view of a recent 2nd X1 Match experience where one umpire told the other that one of our bowlers would not be getting any LBW decisions at his end. Our new friends' criteria for LBWs was quite clear; 1) "Is the batsman the Captain?" ( If so, Not Out); 2) "What time is it?" (Verdict goes either way depending on variables such as: Is tea ready? Is Mo Farah about to run? Have I seen enough of this batsman?; 3) Is the Bar open? (Always Out). On watching one South African batsman wait for a caught-down-legside-or-not decision, the comment "Cheating B******d" was an interesting observation coming as it was from an umpire in the crowd but does perhaps give us an insight into the workings of the Men in White Coats.
The Law of Geoff
Talking about Men in White Coats the Funny Farm is never far away. A family squeezed past into their seats with a tiny head peeping out of a baby-carrier being carried by a mother. "We could smuggle Tombsy in that way" remarked Brooksie - as if you might want to! Added to BirdDog's recent remark that "No matter what the batting surface, flat as a pancake or a real greentop, Tombsy has the ability to do absolutely nothing with the ball in all conditions" it seems to prove that whenever two people who know TombsDog get together, they will inevitably talk about him. Brooksie spent some of the second day drinking with Neil Lambourne of Aston Rowant; "Did you talk about Geoff?" - "Yes of course". We can carry this further: the law of averages combined with Geoff's infamy, suggest that at any time, someone somewhere in the world will be talking about Geoff... as we are now.
Do umpires count?
Back on umpires again, did you know that the latest directive is that umpires signal to each other after counting four not five balls of an over. This idea emanates from Australia under the pretext that if they have counted wrong, then spotting it after five deliveries is too late. There is a flaw in this: if it should be six not five then just call "Over" or in their case "Over Mate" or "It's Over you Pommie B******s" when the error is spotted. The real reason is of course that Australians have had difficulty counting beyond four ever since England stuffed them in the fifth test match the winter before last to fin the series 3-1.
Ooh La La
For a while I listened to Test Match Special commentary while watching the game. Henry Blofeld, bless him, was reminiscing about the beautiful old Victorian Pavilion and how in the old days 'Victorian Ladies could be seen at Lords with their skirts down to their ankles". Makes you feel that us inhibited 21st Century men were born into the wrong era.
Superior Sun Cream
Back at The Ridge, you may have noticed my observations during the season on this Blog about the ongoing battle between Lord Ben of all Bledlow and Lord Sid of Bledlow Ridge to prove who is the most Lordly and wealthy Ridgeman of all; this competition was given a jolt by the arrival of one Lord Anthony R. The outbreak of sunshine in mid-August prompted a battle-of-the-suncreams: Lord Sid tapped his from a large oak tree in Frenches Wood; Lord Ben bought his at Fortnum and Mason. While at Lords, Brooksie and I spotted real class as you can see from the photo. Why bother with sun lotion to prevent a sore nose, when a Fiver attached to your spectacles will do. When the sun next comes back out, expect to see the two - or three - Lords battle it out with Credit Cards protecting this area. Does Visa outdo Mastercard for example? Best to go for American Express. Nothing wrong with paying through the nose either, if superiority is that important.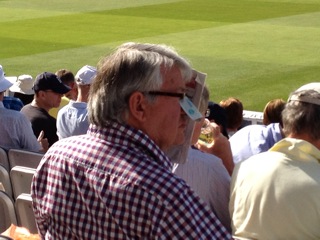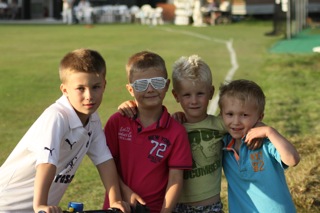 Finally:
When I saw this lot I could not help but think that the future is assured.
A Cricket and Olympic RolfeBLog
Ridge in Sunday Tea Crisis
There was concern from the McIndoe family that the tea for the Hetairoi fixture did not quite reach stratospheric Five Star standards. A refund was considered, then a plan to send food parcels after the game. Hetairoi of course thought the tea was fab, but a clue as to a shortfall in volume came from Chris Roddick afterwards. Asked how the game went, his reply which reflected his growing knowledge of the lingo, explained where half the tea went: "I bowled a load of pies". A fundamental error in choice of equipment.
When chances go begging
If you read the report of the 1s game at Bledlow Village you will know that I could not hold a catching chance when the opposition were nine down. Rarely if ever does one get the chance to win an important game in such potentially dramatic style. Is it bothering me? Not at all. After all, watching the Olympics I have reflected that for every medal winner who has achieved his or her dreams, every day in every event other competitors slip quietly away having been unable to produce what they wanted just when it mattered the most and having to live with it. Most of all though I take comfort from the comment of golfer Doug Sanders who famously, or infamously, missed a three foot putt on the last hole at The Open in 1970 and with it his last chance of ever winning a major. When recently asked did he still think about it all the time he replied "No I don't. Sometimes I go almost ten whole minutes without thinking about it at all"
Ramadan
The club wondered about how Saeed and Malik would handle cricket during Ramadan. Answer is: pretty well. Scores of 37, 65 and 88 all involving lots of boundaries. Perhaps we should try it?
A GB Football team created Intellectually
Playing for Great Britain - or Team G B – is Tom Cleverley. Names like this have endless possibilities. What if the entire team was populated with adverbs? You could have among others : Cleverly (Cleverley) , Defensively (Richards), Angrily (Bellamy), Languidly (Sturridge), Athletically (Butland), Unfaithfully (Giggs) ...I could go on (and usually do). Perhaps we could extend this to the whole Premiership. The mind boggles (Astonishingly!); watch out for a team of Bledlow Ridge player adverbs soon. Yours, Humorously
Corporate Sponsorship
Cricket is competing with the Olympics for a couple of weeks. Much has been made of the risks of going to the Olympics holding the wrong drinks can and the latest front cover of Private Eye sums this up brilliantly. For my forthcoming day out where light rain is forecast I have realised my blue Ridge Track Suit top is the most appropriate piece of clothing I own. Can I risk it though? It is covered with Crownfield Engineering logos, and ambush marketing of this nature could threaten some of the world's most successful conglomerates.
New Olympic Sports 1)
On Mr and Mrs Rolfe's recent visit to Weightlifting, on arrival we were duly asked to empty the dregs of our waterbottles as the contents were 'not in the original container'; ie we had filled up from the kitchen tap. Inside our section of Excel we looked for the drinks fountain and discovered a long queue waiting for one solitary fountain. When I say fountain I mean the type of push-button machine you find in the local gym or school playground. The water dribbled out as about as slowly as it could and created the longest queue we saw at the whole event. It also gave full time work to a lady with a mop as this slow machine still managed to spill some contents .
Pam and I discussed how the great Olympic Sport of Queuing could be introduced into the Games in four years' time ; they have given it a road trial by blocking 500 yards of the outside lane approaching the Hangar Lane underpass for no apparent reason, creating tailbacks of up to 10 miles every day. We then moved on to the potentially more absorbing prospect of medals in Floor Mopping; that was until Pam pointed out this was already an Olympic event. The rest of the world calls it Curling.
Weightlifting Winner Ambushed
Ambush marketing is one thing. Ambush Gold medalling is another. We spent a whole evening watching the Group A Men's 56K Midgets Weightlifting in the knowledge that the Group B No-Hopers had had their go in the morning, to find out with about 10 minutes to go that the leader was a North or South or Democratic Korean who had broken the world record in the morning, probably just after doing the school run. So we had spent the evening watching a contest for Silver. The winner - Wun-Kleen-Lift - duly appeared and wandered onto the Rostrum at the right time, collected a Gold Medal and then wandered off again, presumably for a pint and a fag or whatever they do in North or South or Democratic Korea.
Democracy
The names Republic and Democratic are never a good in a country's title.North Korea has both.
New Olympic Sports 2)
BRCC could help here. The arrival of a javelin at the club one evening recently prompted thoughts of other RidgeBears-inspired games. Clearly Pie-Throwing is a no-brainer. A team of RidgeBears could also take on the world at Fence-Leaping and if the timing is right: Hissy-Fitting.
Unfair Play-Offs
You may know that Great Britain won a Gold in the Double-Trap shooting. As if a Double-Trap is not dangerous enough, the competitors in 3rd Equal places had to play-off for a Bronze Medal. This was described as a "Sudden Death Shoot-Out". This struck me as a rather harsh method of determining a winner and slightly in contravention of the Olympic spirit.
David Thomas
I hope you occasionally find something to chuckle about in these Blogs. From time-to-time however there is something serious to writ
This year we have alread lost two senior members of the cricketing fraternity: Pete Walker and Vera Carter. It may be that not many Ridge Members knew Dave Thomas but a few more will have known of him.
He passed away this week after a long illness aged 53. Brought up in the area, Dave's precocious talent developed under the Colts system at Beaconsfield in the early 70s. A profilic young batsman he seemed to suddenly discover he could bowl fast and swing the ball and was snapped up by Surrey CCC for whom he played between 1977 and 1987 before moving to Gloucestershire.
He was good enough to make it into England squads but in the era of Botham and others, never actually got selected to play although he did play in a winning NatWest Trophy side for Surrey.. While with Gloucestershire he was diagnosed with Multiple Sclerosis and he dedicated much if the rest of his life raising funds for the Multiple Sclerosis Resource Centre although confined to a wheel-chair for many years.
Some may remember one of his contemporaries Wilf Slack of High Wycombe and England who passed away at the age of 31. Both these two achieved what most of us cricketers dream of: playing at the highest levels. Significantly - I suggest - they were both "one of us". They came up through club and village cricket and through junior sections. They were not hand-picked for the top at an early age or groomed in academies; they both therefore understood the club game and its position in the cricket hierarchy and were as at ease in the company of workaday cricketers as ourselves, as with seasoned internationals.
Rolfedog
19th July 2012
A New Lord at The Ridge
Just when Lord Sid and Lord Ben thought they were battling it out for supremacy at The Ridge another contender has appeared on the scene. It turns out that Tony, our Ridge Dweller who has joined the club and is our representative umpire on the league panel, has been keeping his true status well-hidden. It was revealed however, on a recent email received from a sender called "Lord Anthony". "Lord Anthony R'"in fact which indicates Royalty and may put paid to the Bird-Keeping feud forever.
Lord Keeping's Paddock
This is now taking shape nicely and the ground beside the nets is a lot clearer now. Only one problem: it is a bit of a bore ringing Ben every time a ball goes into the field ever since Steve Bird was threatened with a legal action for Trespass.
Disciplinary Matters
A distraught Chris Roddick was emailing his innocence this weekend having been omitted from Sunday's side for "letting the club down by dropping out on Saturday." This was slightly harsh as he was never available for the Saturday in the first place. This puts an interesting slant on last year's problem with Shaky(E) frequently complaining of not being picked for games he was not available for. "I am not upset" wailed Chris 25 times when I saw him later "I just thought you should know". It is clear that our Punishment Squad need clearer boundaries.
Women's Cricket
Last week I dropped in at Wormsley to see England's Women play India. Quite an education. The cricket is technically excellent and could teach us a thing or two, or three, or more.
The game has moved on considerably in the last couple of years ever since the top players have been found jobs within the game allowing them extensive time to practice and improve. Fast bowlers are much quicker than say, BenDog - but then who isn't? - and not far short of say Dakes, although admittedly the womens' fast bowling actions do not give the impression of a threshing machine out of control.
When practising fielding before the second innings the Indian ladies could all hit a small target at say 25 yards (so Geoff stands a chance at least) and we saw an outstanding diving catch at gully.
When England's number 5 came to the crease, a friend who I was watching with, whose daughter plays for Berkshire and who therefore knows what's going on, said "This girl has made a Premiership hundred in Lincolnshire". Put another way she has made a 1st team hundred for a club like High Wycombe or Oxford. And she was going in at five.
Moreover they all train extensively and are on strict diets.
Two areas where we might struggle!
Mr Harris
Our favourite Sniff still awaits his first run of the season having been the unfortunate victim of a run out (self-inflicted) and LBW (umpire-inflicted) and also lack of opportunity. He remains as alert as ever however and has noted that 50% of Division 7's teams start with the letter "B". When challenged to name them I came up with: Bledlow Ridge, Bledlow Village, Banbury, Buckingham and Bumnor. Can anyone improve on this?
Taking Guard
In a conversation many years ago it was pointed out to me that when a batsman is taking guard it really does not matter whether he is holding his bat up straight or not as the umpire should be able to identify where his guard is by where the bottom of the bat is in contact with the ground. Despite this fact, umpires love saying "Please hold your bat up straight".
It was therefore very satisfying to be able to point this out to The Greatest Sports Retailer in the World who happened to be umpiring as stand-in when I re-took guard at Oxford last Saturday. It was a cheap shot but on the day, one of the few shots I played
Olympics
Nothing to do with cricket but as the fortunate recipient of some Olympic tickets I was grateful to receive an email advising that each visitor can only bring in 100ml of water but that some venues could be rather hot so it will be advisable to "drink as much as you can". I was particularly taken with the advice to wear "cumfy shoes" which suggested the email was written by a Primary School teacher. Or am I insulting Primary School teachers in any way?
Screens and Boundary Fencing
You may have noticed the return of the missing sightscreen at the near end courtesy of President Sid This has been redesigned and rebuilt and will now hopefully survive any storm conditions. Also we have new boundary fencing, which has been put up by our Dream Team of Brez and Jamie. Needless to say its arrival has coincided with a complete cessation of cricket due to the weather.
Rolfedog
RolfeBlog 5 June 2012
Jamma and wet grounds
On Jamma's recommendation the X1 to play Cublington in the VKO were called to the ground on Sunday in the rain. The calling-off ceremony took almost a minute. We stayed an hour however and during this time it was recalled that Jamma had visited Chearsley to inspect their ground when the first match of the season was called off. Jamma's judgement is now being called into question. Perhaps that day he simply thought the oarsman rowing a mower across the square was a mirage, caused by excess heat rising from the wicket.
Brooksie
Brooksie is having a good summer. He recently became a member of the MCC (Male Chauvinist Club) at Lords and this weekend carried the team to victory at Banbury with 102 not out. Keen to celebrate he dropped home to find the lovely Roz all prepared for a night in. Faced with two great alternatives Brooksie continued his journey back to the club. What a man!
Fasting
Talking of Brooksie, as we pondered the VKO cancellation in the rain, he excitedly described the effects of the Islamic Period of Fasting on cricketers. Do they try and hit more boundaries or take more singles for example? The point of this blog is that part way through Brooksie's anecdote we had to break the news that "Ramadhin" was a man who once bowled England out for the West Indies and has nothing to do with the Islamic Calendar.
Welshdog
Friendships were renewed and new ones made when the legendary WelshDog (Chris Welsh) passed through on Friday night and Saturday; with the Lovely Anna of course, now Mrs Welsh.
For the record, in 2007 the Australian who left for the airport with a large hangover on Sunday morning, took 50 Division 2 wickets at an average of 12.26, conceding an average of just 2.22 runs for each of his 276 overs; he also hit some rapid runs. More importantly Anna made magnificent teas. It is good to know some things do not change as on Saturday night WelshDog proved he still sings a terrible Karaoke.
Duckworth-Lewis
Most people think these names represent a complex method for calculating scores in rain-affected matches (of which, of course, if Jamma had his way, there wouldn't be any). In fact it is the name of a Band formed by comic musicians Neil Hannon and Thomas Walsh. Next time you are surfing the 'net, google their song Jiggery-Pokery. A magnificent musical description of the first ball Shane Warne bowled in test cricket over here: the point is that the words are those of Mike Gatting' well how he might have written it if he wrote song lyrics.
Mike Gatting meets the Lord of Bledlow
Yes the lucky former England captain was recently a Guest of Honour at a dinner held at one of the residences of the famous Lord of Bledlow. The Lord kindly allowed Mr Gatting centre stage in the photo below so that he could be pictured alongside his valet.
Lawn mowing means love
TombsDog's amorous status was one of the subjects discussed in the rain on Sunday. It seems that despite mowing a young lady's lawn not once but twice, she is still offering serious resistance. After 30 years and a veteran of well upwards of 1000 mows Geoff, I can promise she will gradually weaken.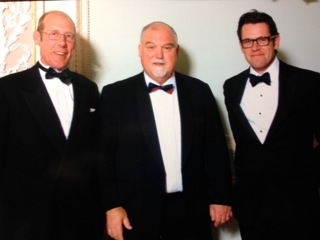 Captain McTaggart
Those playing for the 2s this week may have noticed that the Captain's requirement of his top four batsmen to score "25 for the team and the rest for yourself" has increased by 20% to "30 for the team etc..." His batsmen appear to be taking this literally: RolfeDog making 28, Baz countering nicely with 32 and Shakey (No E) coming in perfectly on 30. Only vice-captain Dogged Doug failed to comply. Why? Well anyone who heard the two Scotsmen discussing money in the guise of subs, after the match, will have grasped that as a player, VP, parent, and husband of a V-P, Doug appears to have parted with hundreds of pounds in subs already and also parted with any claim to an understanding of mathematics. (Editor's note: The Caledonian Captain has since made it clear that the "25 for yourself" was a one time only introductory offer and has now been restored to full price)
Build a Bonfire
"... Build a bonfire... and put a Guv'nor on the top". The butt of many of my jokes (sic), Malcolm "Guv'nor" Ashby may have a tendency towards pyromania, but there is no doubt his enthusiasm and expertise in this area is a great source of fundraising. As the village's Monday night Diamond Jubilee festivities progressed Captain McTaggart reported that the club bar had already taken over £2,000 and that with the third barrel of Doombar under attack, demand was likely to exceed supply. Much more of this success and Malc may be able to buy himself a "Sahib-ship" (see 2nd X1 report this week).
Lord in a Pram
Talking about titles, the Lord of Bledlow was runner-up in the Pram Race earlier that day. He blamed second place on the quality of the machine, but one can't help feeling that had Hermione (a University Rowing Blue) been pushing the pram and the Lord been the cargo, they would have powered to victory.
14th May 2012
RolfeBlog (no E)
The Sale of the Century
There they were on Friday night, the World's Greatest International Voice Manager according to the signatures on his texts, and the World's Greatest Sports Retailer, if you believe all his fans. A Texan and a newly baptised RidgeBear. As if the worrying news that Texan and not the Queen's English is now the world's international voice is not significant enough, a sale was taking place. No ordinary sale. You see, despite submitting a strong tender to become the Ridge's new kit supplier the World's Greatest Sports Retailer had narrowly failed to clinch the exclusive from Bledlow Ridge's Favourite Texan. But there he was, months later, humble pie-and-all, purchasing a bespoke Club Shirt from the World's Greatest International Voice Manager who is fast becoming the World's Greatest On-Line Sports Retailer. Eat yer heart out Sports Retail or what?
The Mugging of the Century
Another new RidgeBear was also seen purchasing a club shirt. One Chris Roddick. Which just proves what a really great salesman Our Favourite Texan is. Intoxicated with the prospect with making his League Debut for RidgeBear's 2s, Chris had made the trip to the club and bought one of the larger junior's shirts. A perfect fit. He celebrated in such style that his car refused to drive home with him that night.
But murky plans were developing. Chearsley 1s had cancelled the 1s game for the following day over there, claiming they could not get onto their wicket without a raft and a sail which meant there were an awful lot of players now available for the home game. It was not until Chris had Christened Chris' new shirt several times that he was fed the news that his place had been ripped from him. Christ! Chris' Christening of Chris' new shirt was a double-crossing, or perhaps even a double-Chrissing.
He eventually made his way home muttering things about the Sale of Goods Act, Trades Descriptions Act and Paul Brzezicki.
BRCC 2s v Oxford 4s
Yes a mis-match really as we won comfortably. But not a Chris-match of course. However as if magnetised by the venue, Chris Roddick appeared at the club three times during the day, the first time to announce he had been granted Legal Aid, the second time with his lawyer to present his case, and the third, to eat one of Saint's Burgers.
The story has a happy ending. Selection for the prestigious Village Knockout X1 and an airing for that shirt.
Bondage
As the 2s celebrated their glorious Saturday victory outside on the patio in the glorious sun in front of their glorious adoring fans new arrivals were greeted in the traditional manner; a mix of feigned surprise and delight and an attempt to sell whoever it was a new club shirt. But one set of footsteps was greeted immediately by sonorous boos all round; then a group comprising of a groundsman, a club president and a 1st X1 captain's father started singing "Who's the ****** in the black" and there were shouts of "You're USELESS" and "Get your glasses".
Yes, Shaky(no E) had arrived straight from either a Nazi Bondage Party or Junior Football Tournament dressed from head to toe in black where he had been performing strange acts with a notebook and a whistle.
The club hopes he will soon appear dressed all in white although he will have to nick Chris Roddick's place and possibly his shirt to get into one of the teams.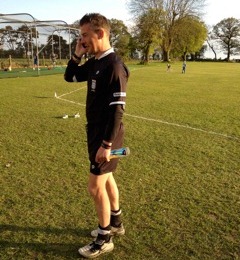 The World's Worst Kept Secret
Anyone looking for a cricket ball in the field on the nets side of the ground is now doing so on the hallowed turf of the Lord of Bledlow who will be moving into Bledlow Towers in July and converting the whole estate into one massive cricket school for horses. But there is more news. In time it will be the domain of the Lord and Lady of Bledlow who this week announced their engagement.If you see Lord Keeping in the clubhouse give him a warm welcome, no boos or cries of "Get your glasses". Just buy him a beer. Or a club shirt.
Too much bread.
You may have noticed that Malcolm has to bring his own tea to ensure it is gluten-free. Apparently he suffers from Maniac's Disease.
Talking of...
The reason Gorgeous George could not play in the VKO is that he had to do a shift where he works as a Lifeguard at Princes Risborough swimming pool. Who swims there regularly? Answer: Malcolm. George's verdict is that Malcolm is a good swimmer but does go on for a long time. Well there's a surprise. George's dilemma is what to do if Malcolm starts sinking. Artificial resuscitation of any sort is out of the question naturally, so George might be faced with a tough decision in the event Malcolm gets into difficulties. What would you do? Apparently throwing rocks at him is not allowed. Personally, I'd run for help, but at Malcolm's speed. In practice it is likely that that Malcolm's natural buoyancy would just see him through.
Groundman's Perks
Finally Mr Russ Moran, serial driver of a well-used Estate Car has joined The Mighty Sczniph and this Dream Team is now running the ground with great skill and aplomb. Whatever the deal struck with the Chairman it has not gone unnoticed that even before a ball was bowled Russ was arriving at the ground in a sparkling Jag, leather seats 'n all. Meanwhile The Mighty Sczniph is still in his well-used favourite 3-seater. I smell trouble for the Chairman.
RolfeDog
9th May 2012
The Rolfedog and the Morfdog
There was a loud hoot from a car at the garage- I recognised it as Lorf's car, then I saw Dorf filling up and sitting patientily in the passenger seat with an orange squash and packet of crisps was Morf. He was allowed out to say hello. Morf revealed he could not drive: was this drinking, speeding, old age perhaps? No! His licence had expired. Expired indeed. He did not look over 70 and claimed that he had simply forgotten to renew his licence after 10 years. Memory loss already. He briefly retaliated that I would soon be too old to drive but seeing I was in fact in a car driving, and he was in effect banned, it seemed he was not in a strong position to josh with me. So I asked whether he would be playing and he said he would but was not sure exactly when, so the extra time and opportunity afforded to him for reflection during his ban has not brought about an increase in decisiveness.
Rolfedog
17th April 2012
On Sunday I played for a team called The Hetairoi, a wandering side with whom we have a fixture in July.
Three things from the Coldest Cricket Match I Have Ever Played, to share with you, , one serious-ish, two less so:
First I went out to toss up and tried in vain to introduce the young opposition captain to the interesting concept of a timed game of cricket, or a "proper" game as I repeatedly called it.
He had never heard such a thing and asked how we knew what time such a game might end. Does this mean that the New Generation has never watched a Test Match? I argued that with 40 overs matches if one team gets unassailably ahead the game can fizzle out. He looked blankly at me, said that as a first time captain he did not want to change the format they normally play, made a huge hundred and the game fizzled out.
"Proper" cricket can be drawn. A Draw is a result. Like in football. You see, time is a critical factor in cricket; it creates pressures on batsmen and bowlers and in particular captains who need to find a way of getting players out so that they win by runs (if bowling second) or by wickets (if bowling first, when taking wickets early tends to give an advantage).
Needless to say that on Sunday the boundary was littered with fielders and once the team batting first had got a few runs to many too quickly there was no option to declare or any incentive to find ways of getting the second side out.
Just thought I'd mention it. We have at least three Sunday oppositions this year who will want to play cricket in this way and not play "win/lose cricket" as it is sometimes called: White Waltham, Fiddlers and Hetairoi. It also means arriving and starting on time and not taking too long for tea.
Talking of which, at tea, the opposition – Windsor Great Park - stood to one side as we (their guests) took first dibs at the wonderful spread. One of our players did offer a WGP youngster the chance to go ahead of him in the queue but he replied that if he did he would be fined. This was confirmed as club policy by one of their playing elders. A chivalrous practice that has rarely if ever been seen at The Ridge. How about we give it a try?
Finally, the one concept I did not understand at all. Well I understood the words but not the concept. A notice on the dressing room door said "Please remove your spikes before entering the dressing room". The notion that you cannot wear your cricket shoes inside the dressing room is rather splendid. Interestingly there was no notice inside the dressing room itself exhorting players not to put their spikes on so if you had missed the notice on the way in (difficult) the crime was certain to be committed. This comes second in my list of strange indoor cricket specifications after t he former pavilion at HWCC originally had the floor tiles in the showers laid sloping outwards so that all water flowed outwards into the dressing rooms rather than inwards to the drain.
Rolfedog
9th April 2012
This is the ideal time to clean out your kitbag. I know you all want to know about my efforts.
If you find your bag is particularly heavy and even that the strap breaks I can recommend checking the contents. It is a very useful exercise and you may find you have been lugging two bats around, including the old one you thought you had disposed of. So straghtway your bag is 2 lbs 8 oz lighter, or 3 lbs 2 oz if you are Brez.
Next, it is not necessary to have more than eight biros, three pencils and three permanent markers in one bag, so do cut back. Beware also that the large number of pockets in modern bags is a trick. What happens is that spare old cricket balls find their way into the depths. You really don't need more than two net balls; three maybe, but seven is just extravagant.
It would be a good new season's resolution to accept that however hot, it is improbable you will wear more than two pairs of socks, two set of cricketer's underwear and two of every other clothing item, in one match. Indeed I have sons who manage with one set of everything for an entire season with only an occasional washing-machine break.
If you find a chest-protector, consider whether in the five years you have had it you have actually worn it and if you have three Ridge Caps (you know them as "hats" Tex) all in different shades of blue, just keep the newest one.
You are now at the stage where that strap could have gone on for another two years without the uneeded weight you have now discarded.
Looking further in your kitbag you may hear a distant chuntering sound. In my case, the kitbag was where Macolm had chosen to hibernate for the winter. Surprising as it was he had slipped into that essential accessory in a kit bag: the mobile phone pocket. Luckily Malcolms' batteries have a longer life than my mobile phone and once awoken needed no recharging.
Having returned your hibernating guest to its natural habitat, decide whether you need two deoderants and get rid of the shampoo bottle that leaks. One towel not two will do and if your bat is of the don't-need-to-knock-in variety then take out the bat-knocker-inner.
Finally if you now think you have successfully cleared everything out have another look in all the pockets. There you might find, as I did, Pam's secateurs, missing for at least two years. If you are clever you might return them to the garden shed without your other half noticing. I did and I think I have got away with it.
There you have it. The secret to a lightweight kitbag for the season. Oh! and if you find a vacuum cleaner, it belongs to Steve Bird.
Rolfedog
26th March 2012
The last indoor net session was notable for the appearance of Shakey and Shaun but most notable for the very last ball of the very last net. Geoff batting, six needed; Jamie bowling, Jamie of the "meathead" appendage often accorded him by this same Geoff. Always extra effort when Jamie bowls to Geoff and when Geoff hits Jamie. All eyes focussed; Jamie runs up, it's sharp and straight, Geoff advances, aims a mighty blow imagining the ball disappearing over the Stud Farm. But Wait! He is beaten and the ball breaks the wickets, in fact it breaks the middle stump, literally... so literally that the top half is still somewhere in orbit around Cressex School.
Meathead 1, TombsDog 0
Here is the evidence of a wicket now reduced to a bowler's mark.
Rolfedog
19th March 2012
The return of George Michael look-alike Russ Turner after a season away with a long standing knee injury has been the focal point in the last two weeks. He has held status of best-looking RidgeBear for some years but has returned to find this position is under serious threat, hair-gel or not. This competition comes from the likes of RolfeDog naturally, not to mention Steve Bird who not surprisingly nominated himself for this award, but increasingly so from the younger contingent in which context Gorgeous George was mentioned and so the prospect of George bowling fast at a rusty Russ Turner to establish dominance could be worth the admission money (£6.50) alone this Sunday.
Last week Russ featured in the dismissal of the week when he hit a ball very hard back at the bowler and just off the ground. Brez extended a boot, neatly diverting it upwards and sideways to a waiting bowler namely ??? who took more pace of the ball flicking it up again before Birdy made more ground than he ever did last season to take a fine one handed catch and then celebrated for about twenty minutes.
Other news includes a series of defensive shots from Jammer."It'll never work" said Geoff "he's got to play his natural game" was the outcome of about fifty of us trying to get Jammer to bat more cautiously for about 20 years. Malik is working on getting the kink out of his bowling action, Dakes' arms whirled so fast on one occasion that he momentarily took off in the manner of a helocipter and Brooksy still has the greatest "fastest-run-up-to-slowest-delivery" -ratio in the northern hemisphere. Malik's mates have demonstrated there might be a bit of bowling competition this year too.
If you want to bowl at Geoff he gets first-dips this week after organising the practice for the last five weeks and giving himself two minutes batting only each time: tme enough though to see his wide range of cover-drives going over mid-wicket. Birdy has been a nightmare generally and is a very noisy wicketkeeper.
Outdoor nets start on Tuesday 10th and we will hit the season running with some matches from mid-April. Players shold put Saturday 28th in their diary when we play an intra-club game; probably 1s v 2s. Look out for emails before then asking for players to help getting the ground ready; it happens every year... without voluntary effort, we don't get to play.
Rolfedog