The Inaugural Ridge Food Fest will take place on September 18th 2021
Download a booking form for the Ridge Food Fest here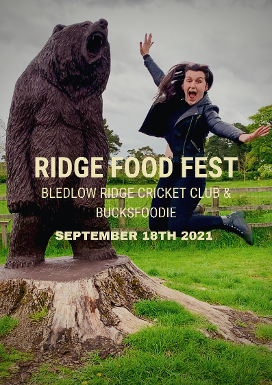 Food and drink is the new rock 'n' roll with Tom Kerridge and Gordon Ramsey probably more recognisable in the street than Coldplay, so BRCC has teamed up with Bucksfoodie (@bucksfoodie), one of Bucks' most prolific food bloggers, to present a brand new event, the Ridge Food Fest.
On the 18th September, local food businesses from Buckinghamshire will be exhibiting and presenting a wide variety of food and drink products, from locally made cheeses to home delivery cocktails, at Meadow Styles, the home of Bledlow Ridge Cricket Club.
The event is free to enter for the public and there will be some great offers on foods you might have never thought of trying before.
All the proceeds from the event will be put towards the improvement of facilities for young cricketers and the development of girls and women's cricket at the Ridge, so come along, try something new, and help a great cause.