As part of our Clubmark reaccreditation, the club has recently overhauled some of our policies and procedures and brought the Club Constitution up to date. The Constitution will be presented to the next AGM for final ratification but you can read it and the other new policies by clicking here.
Welcome to the home of the Ridge Bears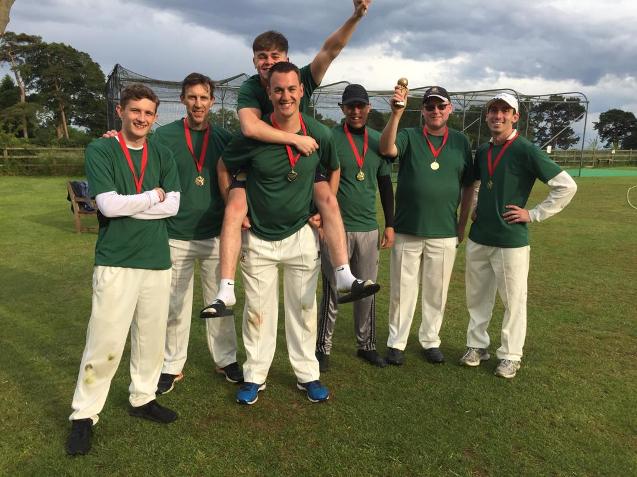 Gilet's Remarkables victorious in 4th Sid Bird Memorial 6 a side.
After a great day's cricket and socialising which featured not a drop of rain, The Remarkables had to bat through a monsoon to go a step further than last year and win the 4th Sid Bird Memorial Six a side Competition. Big guns Hollywood and Junaid were both skittled cheaply early on, leaving Chris Palmer, Ben Hillary and player of the tournament David 'The Real Saint' Saint to smash off the 55 required. By the time they were ready for the photo, you wouldn't have known it had rained!
We play a competitive standard of cricket in the Cherwell League, every Saturday from May to September. Our 1st 11 play in division 5, having been promoted as champions of 6 in 2018 and our 2nds in division 9. With the benefits of a structured youth programme that we put in place 5 years ago now starting to become apparent, the 2s are concentrating on blending some long time club players with the next generation of Ridgebears and are looking for a strong finish in 2019.
We also play some social cricket on Sundays and a number of Twenty/20 midweek bashes. If you are 15 years or older and would like to play, we will have a team for you whatever your standard. Click here to get in touch.
Interested in playing cricket?
Bledlow Ridge is one of the friendliest clubs in Bucks and has probably the county's most picturesque setting. Whether you are an aspiring youngster or a seasoned 'old pro', looking for a regular game, or the occasional run out, we would be delighted to welcome you to the Ridgebears.
For more details about the club, click here, or to email us, click here and someone will come straight back to you.