Archived match reports (including all published match reports for last 5 years) are stored as pdf files here
Dear Visitor,
Welcome to the match reports page of the Ridgebears website. And I mean that, I really do, you are very welcome. However, know this before you scroll any further down.
We write these principally for ourselves (although we are delighted to see that we get several hundred visitors a month to this page from outside the club) and so there is a fair amount of pretty merciless ribbing of our own players. We play against a lot of people we know and sometimes they might get a mention. We will never mock, degrade, deride or deliberately offend anyone, but if you are easily offended, might I suggest that this is where you navigate off this page.
We may also at times report facts (it's not that common but it does happen occaisionally), so if you whack the cover off it, stand your ground and then boast to all your teammates how you conned the umpire, expect that to come up as well.
But if you enjoy laughing at us, and don't mind the odd poke in the ribs yourself, you are always going to be very welcome to read the continuing tales of Rolfedog, Bendog, Birddog, Tags, Chesh, Sniff, Hollywood, Shaky, Dakes, Hilarious, SuperCooperman, Jeeyay, the World's grumpiest Scotsman and all their friends.
If you don't, just click off.
It's that easy.
Bledlow Ridge 1s v Kingston Bagpuize 1s
Saturday 7th September 2019 – Away
----------=----------
Not Much Funny Happens in Defeat at Baggers
Cooperman Sledged After Adding to his Fielding Repertoire
Dakes in Quick-Single Shock
----------=----------
BRCC – 155ao (42.3 overs)
Shipton - 157-3 (36.5 overs)
Result: Lost by 7 wickets
This was the day that Jovan dropped out of the 2s game in order to attend a Chicken Wing Festival. Yes really! You heard it here first. And we didn't even get to hear if there would be ketchup.
In contrast, Morf, back in the 1s, was not going to a Chicken Wing Festival. "What time do we need to leave Radnage" he asked via a squawkbox somewhere in South London. "In half an hour" replied RolfeDog, where are you?" "I'm an hour away in the car" said Morf . "What time does the game start?" "12 o'clock. You could do with some chicken wings to get there" said RolfeDog.
That's what we love about Morf. First class honours degree, top job in engineering and running a large team at work, but we've always had doubts about asking him to post a letter.
Or find a ground.
In the latter respect he did quite well considering the old turning which still bears the sign "Kingston Bagpuize Cricket Club" is now blocked off and overgrown. Unsurprisingly it proved too much for The Greatest Investment Banker in the World who arrived in a state of exhaustion blaming the SatNav in his Batmobile.
If the object of the journey had been to deliver a letter to Kingston Bagpuize CC, neither of MorfDog or BenDog would ever have made it.
The less said about our innings the better as there were few high points. The very highest of these was a six by Dakes which threatened to demolish the new housing development. This development has caused the closure of the old entrance and the creation of a new one off the main road, signposted "Kingston Business Park". Mysteriously this leads to a housing estate and a cricket ground with no sign of a business park (well, other than the sign). No wonder SatNavs get confused.
Back to the cricket. By the time of the game's only six, Dakes had already decided to try hitting every ball to the boundary and thereby excuse his sore ankle from running, which let's face it, Dakes doesn't really enjoy anyway.
This allowed RolfeDog to dig and also to attend to his good looks, and to contemplate all the strange things in the world, when Dakes was on strike. Then something very strange happened which RolfeDog had not contemplated: Dakes hit the ball at mid-off and ran.
This has never happened before. RolfeDog - in shock - dropped his mascara and set off but, in the words of Dave Warner of Baggers afterwards, "ran on sand" while Umpire Garry Dineen noted afterwards that RolfeDog was a little "slow off the mark" (having compared RolfeDog's acceleration with Usain Bolt in previous years). Anyway the upshot was that RolfeDog (3 off 16 balls) did not make it to the other end in time, and thus failed to complete Dakes' first ever quick single.
Then for the second week, The Real Captain batted with Captain Birdseye and his dismissal for 15 with the score on 64, was the first of several Commentator's Curses that afternoon whereby any praise from the boundary was immediately followed by a wicket. Apologies therefore are due to Alex, Midds (17), Hollywood (8) and Hugo (7). In between, BenDog was a little more successful than his SatNat with 26 and Wellsy, much to RolfeDog's satisfaction, made 0 off 8 balls, and conducted an Inquiry with Umpire Graham afterwards.
Dakes had top-scored with 50 in 46 balls, a standard that none of us was able to meet. Cooperman did attempt to run Junaid out, but Junaid, sensing he did not have Usain Bolt's speed declined, only to be caught behind soon afterwards. We were 155 all out after being 64-1.
This was never enough on the day and we did not have the slow bowling variations that Baggers had used successfully, although it does appear that Morf is turning into a bit of a swinger.
We did manage an impromptu team photo during the tea-break just to annoy Brooksie, BIrdDog amd Gilet who may appear sometime in the future, insetted in a photoshopped version as "Also Played". Keeps appeared in the photo as Billy Bunter.
There were three high points for us in the Baggers innings, not counting Hugo. Of the three wickets we did get, Hollywood took 2-30 off his 10 overs and his brief, after a fine spell like that, is to work on that knee during the winter.
The second was the wicketkeeping of The Real Captain who kept near-immaculately, took two fine catches off Hollywood and even managed to divert an edge off opener Ian Harris, into the hands of Midds, who was in the slips checking his departure time for Portugal early the following morning.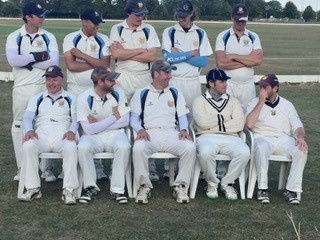 The third "high" point, as you might expect, involved Cooperman who found yet another way to stop the ball while horizontal. His dive in the field was not so much jaw-dropping as jaw-jarring and prompted a sledge from Umpire Garry who referenced Cooperman's good looks or otherwise, and the case will be heard in the "High" court in a fortnight.
For Baggers, Harris, wore a shirt which indicated he had once been sponsored by "Chadlington's Oxfordshire Brewery" and carried enough evidence to suggest he had enjoyed the brewery's generosity. Midds who caught him, bears some resemblance to "The Oxford Blue", one of Chadlington's finest ales: "superbly balanced with a refreshingly clean and citrus finish".
The Cherwell League's leading run-scorer, Jordan Smith, compiled 41 at the other end while Harris' replacement was Alex Bowles, an unusual name for a batsman. His shirt told us he has been sponsored by Coe Capital Wealth Management and while there was enough to suggest that he has benefitted from his sponsor's largesse, he was less generous to our bowlers until Hollywood struck again with a late-swinging fixed rate bond.
Thus we lost the last game of a succesful season by 7 wickets, in what felt like a bit of an end-of term-encounter, and cleared out a changing room for the last time this season. There was a laminated notice in the home dressing room (was Marcus about?) asking us to "Leave This Room Tidy", so naturally we took the sign with us.
The highlight of the day was a video sent from the 2s game on Group Chat, of Tombsy returning to the pavilion after his innings, peeling off helmet, welder's goggles, headband and suntan, much to the amusement of Birdy behind the camera-phone. Runner-up was a cartoon drawing of RolfeDog on his notepad, by Morf, which seemed to resemble a rather hairy meat and two veg and which made everyone giggle even though Birdy wasn't playing.
For RolfeDog and Alex, Cooperman redeemed the day on the journey home, by describing some of his drama school routines like pretending to be pasta-in-oil, or a role as a cartoon cat – quite a large cat presumably – and the two listeners decided it explained a lot about Cooperman. We were also able to reflect on Umpire Graham signalling a wide when The Real Captain left a ball close to his off stump, only to reverse his decision and confess that he had momentarily thought Alex was a left-hander (an easy mistake to make). All three wondered whether Junaid and Cooperman were the first ever pair of RidgeBears to bat together in glasses, though no Specsavers contract is in sight yet (geddit?).
The last evening of the season, back at the club, involved a mix of terrible karaoke (Keeps and Dickers), operatic Karaoke (Christine) and brilliant Karaoke (Cooperman) in between slices of pizza, helpings of ShakEy and bowls of curry. Regrettably there were no chicken wings to go with the curry, but then we learnt that Sniff had provided these for tea at the home game, so Jovan could have played after all.
John Bercow is off his rocker.
Bledlow Ridge 2s v Kingston Bagpuize 2s
Saturday 7th September 2019
_________________
Birdie's late injury spells disaster for the 2s
Battle of the batting averages ends in controversial fashion
Win leaves 2s 10 & 8 for the season
BRCC 177-9 (45 overs)
BRCC 159-8 (45 overs)
Won by 18 runs
The bombshell dropped on Friday morning. Birdie's knees were knackered and he wouldn't be able to play in the 1s away at Bagpuize. No one had expected this. So far this season Birdie has dropped out on account of his back, his hip, his elbow, his thigh, his hangover, his holiday, his timekeeping, his car, his box, his shoes and his 4 court injunctions preventing him from going within a hundred metres of anyone under the age of 70, but his KNEES!
The Real Saint, who has done a marvelous job all season of getting teams out to the extent that we have not played a man short in either team all year, remained calm. "It's OK, we had 30 a few days ago. Been a couple of drop-outs, but we'll be fine"
"YOU DON'T UNDERSTAND!!" responded the rest of the team. "He won't travel all the way to Bagpuize to watch the game and he's got absolutely nowhere else to go so he'll be here, ALL DAY"
A sombre mood fell over the team.
There was a definite feel of 'end of season' about this game. The Ridge were sat in 5th in the table and if we won, there was an outside possibility we might climb to 4th. If we lost, unless we construed a way to be deducted a bucket of points (you laugh but see 1s match report against Leighton Buzzard), we would still be 5th. Bagpuize were 8th, couldn't finish lower than 8th and would need to score about 40 points to get up to 7th. Add to that the fact that Kingston Bagpuize would be in our top 3 favourite clubs to play and the chances of there being any edge in this game were pretty remote …. unless of course you were studying the averages. More of that later.
Sniff lost the toss and was invited to bat and decided that as it was the last game of the season and there was nothing to lose, we would have a slightly revised batting order so Chesh went out to bat with his 7th opening partner (Carlton) in 9 goes at the top of the order.
Sniff's idea had been to promote a 'carnival atmosphere' for the game and as such Chesh decided there was to be no running involved and departed the season for 16 runs from 4 scoring shots. Carlton had initially missed the memo and was playing some very sensible defensive pushes before he got bored and spanked young Joe Hornblow for a 4 and a 6 before clothing one to mid on for a well made 23.
Geoff managed a boundary and a single before nicking off which left Tom Hickey at the other end to watch as the heavily hung over Shaun and the newly promoted Sufi both came and went for a sum total of 3 between them.
This brought Mo to the wicket, who has looked promising with the bat, but had yet to deliver an innings of substance. KB had moved to the change bowlers however and this proved to be exactly what he needed. Mo crashed 10 4s on his way to 62 while Ginge at the other end played a very promising supporting role, amassing 24 before going for a gentle jog on a single, seemingly unaware that he needed to get to the other end before the ball and was run out. The pair however had put on 88 and taken us to the relative respectability of 149-6. When Mo got out a couple of runs later, the stage was set for the big averages showdown!
Since week 2, when David Saint won the game with 61*, the batting averages in the 2s have been headed by either The Real Saint, or Taggart. It was mostly TRS, but it had swung back and forth and after his 65 against Thame, Taggart started the day 1.22 runs ahead (on average), with both having been dismissed 9 times. This battle had provoked mild amusement between the 2 protagonists, however we had an agent provocateur in our midst. Birdie had spent the whole day building this particular contest into something that made the Rumble in the Jungle look like a village tiddlywinks competition. And now they were both in the middle, both on 0 and battle was joined. Birdie was beside himself with excitement. Desperately trying to work out the various permutations, he got out a slide rule, decided it was only good for whacking Ginge round the head with and threw it away. He got out a calculator, couldn't work out how to switch it on and so whacked Ginge round the head with it and threw it away. He then tried to work it out with some spare stumps, at which point Ginge screamed and ran for his life while trying to simultaneously call child line.
Meanwhile in the middle, KB had brought on Stu Edwards to bowl who was generating good pace despite bowling off a couple of paces and was harder to get away than the previous bowlers. Taggart patted a couple back and then tried to run one down to 3rd man but only managed to nick it through to the keeper for a duck. Birdie was now faced with the prospect of trying to calculate the odds with the 2 batsmen on a different number of dismissals and melted down completely. Somewhere in a psychiatric ward in South Bucks, the former head of maths at 'Risborough Grammar' was straining against his straight jacket screaming uncontrollably "I told you, I told you!!!!!"
Sniff's visit to the middle was brief and uneventful (at least as far as the total was concerned) and with a couple of overs left, in went our last man. Much has been made on commentary in the Ashes series about England sending in a number 11 with a top score of 165, but surely, in context, a div 9 CCL side sending in a number 11 with 4,275 CCL runs and a high score of 134 means that Shaky tops Stuart Broad.
With just a couple of runs added since the 6th wicket had gone down, Shaky set about the bowling in the penultimate over and raced up to 18, taking the total to 177. This left TRS with the final over from Stu Edwards. He made a careful calculation, decided that 177 was probably enough and given that Bagpuize were only 85 points behind us in the table, decided, with no thought for his personal stats, that it would be best not to risk giving them an extra bowling point so blocked out the last over.
With Chesh's kitchen still missing in action, tea was constructed in the club house and out we went for our final session of 2019.
Shaky and Sufi opened up and Shaky quickly induced a catch to TRS in the cordon. Shaun kept the Dryden name in place at the top end and quickly cleaned up Tom Lewis-Lyon, but the run rate was competitive and Stu Edwards and Dougie Phillips were looking pretty secure. Sniff approached Taggart and asked whether he fancied it. Taggart collected up the slide rule and calculator at which point Ginge went and quivered behind the sight screens. Having worked out that he would have to go for 0-641 to cede the bowling trophy to TRS, Taggart accepted the skipper's invitation. His brief was to dry up the run rate so when the first ball whistled away to the cover point boundary, Sniff had cause for concern, however the next 9.5 cost a fairly measly 15 more with a wicket thrown in for good measure to take Taggart to 30 wickets for the season. Shaun made way for TRS who bowled tidily enough, and picked up both the danger men, dismissing Edwards with an absolutely superb return catch. Carlton came on for Taggart and bowled a very tidy spell, giving absolutely nothing away, and Shaun came back on at the top end and scooped up a couple of wickets to finish with 3-45, his 3rd 3fer of the season.
From there, KB put up a valiant defence, but didn't have the firepower to keep up with the required run rate and the game slightly fizzled out for a comfortable win.
There follows a brief resume of the season but at this point we need to offer up big thanks to Sniff, Chesh and David Saint, who captained and organized the teams throughout the season. Administering the 2s is only slightly easier than herding chickens and so just getting them out is an achievement in itself. To enjoy a modicum of success suggests a very well organized season.
And so the 2019 season came to a close with the 2s having won 10 (including 1 forfeit) and lost 8. We accumulated 304 points in total. Back in 2012, we were promoted from division 7 with 8 wins and 286 points.
Of our 10 wins, 4 were in limited over and 6 in timed (the forfeit game was a timed one). Of the timed games, we won 4 chasing and 1 by bowling out the opposition. In the three we lost, we batted first each time.
We won 4 win/lose games and batted first in all of them. In the five we lost, we batted second in 4.
All of which just goes to prove that …..
Bledlow Ridge 1s v Shipton-under-Wychwood 2s
Saturday 31st August 2019 – Home
----------=----------
Shipton given Bloody Nose by RidgeBears and
Wellsy Given Bloody Nose by Shipton
Multiple Groundsmen Turn Meadow Styles into Gardens of Bablyon
A Goofy Yorkerman is Born
----------=----------
BRCC – 276-9 (50 overs)
Shipton - 92ao (22.3 overs)
Result: Won by 184 runs
"What a Quintessentially beautiful English morning" mused RolfeDog as he drove up to The Ridge. In the words of Ray Davies and The Kinks it was going to be a "Sunny Afternoon" (1966). He reflected that it had been much the same nine weeks earlier at the away fixture on that warm day in June, when he had never felt better: refreshed and in form. The only downer had been our failure to take the last Shipton wicket and – oh yes – his duck at the very start of the day. At least it had taken 14 balls to get nought.
Meadow Styles looked like a groundman's convention. There was BirdDog on the roller, Jimmy Lovebite (Curator) on the outfield mower, Charlie Farley hand-mowing the square in perfect stripes, Robbie Carter happily (shock-horror!) ironing out The Kinks in the wicket and Ginger Tom was around somewhere tending to a blade of grass that had wandered out of position. There was little for RolfeDog to do except warm up with some exercises, jog around the field and do some mental preparation for the big innings ahead.
Naturally Cooperman was the other Ridgebear early at the ground, loosening up in the nets. Shipton's Elliot Bryant - a Dedicated Follower of Fashion (1966) if ever I saw one - arrived by 10.35 saying he was always late, realised he was contradicting himself and recalibrated. His teammates soon arrived at Meadow Styles aka The Hanging Gardens of Babylon, to see Charlie Farley putting the finishing touches to the square with a hairbrush and comb. Sid would have said "I am in paradise" (from Waterloo Sunset, 1967) and would have added "magnificent".
The rest of the RidgeBears themselves did not arrive until the Groundsman, Junior Groundsman, Junior Groundsman's Father, Ground Curator and Ground Curator's Little Twerp had finished their work and left.
Cooperman had by now delivered about 15 overs on his own in the nets. RolfeDog padded up and showed him a thing or two. RolfeDog couldn't wait for Dakes (Useless Tosser – see last week's report) to win the toss and decide to bat.
Which he did. And decided he would open with RolfeDog and learn a thing or two.
RolfeDog took guard, looked up to see young tearaway Greg Woods at the end of his run-up, and decided he'd teach him a thing or two … and those veterans in the slips for that matter.
The first ball, when it arrived, started on a middle-and-leg line; by the time it pitched it was around middle; it cut away further still and lifted sharply pinching RolfeDog's right thumb firmly against the bat handle. "You Really Got Me" (1964) thought RolfeDog as he saw the ball travel in a gentle parabola into the hands of second slip and turned to walk off.
"RolfeDog, c Veteran, b Young-Tearaway – 0". Balls faced: 1
"Well at least you had a 100% strike rate" said Gilet to great amusement (mostly his own) on his return to the pavilion.
As if to prove this was no fluke, Wellsy nicked off to Young-Tearaway shortly after, then Dakes hit a long hop to Ben Norgrove at deep cover who swallowed the catch in the way Dakes swallows cake. 28-3.
The Real Captain (Perry) and Hollywood did a rebuild, with Hollywood in combative mood again until, encouraged by the first ball from Steve Bates which he lodged high in a tree, he steered a low full toss into the hands of Norgrove on the boundary. "Your strike rate was 116.67 "announced Gilet on Hollywood's return to the pavilion and we all gave thanks.
Hugo joined The Real Captain (TRC) and reined in his natural attacking tendencies (geddit?) on the basis that with the score at 85-4 it would be unwise to gallop before he could trot. TRC seems to like Shipton and when he was eventually next out for 52 with the score on 144, Gilet kindly brought it to our attention that TRC has averaged 166 against Shipton for the season against RolfeDog's big fat 0. "Mind you…" said RolfeDog, "…he's taken a while doing it".
Hugo was caught behind soon after, for a painstaking 17 but reflected that – after Junaid's brief visit to the wicket – for once his innings had enabled others to make hay later; Gilet observed that Hugo had batted for as many minutes as Alex had made runs (52) , with just the 17 to show for it. All this was too much for the arithmetical part of Gilet's brain which shut down temporarily while he recalibrated, and this saved him a horse-whipping from Hugo.
By now – as if you hadn't guessed it –two Ridge veterans were at the wicket. Yes, veteran of the Aston Rowant match report, Max Wall was batting with co-veteran Groucho-chasing-a-waitress-Marx and they were doing it in black-and-white.
84 they put on, without a memorable shot between them, well except for Brooksie's extra cover drive, which startled the waitress. At the other end Birdgy groaned "La la la la, oh my poor rheumatic back" (from Autumn Almanac 1967).
"Your partnership of 84 was only one run less than the first four wickets put on altogether" Gilet told BirdDog on his return to the pavilion, before going for a lie down. Birdy made 39 in 38 balls (SR 102.63 if anyone cares) before Brooksie, who had forgotten his wallet, became the ninth RIdgeBear of nine, to be out caught, for a beer-jug-defying 47.
It remained for Cooperman and Gilet (who was no longer boring the charming lady scorer from Shipton, that job having passed to Hollywood) to defy gravity by putting on 16 unbeaten runs. Gilet had the distinction of hitting the ball hard past the well-apportioned Elliot Bryant only for Mr Bryant to chase the ball down over the fast outfield, before it reached the boundary. "What are the chances of that?" thought Gilet and did some statistical analysis before concluding that, like the pending No Deal Brexit, it must be around Six MiIlion to One. We all gave thanks to Boris Johnson for putting this event into context.
Teatime, and it poured with rain. With a masterful grip of mathematics and of the league rules, Gilet announced that if we restarted in half an hour, no time would be lost and his teammates started to yawn.
Under the Bosman ruling, Roz was soon to be out of contract and so went to enormous lengths to have her tea-making agreement renewed for next season. The Committee is now likely to consider the renewal sympathetically after a Shipton player said this was the best tea he had seen all season and tried to lure her away with the promise of a brand new microwave and a Morphy Richards kettle. She may prefer use of a Kenwood Mixer, which is on offer from the BRCC Committee together with a new set of jay-cloths.
In the dressing room, as we prepared to go out again, Wellsy and Captain Perry debated the tactics employed by Admiral Nelson in the Battle of Trafalgar where, instead of lining his fleet in parallel to the enemy ships in the traditional manner he split his fleet and sent two columns right into the middle of the enemy enabling his better trained crews and larger guns to annihilate the French and the Spanish in the melee.
At the same time and in another corner of the dressing room, Brooksie, another tactical genius, was describing how he had once bashed an already mortally injured badger on the head, to put it out of its misery just as a couple of ladies on horseback came into view (neither of whom was Hugo in disguise).
RolfeDog was struck by the intellectual gravity of at least one of these two stories and how Admiral Nelson might have been able to use Brooksie's weaponry to good effect at Trafalgar had they not lived 214 years apart and had the Spanish ships been manned by injured badgers.
The Shipton innings became the Cooperman-and-Junaid-Show as Admirable DakesEye employed his big guns up front. In the same week that Morf morphed into Morph (see WhatsApp post by Hollywood), Cooperman morphed into Yorkerman. Once BirdDog had given up a hard chance at slip it became obvious that no one was going to be caught behind the wicket, so The Unreal Captain (DakesEye) decided to pack the area. This was the ultimate humiliation for Hollywood: a once-great Mid Off, moved to the obscurity of third slip via a short sojourn at midwicket last week, even when the new Greatest Mid-Off in the World (Yorkerman) was bowling,
Yorkerman bowled Ben Norgrove which served him right for fielding so well, then bowled Steve Bates first ball and accounted for Luke Champion, all bowled. This brought in Tim Senior. His father, (presumably) Jerry Senior had captained last week so who is the more senior? And when they bat together who is the senior partner? And where is William Senior (Aston Rowant) in all this?
Senior Junior hit three boundaries before Yorkerman decided enough was enough and yorked him.
By now all players under 55 were in the slip cordon except Hugo who – with great irony – DakesEye had placed at "short" third man. This meant that Wellsy, a "Well Respected Man" (1965), with all his original limbs and RolfeDog, mostly a "Plastic Man" (1969) were patrolling the covers. Wellsy went full length ('call that full length'? thought Hugo) to save a boundary and got up with various facial grazes including a bloody nose.
After Junaid won an LBW decision he persuaded Ian Lewis to give a catch to Wellsy, before Yorkerman achieved his first ever five-for for the Ridge with another bowled: 10-3-36-5.
It has to be reported that one of his victims returned to the pavilion in a state of frustration and described Yorkerman as "Goofy". Goofy?? How could he insult this "Dedicated Follower of Fashion" (1966). There's no doubt Yorkerman was Happy, happier than the Grumpy batsman he celebrated in a slightly Bashful way. Like Pluto he was on a different planet.
Enter Callum Dingle who had had a bit to say a few times earlier while collecting the ball from the boundary. After a SIX over cover, a FOUR behind point he shouldered arms stylishly and was bowled by Junaid. "Should have left that one alone" said someone. There was one more wicket for Junaid taking him to four - 10-2-43-4 - and then it happened.
The opening bowlers completed their ten overs each and Gilet came on. Showing scant sensitivity Dakes had held him back until nine wickets were down. Had this been the plan? I'm "Tired of Waiting for You" (1965) said Gilet to Dakes and milked it by not taking a wicket in his first over enabling Dakes to try a few deliveries at the other end without his signature 'hop' which can make him look like an "Apeman" (1970). The last wicket was then caught by Wellsy off Gilet who calculated the effect that his 1.3 overs 1 wicket for 4 runs would have on his season's statistics, this being his last game of the season.
We had won by 184 runs, a little while before a beautiful "Waterloo Sunset" (1967) descended over the ground. Some of us decided to celebrate by going for a curry in Risborough. The Real Saint, freshly returned from the 2s narrow defeat in the foreign country of Cropedy, declined on the basis it was after his bedtime as he felt like he had been away for All Day and All of the Night (1965), while Gilet shocked everyone by just declining. Yes, Gilet declined a curry. This time it was the rest of us "Tired of Waiting for You" (1965) and we reported this event to the league. Miraculously he persuaded Nathalie that as he was going to miss next week's final match, a good meal was the least he deserved. The CCL statistics committee was by now in chaos but who cared?
RolfeDog and Cooperman parked in "Dead End Street" (1968) Once the waiter at Birdy's favourite haunt had told Birdy what he would be ordering, we spent the evening enlightening The Real Captain as to the particular and peculiar characteristics of one Mr Geoff Tombs (a "20th Century Man", 1971), thereby fulfilling our obligation to the world to ensure that someone somewhere is talking about Tombsy at any one time. Birdy's strike rate was 150.27 words to the minute: Gilet made a note of this, advised the CCL and put it in his "Autumn Almanac" (1976)
Gilet was definitely not available next week, Hugo needed geeing-up (geddit?) in order to be available and would the newly-named but unavailable Yorkerman be persuaded to play after all? See next week's episode.
The day ended as it started, with RolfeDog and Yorkerman returning to the club (to collect Yorkerman's car) some time before 11pm, where they had a short net in the dark and RolfeDog thrashed Yorkerman's bowling all over the place. "It's a mixed up, muddled up, shook up world" as Ray Davies once said. (from "Lola" 1967).
Dominic Cummings is unavailable for comment
Alan Partridge has made a formal complaint to the CCL over unauthorised use of the term "North Norfolk Digital" in last week's match report
Bledlow Ridge 1s v Aston Rowant 3s
Saturday 24th August 2019 – Away
----------=----------
Dakes is Back – The Useless Tosser
It's Never Over Till It's Over, But It Is What It Is
Ridge One Boundary Short in Big Run-Chase
Aston Rowant - 332-4 (50 overs)
BRCC - 328-7 (50 overs)
Result: Lost by 4 runs
The Aston Rowant second pitch is stationed beyond the main pitch, where a troupe of Vaudeville clowns, some dressed in black and some dressed in blue, was playing cricket with an orange. They all had large numbers on the backs of their shirts, presumably so that all those spectators who had bought match programmes could use these as a guide to see who their heroes were. This required, of course, that each player concerned would be facing the opposite way at the apposite moment (ask me Birdy). I couldn't find a programme.
There were no match programmes for BRCC 1s v Rowant 3s, not even a pavilion, or hut. We changed in a small marquee, a luxury not afforded the home side who changed in the clubhouse and walked over. Had we known, we could have arrived earlier and cooked breakfast, using the floor of the marquee to fry bacon and eggs. If he'd known the marquee doubled as an oven, no doubt Fats would have arrived earlier than usual. As it was, he changed alone in the pavilion cheerful in the belief he was the first to arrive, before wandering over to the second pitch surprised to find his teammates who were melting in the marquee.
Dakes, the Useless Tosser that he is, called wrongly and we were condemned to field first on a day forecast to reach 30 degrees.
It didn't go terribly well. Rowant opener Mark Walker had evidently scored 47 runs in 10 matches this season but he chose this day to stride down the wicket to our opening bowlers and time the ball like Gower in his pomp through and over the covers and mid-off. It is fair to say that Gower was a little more sartorial in appearance and Walker has ruined my theory that you can only be a good cricketer if you look your best. He hardly put a foot wrong though and the chances such as they came were only offered up at the other end, at least until he was past his 100. When he reached it he almost celebrated in Wayne Tyas' bat-throwing style but mercifully without actually letting go of the handle.
Remarkably Dakes, Cooperman and Gilet all went wicketless. Dakes' ankle was not good (or he was the first to suss how hot it was) and so we were not as potent as we usually are up front. Cooperman hustled Leigh Lewis (not to be confused with either Lennox Lewis or Leona Lewis, no offence meant to any of them) several times, beating the bat and hitting the body, but any luck that was going was not on our side.
By the time Gilet replaced Cooperman, with Shaun already bowling in place of Dakes, the heat was beginning to take its toll and we were diving over the odd ball in the field. It was not until Brooksie replaced Shaun in a comedy turn, that Lewis chipped one up in the air towards cover. Who should be fielding there other than The Greatest Mid-Off in the World who had been misplaced and was now back-pedalling frantically up the hill in pursuit of a catch that only a 6' 5" man would aspire to. Where was Hugo anyway? The GM-O it W managed it by defying gravity to take the catch one-handed high above his head and behind him, in a kind of reverse Fosbury Flop.
Naturally he ended up completely prone which is his default position, both legs and the one hand with the ball temporarily raised in the air, as in a game of Dead Ants.
At 130 for no wicket with the temperature rising, Shaun had commented that he had had no idea that playing for the 1s was so much fun. The fun continued as Walker moved towards a deserved 100 while off Gilet's bowling in particular, we added some overthrows to the occasional mistimed dive.
Eventually Hollywood replaced Brooksie at the top end and bowled to the young and interestingly named William Senior which made me wonder what his father is known as? It can't be William Junior as that would be reserved for a younger brother. I can't think of what is more senior than Senior so the jury is open. I once played a match in which the Major family, father and two sons, were recorded as Major Major, Major Minor and Major Minimi. That was around the time that a scorer in another match erroneously recorded Tom Overthrow (yes really! – a name derived from West Country wrestling) as Tom Overdraft. "The bowler's Holding the batsman's Willey" is second division in comparison.
Anyway, Hollywood got Senior out even though he was the Junior Partner. What happens if William Senior ever becomes Junior Partner in a law firm. Does his CV say "Senior Junior Partner"? Perhaps we will never know, which would be a shame.
I really did not realise that playing in the 1s could be that much fun.
Back at the match with the score somewhere around 200-2 we were really back in it (!). Centurion Mark Walker – for some reason known to his mates as Roddy (Roddy McDowall? Roddy Doyle? no offence to anyone called Roddy) - was by now batting in a logo'd T-shirt and got the name Shoddy Roddy (not to be confused with Showaddywaddy), from RolfeDog who was by now having a fit. Fortunately, Shoddy Roddy did not turn his cap the wrong way round as RolfeDog might have disappeared into a hole in the ground for ever. Finally Shaun dragged Roddy out of his crease for Alex to stump him sharply for 133.
Fats replaced Gilet up the hill and the old steam train had to chuff hard but Birdy clung on to one from Duncan Holt. Of no interest to anyone but RolfeDog, the steam trains of the North Norfolk Railway (not to be confused with North Norfolk Digital, no offence meant to either of them) stop at Holt station, so Fats' train noises and Holt's departure seemed rather appropriate. To RolfeDog.
With four down and only 260-odd on the board, Rowant were clearly struggling. They ground their way to 332-4 off 50 overs with Paul Plumridge and Jamie Revill getting to 51no and 30no respectively in quick time. Glad to say we only sent down 37 wides this week. There were no maiden overs, or for that matter no maidens over, until that is, Penny arrived to watch. The nearest we came to the former was an over from each of Dakes and Fats with no runs off the bat but with one wide. Otherwise the bowling figures were not particularly flattering although Gilet's 0-50 off 10 should be mitigated by the inclusion of something approaching 20 runs in overthrows and misfields.
Tea was in another marquee, this one a bit cooler. Rowant are evidently big on marquees.
The nowadays-beardless Captain Dakeseye set about the Rowant attack, conscious of the large target, while RolfeDog watched from the other end. The man Dakin is back. No diffidence now. Encouraged by his rapid 30 the previous week, Dakeseye gave the opening bowlers the charge, hitting over and through extra cover or cutting square.
He was soon the recipient of a head-high full toss so the next ball was a free hit. "Don't forget you can be run out off a free hit" warned RolfeDog. Dakes nicked the ball to the keeper and took a step out of the crease and the keeper' threw the ball at the stumps but missed. As Dakes had hit the ball he would have been run out. The bowler politely asked the umpire why he was not out caught and the umpire reminded him it was a free-hit. Everyone's honour was upheld.
RolfeDog for his part, proudly played out the first maiden of the day, trying to work out Fossie's pace or mysterious lack of it, before being trapped by it and adjudged for 18.
Dakeseye was already nearing 50 and was joined by Alex, the two Captains batting together as someone so wittily pointed out. Gilet perhaps? Surely not. Captain Perry straight drove with military precision while Captain Dakeseye hit the only six of the day as if demolishing a fish finger.
Eventually he succumbed, both to the heat and to a catch by William Senior - perhaps he borrowed his father's name – for 78 at a strike rate of 121.88, not that anyone cares (except Gilet).
Middsy's 23 was followed by Hollywell's rapid 26 off 16 balls at a strike rate of 162.50 - if anyone cares.
Despite all this, the required strike rate was creeping slowly up as boundaries were hard to achieve partly due to the presence of five fielders patrolling the outfield including Mark Walker who still had the energy to tear about after his 133. Had we been a bit sharper we would have realised rather sooner that only four were permitted outside the fielding circle up to Over No 40 – a lesson for us next time.
It was soon time for those old farts Brooks and Bird to bat together but not before Fats' brief cameo which ended up in a stumping which was even slower than Fats' attempt to get back after refuelling at Holt station.
About 90 were required off 10, a Big Ask but it is not over until it's over especially if there are a few wides. For those of you reading this in the year 2045, this was the day before Stokes' amazing performance in the Headingly Test to win against all the odds. Brooksie and BirdDog almost did it as well, BirdDog placing the ball and hobbling a la Max Wall while Brooksie yelled "yeeeeess" and ran up and down in the manner of Groucho Marx chasing a waiter. Time for a remake of The Odd Couple.
Shaun joined BirdDog after Brooksie was dropped but then run out by keeper Jamie Revill who doesn't miss twice, for a rapid 39. With the last full toss being hit for four by BirdDog we fell just four runs short of victory. Disappointing, but as BIrdDog said many times "It is what it is" and he got a nice little 36 red-inker.
A fine game played in fine spirit. For our part we should have saved more in the field but the effort and the run chase could not be faulted. Nor could the resilience of the two umpires who stood out all day in searing heat. Well before the end of the match, all those who had been playing cricket with an orange on the other ground, came to watch the match; several ladies too, meaning that we did at least have a few more maidens over, (albeit no maiden overs). Thankfully none of them had numbers on their back, and they had eaten the orange.
No girls were offended in the making of this Match report – except Brooksie possibly
Editors note: There is an unedited version of this report in "The Secret Place" which you can access by clicking here if you have the password. If you're visiting us from Aston Rowant (welcome by the way), please be assured that there is nothing on there that will cause offence to your club or any individual in the match (quite the opposite actually), but Rolfie's PTSD from a previous incident is still pervading current match reports so better safe than sorry. Actually we're not sorry, even though we sort of said we were, but it's a BRCC family thing.
Bledlow Ridge 1s v Dinton 2s
Saturday 17th August 2019 – Home
----------=----------
Preamble
Those of you who drop into our website to look at Match Reports will have seen that we were 'off air' last week. The report was written but was only available to club members. This was because after 30 years of my writing reports for one team or another, someone took offence and chose to make a complaint, not to me or to BRCC but to the CCL who, arguably, have enough on their plate already.
That person did not take offence over last week's report but over a report written more than two months' previously, which it seems suddenly had come to mind.
I therefore thought it would be worth clarifying a few Match Report ground rules.
These reports are intended to report the basic match facts while mainly poking humour at: 1) the players (in the main Bledlow Ridge players) 2) the match, and 3) some of its incidents. There may be the odd compliment to a player of either team but if you get one, treat it with suspicion.
If you hit the ball and don't walk, expect to be called out. That applies to both sides but please accept that the chances are I won't be in the middle if one of my teammates is guilty. In my opinion, not walking in the lower levels of club cricket especially with volunteer umpires, is a form of cheating. You may disagree. You are entitled to your opinion on this, I to mine. Likewise, if for example you throw your bat around on being given out, it will probably get more than a passing mention. These are very much the exceptions however; it is more likely the observations will reflect comedic moments, like Cooperman's insistence on doing all his fielding while horizontal.
I believe this is all reasonable and I hope it is clear. As I have said, only one person has complained in 30 years (not strictly true, my playing colleagues complain most weeks, but you get the point) and it took the complainant a long time to get around to it. As this complaint referenced (among other things) a lady player, albeit obliquely and even though it was not suggested she was the least bit upset or even knows about the complaint, here is my final ground rule:
If I call our wicketkeeper a girl, it is not intended as an insult to any girl who may or may not happen to be playing on either side, it is just turn of phrase and it normally only applies to Brooksie, though Alex and Wellsy had better watch out! It so happens that I believe Sarah Taylor is one of the two best 'keepers in the country (the other is male) with Amy Jones not far behind. Alyssa Healy of Australia is pretty darn good too.
In summary, if you are a snowflake, don't read the match reports. Here's the next one:
The Ridge Defeats Dinton as Wides Outnumber
Dropped Catches
RolfeDog and Jai take Diving Lessons from Cooperman and Gary Sprake
Morf Wears Silly Cap in Comeback-Shock
BRCC – 285-7 (50 overs)
Dinton 2s – 249-9 (50 overs)
Result: Won by 36 runs
We knew it was going to be a bit of an odd day when Birdy said "I don't like to interrupt, but…". Moreover we had heard that a selection vacancy had been solved with the call-up of an old Friend, but no one knew who. Or whom.
Ben Hillarious (aged 19½) became the second RidgeBear called Ben to turn up for a match in which he was not playing (see Ben Keeping, Sandford away, 2018) but at least he knew he was not playing so it was not him. His work shift had changed and he offered to come and play instead of the 3-year-old BirdDog but as no one was able to interrupt Birdy in full flight (geddit?) we never got the chance to suggest it. Anyway, with Keeps and Cooperman we already had our quota of Bens. We'd have to wait to find out who this old Friend was.
It had rained for most of the week so it was no surprise that on losing the toss we were asked to bat. The wicket was very slow and occasionally low and one these did for 43-year-old Ben Keeping (aka Bendog) who was adjudged plum for 15. Jai, the Bucks Under 15 captain, made a quick dozen then asked the umpire how many balls were left in the over by way of cunning plan and promptly fed a half volley into the waiting hands of Ali Humzah: 50-2.
The umpire was Dick Haddock from the panel and panel umpires tend to be on the ball. He needed to be as something fishy was going on. He was kept busy all afternoon as each bowler in turn from his end bowled around the wicket to left-handers, onlookers frantically moved the sightscreens, Dick then warned them all about running on to the wicket, and they ended up going back over, while onlookers frantically moved the screens back.
35-year-old film star Matt Hollywood made 16 before smashing one back at Asfandyar Khan who somehow clung on (Cling-ons again?!).
The ageless RolfeDog who was on about 1 not out, could not recognise the incoming helmetted batsman. Was it Birdy? Junaid? Was it BenDog coming back out again in disguise? It turned out to be Morf. Our old friend Morf!!! Old yet only 34. Not seen on these pastures for a long while but returned to the fold and restored to the Dog family as MorfDog, leaving only SamDog (Spain – aged 31) and WelshDog (Australia - born in the outback, age not recorded) unavailable.
A remarkable thing happened. An extraordinary coincidence. Not only did Morf's batting look a million dollars (as befits a good friend of BenDog, Investment Banker to the Stars) but he made runs. The two very rarely go together.
RolfeDog, who knows a good bowler when he sees one had managed to face just one ball of Videet Vadalia's six-over opening spell. He was eventually bowled for the second successive week by a dragon. Oh! all right then, by a drag-on - at least it stopped the ball from being called a wide. 37 off 77 balls out of 164 and proud of it but disappointed at the rarity of going though an innings without being given some verbals by the opposition.
These stats were available courtesy of Gilet who, by a statistical quirk (no offence intended to quirks), is almost exactly the same age as Hollywood. Scoring on a laptop, he was overcome with the emotion of instant statistical calculations. As if this was not enough, he became excited that RolfeDog and Steve Smith have almost identical wagon wheels, although he did point out that there are generally a few more lines on Smith's.
Dakes, aged 32 but with the body of a 55-year-old, found some form with a quick 30, before MorfDog who as ever did not have his wallet with him, nicked off for 47 off the same bowler who had got BenDog, which only goes to prove they are inseparable. Junaid (aged about 22) made 11 before those famous red-inkers Brooks (22 runs and aged 52) and Bird (3 runs – what a coincidence) got a nice little 'not out' each.
You may have noticed that these runs do not add up to 285-7, this being because of the contribution from Man of The Match "Total Extras" with 92, of which 64 were wides.
Roz (age unknown, probably about 25) surpassed herself with her tea though it was noticeable there were no tarts this time. This was not necessary as a couple of tarts (BenDog and MorfDog) took their place in the slips at the start of the second innings both wearing the sort of stripey caps that were worn back in Tom Brown's schooldays or by Tweedledee and Tweedledum in one of the Alice books.
The trouble with 50:50 cricket is that it can be over as a contest very early, and if this one had not already been decided halfway through the Ridge innings, then it was all over after ten overs of Dinton's.
Paul Reynold's and Eliot Lloyd batted well to get Dinton close to 100 before the second and (soon after) the third wickets fell but the total was too big; on the other hand The Ridge did not need to bowl Dinton out.
And so the game played out in rather odd fashion with Dinton continuing to score reasonably well and with The Ridge not needing take all ten wickets.
It had its moments though. BirdDog was fielding so deep at gully that someone did a survey on behalf of HS2, between deliveries. Then, Jai brought back memories of the goal conceded by the Leeds goalkeeper Gary Sprake in the 1970 FA Cup final at Wembley when he (Sprake not Jai) did a Fosbury Flop over a shot from Chelsea's Peter Houseman. Jai did not seem to have heard of either Sprake or Houseman. For that matter it was not clear that he had heard of either Leeds or Wembley, so thank heavens for SatNav (Chelsea is not a real place: discuss).
It was not until much later in the game that The Greatest Mid-Off in the World, 25 year-old Ben Cooperman, was able to show Jai how to do it. After a deft little initial backward step he dived forward to take a dramatic catch finishing in his usual prone position: 'Gowry Theivendram, c. Cooperman, b. Jai Angell - 6' all of which is easy for you to say.
In the meantime wickets had fallen from time-to-time, Cooperman claiming two of them with perfect Yorkers which, for Jai's benefit, is quite near Leeds.
It was Gilet who had taken two of the first three wickets, one a fine bottom-edge catch by 'keeper Brooksie. Thus inspired, Brooksie threw himself around to great affect especially down the legside, took a legside catch standing up, then nearly effected a rather smart run out. With his back to the stumps he reached for a throw that was falling short and flung his arms backwards to remove the bails in the manner of Sarah Taylor, all of which goes to show that he keeps wicket like a girl. There can be no higher praise.
The game became rather odd. The team had collectively decided not to help MorfDog get any wickets by missing two in the slips, then later with Dinton 9-down, a dolly at extra. Instead of say 3-30 he ended with 0-63 after Muhammad Ashgar took a liking to him. Well who wouldn't? RolfeDog set off after a skier from one of Morf's deliveries and despite the magnificent athleticism of his effort ended up belly-flopping a few feet short of the ball.
Cue delirium from three 2nd X1 players walking round the boundary after returning early after their victory against Dinton 4. Simply outrageous. 4 year-old Tom Hickey, 4 year-old Sufiyan Ahmed and 6 year-old Shaun Dryden stand accused of dreadful ageism and appalling lack of manners. It was the best dive since Jurgen Klinsmann and I don't suppose Jai has heard of him either.
Not needing to bowl Dinton out, Dakes – whose first 5 overs for 12 were wicketless - rested his sore ankle and did not return, Hollywood's knee was spared his 10 overs so Jai who had taken four wickets was not given a reprieve. A spate of slow full tosses followed at his end which had Dick Haddock waving his arms above his head for free-hits rather like John Wayne with a lasso (ask me later Jai).
All this gave Dinton the erroneous impression that they could have won the game, something that was enhanced when Captain Dakeseye, in charitable mood, and on condition that he took off his jazz-hat, gave BenDog the final over.
It seemed like this over would never end and in the circumstances we were lucky to get away with conceding only eighteen, all of which makes Scott Waite's final over debacle against Kimble a few years ago, pale into significance. Scott has never played again (the more's the pity). Let's hope however, that this will have the same effect on Keeps.
We had managed to get Kimble up to 249-9. Jai's spell of 4-64 off 10 would have been perfect in a (so-called) "timed" game and would have done the job in this one I suppose if we had been able to take any of the chances offered off Morf. But then RolfeDog would not have entertained all those children with his belly-flop.
It only remained for us to learn that Tags had given Tombsy out lbw in the 2s and Tombsy had reciprocated by giving Taggart out the same way. They are still some way away from a reconciliatory hug but some people live in hope. Personally, I can't wait for the day when one runs the other out. Friendship is overrated.
No snowflakes were harmed in the writing of this report
Double Match Report
BRCC 2s vs Dinton 3s
Saturday 17th August (Away)
&
BRCC Sunday vs Gt Kingshill
Sunday 18th August
Triple Win Weekend for The Ridge
Tombsy and Taggart in mutual LBW Love In
Shaky rolls back the years
Young guns fire for victory on Sunday Outing
BRCC 131-9 (45 overs)
Dinton 60 ao (29.1 overs)
BRCC win by 71 runs
Old Berkeley CC (home of Dinton 3s) is a beautiful setting to play cricket in. It is basically the back garden of Dinton's President. The facilities are pretty rustic, but it is a wonderfully relaxing location. It could do however with a couple of minor upgrades. Covers would be nice to avoid turning up to a traditional 'sticky dog' and a slightly more efficient lawn mower for the outfield. I'm not suggesting it's long, but on a familiarisation walk round, Shaky and Taggart liberated an advance party of Japanese commandoes who still thought the war was on (letters of apology for any offence caused have already been despatched to the Japanese embassy, the families of the soldiers and all descendants of anyone hailing from Japan in the last 70 years so just calm the hell down).
Fortunately, after 2 minutes of instruction, they had all mastered google maps on a borrowed iPhone and headed off to Yo Sushi by the time the toss had taken place or Shaun would set them on Sniff for a remake of Merry Christmas Mr Harris after our skipper further enhanced his reputation as a useless tosser.
So out we went to bat. Having put on 79 in 20 last week for the first wicket, Sniff decided to break up the opening partnership and drop Taggart down the order a little …. to 9, however not to be done out of the opening overs, Taggart volunteered to umpire. Chesh was reassured by this. Geoff looked a little nervous.
The scoring was slow, very slow, but not as slow as the pitch which was kicking out clods of mud every time the ball landed on it. Having ground out 12 between them from the first 6 overs, Geoff got one that kept a bit low, heading suspiciously towards the middle pole ……. with Taggart standing at the other end.
Chesh stuck it out for a while and compiled a patient and valuable 22 before finally falling, leaving Shaun to bash a few around. When he went for 12, there was bit of a procession, the only remarkable thing about which was that there were no ducks. We were at 76 when Sufi was the 7th wicket to fall, but at this point Sniff's cunning upside down cake batting plan came into effect. The Real Saint was at the wicket on 0 not out and was joined by Taggart on not surprisingly, the same. These 2 put on what was to be the highest partnership of the match. Although only a relatively meagre 24, it got us up to three figures and when Tombsy returned the favour to Taggart from the umpire's end, we still had Sniff and Shaky to come and worked it up to our lowest score of the year, but one that was also 15% higher than the average score on this pitch.
In the tea interval, breath was baited as Tombsy and Taggart encroached on the same space. Geoff opened with;
GT "Absolutely the right decision to give me out. If you hadn't given it, I would have walked"
IM "Mine too, definitely out. Good decision"
GT "Yeah but great decision to give it. Very honest at that point in the game. Seen them not given"
IM "I thought your decision showed even more integrity than mine. Crucial time in the match. You're a credit to the club"
There was so much love and respect in the air, grown men were weeping.
The Spirit of Cricket was the winner.
Shaun and Sufi opened up the bowling and they clearly thought we had enough. Perhaps too many as they endeavoured to reduce the total required to the point that Dinton were at 12 without loss having scored 1 run off the bat. Both however settled after a couple of overs and Shaun ended with 6 overs for 9. Sufi was a bit more expensive going for 20 in his 5, but did pick up a wicket.
Sniff decided he needed to put a break on and rolled back the years to put Taggart up the hill and Shaky down (ever was it thus) and the strangle was well and truly on. Opener Krish Verylongsurname (letter of apology, no offence intended yada yada yada but it really was such a long surname that Dinton's scorer wrote it in the book as Krish) took a temporary liking to Taggart and spanked him for a very big 6 and a 4 in the same over, but lost his middle pole to the same bowler next time they met. Shaky was on a hat trick at one point which didn't quite come off, but when Taggart took the final wicket to reduce his average for the season to under 12 (batsman's age per wicket, not runs per wicket) we had reduced them from 56-4 to 60 all out.
We hung around for a bit of a blether with the oppo for a while and will be sending out multiple letters of apology for scoring runs, taking wickets and anything else that could have conceivably offended anyone.
We still got back to the Ridge in time to watch Morf bowl the longest over in history and Keeps bowl the scariest (they only needed 54 off that over to win and at one stage looked like they might get it), but the 1s safely wrapped up a Dinton double.
There was much jollity and drinking in the clubhouse, which was then duplicated in the curry house as several of our number staggered steadily (and otherwise) towards …..
Sunday 18th August
BRCC 222-9 (40 overs)
Gt Kingshill 210-10 (39.1 overs)
BRCC win by 12 runs
So after a very successful Sunday match 4 weeks ago, Rolfie canvassed opinion on Sunday cricket and got a very positive response. 'Yep, it's great' 'Really enjoyed it' 'We should play more Sunday cricket' they all said. 18 of them at that point.
By a remarkable coincidence we had just been contacted by GK about the possibility of setting up a Sunday game, so it was all looking very positive for the rebirth of Sunday cricket. Until Tuesday. When we had 4.
The job of organising this game had fallen to Taggart (well let's face it he does sod all else around the place) and the intention was always to match GK's goal of using it as a vehicle for bringing through some of the younger players. With an air of resigned foresight, he sent out an invitation to a selected number of younger players' parents expecting the usual crop of "Sorry no" answers. But wait. Suddenly names that had previously been thrown wistfully but in vain around previous selection meetings were appearing as yes's. Jack Pargetter, yes, Tom Miller, yes, Lewy Miller, yes, Jay Simmonds, yes, Aiden Murrell, yes. In an attempt to really push the boundaries, Tags had also invited a couple of his girls from the U13 age group and although none of them could make it, Anouska's younger brother Max, who is 2'6" and about 7 years' old was up for it.
We still needed a bit of steel, just in case the opposition could actually play, so joining our resident grumpy Scotsman from the seniors were the Real Saint, Tombsdog, Cooperman (in case of any of them could really bat) and a Strange man of yesteryear seemingly known as Dan Dan the skipping man.
The Real Saint was entrusted with the captaincy duties and went out to toss. We never found out who won it but I suspect it was them as we were inserted to bat.
Rather than a conventional batting order, we designed an algorithm based loosely on chaos theory. Geoff and Jack would go out to open and at least one younger and one older player would pad up. The basis of the formula was that the average age of the 2 batsmen at the crease should not fall below 20 and never go over 50, both of which were highly possible.
Jack got off the mark with a lovely leg glance for 4 but then tried to repeat the shot to a ball that stuck in the pitch a little and looped up to mid on for a simple catch. We then added up the ages of the remaining players, divided by the year the club was founded, applied this as a negative power to Tombsy's age, subtracted the number we first thought of and it turned out Tom was next in. There was then a desperate rush round the clubhouse to find a helmet big enough to accommodate his hair.
After a couple of lusty blows, the bowler (a left armer) decided to go around the wicket. Using all his cricketing experience and perhaps egged on by his hair, which by this time had established a life of its own, Tom deduced that the appropriate shot to the bowler's new angle would be an agricultural hoik to cow corner. He misjudged one vital component however and forgot to hit the ball which was sadly heading straight for his off stump, which it duly uprooted.
Next in was Dan Strange, once of this parish, who played some sweetly timed shots before holing out off an edge for a quick and stylish 14. More of him later.
All the while, Tombsdog was nibbling away at the bowling with some gentle singles and some brutal boundaries and he was now joined by Lewy Miller. Lewy got off the mark with a couple of singles, followed by a couple of 2s. Geoff, ever the nurturer of young talent, told him he was doing very well for a youngster and not to panic, no need to be slogging, we were going along fine. Lewy's response was to hit his next 5 scoring shots to the boundary, with not a slog in sight. If it was up he drove it, if it was short he pulled or cut it and if it was good he defended with time and grace. By the time he reached 30, he had gone past Geoff's score and there was a distinct lack of bowlers warming up.
Geoff whacked the cover off a few more before being adjudged in front by someone other than Taggart and that brought Aiden to the crease. The aggregate age of the 2 batters was now 25 and with our algorithm going into meltdown, the space time continuum imploded in on itself and forced Aiden to play round a straight one, bringing Taggart to the crease. With the average age of the 2 batters now restored to 35 (with neither of them within 20 of this number) all was right in the world again and these 2 added 60 odd before Lewy, having been threatened with being retired in 4 overs time finally succumbed for a brilliantly made 78.
Jay nicked one away for 4 before Taggart decided that we needed to push on a bit and came so far down the wicket that he was virtually nose to nose with the umpire and was unsurprisingly stumped when he missed one.
Cooperman bashed a few about and despite the fact that GK had now gone back to their openers to try and stem the runs, Max, the only player ever to play for the Ridge senior team who is shorter than Tombsy, whacked a few out of the middle of the bat. Guided home by the Real Saint, with a typically practical knock, we reached a credible total of 222-9 off our 40 overs.
After a Michelin starred tea including such delicacies as carved ham and smoked salmon, we went out to defend our total.
Cooperman opened up the hill and scared the life out of the GK openers to the extent that they were fighting each other to get to the bottom end. Jay Simmonds at the top end bowled an excellent spell and despite not generating the same pace as his 6'5" partner, did pick up 2 more wickets than him.
We then went to our spin twins of The Real Saint at the bottom end and Tom Miller at the top. I say spin, but Tom decided on the basis that he had been bowling seam up at school that this might be the way forward and proceeded to bowl an over of absolute filth that went for 15. He then resorted to his leg spin which he hadn't bowled for years apparently, and picked up 2 for a further 23 from his next 4 overs.
.
With GK falling well behind the run rate, TRS put Dan on at the bottom end. This proved to be an inspired move as had he not done so the game would not have been anywhere near as exciting towards the end. Prior to the match Dan had described his ability to bowl as being similar to a 3 year old with no coordination, but it wasn't as good as that and 2 overs and 31 runs later, he handed off to Taggart exclaiming that the ball was now a bar of soap and completely uncontrollable. Taggart then bowled 6 overs for 12 runs and a wicket.
Jack Pargetter was on at the top end bowling a decent spell of off spin which included a fabulous return catch to earn him figures of 1-28 off his 5 overs and after a bit of a rain break, GK were back to needing about 12 an over off the last 8 or so.
The only bowler who hadn't bowled yet was Max, who had he been bowling in partnership with Coops would have dragged the average height of our attack down to about 4'2". We looked on nervously as he ran in for his first over but it went for just 5 singles. His second went for just 2 and as the slog came on in earnest over the last couple, he finished with the excellent death figures of 1-24 off 4.
Jay was brought back on for a final spell which lasted all of one ball as he finished off a brave effort from GK.
Special mention also to Aiden for an excellent game behind the stumps. We have considerably older and more experienced keepers in the club who would have stood further back and missed more to Coops.
All in all, a thoroughly enjoyable day's cricket with a really nice bunch from Great Kingshill.
Now all we have to do is work out how we get some of this lot playing in league cricket.
Taggart
Bledlow Ridge vs Cumnor 2s
Saturday 10th August 2019 Away
Bledow Ridge 167-10 (50.3 overs)
Cumnor 2 81-10 (26.3 overs)
Won by 86 runs
Right, so you wanted to read this one then? OK, you can,but you'll have to click
here
and you'll have to know the password.
You read at your own risk though and BRCC takes no responsiibility for any offence you take.
Bledlow Ridge 1s v Cropedy 2s
Saturday 3rd August 2019 – Home
----------=----------
SooperTrouperCooperman to The Rescue in Nailbiter
Waspish RolfeDog at risk of Lyme Disease
Landlord Runs Out Lodger Who Has Kit Washed Elsewhere
----------=----------
BRCC – 247-7 (53 overs)
BRCC – 236-9 (47 overs)
Result: Match Drawn
Six-hitting was banned due to the risks of contracting Lyme Disease from the adjacent field, which has more ticks than Big Ben (see what I did there?). There were warning notices all over the place that no one should enter the field without a shellsuit.
In fact Big Ben was in Cornwall on holiday, having driven down alone except for a car-full of toys listening to Test Match Special (Ben that is, not the toys), while Hermione drove a car-full of kids screaming "are we there yet?" and "where's daddy?"
We batted first. Midds got one that stuck in the pitch in the first over so Wellsy and RolfeDog with youth on their side, had the task of building up the score. There was youth on the other side too of which Elliot Ferris had a lot to say for someone who bowled a lot of wides, including a send-off 50 overs later for Dave Wells on bowling him off his pads for 114. Maybe "see you later" was a way of inviting him for a drink.
RolfeDog survived some early scares including a rather menacing Red Kite above and a ball that reared off a length which he gloved down from in front of his face. "That's what helmets are for" announced Mr Ferris who came in to bat at No 10 at 7.15pm and opted to wear his helmet on his head rather than on his hands.
Ferris wheeled away for a while (geddit?). After a while RolfeDog left a ball from his replacement Jake Walters, which came back slightly and brushed the pads; he was given not out. A general discussion followed, the gist of which was "but he did not play a shot". Eventually RolfeDog, who was quite chatty, pointed out that the most important criteria had not been met. That is, for an LBW decision the ball has to be hitting the wicket and it does not matter how much of a shot you don't play, if the ball would not have hit the wicket.
Anyway at the end of the over, someone described RolfeDog as "Waspish" and RolfeDog asked who it was. Whoever it was (Ben? Hugh?) who fielded like roadrunner all afternoon, said "Me Sir". RolfeDog almost said "Don't you mean 'I Sir?', but did not want to be called a "SmartAss" as it was bad enough being compared to a Wasp especially with all those predatory birds nearby.
All this time Wellsy was keeping his counsel and smacking the ball around. At 68 (runs total not years) RolfeDog was adjudged and was not honoured with a send-off.
The next task was to fetch a six by Wellsy from the field. Joe Coggins got as far as the fence but remembered those notices in the dressing rooms about Lyme Disease. He kindly ushered the older man into the field without a shellsuit, and to a life fighting tropical diseases.
RolfeDog got his revenge at the drinks break by denying orange squash to to Ferris (too much to say), to Ben or Hugh (who called him "waspish") to Coggins (who gave him Lyme Disease) and to Walters (who got him out). So there.
Jai made 14 then Wellsy did for his lodger, Hugo, running him out comfortably for 1 as he had not cleared away his breakfast that morning. Hollywood hit Joe Coggins (17-1-55-1) over mid-off so Joe cunningly dragged one down and Hollywood mishit the long-hop and was caught. Just as well as Fliss needed a bit of help with organising tea.
Enter Brooksie wearing the usual five sweaters, all hustle-and-bustle to Wellsy's smooth-and-cool. Brooksie provided the acceleration and hit a Huge six while Wellsy progressed smoothly to a classy hundred and beyond until Ferris kindly offered to buy him a drink later, as described above. After Junaid (2), Dakes went in to smash a few balls, including a rather high-pitched delivery which proved to be the last ball of the innings with our score 3 short of full bonus points at 247-7. Unfortunately, BirdDog did not get in to bat which meant we all had to listen to him all afternoon.
During a top tea which included some particularly rich chocolate cake, we were treated to a football exhibition by two of Jess' friends one of whom had played for QPR ladies. Some of the guys called out "Go on my daughter!" out of respect for the women's game.
After tea we were looking at the wrong side of a result until Jai, with his off spin finally broke the first wicket partnership when Middsy took a high one-handed slip catch with a rather dainty ballet-hop in the baroque style of one of Hugo's dressage fillies, and removed Sam Coggins for 35.
Jai got another then Walters threatened to win the game rather quickly until an enormous hit down the ground saw Brooksie take a very good catch whereupon in his excitement he threw the ball over the boundary and down the road. RolfeDog waspishly called for a six to be signalled but to no avail so Walters had to go. Cropedy got carried away and even applauded some of Brooksie's fielding but RolfeDog told them to stop it ("cease forthwith").
The rest of the innings was cat and mouse but with the cat (Cropedy) mostly a little ahead of the mouse (Bledlow Ridge). Gilet had arrived and was calculating run-rates on a continuous newsfeed. He was Absent Injured or possibly Absent Concussed. This issue had been a matter of some debate during the week and it had been decided that if you say you are not concussed then you probably are - this is otherwise known as a Conundrum.
At Great Brickhill some years ago George (fast bowler) had tried to maim David Maunder (wicketkeeper). The ambulance arrived and its staff administered morphine to David who was soon asked whether it had 'kicked in yet'. It was impossible for anyone to tell from his behaviour, but as soon as he said it hadn't, we knew he was under the influence. You may be interested to know that George broke the replacement 'keeper's finger with his very next ball (which was about half an hour later). Gratifyingly the finger belonged to Dismal Doug.
Jai got George Deeley the opener for 62 but Gayan Sirimanne was winning the game single-handedly. Dakes replaced Jai (5-76, his first five-for for the 1s). Then Hollywell was introduced into the attack at the top end. He reduced the run rate, removed Jennings and Leather (sounds like Hugo's saddlery company) but with Sirimanne still there Cropedy were going to win.
No-one had reckoned with Cooperman however. Wellsy has been offering £5 to anyone who takes a catch on the understanding he gets £5 from anyone who drops one. This has had a significant impact on Cooperman's fielding.
The Greatest Mid-Off in the World (ie Hollywood) or so we thought, was bowling. In the 45th over of 47 with 17 wanted, Sirimanne launched the shot that would have won the game. No, not a shot potentially worth 17, but a boundary now and with him still in, and it would be curtains.
Hail the new The Greatest Mid-Off in the World. He had snaffled a bullet last week; this time he gave chase to a skier round the boundary. Cooperman has a great ability to never look like he will take a catch (notice what I did with the split infinitive there) yet always takes it, so I wrote a poem.
He moves through the air
With all absence of ease
Takes a wonderful catch
And ends up on his knees …
…as usual
Refrain….
One more wicket and they ended up 12 short of victory, 9-down, another game where we narrowly failed to dismiss the last man or two.
The 2s however had won a stunning victory with Carlton and The Mighty Sniff putting on 40-odd for the last wicket to win off the last ball. One of them batted like a reborn Collis King, smashing sixes and fours and making 43no, the other one blocked out. We'll leave the reader to decide which was which, or who was who.
Arriving home, RolfeDog washed some kit including some rather long whites he did not recognise. In a modern case of "The Wrong Trousers" it transpired that Hugo had put his whites into RolfeDog bag and zipped it up as part of a cunning plan to get someone else to wash out the grass stains. Hugo is going to look rather daft in RolfeDog's kit next week.
Finally, Brooksie celebrated a fine match with his usual brew: "lager with a dash". No one had told him how dangerous a dash of Lyme can be. He has now replaced his five sweaters and in future intends to play in a shellsuit.
Lord Keeping is on holiday in Cornwall
Bledlow Ridge v Hetairoi
Sunday 28th July 2019 – Home
----------=----------
RidgeBears are Given a Strong Lesson in Wandering
Unnamed Ridge Player Sleeps Through Entire match
Hetaroi Ringers Include a Couple of Goels and a Real Lord
----------=----------
BRCC– 156 ao
Hetairoi 159-4
Result: Lost by 6 wickets (timed match)
We have one remaining Sunday fixture. It's against a Wandering team. A team which wanders, which means the only play away games. Can you imagine that? Some of them come from afar so it's like travelling to Brackley or Shipton every week. And they do it without complaining as far as one knows. This particular fixture had only been played once in three years, due to rain.
Hetairoi means "drinking companion" or "travelling friend" depending on who you ask but like all successful wandering clubs they have a remarkable ability to recruit and regenerate. This one was formed in the 1980s by a few ex-Oriel College Students. Quite remarkably they sustain a fixture list with almost 30 matches and prove both that friendly cricket is alive and that timed cricket is still popular.
Talking of timing, I walked out to the square to find Brian the captain, in order to toss up. A full team of X1 players advanced towards me. Remember, they were the away team. This was impressive and rather better than our crew, one of which was still in bed unable to decide if he was hungover, whether his hip hurt or whether it was yesterday (having sent an email at 12.11pm to say he would not be able to play tomorrow because his "hip was hurrying" – yes really!). He wandered out of the team.
We replaced him with Tommy Lovebite who is off games for five weeks with a broken finger and who cannot bowl either, due to a side strain, or whatever he has injured this week. Tom was keen to play and knew what day it was. Irony is dying.
Brian and I exchanged the normal nonsense about not being particularly strong although Brian did admit to having 10 bowlers, none of whom were in bed asleep.
He said that they had two girls playing. I didn't remember Brian having a West Country accent but I replied that this was good news as we had a portacabin in place especially for this purpose and that we had had a girl playing against us for Leighton Buzzard the previous day. " No" said "Brian both the girls are playing". Perhaps I had mistaken West Country for Northern Irish but I was glad we could accommodate them. When Brian explained that in his team were both the Goel Brothers I began to suspect this had nothing to do with accents so we did not unlock the portacabin.
Our innings followed the usual pattern v Hetairoi. They got into us early and dismissed some of our bankers; then they opened it up slightly, RolfeDog and Dales put on a partnership, the tail wagged a bit then they finished us off.
Brooksie got 13 and he, like Jovan who was lbw'd for 4 by Umpire David Saint in some act of 2nd X1 revenge, fell victim to opening bowler Will Fryer who was eventually put out to grass with figures of 8-2-10-2, Richard Slade having ended with 7-1-15-0 at the other end.
Hugo who had opened was still in and in a delicious moment our resident Farrier found himself facing Jeremy Steed. Irony is still alive. Hugo was never quite at the races though and made 11 without ever getting out of the stable door. By this time one of the Goel Girls was on and accounted for Hugo while Des fell victim to the wiles of 97-year-old parent Ollie Fryer. This was beginning to look like a bit of a fry up.
Will Saint survived a few balls against the left-arm orthodox wizardy of Vidur Goel and Ollie Fryer was replaced with the right-arm leg-break wizardry of Varun (Goel if you had not guessed).. Stephen Matthews replaced Vidur who was bowling far too well. Will Saint was replaced by another Real Saint aka David who was soon bowled by Matthews.
Did you follow all that? Amidst the confusion of all this coming-and-going, Dales wandered out to join RolfeDog and set about a 126 year-old partnership. This is some kind of record for The Ridge, at least in modern times. The last time two over 60-year-olds played for The Ridge was at Horspath at least five years ago when James Langdon-Down (all three of him) took the field with Andrew Needham but I don't think they batted together. I do remember that vultures were circling overhead. There were no vultures circling overhead today, there being insufficient meat on the bone in this particular partnership.
Dales logged on before Varun had properly booted up, and took him for a few boundaries before handing over that end to RolfeDog who had been struggling with Matthews' pies. These pies are made from flour milled by family business FWP Matthews Ltd of Shipton-under-Wychwood (you may have seen the banner while wandering around the Shipton ground) and while RolfeDog can usually sight them on the way up, the powerful sweet-smelling aroma is often too strong for him when they are on the way down. They need a bit more meat in them too.
Rabbit would do and in due course, RolfeDog became Matthew's rabbit for the umpteenth time and departed for 29.
Then an extraordinary thing happened. Cooperman strolled to the wicket like the Wandering Minstrel he is and started cover-driving. Is there anything this man cannot do? He played a fine riff and almost caught up with Dales who was reduced to the part of backing group until both of them were bowled by one of the Goel Sisters for 26 and 33 respectively.
13-year-old Aidan Murrell then batted with 3 year-old Tommy Hickey aka Lovebite. Each hit a cover drive for four before Aidan was caught by a Steed off the Bowling of a Ball. I had forgotten to mention that a Ball Bowled too. Jolly confusing.
We wandered off for tea which was by Roz on loan from the Saturday 1s. She showed Stephen Matthews what a pie really looks like and RolfeDog took fright.
We opened up with The Real Saint and Cooperman. One of the opening batsmen was The Real Deal. A Real Lord. Where was Ben Keeping to witness this?
Clive Mackintosh is a real Lord, not with a Lordship purchased off the shelf at Tesco by our Jonny-come-lately Lord Keeping of Bledlow*, but the real thing. One who has worked, nay "served" (as he once corrected me) in the House of Lords. Imagine a house full of them (proper Lords that it, not Keepings as I have seen the latter and it is terrifying). Clive chose not to be known by his title and to mix with the masses instead (unlike Lord Keeping) and does not have to have a drive to his house a mile long. for keeping commoners out.
*A crowd of people stood and stared
They'd seen his face before
Nobody was really sure if he was from the House of Lords (A Day in the Life 1967)
Anyway, less of the two Lords, Clive Mackintosh and Lord Fraud.
We leaked runs quite quickly, however in the seventh over an aerial drive off Cooperman from The Real Lord flew to Jovan, who used Lord Fraud's 'let-it-smash-your-chest' style of the previous day and managed to cling on. (Remember the ClingOns?) Cooperman was struggling and for the first time in ten days we had the answer to the question: "Is there nothing this man cannot do?" The answer was "bowl". Shock-horror.
Yes, this young Steed (we have one too) had been overworked and had gone in the fetlock. At the sight of the advancing ferrier he limped off to chew hay in the long grass.
Dales and in particular Will Real Saint proved a better bowling combination, Will getting some genuine swing and unluckily conceding runs off edges.
Attempts were made to hide Tom Hickey and his damaged finger in the field but inevitably the ball followed him like a magnet. Finally we had proof that this broken finger-thing was all a hoax when he comfortably caught a catch offered by one of the Goel Brothers (Vidur) off Dales. Offered the chance to have a bowl, Tom invented a side strain and at the sight of the advancing ferrier wandered off to chew hay in the long grass. For his part Karim Pal hit one of Dales' balls an enormous distance into a tree (at least that's what Dales said it felt like).
For a while there was an enticing contest between Will Saint and Will Ball involving a certain amount of Will Power (on both sides). Then two things happened: firstly Will had bowled his quota and in case Leighton Buzzard's scorer was looking he was replaced by Hugo. Secondly, at the other end, Brooksie had been wicketkeeping so badly that we replaced him with Aidan and there was an immediate and marked improvement.
Hugo's bowling was a thing of mystery. We had expected him to tear down the hill at full gallop but instead he wandered downhill as if bowling uphill, in measured dressage-style. If only we had tried this earlier. Karim had seemed unstoppable but with 57 on the board he was admiring Hugo's baroque trotting technique when he was clean bowled by the Farrier.
At the other end Brooksie replaced Dales and on the boundary Birdy and MIdds warned the opposition that Phil, off his 15 step run, was the 1st team's paceman who had been held back. Cue universal childish giggling when the first delivery floated high and wide of off stump like a balloon expelling air, for a wide. Later, Aidan who was getting the idea of all this, actually took position outside the wide markings and Phil bowled one straight at him.
Remarkably Phil bowled Varum Goel for 11 so that Brian Slade came into join Will Ball. We realised only too late that if Brian was in at No 6 there might not be much to come.
He gave us a chance by trying to run his partner out but where there's a Will there's a Way and Will said "No Way" and the chance was gone and Hetairoi passed our total for the loss of only four wickets.
Not for the first time we have been defeated by The Hetairoi by this margin, with Rolfe and Dales top-scoring and with Slade at the wicket at the end.
The world needs to realign. Next year we need to be stronger and more aggressive as there is no point in dying wondering – or wandering for that matter.
The House of Lords is currently at prayer
Bledlow Ridge 1s v Leighton Buzzard 2s
Saturday 27th July 2019 – Home
----------=----------
Ridge Take Moral High-Ground in Points Deduction Fiasco
BenDog hits rock-bottom – well lumpy chest
Buzzard Get into a Flap while Taggart Spits Feathers
----------=----------
LBCC – 132-9 (37.1 overs)
BRCC – 101-6 (20 overs)
Result: Match Drawn
Forecast poor. We had no Gilet (umpiring for the 2s) to put us straight on rain rules. The moral is: always know the rules.
Sure enough the start was delayed. We provided the Leighton Buzzard team with tea and coffee. Wayne Tyas made grumpy-Taggart seem like a Chuckle Brother on speed: "We are going to sit here all afternoon watching it rain, then go home", so…
…the rain cleared and we started a 38-34 over match. Opener James Raine who, in the first match had been sitting uncomfortably on a few ducks and was quite brilliantly run out by an octogenarian for another before throwing his bat around and going home, was loudly applauded by his teammates for getting off the mark. Junaid then bowled him for 2. Junaid bowled Andy Smith too in another fine spell.
Grumpy Tyas had decided to play and threw the bat for a while, holding us up before a very fine edge from Cooperman to Alex saw the umpire's finger raised. This was followed by a little temper tantrum and bat throwing-for-real this time. Perhaps it is a Leighton Buzzard tradition. Unlike Mr Raine in May however, he did not go home.
Matt Gurney and Ella Claridge held us up for a while. Yes, Ella is a lady and what a moment for The Ridge. The blue portacabin was at last brought into play and she had it entirely to herself. All Brooksie's digging, all that plumbing and all those electrics, put to good use at last. Its purpose was no longer target practice for Hugo's batting.
For once, Captain Dakeseye was wicketless. He had replaced himself with Cooperman. The Thespian had entertained us regally the evening before with a set of Buddy Holly and other 60s numbers. (Is there anything this man cannot do?) Now he terrorised the opposition and eventually accounted for Miss Ella and Ant Bell, whose name must have a joke in it, but I can't think what it is.
Before these dismissals however we were treated to two visions of BenDog doing impressions of a mermaid in a strong gale.
Deftly brought into a close short leg position by Captain Dakeseye he was immediately given the opportunity to take a catch, but instead of using the old-fashioned catch-it-with-your-hands method, lunged towards the ball and chested it down in finest Harry Kane style. The result was sufficient bruising to justify a new 38" Double D rating at the nearest ladieswear store.
We needed to get Matt Gurney out. When be obliged by hitting one in the air towards our mermaid-in-a-strong gale, the mermaid responded by flapping vaguely and diverting the ball one side of Hollywood who gathered and threw a beautifully inaccurate throw to our latest Captain.
Yes, as well as Captain Dakeseye we now have a Real Captain to go with The Real Saint. It is Captain Alex who serves Queen and Country and takes wayward throw-ins yet throws the stumps down while facing the wrong way and ending up on the ground Cooperman-style. It is the only way to get things done. This runout was credited to Captain Perry despite the comedy involvement of Hollywood and BenDog whose new garments hadn't arrived yet.
With Gurney's departure most of LB's resistance faltered but it took a catch by Sooperman off a powerful blow to mid-off (off Hillarious: more anon) to ensure Austin Jones did not last long. (Is there anything this Sooperman cannot do?) More remarkably, SooperCooperman took the catch without ending up on the ground, no not for a moment, the role of perpendicular fielders having been taken over for the day by the aforementioned Captan Perry and BenDog the Mermaid-out-of-Water.
Rain curtailed the innings 11 balls early at 132-9; Junaid 2-30, SooperCooper 3-42 and Hillarious 3-36 off 9.1 overs. Remember that: 9.1 overs.
Rain extended the tea break. Tea was provided by Carole Dakin with a fine debut by Steph. No wonder Dakes is a lot chunkier than Hugo who may once have been put on a starvation diet in a failed attempt to turn him into a child jockey.
Rain rules were read and re-read, but what was this? The Leighton Buzzard scorer (who may have been kin to the Abingdon scorer of in our forfeited match of 2015) had sensed an opportunity and challenged Hillarious's 9.1 over spell on the basis that a 19 year-old is limited to 7 overs only.
Buzzard went for the jugular, if that's what Buzzards do. Was this really the club we had supported in 2016 when the CCL made them forfeit a match for a similar reason against Great Brickhill but in direct contradiction of the verdict against us at Abingdon in 2015? They have short memories - perhaps all Buzzards do.
The first indication that they were not that well informed was when Andy Smith asked to see a Handbook only to be advised that Handbooks had not been produced for a couple of years. The moral is: keep up to date. Everyone started playing with their mobile phones instead: where was Gilet when we needed him?
Regrettably we were also guilty of not having a forensic knowledge of the Playing Rules. At one stage Buzzard decided we had to forfeit the entire match, and I wished we had not provided them with coffee or tea. In the end it was agreed that Rule 5.15 applied (more fool us): 30 runs were to be added to the LB score of 132 and we would lose 9 points (a 10 run penalty and a 3 point deduction for each over or part over exceeded). So much time had been used up phaffing about over this that we only had 20 overs in which to get the runs.
RolfeDog went out to bat after receiving a short broadside from Mrs Scorer for no apparent reason, accompanied by Real Captain Perry, (RolfeDog was accompanied by Captain Perry not Mrs Scorer) and was promptly caught on the boundary for 1 which must be some kind of a record. Keeps played-on first ball. How we all laughed. It took us back to 2007 when he got even more ducks in a row than James Raine: a number somewhere between 6 and 8. He has pointed out that two were not league matches meaning it was only five consecutive league ducks-in-a-row – phew! Brooksie cannot bag that many in one shoot.
Anyway BenDog later described his performance as "perhaps my worst contribution on a cricket field in 35 years" and believe me, that's saying something.
Once Unreal Captain Dakes had departed in the attempt, Pythagoras was employed to calculate that a more realistic target was 86 which would give us 7 winning draw points for faster run rate.
Unreal Captain Dakes trotted back out to advise Real Captain Perry of this cunning plan whereupon The Real Captain chipped one up to mid-on and departed for a stylish 26. Hollywood made 12 and Hugo spared the portacabin with 1. It must be said that Hugo had looked decidedly groggy all day – his eyes were rather blinkered in fact – owing to a night of romance aka horseplay, inspired by the Buddy-Holly-Look-a-Like. So Cooperman inspires romance too. (Is there anything that man cannot do?).
Less of Hugo and Cooperman (two giants of the game). Junaid came to the boundary to check our target with The Unreal Captain, saying that Buzzard were only interested in stopping us reaching 100. This was the second clue that Buzzard did not have a good grasp of the Rules (there's a moral in there somewhere). Junaid then took us past 100 anyway, and to an extra bonus point ,with a fine 36 not out with Brooksie on 12 not out at the other end.
Mrs Scorer announced with some glee that we had scored minus 2 points but the one thing we did get right was that seven draw bonus points took us to plus 5. RolfeDog did get some kind of a response – if only a grunt – when thanking her, without irony, for scoring, but it took two attempts and Buzzard did not hang around long supporting the bar, like we had at their place.
When Taggart learned of the events in his car on the way home he spat feathers. In fact he made Wayne Tyas seem like the Chuckle Brother on speed and grumpily pointed out that the run and points penalties only apply when a bowler exceeds 1/3 of the total overs available. There is nothing in CCL regulations about penalties for exceeding ECB Young Fast Bowler Directives.
He then realised what we should have all known: the ECB directive also only applies if a wicketkeeper of the same age would not stand up to his bowling. Alex had stood up to him. OK The Real Captain is 31, but any competent 19 year-old would Chuckle at the thought of Hillarious being a fast bowler - would think it, well Hillarious, and would stand up.
End of story. Nine points returned and 14 in all. Up Yours (Delors)! as Mrs Thatcher was once erroneously quoted as saying to a French politician. Had we been sharper we might have had more than 20 overs to go for only 132 not 162, but in the end it felt like a moral victory.
And we are very proud of our morals at BRCC.
Boris Johnson is holidaying in Europe
Bledlow Ridge 1s v Didcot 2s
Saturday 20th July – Away
------------=------------
Junaid Lands Three Hefty Blows and One More on Gilet
Captain Dakes Suspected of Serving Dodgy Burgers
The Ridge Almost Get Lift-Off But Fail to Touch Down
------------=------------
BRCC: 155ao (47 overs)
Didcot 159-8 (49 overs)
Result: BRCC lost by 2 wickets
Yes, almost 50 years to the day since Neil Armstrong took a stride nearly as long as Hugo's, The Ridge had a chance to make a lunar landing of their own but fell just short of the intended landing area.
It is not often that the merits of batting out the full complement of overs is so starkly illustrated as in this narrow defeat to Didcot. The pressure created by another 15 or 20 runs and by offering the opposition six less overs in which to do so, would have proved critical. As it was The Ridge appeared to be cruising to victory with Didcot on 101-7 but for the third time in recent weeks could not finish off the job.
This was a fine and exciting game as low scoring games often are. The match and the aftermath had its comedy moments and featured the debut of our new Rambo-lookalike bowler. More of that later.
Dakes had to make some tough selection calls. Cooperman had emerged from the jungle and Alex was available, so something had to give. It was The Landlord who missed out. Yes, Lord Wells gave way to his Lodger, Hugo. It was a narrow call and you don't get much narrower than Hugo unless you are RolfeDog.
There were repercussions in the Wells' household of course: The Lodger was locked in his room with no hot water, and plates were thrown about, that sort of thing. There were benefits for The Landlord in being dropped after top-scoring however, in that he was playing at home. He did not have to go to Didcot Parkway which is roughly where Didcot CC's new ground has been constructed, in the middle of a Huge housing development. Regrettably the three kilns which form The Didcot Power Station, and which give the area its character, are due to be demolished in August. Probably by a throw from Junaid (see later).
The journey went well until a key country road was blocked off. The diversion took us to a remote level-crossing where, memorably, three years ago RolfeDog and Brooksie performed U-Turns in amongst the traffic queuing to get across. This time there was no queue, only a buzzer to alert the signalman to our plight and an instruction to wait five minutes until he got out of bed and lifted the gates. This occurred quicker than expected and in no time at all we were changing in Cell Block 5 of the new pavilion. Alex proudly showed off his new bat which he had collected in the morning and expressed concern that it had no bat face protective cover.
Fortunately he will be able to put one on to his clean bat because, 50 years to the day since Apollo 11 landed on the moon, Alex got his second first-baller in a row. What are the chances of that?
The innings followed a simple formula. RolfeDog blocked while Keeps and Jai batted, albeit briefly. "4 runs off 40 balls" announced Gilet gleefully on WhatsApp as RolfeDog, who so far had spent the afternoon in a Sea of Tranquillity, was joined by The Lodger.
With his stride, Hugo could never have landed on the moon and said: "That's one small step for man" unless he was inventing Fake News.
As it happened, at the beginning of his innings his feet hardly moved at all. This is because when you are as tall as Hugo, the air is quite thin and it takes a while for the oxygen to get all parts moving. So it was that he lulled Didcot's bowlers into complacency before taking a deep breath, advancing down the track and launching Kieran Beesley over extra cover (not literally) and then depositing one of Umang Goel's balls into the car park (at least that is how it felt to Umang!). You'd have thought that after that, Umang would have bowled some 'no balls' but he didn't, although his predicament may explain the surfeit of goo(g)lies.
Having almost got the ball into orbit and accelerated the scoring with some sharp running, Hugo The Lodger came down to earth with a bumpy landing. His attempt at lift-off against the Meesley Beesley was unsuccessful this time and Hugo left for a short while in quarantine with 32 to his name. He had made splash though and the score, which had been barely 65-3 at half way was looking much better at 103-4 with 20 overs to go.
At the other end RolfeDog had virtually blasted off and just as Gilet was about to send out a derogatory WhatsApp, he realised that the aforementioned had translated 4 off 40 balls into 50 from 101. But RolfeDog got impatient and came crashing down to earth with a poor shot and departed for 62 at 129-5.
Where was Major Tom when you needed him? Sitting on a Tin Can perhaps? We were soon scuttled and our mission aborted as we lost our last five wicket for 26 runs. This included the inevitable "RunOut Sacrifice of Cooperman" as Brooksie tried to farm the strike but only succeeded in dispensing with Cooperman and giving it to Gilet. Out first ball, Gilet was delighted that his batting was on a par with Alex and managed to get off the pitch, get his pads off and get upstairs to tuck into tea before anyone else had moved.
We made such a fine start in the field that we began to wonder 'Is there life on Mars?' 22-4 after a superb spell by Junaid who took three wickets and Dakes, one. Junaid's included firstly a terrific diving catch by Cooperman who operates best when entirely horizontal, and secondly the prize wicket of skipper Sam Couldrick who is averaging a zillion this year. Later in the match Cooperman managed to retrieve a ball that had gone to the boundary and ended up completely prone for no apparent reason, but possibly due to the temporary failure of his landing gear.
Indeed there was confusion at times. We had Coops and Keeps. On one occasion Keeps thought he was going to bowl – gawd help us – but he had misheard, and on another, Keeps fell over for no apparent reason thinking he was Coops. More strangely still, Umpires Simon and Graham Hillarious had the odd counting problem and created a record by asking how many balls had been bowled in one particular over, and the answer was "two"!
Enter Gilet instead of Junaid. After a couple of balls and in a desperate act of retaliation Junaid threw the ball in powerfully such that it pitched short of the bowler's wicket and "literally" took off like a moon rocket.
It landed just above Gilet's right eye. Gilet lost all power and rapidly succumbed to the pull of the earth's gravity.
Didcot CC's emergency task force leapt into action. It took about ten minutes to sort him out with a combination of ice, water and rocket fuel. A Didcot player with a first aid box, said he would give him an eye-pad. This was the boost Gilet needed. He made an immediate and dramatic recovery and asked what functionality it would have.
The answer was a thick cotton pad and lots of bandage. What I suspect started as a Didcot joke, ended with Gilet resembling a slightly portly edition of Rambo, replete with bandana. Fortunately as he had not been hit on the arms or legs, he continued bowing and exerted pressure on the batsman so that we took three more wickets at the other end as Cooperman terrorised the Didcot middle order. Cooperman threatened to start singing and took two wickets, then when HollyWell caught a skier to remove Beesley for 55 with the score at 101-7 we seemed poised to re-enter the earth's atmosphere.
Somehow Andy Griffiths survived a blast from BrightWood who replaced Cooperman (who had probably fallen on the ground) before turning on the afterburners and taking his team home. Our only other reward was a late wicket for Gilet from another skier, caught this time by Junaid who promptly threw the ball as hard as he could at Gilet's bandage.
Just kidding.
Gilet's figures of 2 for only 37 off 17 was, some said, a fine performance by someone who had taken a heavy blow to the head and by others as a clear indication of how to get the best out of him in the future.
Somehow we had failed to complete our mission having all but beaten the team that now moved to the top of the Division. We are playing well but not ramming home our advantage often enough.
There is a special feature in the on-line scorecard summary that enables whoever uploads the information, to nominate a Man of the Match. This was awarded to Kieran Beesley who had added 55 runs to his 3-60 off 15.5 overs. With 2-37 off 17 and the Drama Queen Performance of a lifetime, Gilet was unlucky not to get it. But then it was not his wife or girlfriend who submitted the scores! Note to Gilet: Nathalie needs to take up scoring, forget about the girlfriend.
Some of us took up Dakes' invitation for a barbie at his house just a few minutes' drive away.
His house is easily identifiable as the only thatched cottage in an avenue of genteel bungalows. It has been roofed entirely out of Dakes' beard.
When RolfeDog arrived, Keeps was showing early signs of Post Traumatic Stress. He had come back out to inspect his rather grubby Tesla on the advice of The Lodger who said he had spotted a nasty scratch.
Keeps couldn't believe it. "I've just traded it in for a 400-mile version, this one only does 250 miles and I've already ordered the extra cable".
Keeps and RolfeDog agreed that The Lodger was not the sort of person to make up something like that and on entering Dakes' garden were greeted by The Lodger who was wearing a large smirk.
Keeps needed some time on his own, so went on a tour of the house. He returned to say that he had opened a cupboard (what was he looking for?!) and a cat, which it turned out had been shut in there all day, ran out. On further inspection Dakes announced that he had also crapped in the cupboard which gave rise to a potential misunderstanding, and I must say it did look like one of Ben's.
Needless to say, Gilet consumed burgers as if he had had no tea and we all compared weights. The Lodger weighs 12st with RolfeDog 11st 4lbs not far away; how then, can The Lodger hit a cricket ball into the next village while RolfeDog cannot get it off the square? Gilet proudly announced he was 17st and ate a few more burgers, bringing him up to 17st 2lbs. If I could remember what HollyWood's weight was, I'd embarrass him; it was definitely greater than Keeps whose weight exceeds the permitted amount for an investment banker under financial trading regulations even when he has emptied his pockets of cash.
Cooperman announced he would be putting on a musical show at the club next Friday night including some 'light' music to keep his weight down. He also said he was a fraction taller than whatever height The Lodger claims he is, so we all ate a few more burgers to celebrate.
Eventually we made our ways home, RolfeDog taking both Cooperman and The Lodger just to prove it can be done without modifying a vehicle.
Gilet, who had been hit hard on the head with a cricket ball, who had then bowled 17 consecutive overs and who had later consumed Dakes' supply of burgers, spent much of the next day in hospital with a bad headache, dizziness and vomiting. All this, 50 years since man landed a modified vehicle on the moon (what are the chances of that?). The CT scan (unsurprisingly) found nothing at all: clearly some of the burgers had been a bit dodgy.
Chuka Umunna is away playing scrabble
Bledlow Ridge 2s v Didcot 4s
Saturday 20th July 2019
_________________
2s Bludgeon Didcot in Fairly Uneventful Afternoon
Wellsy's new money making scheme looking destined to failure
Didcot 85-10
BRCC 87-2
Won by 8 wickets
The most competitive aspect of this game turned out to be Dave Wells new cricket ponsey scheme. The deal was that if you take a catch, DW shells out £5, but if you drop one you have to pay him. This might have looked like a high risk gamble last week in the 1s, but on hearing that he was playing in the 2s this week, there was a rush of investment offers coming in from financial centres all around the world.
We were playing on a 'fresh' pitch, but at first glance this one looked positively forthright. Sniff therefore did not need asking twice on winning the toss and inserted Didcot to bat.
Shaun struck early, so early in fact that the wickets section of the scoreboard was the first to kick into action. There then followed a pretty dull 10 overs that managed nothing more exciting than 17 runs. Sufi eventually induced an edge which DW snaffled up before the openers gave way to Hilarious and Taggart. At this point Didcot had James Casson join Viraj Perera and the 2 of them batted without much alarm but also without much urgency. At drinks they had reached 61-2.
Despite having looked in little trouble, a couple of overs after drinks Taggart got one to leap at Casson and his leading edge looped up towards mid off. The spectre of a free fiver loomed in front of Carlton and Sufi as they both converged on the anticipated landing point. The calling went, "mine", "Carlton's", "Sufiyan", "NO … CARLTON". The final call was combined with a hand off an All Black flanker would have been proud of and it was indeed Carlton who pouched the catch … and the cash.
Hilarious accounted for the new batsman before he could bother the scorers and a couple of overs later Taggart got a very full ball to shape a little and trapped Perera plumb in front. The score was now 73-5 and 2 balls later it became 73-6.
Shaun had harboured thoughts at the beginning of the day about becoming the top wicket taker in the 2s, so watched on with increasing gloom as Taggart whipped out the last 4 for 1 run. The unluckiest man on the pitch however was Taj, who was warming up furiously to come on at the top end to replace Carlton (who the batters had struggled to put a bat on), only to watch the last 2 wickets fall at the other end in one over.
In cricketing terms, it had been a triumph, but fiscally speaking, not so much, at least for Wellsy. Carlton, Hilarious and Chesh had all bagged catches with only one drop to mitigate his losses. The drop unfortunately had been DW himself and his hoard of investors declared him sub prime and went to see if there were any opportunities for investment in South American cartels.
To cheer him up, Sniff sent him out to open with Chesh, who got one that did a bit early and was back in the hutch counting his pounds, which amounted to 5 more than his runs. David Saint lasted twice as long, got a run, but didn't have the consolation of £5 to keep him warm.
Having seen his hopes of topping the wicket table cruelly snatched from him, Shaun decided that the best he could do was get the game over in plenty of time for Taggart to buy him multiple jugs, so as DW settled back into a support role (35*), Shaun blasted a 33 ball 45 not out which included a pleasing mix of big shots, good shots, a six over cover point and most encouragingly of all a lot of very sensible cricket.
So at 5pm, and after just 16 overs of the second innings, it was all done and dusted and some proper drinking got underway.
With Tiddington having gathered 24 points less than expected against Kimble, the top 4 are spread across just 34 points. We are bottom of that particular group, but play all three of the others in the next 3 weeks.
However it all pans out, our fate is on our own hands and you can't ask for much more than that.
David Maunder is away on a remedial spalling coorse
Bledlow Ridge 1s v Challow and Childrey 1s
Saturday 13th July – Home
------------=------------
Victory for The Ridge as Gilet Almost Hits Two Sixes
The Boy Angell in CatchFest
Wells Fills His Boots While Hugo Fills His Car
------------=------------
BRCC: 238-9 (53 overs)
C & C CC: 88 ao (28.2 overs)
Result: BRCC won by 150 runs
Hugo's watch was correctly calibrated for the start time and so he and Wellsy arrived well in advance in a luxury motor, Hugo wedged in with the seat back as far as it would go, Wellsy with the seat comfortably forward. The dressing room was awash with paper as evidence of RolfeDog's attempts to educate players about the points system. Birdy was awash with bad jokes as usual.
Dakes chose to bat. The wicket was greener than last time. RolfeDog and Dakes negotiated the first 26 runs before Dakes was bowled around his legs by opening bowler and skipper Martin Turnbull who seemed particularly pleased at this and even more so when RolfeDog toe-ended his long-hop in the air to the only fielder anywhere west of Weston-Super-Mare.
"Good day to lose the toss" exclaimed the bowler whose team was to be bowled out for 88 later in the day. There was also a remark about all runs being on the legside, but as RolfeDog mentioned later, they are definitely allowed and count for as many as the others.
The Boy Angell joined Wellsy who spent some time facing the other bowler, Alex Wells so it was "Wellsy" to "Wellsy" for some while which made it easy for the scorers as they cancelled each other out. Well scorer (singular) actually as sadly we did not have one, and despite Martin T's observations later, we were not deducted any points or runs for that matter, even any on the leg side.
Jai carried on where he left off last week and entered a competition with (our) Wellsy to have the most classic batting technique of any RidgeBear. Alex will have to rise to this challenge next week and Middy too whenever he returns to the game from his latest LoveFest. Lord Keeping could be an also-ran though it actually doesn't matter what you look like if you make runs, if you have wavy hair.
After a short while Dave Wells called for a drink of water which was odd as Wells are usually full of the stuff. Perhaps this one had temporarily run dry. Wellsy is a bit of an endurance sports freak and had some fun calling quick singles with Jai who, after a bucketful of cricket, was afflicted with Birdy's Hobbling Disease. Wellsy also kindly 'withdrew' a single on account of his obstructing the bowler when Jai straight drove. If I knew how, I'd overrule all of Brooksie's runs.
The Boy Angele made a fluent 28, Wellsy made it to 46 but as he was due to empty his bank account to the club later in the evening, felt he had to decline a half-century. As a Landlord, he had been batting with his Lodger (Hugo) the first time this kind of partnership has happened for a number of years (Ed's note, or at least since they opened together for the 2s 5 weeks ago) . Perhaps ever, depending on whether Mike Stevens ever played with Steve "Budgie" Buhaghiar when Steve was ensconced in the Stevens' barn. From the barn, he used to have copious volumes of food delivered into Routs Green via articulated lorrie,s which regularly prevented Mike and Christine getting out – to the benefit of us all.
Brooksie arrived and watched Hugo playing a number of shots on the hoof. When you are an in-form farrier it pays to strike while the iron is hot, so Huge hit a Huge six which struck the blue portakabin full pitch at a distance of almost a furlong, the first time a blue portakabin has been hit by a farrier, unless Mike Stevens has ever driven into it while delivering horseshoes to Ben Keeping or horsefeed to Steve Buhaghiar.
Partnerships were the feature of our innings and it was not necessary to have a landlord-lodger relationship for all of these. Hugo blasted 32 and Brooksie 21. When Hollywood arrived at the wicket Wellsy asked RolfeDog what sort of a batsman Hollywood is. 'Almost beyond description' was the gist of the reply, 'but rather defensive'. RolfeDog was soon in the field at the top end looking for the ball which Hollywood deposited at least twice in that area before more artfully hitting a flat six to square leg which returned on to the field after hitting HairBear's sturdy bench.
Hollywood made a defensive 38 in about five minutes before Birdy arrived at the crease. Birdy, who had earlier suggested that a certain teammate likes to be centre of attention, gestured theatrically after one run that he had again gone in the calf. A vet was called for while RolfeDog padded up as runner and practised short sprints BirdDog-style, only to be completely forgotten by BirdDog who moved effortlessly (sic!) to 22 not out. At the other end Junaid had made 9 and Hillarious with 5, was out in the last over.
With two balls left, Gilet strode to the wicket with strict instructions to "get something on it" and the field at the far end filled with ball-retrievers just in case. This was a wise precaution as Gilet took the view that he could open his six-hitting account for The Ridge with the only two balls he would face. He only narrowly missed both of them.
Roz had been reinstated as Tea Provider par Excellence but could have been marked down for providing a packet of small biscuits that had broken, but as Brooksie was due to go to Lords the next day we took the smart option and did not mention it. The tea, incidentally was still being eaten at around 9pm.
Dakes got into them early. Joe Durie (who may have played tennis at Wimbledon in the 80s) was taken with a diving catch Alex-style by our endurance athlete behind the wicket, before Justin Penrose was trapped by Dakes, LBW.
Tom Pill and Oliver Hill enjoyed a very brief rhyming partnership before Junaid bowled Pill with a big inswinger taken with a small glass of water. Hill went for aggression, cracked an aerial drive towards extra cover at the speed of sound where The Boy Angelle, cool as you like, caught a belter just before it broke the sound barrier.
In 2015 Dakes had served up a similar delivery to James Gaskins of Twyford who blasted the ball to RolfeDog at similar speed. On that occasion the catcher was greeted with multiple hugs by ShakEY and Tombsy which should not be wished on anyone and thankfully for Jai they were not playing in this match (and ShakEy can get a bit emotional). It turned out to be the last game Tombsy played for The Ridge for four years, so it wasn't all bad.
Junaid bowled Harry Rooke. His figures of 2-28 in his best spell for the club, were something to Crowe about. 12 of these runs were scored in his final over.
Gratifyingly Challow adopted a policy of hitting the ball in the air to where our fielders had been placed, something that Shipton and Kingston Baggers had miserably failed to do in the previous two weeks' drawn games. Hillarious benefitted from this approach with a catch taken by Brooksie while he was checking his Lords Pavilion Pass. The new batsman was greeted by Umpire Graham with the news: "Right-Arm Over Rubbish" which is the first known instance at The Ridge of an umpire sledging a bowler, although not before time.
Lured into this trap, Marc Gregory was also dismissed by Hillarious, caught by Dakes in an unlikely double-whammy though not before Hollywood had started experimenting with bouncers from the top end, removing Matthew Frost who hit one into the huge hands of, well, Huge. This prompted a glare from Gilet who had been wheeling away economically (he works for Tesco after all and every little helps) for some time, but with no reward not even Nectar Points, from the other end.
Skipper Martin Turnbull arrived at the crease with no intention of playing out a draw and soon obliged by hitting one off Gilet to where Dakes had just planted himself, and was out for a total of 8 runs, hit mostly or all on the legside as I recall, for which no penalty was imposed. Gilet visibly relaxed and updated his smartphone.
Alex Wells came in to be terrorised by Hollywood only to find himself at the wrong end so Alex Dawson (what is it with all these "Alex's" nowadays?) obliged by edging a quick one to second, third, or might have been nineteenth slip where The Boy Angelo snaffled another one so easily that he might have been swallowing one of Roz' broken biscuits.
Challow had made 88. They may have suffered from claustrophobia being used to vast open spaces and there was – allegedly – a reference to our "kids ground" being a bit small. Still, it was good enough for us.
it was about 5pm according to Hugo's slightly unreliable watch. Hugo had travelled down from Preston to play and would soon be returning to Preston, crammed inside a van about a quarter of the size of Apollo 11. This sort of dedication was last seen from Keeps in 2018 when he returned twice from a family holiday in Cornwall in a modern-day version of Chitty-Chitty-Bang-Bang, to play. In Keeps' case his apparent dedication was balanced by his desire to flee his 72 kids and get some peace. Gratifyingly he travelled hundreds of miles to register two runs on one occasion. Today, Hugo made 32, hit a portakabin (every man's dream) and caught a catch (when did Keeps last do that?).
Hugo made a note to ask to borrow Keeps' Tesla next time; apparently the seats go a long way back and it can fly.
Theresa May is away on a dancing course
Striving constantly in the development of young talent, this week we assigned a new young writer to step into the shoes of giants and report on the 2nds game. Below you will find his first effort, and the comments of his invigilator on submission.
In his enthusiasm to show you how literate he is however, he forgot to put in the actual match result, or even who was playing. Don't be too hard on the chap, he did his overly educated best.
Kimble 2 vs Bledlow Ridge 2
Saturday 13th July - Away
BRCC: 175-9 45 overs
Kimble 176-7 39.5 overs
Lost by 3 wickets
One night, William Shakespeare had a terrible dream. Aghast, he rushed to his writing desk, took up his quill and penned these words of his masterpiece, Hamlet:

"Brevity is the soul of wit".
You see, the nation's favourite playwright had had a vision of a cricket club's website crammed with dozens of long and convoluted match reports, filled with impossible insider references, questionable puns and very few details of each match in question. Alas, the true meaning of his words was lost over the centuries that followed, and that website did come into existence.
Reader, I am here to save you and tell you clearly and concisely what happened when Bledlow Ridge 2s travelled to Kimble on Saturday 13th July, and to do Bill Shakespeare justice at last. Less is more. Or is it less? The game that ensued may help you decide.
Captain Martin Harris (no nicknames please) lost the toss which was less than ideal for us, but Kimble only had ten players, which was less than ideal for them. Fellow opener Paul Cheshire, an honourable man, declined to take advantage of a weakened opposition and blocked out the first ten overs. I have no such morals. I flatter myself that it was all going rather smoothly, and I was just wondering how to describe my century in this match report, when I forgot that I first needed to achieve said task, and was bowled.
Kimble were up to strength, but Shaun Dryden pushed the scoring along. He was timing the ball extremely well, so well that he tapped one down long-off's throat. Paul and Jovan Sahota played more circumspectly through to drinks. They had to be particularly careful because the game was interrupted by a swarm of bees... I'm sure John Rolfe would crowbar a pun in there somewhere. Anyway we were 88-2 off 23.
It probably should be mentioned, for economy with words need not mean economy with truth, that Kimble were very upset with a couple of appeals for caught behind turned down. The match was quite spicy at times because of it. That seemed unnecessary to me (it almost always is). So we shall move on without details.
Things did not go so well after the break. Paul took the handbrake off, accelerated, lost control and was bowled around his legs. New recruit Mo Waqar suffered the inevitable on a Ridge debut and was run out. Jovan, perhaps impressed by Shaun's dismissal, tried to play a similar shot to a ball that otherwise would have been called wide. Success! Like Shaun, he was caught.
Wickets tumbled: Charlie Carter and Marcus Angell got good deliveries; man-in-form David Saint couldn't replicate recent efforts. Saeed Ajmal joined Captain Martin. He began with a bold political statement by planting a length ball into the field of wheat that forms an attractive backdrop to Kimble's ground. Unable to find our PM – seriously where is she these days? – he settled for bashing an unbeaten 31.
He did not hit shot of the day however. Number 11 Taj Angell was called into action with 7 balls to go, needing to make sure Saeed got one more over. To cheers from the crowd he played a spectacular leave, that front-on arms aloft Kevin Pietersen "I AM LEAVING THE BALL AND I MEAN BUSINESS" kind of leave. It ensured we finished on 175-9. That was less than the 200 we had hoped for at drinks, more than the 150 we had flirted with in the latter overs, in summary something defendable.
Post-lunch we had mixed fortunes. While Saeed wheeled cheerfully away at one end, Mo bowled a threatening spell with occasional loss of radar but had their best batsman and wicketkeeper caught behind, the irony of which was evidently not lost on him. Shaun saw off their no.3 and all seemed well.
Like Kimble, we faced a period with less than 11 players when Charlie had to leave the field. This also accounted for our scorer Robbie, who generously taken on the role, so we had less than 2 of those too. Their scorer manfully and manically managed 2 books until he too had to leave his post, no doubt with hand cramp, and owing to a seeming lack of interest amongst teammates we had less than 1 scorer, which of course is none, and he had to be summoned back. At which point less was enough.
However, despite good spells from Taj, Marcus and David – not to mention Saeed, Mo and Shaun again – the rate at which we chipped away with wickets wasn't quite enough, because edges wouldn't go to hand and we gave Kimble a release valve in the form of too many extras. In the end we lost by 3 wickets, with much credit going to Kimble's opener Mike Beaumont who carried his bat for 46, following the ancient wisdom that if you bat long, you will get a good total. They reached ours with 5 overs to spare.
When it comes to scoring runs and taking wickets, less is less, unless you are Kimble in which case more is more. But we still have more points than they do, so in terms of the league things were no more and no less different to how they were, more or less.
Whatever the outcome, when it comes to writing match reports, less is more.
Until next year,
Very truly yours,
David
[Editor's Note: This has got to be the longest brief match report I have ever read... are you sure this guy read English? I guess we'll just have to ask Rolfedog or Tags back – better the devil you know.]
Invigilator comments
Dear Mr Maunder,
Well done on getting your assignment in on schedule. Nice flow, decent punctuation, spelling acceptable.
Your piece starts well with a direct jab at previous authors and the Shakespeare reference adds a nice condescending 'I'm smarter than you' tone. Well done there, but sadly it peters out a bit from that point.
Your first mistake was the use of actual (real) names. Readers will be confused as to why Chesh, Sniff, DOEG, The Real Saint, Super Shauny and Test Match weren't playing and this may disenfranchise them early in the piece.
However to be frank, I can't see this new and radical 'actually reporting the facts' style catching on. It has been tried before in less significant publications (The Times, Wisden) and has never really gained any traction.
Chesh blocking out for 10 overs; definite missed opportunity (in narrative as well as runs), swarm of bees taking the sting out of the innings, creating a buzz around the place etc etc, these may seem obvious and cliched to your young idealistic mind, but things become cliched for a very good reason: they work!
Nevertheless, a fair start and I feel there is some potential here with some work.
Overall grade B-
Bledlow Ridge 1s v Kingston Bagpuize 1s
Saturday 6th July – Home
------------=------------
Two Gloomy Scotsmen Watch History in the Making
ShakEy in SchlobFest
Large Crowd Witnesses Former Player Fall out of A Tree
------------=------------
BRCC: 343-3 dec (49 overs)
KBCC: 227-7 (51 overs)
Result: Match Drawn
"I'm getting lashed with ShakEy" they all said on hearing the 2s game was off. You don't get "lashed with ShakEy" - at the very least you get "schlashed" with him, more likely "schloshed".
We had to prepared for a large crowd. RolfeDog WhatsApped that players needed to arrive early as BirdDog would not be there this week, arrived early himself and found BirdDog there. Alex, who still believes everything that is written, also arrived early and asked how he could help, lawd help us.
Bar prospects were good. Finally, finally we had a working Contactless system. By coincidence Alex had just given up his own contactless system and swapped last week's steamy specs for new contact lenses. He had obviously struggled to 111 not out the previous week and so we expected great things.
Amazingly Ben Hillarious and his kit both arrived, although they continue to travel separately: Cilla has decided that she will be responsible for finding it all and will give it to Graham for transportation. That way she does not have to drive like a bat out of hell (just a manner of speech Cilla, nothing personal) to deliver it.
The three-times runner-up in the club's annual Happy Scotsman of the Year competition, one Doug Mcindoe had kindly, volunteered to score and arrived to the news that the Baggers' scorer had already announced The Ridge would suffer a two point deduction for going Scorerless. Once it was established that this was not a Division 1-4 game the two points were restored and the scorers settled down to an afternoon of fun and laughter together.
We were put into bat. With MIdds at No1 and Alex at No3, RolfeDog felt wedged in between last week's two centurions like a thin slice of cheese in a double meat sandwich. RolfeDog watched one part of the sandwich, Middsy, get under way much at the speed Hamsah would have batted, but without the air guitar.
A crowd was beginning to gather, expecting some interaction with ShakEy but ShakEy was playing it cool and hadn't made it yet.
After 26.2 overs of exquisite timing, Midds caught sight of the drinks jugs in the distance, got distracted and gave a return catch to everyone's surprise (otherwise known as Jordan Smith). He had made only 82 of a partnership of 144 with RolfeDog and we had to ask "Would Hamsah have been happy with that?"
Out came The Boy Alex with his new contacts. He took guard, and first ball received an ankle-high grubber of the sort only ever seen before on the day about six years ago, when David Maunder travelled all the way from Central London to Abingdon's second pitch, to receive a similar delivery. That day, David stomped off huffily, declaring in an angry Grammar School sort-of-way that he would never, ever, EVER, travel out of London to play cricket again. This was what they call a Politician's Promise, and I'm glad to say DOEG (David Oxford English Graduate) - sometimes known as DEOG (David English Oxford Graduate) - is down as available to play next week.
We were convulsed with laughter at DOEG/DEOG. As we don't know if Alex went to a Grammar School we watched in agony instead, as last week's other centurion made the long march of shame, saying that he would never, ever, EVER wear contact lenses again.
ShakEy was at home sunning himself but managed to message by means of explanation "I suspect poor Alex couldn't believe RolfeGod was still there".
This brought in Jai who did not seem to realise there might be a mini crisis (144-2 – crisis what crisis?) and started creaming the ball through the covers off the third seamer and back towards pavilion off the off-spinner.
All this enabled RolfeDog to plod on with a variety of shots behind the wicket, which included the glance, the leg glance and the fine leg glance. "Well" as the Great Ben Keeping said later when queuing for RolfeDog's autograph: "Alastair Cook is England's highest scoring test batsman and he only had two shots". "One too many" thought RolfeDog. To illustrate the different areas in which players score, below is a typical batsman's Wagon Wheel (which assumes for this purpose that The Boy Perry and The Boy Midds are both right-handed). Note that one is a Happy Face and the other is a Sad Face: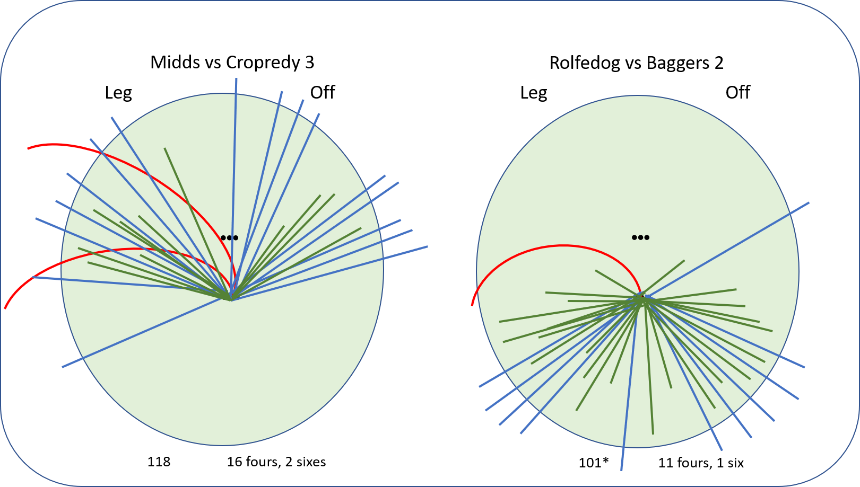 It came as a surprise when Jai was out, well caught for 38 of a partnership of 69 with the score at 213-3 and RolfeDog wondered who would be in next.
"It couldn't be Brooksie" he thought, as Brooksie was not playing – "Why not?" you may well ask. Answer: he had chosen this Saturday to take Roz to a Gay Pride March in London. He really knows how to spoil a gal.
While they were at the March in Oxford Street, they became rather promiscuous and indulged in some casual shopping (always risky) having presumably read the right leaflets and taken precautions first; for protection they took an umbrella. Happily therefore Brooksie did not come back with any crocodile-skin handbags … nor Roz for that matter. Just that same old dodgy beard (Phil that is).
I digress: It was George who was on his way to the crease. No wonder the now abundant crowd was wolf-whistling. The innings was set for a bit of showing off and George did not disappoint. To use the current vernacular he "went LARGE". One of his sixes hit a large oak tree at the bottom near the top (if you see what I mean) and Tombsy fell out, bounced a couple of times and ended up in a seat next to BirdDog which is about as unlucky as you can get, for both of them.
"I thought you were at Bledlow Village" said Birdy – "No I've been up that tree for four years since Taggart chased me there" Tombsy replied, grateful for George dislodging him.
There then followed the rare but well-known Ridge Sightscreen Mirage Effect in which a spectator walked in front of the sightscreen parked next to the clubhouse. RolfeDog began to pull away as the bowler ran up, only for the spectator to "literally" (as ShakEy would say) disappear into the other sightscreen like Harry Potter on Platform 9½. Later in the day this phenomenon occurred in reverse as a spectator "literally' (as ShakEy would say) walked through one screen and in front of the other in the same way Barry John used to walk through brick walls in the 60s. Scientists say this effect is created when Aries is in tune with staggered sightscreens.
George continued to show off on his way to a 33 ball 79 not out, while RolfeDog leg-glanced some more until Dakes announced there would be three more overs batting.
Something extraordinary happened. After two fours, RolfeDog hit a six - his first since April 2018. In all honesty it was barely a six, more like a five and a half because it dropped only just over a rather short boundary fielder* (one about the size of Geoff Tombs) onto the limbless tree by the field at square leg. It hit Marcus' very funny sign which says something like "This Sign is out of Action" or "This Sign is showing Signs of Wear" or "This is a Sign of our Times", before rolling back on to the ground. "If only everyone else could hit sixes so efficiently" thought RolfeDog. *both the fielder and the boundary were short
It wasn't a "Sign of Things to Come" because there were no more sixes but RolfeDog's score had crept up to 93 and in the words of that hardened Centurion Lord Keeping, "The tension among the spectators was tangible". BirdDog agreed but said he preferred ordinary oranges.
RolfeDog only managed three singles in the next two overs as George, with a great turn of humour (probably learned from Marcus) tried to deny him the strike. In truth it was not humour, but jealousy at the attention RolfeDog was now getting.
The crowd overruled Captain Birdseye and decreed that the innings should continue and so it was that RolfeDog hit a four and prepared himself for the pitch invasion that never came. Instead there was polite applause which did something to mitigate the general level of abuse, although words like "how boring" and "lucky bastard" could occasionally be heard above the hubbub.
After the rest of the over which amounted to 22 runs and extras, the innings was declared at 343-3, and George and RolfeDog walked off to the sort of welcome, usually only afforded to members of a Boy Band.
Multiple centurion Keeps shook the hand of RolfeDog-now-turned RolfeGod, in one of those great moments in history that are usually only witnessed once-in-a-lifetime but which had been witnessed just one week before when The Boy Alex shook the hand of The Boy Midds.
Someone pointed out that RolfeGod had taken several decades to reach the century milestone that Alex had managed in three games. RolfeDog's strike rate of 78 was among his highest but compared miserably with George's rate of 239.
It transpired that ShakEy of "get lashed with ShakEy" fame did not attend the first innings having got everyone else there.
Fliss joined the competition for best tea of the year and Roz may yet regret her decision to accompany Brooksie to a march in London.
Well fed, we took the field but did not take a wicket for a long time until Dakes, who had opened up with Gilet and Junaid, took two wickets in three balls one of which was a neat catch by Dave Wells at gully (or Dave Gulls at welly) off Mark Tracey who used to be in Thunderbirds.
The bowlers toiled as the crowd became more and more well-oiled and the bar take began to creep up on the batting target more quickly than Baggers' batters. Jai dragged a batsman down the track (not literally, he saves that for his brother) and to quote the ever-complimentary ShakEy "Gone! The boy Alex finally justifies his selection" with a stumping and shortly afterwards upgraded him with "Super catch by the Boy Perry off Dakes".
At least that it's how it was written. The audible version reflected the start of ShakEy's gradual descent into his own world where everything is red and alcoholic and sounded like "Shuper catch…".
For Baggers the block was on and Scorer Doug, who could have fun in a morgue, commented that this was "boring as hell" and became marginally less happy than Tags is on his birthday.
Bowling to cries of "C'mon Teshco", Gilet got Johnny Warner LBW. JW's reluctance to leave the area suggests he had not read the memo sent to clubs during the week by the Cherwell League Management Committee of which his dad is a leading light. With five down, Hillarious joined the slip cordon because he wanted to find the lipstick he had dropped there earlier when attempting a catch. This time he went one better and snaffled (or in ShakEy's words "shnaffled") a sharp chance at third shlip off Junaid and celebrated with the sort of "up-yours" gesture to RolfeGod that RolfeGod has become all too familiar with over the years and about which The Bledlow Ridge CC Management Committee should have written a firm warning to all players, long ago.
The score was 155-6 with only 9 overs left. Cue a spell from Jai with an uber-attacking field much to the liking of Colin Allen, who thrashed 60 rather quickly until The Boy Perry struck again with a catch off The Youth Hillarious.
The game ended with a few comedy moments in which George bowled his first over in about 400 years and floored Dave Warner (no not that one) with a bouncer first ball before firing as many as he could down leg side until the game finally came to an ending that even Dismal Doug found tedious. An interesting but unexplained observation was made at this time on WhatsApp by ShakEy to the effect that the "No 8 from Baggers has taken a dislike to Taggart". Presumably on arriving back at the pavilion after his dismissal he quickly came to the same conclusion that we have all arrived at, albeit not always as fast.
The Boy Dakin ended with 3-39 off 12, Junaid 1-29 and Gilet 1-39. The Boy Brightwell even had a go but went Wicketless just as Alex had gone Contactless.
RolfeGod had wisely hidden most of his clothing and in particular his underwear from view, which meant that Birdy and The Juvenile Hickey could only find his shirt, whose collar they laced with Raljex. This resulted in RolfeGod going around in a wonderful warm glow and ShakEy getting lip sores as he became more and more passionate.
The evening deteriorated and inevitably Shakey, who was by now Contactless, Wicketless and Legless, started to shlobber. At first he said things comprehensible like "I wuv you Walfie" while Sharon and Carrie looked on, but this turned into utterances like "I'm show shpleased for you" and "You were shenshational" while administering shlobbery kisses to his new hero until Sharon threatened legal action and RolfeGod looked around for medical advice. Or advishe.
BirdDog had the Carrie Oakey out and shung a few Country and Western shongs written by that well-known C&W star Shlim Panatella. Shomeone shuggested going out for a meal, but it can't have been ShakEy because by now he was fast ashleep on a bar shtool. Carrie told captain Birdseye off in no uncertain terms for not liking Currie (a bit harsh!) even through there is only one letter's difference, so she looked around for other people who fancied a meal.
Sharon realised she could not go, because she shomehow had to get ShakEy home. That nice young gentleman Gorgeous George Grose kindly offered to take Carrie for a Currie and bring her back. At this ShakEy shuddenly shprung to life but got dishtracted and led a chorus of "Rolfey shcored a shentury" instead of worrying about his daughter. Finally Sharon ("I shluv you Shsharon") manoeuvered ShakEy (who was shtill shinging) into her car and out of the car park.
There had been a large crowd during the day drawn to the club by the prospect of getting 'lashed with ShakEy" but ShakEy had outlashted them all. At least Sharon's day hadn't been entirely wasted he told her. Sharon was just relieved that he was no longer embracing RolfeGod. As for Carrie, she pondered… who was it said he'd bring her home…?
Sir John Major was not available for comment
Footnote:
The next day Ben Keeping held a Christening and after-party for his 53rd and last child, Blythe.
ShakEy made it, but a bit late.
Just a few observations: Firstly, if you think ShakEy can drink red wine, you should have seen Vicar Veronica Beaumont down the substantial left-overs in one huge gulp, following communion; she even led the congregation in a round of "Rolfey scored a century" without slurring once. Secondly, on arrival at Chateau Keeping, a large notice warns you of the presence of "Children, Dogs and of Loose Women" – make of that what you will. Thirdly all of Keeps' children are happy to administer advice on 'how to make sound investments' and 'how to make your fortune in property'. Fourthly and finally, the children's Wendy House is larger than my home in Radnage.
Oh, and the driveway is 1.05 miles to his front door, assuming you use Car Park A.
Bledlow Ridge v Shipton-under-Wychwood 2
Saturday 29th June 2019
Centurion Alex, Arrives on Time For an Away Match, Yet Again
The Real Saint in MasterBlaster Shock
BRCC – 246-6 (53 overs)
SuW - 149-9 (47 overs)
Result: Match Drawn
-----------------------------
A nightmare week for selection and availability. All sorts of reasons for not being able to travel away to Shipton:
Shipton's not on my SatNav; It's too far; I have to work; I don't have to work but might; I am due in Ipswich by Friday; my daughter forced me to tear my hamstring; I don't have a passport; I have a date in the evening; I don't have a date in the evening but might.
And so the list went on. In contrast, Saeed who had travelled thousands of miles to be available reckoned he could make another fifty miles as long as he could continue his tradition of always being late, a rule which applies to both home and away matches. There were other compensations too: with Cooperman, Hugo and The Real Saint available to travel, we decided to surprise the mighty Shipton-under-Wychwood by going for height. Without Birdy we could have gone for depth and with Saeed we could have gone for width, but height it was.
We were on paper an understrength team playing the top side in the division; fortunately the game was to be played on grass not paper and once the preliminaries of dismissing RolfeDog for nought were out of the way Alex settled in to bat with Captain Birdseye.
At this point, those not batting were unsettled by a series of WhatsApp messages from The Ridge which falsely alleged that our powerful non-travelling 2nd X1 were 10 for 5 and that Tombsie, on his return to the club, had already gone home. Sadly neither was true and we had fallen victim to a practical joke by a juvenile delinquent.
Alex has not been at the club long enough to find a reason for not playing away although he does have to catch a train on Monday mornings and this could get to be a problem. For now however he was happy to bat all afternoon in searing heat while wearing a helmet and spectacles. Without Birdy we had no other spectacle to offer and someone said "Isn't it quiet without Birdy" and we all agreed it was.
After Dakes' 26 and a few from Jai, we settled down to watch a batting partnership between two wicketkeepers and could only imagine how boring their conversations between overs must have been. To be honest we felt sorry for Alex but because his glasses kept sweating up, he soon got into the habit of wiping them clean, rather than listen to any rubbish from Brooksie.
This enabled them to put on 113 for the 4th wicket and set up a good total. We didn't applaud Alex' 50 partly as we don't like to encourage newcomers too early and partly because Gilet-Statto was not there to give us second-by-second updates. Someone said "Isn't it nice without Statto" and we all agreed it was.
Brooksie hustled and bustled while Alex effortlessly glided the ball to the straight and cover boundaries - the rough batting with the smooth as it were. Eventually Brooksie was out for 40 after a bit of a stare-out with a youngster he had hit for six.
Now we really hit them with height as Hugo strode to the wicket. Alex had shown considerable mental strength in withstanding a partnership with Brooksie and now Hugo decided to test Alex' dehydration by calling for quick singles (which Hugo completes in three strides) and by insisting on running threes.
Hugo interrupted all this with one enormous six, like a man in a hat hitting the top off a thistle with an umbrella as John Arlott once said (ask me!)
All this resulted in yet another impromptu drinks break for the batsmen during which Alex was informed he was on 99 and we did not expect him to bale out now. He duly delivered at which point Hugo was soon out. The next batsman Saeed who had travelled a whole continent for this match said "I am comeeng", took guard, was bowled first ball and said " I am goeeing".
Thus is was that The Real Saint arrived at the wicket in a 1st X1 match with a final push required before 53 overs were up. He removed his halo, smartly assessed the situation, decided that Alex was not up for any more running and thrashed 25 off 15 balls just as Lord Lucan rode by on Shergar and just as Boris Johnson solved the Brexit conundrum. He marched off as if a few fours and a six were just like swatting flies and we had made 246-6 against the top-of-the-league bowling attack. Alex was 111 not out.
After a fine tea we unloaded more height on Shipton in the form of Cooperman. He accounted for both openers, courtesy of catches by Alex who was keeping wicket because he does not have a dodgy beard. Dakes accounted for Anthony Prior-Wandesforde who we thought was three people and should have been worth three wickets. He was caught by Paul Daly who is generally available if we give him less than a day's notice and only plays away games involving a thirty mile trip or more.
Cooperman got another one, this time caught by Brooksie who made a quite unnecessary dive and roll as if trying to put out a burning raincoat. Alex struck again by catching the wonderfully named Luke Champion off Dakes while someone called Freddie Norridge deserved to be clean bowled by Saeed and was.
Cooperman finally sussed that when Dakes said "last over Cooperman" he really meant "I'm giving you one more over in this terrific heat" and was replaced by The Real I-Can-Do-No-Wrong Saint who bowled Ian Lewis with a blinder and then tested Alex' stumping ability with a ball that accounted for Callum Dingle, who had scored a Single, in a brief but pleasantly-rhyming innings. RolfeDog rejoiced in the opportunity to call The Real Saint by his alternative name of "Sticky" in much the same way Gilet had called Simon Martin "Fats" the week before.
Strangely the bails at one end were attached with string to the stumps which Alex remarked made it rather difficult to neatly remove one bail. The only plausible explanation is that the Shipton groundman thought that that great destroyer of stumps Brooksie, would be 'keeping and did all he could to offer protection to the woodwork… but halfway through putting the stumps out he heard about Alex and realised the stumps would be safe.
We had best part of 15 overs to take the last two wickets but Shipton made few errors. Eventually Saeed include an edge from Nick Miles which RolfeDog caught with a neat but totally unnecessary dive but the last Shipton pair lasted out and we had to settle for a draw. A very honourable draw with a performance which far exceeded our expectations during the week.
So good in fact that the Shipton scorer got a bit carried away and attributed virtually all the catches and stumpings – and no doubt the 110 not out too, to one John Rolfe. Regrettably she was apprised of this error, even though Gilet was not there to spot it, and went the other way and gave everything to Alex, including RolfeDog's catch which meant that the abovementioned little pirouette was all in vain.
Hugo was in a hurry to go. He had a date he said, with someone quite small and sporty. We cast around as to who this might be and came up with Rags to Riches, a tidy filly who once won the Belmont Stakes but must be getting on a bit now.
On our return to the club, Shaun was on his way out. He had a date he said with someone tall and a bit horsey, so would not be drinking with the rest of us.
There then followed The Great Handshake as Alex shook hands with fellow centurion and slightly merry barman, Midds, who had also made a century, this in the 2s victory which replaced their mythical start of 10-5 according to someone who by now was leading a rowdy crowd in a version of Sweet Caroline at a boxing gig.
The centurions moved outside so that Alex could be appraised of the latest news in Middsy's romantic life. ShakEy appeared in a rather fetching puke-coloured t-shirt and told Alex' wife Lydia not to listen to RolfeDog as he is incredibly boring. She however was having none of it and came as close as anyone ever has, to rendering ShakEy speechless, in a vigorous defence of RolfeDog's intellect and interestingness. Somewhere else in Wycombe a man with a microphone was by now leading verse seventeen of Sweet Caroline.
Somewhere else altogether a tall man was waiting for his short but sporty date to show up. On the other side of the room a small man was waiting for his tall, rather horsey date to turn up. Suddenly...no!… it dawned on both of them… you just can't trust dating agencies.
Jeremy Corbyn is away tending his roses and will be back next week
Bledlow Ridge v Aston Rowant 3
Saturday 22nd June 2019
Birdy Narrowly Avoids a Shoeing from Hugo
Aston Rowant 3s 226-9 (53 overs)
BRCC 159 all out (46 overs)
Result: Lost by 67 runs
"Could do better "was the verdict after The Ridge went down to a strong Aston Rowant 3s side at Meadow Styles.
In fact The RidgeBears took to the field with eight players. Fats was always going to be a little late, but Hugo had not recalibrated his departure time after playing a later start for he 2s the previous week and he and Dave Wells were travelling together. Either that or Hugo took a long time to winch himself into Wellsy's motor.
Wellsy had been restored to the first team after several years, and Cooperman was back after several weeks, and removed Matt Luxford for 17 then Rory Wilson first ball with a beauty.
Talking of beauties, The Ridge was full of them not only with the presence of Hugo and of course RolfeDog as always, but with the first appearance this summer of Gorgeous George otherwise known as just Georgeous.
Our team nevertheless comes in all shapes and sizes with Hugo as Laurel to Gilet's Hardy, and the first moment of irony came with Gilet's reference to Simon Martin as 'Fats' … which is a bit like BirdDog describing something as 'unfit for purpose'.
Fats came into play by fielding a sharp drive from Paul Plumridge and celebrated with the phrase "nothing gets past me" but unfortunately had to go and retrieve the next ball from the boundary.
Rowant were going at a steady rate until we began to chip away. Talking of chipping away, Manoj Parmar, playing his first game for Rowant (as he gradually makes his way around all the local cricket clubs) played a powerful straight drive that broke a far stump in half. When during the week after, Taggart enquired of the League whether there were any replacement League-branded stumps available, he was told without irony that they had all been "snapped up".
We then had An Incident. Mr Parmar was adjudged LBW by Umpire Mark Neal and spent the first part of his departure from the pitch explaining to said umpire what a poor decision he thought it was, a view not necessarily shared by those who witnessed it.
No Rowant player reached 40 yet they made 226-9 off their 53 overs. Hugo took a catch running back that only someone seven foot tall could have grabbed. Harsh Parmar offered a few invitations to Ridge fielders to run him out before offering Georgeous the opportunity.
He and Cooperman, by now back bowling, effected a dramatic run out between them of which the only certainty was that one way or another Cooperman would end up full length on the floor. George managed to end up prostrate too and between them they achieved two pretty good sprawls. Hugo looked on jealously.
He looked on less jealously when Birdy pulled up and announced he had 'gone in the fetlock'. Our equine hero Hugo, approached rapidly with a crowbar and some hot metal. Birdy quickly changed his story to 'gone in the calf' knowing that Ridge players are generally more Bovine than Equine.
Junaid returned to take 3-70, Cooperman, took 2-70, Short-Run-Up-Dakes took 2-46 while Gilet managed a miserly 0-30 off 12 then added all the stats into his mobile phone which exploded.
Roz fattened up the opposition with a large tea, but Leigh Lewis opened with a tight spell and Chris Jones dismissed both Captain Sloth and Wellsy at the other end.
RolfeDog had brought his spade and dug in once more, while Georgeous started to reel off cover drives. This prompted more comment from Manoj who described George as having "hard hands" a phrase that RolfeDog repeated back to the Rowant team when George flayed another ball to the boundary.
It is – to me - a strange characteristic of fielding sides that they think a batsman is fair game for a bit of verbals when the ratio is 11 persons to 2, but if you say something back they get all huffy, as Captain Luxford did. He explained in a public-school-voice sort of way that Manoj had made a "perfectly reasonable observation", one which he was able to ratify, as another drive from Georgeous stung his own hands on the way to the boundary.
RolfeDog was eventually bowled for 19 by Tim Foster, who as I recall, once got an Olympic Gold when rowing with Steve Redgrave and a couple of others. Then in contrast to Rowant's lower middle order who had all got started, The Ridge's next three batsman totalled eight runs between them. When George was caught down the legside for 48 we were well off the target.
Brooksie joined BirdDog much the way as the Grim Reaper might bat with Frankenstein, and gave us a Sniff of a chance (and where is Sniff anyway?) when taking on the bowling of Harsh Parmar and Rafe Mason. Regrettably Mason found a lower ball to get BirdDog with a half-tracker and Brooksie was bowled trying to farm the strike from Cooperman (and who wouldn't try to do that?).
Cooperman and Gilet were left to bat out the overs and got close until Gilet was bowled by the last ball he would have been required to face, unless of course, in the last over, Cooperman had decided to take a run for no good reason, something he had attempted dramatically in the pre-season friendly against Kimble, to much Hillariousness (and where is Hillarious, anyway?).
So it was, that we lost by 67 runs and could indeed, have done better. A small confab between various captains and umpires concluded that Manoj Parmar would be well advised to add his own apology to Umpire Neal, to the one offered up earlier in the afternoon by Captain Luxford, which he duly did.
The verdict: he could do better.
Thame 4 vs BRCC 2
Saturday 22nd June
League to pull in UXB squad to defuse Thame pitch
The Real Saint continues top batting form
Angell 3 makes debut with wicket maiden
Thame 4 108-10 (44.3 overs)
BRCC 111-8 (36.2 overs)
Ridge win by 2 wickets
After the recent monsoon conditions in Bucks, we finally got 3 consecutive days of sun prior to this match and with the temperature soaring into the mid 20s, the prospect of another green top seemed rather more remote and green it was not! There was some black, some grey and a sort of mottled camouflage pattern throughout. It frankly looked horrible and Sniff won another important toss and had no hesitation in putting them in.
As it turned out, looks flattered to deceive. It was nowhere near as good as horrible. Sufiyan and Taggart opened up and after 10 overs, Thame had scrambled up to 12-0. Doesn't sound a lot, but given that the ball was seaming square and exploding off a length, it was something of a miracle that they had put a bat on anything. Both bowlers had created all sorts of problems by bowling little more than line and length and to be fair the batsmen had looked terrified of the pitch from the start and had barely played a shot in anger. In the 11th Sufi induced a thin edge to Jovan who took a sharp catch and this brought Charlie Anderson to the wicket. He showed a little more intent and hoiked Taggart to cow for 2 before trying to repeat the shot to a fuller ball that swung a bit and he dragged it on.
Inbetween these 2, we had seen the debut bowling performance of the third and youngest of the band of Angells, Taj. First ball was good, second ball was better, swung a bit and castled the other opener. He continued with a very tidy over and finished with a wicket maiden. Unfortunately Taj got a bit excited after that and became a bit erratic, eventually going for 28 off his 4, but it was nonetheless a very encouraging start from yet another of the U14 age group.
Not going for runs wasn't complicated, but getting wickets a little more so. You could pitch it on a length on the off stump as often as you liked, but there was no telling whether it would seam away dramatically, bounce over the batsman's head or hit him on the helmet (which we did 6 times with absolutely no intent).
Taggart induced a catch to Doug at mid off before making way for Shaky, who got better as he bowled and also picked up a couple. At the other end a Saint had taken over from an Angell, which seemed like a technical downgrade, but proceeded to bowl a miserly 9 overs for just 12, picking up another. Riz had pulled off one easy catch and one much more difficult one.
With 7 down and having had a quick look at the incoming batsman, Taggart was now furiously whirling his arms in an attempt to convince the skipper that it was time to bring back an opener to polish off the tail. Sniff agreed, but decided to bring Sufiyan on at the top end and whirled away with Doug at the other.
It turned out to be a fairly inspired piece of captaincy as Sufi blew away 2 batsmen. Taggart did get a come back to bowl the penultimate over and induced a simple catch off young Max Muncaster, by far the most impressive of Thame's batsmen, to probably the safest pair of hands in the team (after Deadly Doug), Dave Maunder, who dropped it.
There was no real harm done (other than to Taggart's figures) however as Sufi cleaned him up 4 balls later to finish with impressive figures of 4-18.
As we left the field, Sniff explained to Taggart that he had not wanted to bring him back for too long as he was going to be opening the batting. A generous gesture considering the United Nations anti land mine commission had just begun an inspection of the pitch.
Any hopes that the half hour tea break and some more sun would turn the pitch into a benign road were quickly dashed as the first few overs produced much drama, a few bruises and not too many runs.
Taggart was stoic in defence, but watched helplessly as he lost Chesh, Jovan, Dave Maunder and Doug at the other end to a combination of dodgy pitch and dodgy shots (we'll spare blushes by not attributing).
When he went for 20 a few balls after the first drinks break, we were 41-5 and 109 looked a long way off. But not for the first time this season, the entrance of the Real Saint marked a turning point. The opening bowlers had established that anything pitching within 12 feet of the batsman was a lottery delivery, however the change bowlers decided to test out the middle of the pitch. The bounce here was still erratic, but much more 'tennis ball' type. Being a sport that TRS is very familiar with, this suited him rather well and realizing that his time may be short, he crashed 8 4s in a match winning 43 from 52 balls. He had been joined by Sniff after Riz's early departure, who was taking ugly runs to a new level, but nevertheless accumulated 20 of them unbeaten. TRS fell to a top edge off a full toss and after a scratchy 3 from Shaky, Taj survived a couple of nervous balls before Sniff finally got hold of one to finish the game.
The match was played in an excellent spirit and Thame provided an umpire who did both ends throughout both innings, which was a real luxury, but this strip is really not acceptable for cricket at a level where there will be youngsters playing. Unless it is improved dramatically, allowing league cricket to continue on this ground is going to get someone seriously hurt.
Bledlow Ridge v Dinton 2 Away
Saturday 15th June 2019
RolfeDog in Sledging Scandal as Hillarious Forgets Most of his Kit
BRCC 159 all out (49.3 overs)
DInton 79 all out (31.4 overs
Result: Won by 80 runs
-------------------------------
We beat DInton. They weren't particularly strong but it was a banana-skin kind of day with a wet wicket to contend with.
First, everyone had to find the ground. RolfeDog WhatsApped the team that they should drive through the village and turn left. It might have helped to have said "the village of Ford" not to imply the village of Dinton, but unfortunately our Irish-Scot loanee Doug Mcindoe found it anyway. Happily this misdirection gave him something to grumble about.
Unaware of RidgeBear traditions, debutant Alex Perry arrived at this away fixture nice and early. In more traditional fashion, Ben Hillarious arrived just a few minutes ahead of his mother who brought all the pieces of kit he had left at home. RolfeDog was able to present him with the cap he had left behind at Challow on the first day of the season.
Dinton captain Mike Sutcliffe who was leading a young side, asked if Gilet could help the Dinton debutant lady scorer with her computer. It was a bit like asking a fish if it likes water, except you'd get a more intelligible answer from a fish.
League Treasurer Len Payne was standing with Graham Hillarious as umpire. This is the man who the comedian at the Cherwell League Annual Dinner last October had singled out for some special attention, but gladly it seems that Len's blood group has not been discontinued after all, and he found plenty to pick over during the afternoon.
We batted first and RolfeDog had a temporary meltdown at the sight of fielders with their shirts hanging out and a wicketkeeper with his cap the wrong way around.
While he was recovering, Hamsah took just a few minutes to reach the day's joint highest score of 28. RolfeDog dug in at the other end, almost literally, in order to give Statto's scoring friend plenty of practice with dot-balls.
Once Hamsah was caught trying to hit a ball to Birmingham, RolfeDog was joined by Alex, and a couple of off-drives later (by Alex obviously) it started to rain a fraction. Play continued slowly but for a long time, until Umpire Len decided it would be a good time to go off whereupon the drops of rain stopped and the covers were put on, in that order.
There then followed a lengthy discussion about how wet it might have got if it had continued to rain. After this and a number of other irrelevancies the covers were removed, RolfeDog and Alex returned to the crease and RolfeDog was mildly sledged by an umpire for the second time in his career.
His offence was in patting down various studmarks which had been left on a length by one of the bowlers. This seemed an entirely reasonable thing to do but prompted a remark from Umpire Len to the effect of 'get on with it, you've been batting all afternoon', as if this was not the general idea of batting.
Once Alex went for 16, Hollywood was given out on the basis that if he hadn't hit the ball, he would have been LBW anyway. Brooksie soon followed as did Dakes for 15.
Umpire Len purred into action with the delivery of Kamrad Shahid's second chest-high no -ball and indicated that he should come off forthwith. RolfeDog talked them round however on the basis that he fancied the bowling anyway, whereupon Kamrad completed the over and was taken off, which was not in the plan.
Eventually RolfeDog, who had given the WhatsApp Group much to be excited about with a 113-ball 28, fell on his sword and it was left to what remains of BirdDog's body to drag the total to 159 before Gilet was run out while doing a Max Wall impersonation.
To cut a long story short – and who likes long stories anyway? – we bowled them out for 79 off 31.4 overs. Hamsah announced that he wanted to bowl fast in order to practice for his match the next day but was advised that games for the Ridge are not practice matches for Sunday cricket, and he took 4-13 with his spin - this only a few weeks after asking to bowl spin as he didn't want to bowl fast. Dinton wicketkeeper Saqib had three attempts at running out his young opening partner Ali Humzah with bad calls and finally succeeded by declining a call from Ali for an easy single and leaving him stranded as Junaid succeeded with his fourth run out attempt. If you follow all that.
To everyone's amusement Hillarious had to leave early without having had a bowl but, to to everyone's amazement he took home most of his kit. Father Graham took home what was left behind.
No one lasted long really and Dakes gobbled up 4 wickets for 26 in a typically lazy off-my-short-run, type of spell, the sort that would be favoured by a sloth if sloths were not too lazy to play cricket… which makes you wonder how Dakes got to take up cricket at all.
We won by 80 runs and in an act of indulgent generosity, Statto-Gilet offered to submit the match scores on-line on behalf of Dinton. I mean, does a fish ride a bicycle?
Somehow Doug turned right out of the gate and found his way home.
BRCC 2 vs Dinton 3
Saturday 15th June
2s dip into the Well(s) and pull out a win
Wide half tracker proves the way to go
Shaky Shenshashoanally Dropped over Shoshal Media
Dinton 3 130-10 (41.1 overs)
BRCC 2 132-3 (37 overs)
Ridge win by 7 wickets
With Shaky having put his chances of being fit at 50/50 at best, he was rested until Friday morning when we had a late drop out. At this point we were grateful that he could step in and fill the void, however Taggart managed to secure the services of last week's debutante, Carter Holbrook on Friday night and promptly forgot to tell Shaky ….. until 23.27 ….. on Whatsapp, by which time the Shakster was allegedly in bed.
So when he rounded the clubhouse just 12 ½ hours later, filled with eager anticipation and determination to add to his already considerable runs and wickets total, he was slightly crestfallen to be told, "You were dropped last night! Don't you read your WhatsApp? But it's OK, you can score!"
It had been raining steadily all week and it was something of a miracle that we had a pitch at all (there were at least 15 games cancelled this week and half of those were because it had been impossible to prepare a wicket), but what we did have was the sort of vivid green that would have kept Kermit hidden until he opened his eyes. Sniff therefore had little hesitation in inserting the opposition on winning the toss.
The queue of bowlers wanting to bowl at the top end was stretching back to Radnage, so we summed up the ages of the three younger seamers, added 50% and decided that seemed like the sort of age the bowler coming up the hill should be.
Sufiyan and Taggart started well with a disciplined bowling performance and after 8 overs, Dinton had reached the dizzy heights of 17-0. Having bowled a very consistent length for 4 overs, Sufi then tried the "wide half tracker" option, which the batsman obligingly edged through to the newly installed and 6th wicket keeper in 6 games, Dave Wells. Flush with success from his new mode of delivery, Sufi continued to employ it and despite going for a couple of 4s, extracted another wicket 8 balls later as Taggart, whose 6 overs at the other end had thus far cost 9 runs, looked on with the sense of despair known only to the most miserable of Scots.
Sufi had to make way, having bowled his 7 and was replaced by Carlton. Ever a student of the game, Carlton's observations indicated to him that the WHT was the way to go and whilst his first 5 balls cost him 7, his 6th duly produced a wicket.
Taggart bowled on and finally squeezed out a wicket in his 10th, before making way for the Real Saint after 11. DS, clearly another ardent student of the game figured that the wider you went and shorter you pitched, clearly the better your chance of getting a wicket. Ball one was dispatched under the temporary changing room, never to be seen again, however he persevered and on ball 4 achieved one which barely pitched on the strip and certainly did so closer to the bowler than the batsman. Wilkinson, who had batted quite nicely, if a little sedately for his 13, rather than drop his hands and taking the wide, nearly put his back out trying to reach it and plinked it gently to Sufiyan who took the catch with ease. It had been up just long enough for the batsmen to cross, and so when Singh played an almost identical shot to an almost identical ball and this time found Jovan, Dinton were 77-6 with 2 batsmen at the crease who hadn't faced, and David Saint on the brink of the filthiest hat trick in the history of cricket.
Sadly the excitement caused him to totally lose focus and he bowled a good length ball on off stump which was never going to get a wicket.
Taggart meantime threw his cap on the ground and announced his retirement from all cricket effective immediately.
With Amit Singh having been the only Dinton batter to show any real intent, Carlton was now plugging away at the other end quietly racking up maidens, interspersed with another couple of wickets. DS picked up a caught and bowled to finish with 3-17, causing Honos (Greek god of Justice) to fall off his cloud and Carter and Tom both had a go at the end but it took a smart piece of work in the field from Jovan to finish the innings with a run out and dismiss Dinton for 130. It felt like more than they should have got, but nevertheless very gettable.
It had been a drizzly old day, most of which we had played through, but with one heavy shower which had taken us off for 15 minutes or so and reduced the overs to 43 a side, so we were set 131 to win at a fraction over 3 an over after an excellent tea courtesy of Jovan('s mum)
The Ridge have seen a few father and son combinations batting together, but we opened with what might be our first landlord and lodger team of Dave Wells and Hugo. They batted very sensibly and just about on the rate to put on 36 in 14 before Hugo got bored and played round a straight one for 10. This brought Jovan to the wicket, whose recent innings have tended to consist of some pleasing shots followed by getting out 'stoopid'. He declared his intent to bat long and see the game through and then played some pleasing shots and got out 'stoopid'.
Rizwan could not duplicate his success of a couple of weeks ago and went cheaply, which brought the Real Saint to the wicket. By this time, we had reached 79 off 26 and DW was starting to find his timing. He didn't so much put his foot down as gently squeeze the accelerator, and with DS providing solid support, we got within 5 runs in the 37th over before Wellsy (71*) decided he'd had enough and plinked one into the field formerly known as Lord Keeping's.
A good solid win and with the 1s skittling Dinton 2s for 79, we had our first 50 point weekend of the season.
BRCC v Cumnor 2s (H)
Saturday 8st June 2019
======-======
Some funny stuff happens and some less funny stuff happens
but best not to mention any of it for fear of offending someone

======-======
Cumnor 237ao (47.5 overs)
BRCC 204-9 (50 overs)
Result: Lost by 33 runs
BRCC v Cropedy 2s (A)
Saturday 1st June 2019
======-======
Hardly anything funny happens as Ridge lose
Drydens in Wolf-Whistling Scandal
Birdy leaves best move until 8.20pm
======-======
Cropredy 260-7 (50 overs)
BRCC 184 ao (33.2 overs)
Result: Lost by 76 runs
This was not a hugely funny match. It started well when Cropedy opener Joe Haynes teed off at the start and Hollywood took a fine catch over his shoulder from a steepler, under pressure from RolfeDog who was saying 'this will be a VERY good catch'. And it was.
A while later they were 160-1 and we'd shelled Harry Walters before he'd got going. Again Junaid bowled well but without the figures to show for it.
They had four front line batsmen and three of them came off. Opener E Heath made 79 and I spent much of the afternoon wondering whether the former Prime Minister had ever batted like this. Once we got into them, the par score dropped from 300+ to 260 thanks to Dakes' 3-17. Hamsah took 3 wickets but even given the shortish boundary on one side this was going to be a test.
Hamsah started with the usual fireworks. Two lady members of the Dryden household passed behind the sightscreen in a brazen attempt to distract the opposition, on their way to serve a glass of red to ShakEy who was parked on a picnic blanket at deep mid-wicket. Arguably they provided the best figures of the day. RolfeDog denied accusations of wolf-whistling from the Cropedy fielders.
RolfeDog was bowled and Hamsah continued his pyrotechnics until he was bowled for 36. Hollywood went first ball to a juggling catch down the legside and Dakes survived the hat trick ball which he missed while trying to hit it out of Great Britain.
Keeps watched this from the other end with the air of an investment manager watching the FTSE100 on the slide. Afterwards, Richard Lynch of Cropedy, described him as a "class batsman" which only proves you should take proper financial advice.
Shaun was taking a good rest while all this was going on, no doubt reflecting on his good fortune: after the previous Sunday's party at the club, ostensibly an Over 50's event but one which was populated by a bevvy of young ladies, he had discovered that his mobile phone was missing. The big money was that it would turn up in someone's underwear – probably not Shaun's – but in the event it was discovered in the family fridge by ShakEy. The connection between red wine and unaccountable actions is being investigated.
By this time we had lost Dakes and Hugo but Junaid and Brooksie were going along rapidly.
A full bunger did for Brooksie for an aggressive 29, but Junaid was batting well enough to give us the belief that he and Birdy might take us all the way. The scoreboard had read a rather absurd 140-7 off only 20 over when the seventh wicket fell.
Alas wickets tumbled and Gilet who was planning a few sixes was left without a partner.
Thus ended a pretty average performance against a team who were no better than us but who played better.
The best part of the day was yet to come for those who returned by 8pm to a packed clubhouse to watch the Champions Cup Final. Twenty minutes in, Birdy managed to press the wrong button on the remote and bring coverage to a standstill for several minutes.
There were only two solutions: the first involved the President grabbing the remote from whoever had tried to put things right, and pressing each button as hard as he could while pointing it at the screen and shouting "You're an idiot Birdy" or words to that effect.
The other was to do what we all do in a crisis and call Saint at home. He came up with a solution that no one else could have thought of: to ask Chesh who was working behind the bar so hard hat he had no idea of the crisis unfolding, although he was wondering why the bar had become suddenly busy.
Chesh calmly grabbed the remote from the President and restored coverage of the football while singing: "Birdy is my hero, Birdy is my hero, la la la la, la la la la" or words to that effect.
And that was about the most amusing moment of the day.
Jeremy Corbyn is on holiday in DIsneyworld
BRCC2 vs Cumnor 3
Saturday 1st June 2019
6th Highest Run Scorer in Cherwell League is 3rd Highest Run Scorer in BRCC 2s team
Maiden 50 for Rizwan in Rearguard Effort
Murdoch pouches steepling catch (not Taggart obviously)
Cumnor 265 – 4 (45 overs)
BRCC 171 – 6 (45 overs)
"OK, I'll take Shaun and Hugo then and that should leave you with …….." I didn't hear the end of the sentence as Dakes faded into the ether, but the correct word was 'six'. Wednesday night, 6 on the sheet (and that included Doug and Dales who I might have forgotten to mention were available) and it was all a bit reminiscent of yester year.
So the full time job took a back seat, the Cherwell League admin got put to one side and the proper work of getting the 2s out began. Charity begins at home and apparently so does building a team.
"Stu, you're playing cricket on Saturday"
"I don't know how to play cricket"
"You'll be in good company"
7
Text from Birdie.
'Midds might be able to play 2s'
Text to Midds
'?'
'Yeah ok, but I can't get there until 1.30'
"You'll be in good company'
8
Text to Shaky
'Help! Need some juniors. Who should I try?'
'Massimo Lynn is not bad'
Email to Mark Lynn containing much sweet talking about introducing youngsters into a team laced with experience at the right time etc etc and trying to avoid phrases like 'Pleeeease, we're desperate'
'Yep, he'a available but he's only 13'
"He'll be in good company"
9
The magic number. No forfeit with 9, and as if by magic, suddenly another couple appeared and we were complete. Just when you don't think it can get any better, we had TWO volunteers to umpire as both the injured skippers put up their hands (at least as high as injuries would permit) and both turned up around 1.15 as I may have forgotten to mention to either that the other was potentially available (belt and braces).
A quick tally up of ages revealed that Doug, Dales and Taggart combined were about 30% older than the rest of the team combined. This was compounded for Dales when Taggart introduced him to Massimo Lynn, suggesting that he might know the name from his teaching days.
"Pretty sure I didn't teach him"
"You didn't, you taught his dad"
Most sane captains, knowing that they were starting with 10 would opt to bat on winning the toss, however when you have the 6th highest run scorer in the Cherwell League in your team, you do not want a moment longer than necessary in your innings when he is not available to bat, so having induced an incorrect call from Sanjay Mistry, Taggart opted to bowl. And for about 45 mins, it didn't look a terrible decision. At 10 overs, we had not bowled a single wide. We had shipped just 21 runs and the skipper had had an appeal for LBW answered in the affirmative.
If I have learned one thing about captaincy in my short tenure in limited over cricket however, it is that the key bowlers are the first and second change. And this was where we were in trouble. We had 2 regular bowlers and they had just reeled off 10 overs between them. We could keep them going, but then we were going to be hanging on for 25 overs at the end, so we gambled and went to the creche.
Massimo was a little shaky in the first over but settled well and bowled a really good spell. Tom Hickey was a little erratic, but put in some good ones. We used Mark Neal for a few, Doug had a few and Midds took the gloves off Dales so that he could bowl a few as well. No-one got caned, but unfortunately no-one got a wicket either save one run out, and by the time Taggart and Sufiyan came back on, the batsmen were well set, seeing it like a football and a big total was already on the board, with a very big one in the offing.
Daniel Blakey, Cumnor's number 3, having survived a couple of chances that had randomly escaped any fielder, had gone on to convert his maiden 50 into a maiden 100 when Sufiyan induced a top edged hook that went down to deep backward square. But before it went down, it went up. A long long way up. The kind of up that momentarily sees it disappear into a cloud. Waiting underneath it was Murdoch. Not Ian 35 years of cricket experience, 200+ wickets, many catches dropped but some taken Murdoch. This was Stuart 'I don't know how to play cricket' Murdoch. Having caught it with a minimum of fuss, Stuart wasn't quite sure how to celebrate until he was engulfed by a proud father.
He confessed to his sister later that evening that he wasn't sure how to process the fact that after being appointed head student at school, been promoted to sergeant in the air cadets and passed his driving test first time all in the last 2 years, this was the happiest he had ever seen his dad with him.
265 is a lot in this league, but it didn't feel like a bad performance. We had fielded well at times, our youngsters had bowled their hearts out and incredibly, considering the (lack of) experience of the bowling unit, we bowled just 6 wides in the entire innings.
And we still had Midds.
After tea, Taggart and Midds went out to open. MM took first strike and at the end of the first (maiden) over in which he had to play at every ball, expressed with some incredulity to his partner that he hadn't expected div 9 to be quite that good. A couple of overs later, after a brief glance at the scoreboard, Taggart commented to Sniff who was umpiring (Chesh was now scoring and mumbling something about being conned into being there) that he was outscoring the great Martin Middleton (albeit by 2) and this might be the highlight of his cricketing career. Midds clearly heard and promptly plinked Sam Down into the former Lord Keeping's field (or Lord Keeping's former field or some such combination).
After 9 overs, we had jogged along to 33 with no drama. Taggart took a comfortable single off ball 1 of the 10th and Midds creamed ball 3 to long off for 4. On ball 5, he danced down the pitch, slightly lost his shape and gently popped the ball into the hands of mid-wicket who was probably the only living mammal in that particular acre. It was nice knock of 23 and only about a hundred short of what we were hoping for/banking on.
Nevertheless, out came Riz who looked more organized and more focused than in recent innings and he and Taggart added another 35 before the latter was trapped in front for 28. Riz however was seeing it well by now and hitting some very sweet shots. Having stroked his way to 33, he then hit 2 sixes in 3 deliveries and in less time than it takes to fetch a spare ball had relegated Chesh from clear top to clear bottom of the 6 hitting table. Shortly afterwards, Doug rattled the sight screen with a super straight drive to promote Chesh back up to joint bottom. When Doug holed out for 19, we were 133-4 off 30. Behind the pace, but a decent performance, however as with the bowling, we lacked the depth to go on and threaten the target. Riz went on to get a well deserved 50 and Paul and Mark managed to nurdle a few more while Aaron defended his wicket bravely, but the best we could do was get the losing margin under a hundred. We only lost 6 wickets and if this had been a timed game we would have held out comfortably for a draw.
I saw Cumnor 3s twice last season and this Cumnor 3 would have thrashed both of those Cumnor 3s by considerably more than they beat us by. Given that our 6 youngest players averaged just 15 (and that included 2 19 year olds, one of whom had never played a game of cricket before), there is much to take away from this game in the positive column.
BRCC v Leighton Buzzard 2s (A)
Saturday 25th May 2019
======-======
Ridge Win Despite LB Opener Throwing the Bat
Bag of Bones Becomes Diva
Hamsah Almost Plays Defensive Shot
======-======
LBTCC 222 all out (50 overs)
BRCC 226- 6 (35 overs)
Result: Won by 4 wickets
It was all about timing: What time would Keeps arrive? What time would Hamsah have to leave? Would we complete our overs in time?
Leighton Buzzard CC has generally been to the English Riviera what Steve Bird is to Intellectual Discourse but as of this season the club is employing a professional groundsman. The outfield looks excellent the wicket is firm, true and bouncy, and on Saturday the place was Calm and Tranquil (two words that go together like Hamsah and Hurry).
It really made you nostalgic for the guy who liked to loudly mow the grass bank as cricket started, before giving way to a football match on the adjacent pitch between Leighton Town CC and some other team with equally noisy players and supporters.
Jai, 15-year-old debutant, was calm - even tranquil - too, although he might have admitted to some surprise : surprise that there was no official warm-up; surprise that had we won the toss the captain's decision would have been influenced by the start time of Hamsah's evening Shift at Tesco; surprise that he was playing cricket with someone 49 years older than he.
Keeps arrived with minutes to spare, mumbling something about Spending Time with Ned, which sounds like the title of a biopic. MIddsy reclaimed from RolfeDog the Size 12s that had been confiscated after last week's match, pending further news of Melanie from South of Sheffield (another biopic in the making?). Confirmation is required but it appears that he had bowled a maiden over between last week's game and this. The fact that he does not bowl is irrelevant: the lady doesn't know that.
Dakes does not usually start with maiden overs and he opened this match with a couple of full bungers that were hit straight to fielders.
Unknown to us, James Raine, opening bat, was potentially sitting on his third consecutive duck (which sounds like an ornithological term). After the two full tosses, came a third which Raine struck firmly at Extra Cover where an athletic fielder, or in Keeps' words a "bag of bones" was waiting for him.
To make a long story short, Mr Raine underestimated the skeletal figure at which he directed his shot and started to run. He only slowed to a walk halfway to the boundary, when pausing to reconsider whether 'Run Out (W Gummidge) 0' could have been avoided. He soon reached the pavilion but did so a few moments after his bat, which briefly became a dangerous projectile before coming to rest on the bank after an encounter with an iron fence. There's a gag about throwing the bat in there somewhere.
Regrettably he took no further part in the match and one can only conclude that in Leighton Buzzard, when it Raines it Pause.
The second wicket partnership was broken when Brooksie took a regulation catch off Dakes, not an excellent diving legside catch of the sort which I failed to mention in last week's report because it appeared to involve some unnecessary showing off.
Junaid bowled four overs from the top end for six runs and his final figures of 1-49 off 10 were only spoiled by a single over of 17 runs. Junaid is all arms and legs while Dakes is all elbows and legs and the LB batsman admitted to getting rather dizzy.
Hamsah-in-a-Hurry replaced Dakes and did everything at top speed rather like the White Rabbit in Alice Through the Looking Glass, constantly looking at his watch. At 1.45pm Hamsah started worrying whether it was time to leave for his evening work shift and muttered "I'm late, I'm late, for a very important date" (Lewis Carroll) which reminded us of Middsy too. He was not helped by the LB pavilion clock which spent the whole day stuck at 3.40pm which, conveniently was the time by which we were required to complete our 50 overs.
Hamsah-in-a-Hurry bowled the season's first Dangerous High-Pitched Delivery at Richard Raine, brother of James, who despite being hit firmly on the hand and shoulder, took it all in good spirit and did not go home for the rest of the day or throw his bat around.
Hamsah dismissed his partner Rhiann Krynauw, which is easy for you to say, neatly stumped by Brooksie's bandy legs. Brooksie soon began to worry about our over rate to which the Bag of Bones replied he couldn't comment as there was no clock. "Yes there is, look, on the pavilion" replied Brooksie for whom the time is presumably always Twenty to Four.
At the other end Gilet-Stato bowled a typically mean spell and updated his stats after each delivery, on his mobile. Regrettably he did not take a wicket and so was replaced by Jai.
With the last ball of his first over, Jai got one to rag and bowled Richard Raine who went off to look for his brother.
Just when we were getting on top, Mark Burfoot was joined by Alfie Ruston who has the sort of name you really wish you had been born with, if you are stuck with 'John Rolfe', "Mike Gillett" or "Michael Gove'.
Alfie plays in a hurry too and bustled to 35 before being caught by Jai off Hollywood who to everyone's astonishment had come on to bowl at the football ground end.
LB tried to keep up the tempo but Brooksie caught Burfoot for 70 off Junaid, meaning that Brooksie had three victims and we all agreed that Leighton Buzzard were very unlucky. Buzzard's Andy Smith then hit one off Hollywood towards the Bag of Bones who caught the ball with an unnecessary but well-disguised dive. This meant that Hollywood had two more wickets than Gilet at this stage, who was busy rebooting his phone.
In order to help Gilet, the Bag of Bones then took another catch with another dive, (what a diva) once he came back on to bowl. Gilet was getting into a frenzy having started the day on 97 league wickets for the club. He collected the last two he needed for his century in the last over, only interrupted by an unexpected dropped catch from Hamsah about 80 yards away.
Having started the 46th over with no wickets to his name Gilet, 9-2-29-3, strode off ahead of the pack as leading wicket taker in the innings, with a Strike Rate of 18, keen to download his figures from one machine to another and also because he was hungry. Sadly for him Hollywood's 2-22 off 5, was taken at a better Strike Rate of 15 thanks of course to come magnificent catching
Looking at the clock, Brooksie said he was glad we had completed our overs in the nick of time.
God help us.
Our innings took a different shape to theirs. Hamsah was in a hurry and at one point demanded loudly that the score be updated. In truth the scoreboard could not keep up with Hamsah and Gilet could not keep up with the scoreboard.
The latter might have been something to do with the arrival of Nathalie and Harry at Leighton Buzzard CC for a family afternoon out. Gilet knows how to treat a girl and even found Nathalie a chair which was good of him, though the rest of his family was not allowed near the laptop. All this contrasted somewhat with Hollywood who was being collected by Fliss after the match, and who ensured she stayed parked up in the car park outside.
While Taggart was collecting singles back at The Ridge, Hamsah was collecting boundaries. If there had been a football match going on it would have been abandoned for dangerous play. Strangely, RolfeDog found that when he was facing, the bowlers were generally bowling quite well and they didn't bowl him any easy sixes.
Hamsah panicked and stopped the game to ask what the time was as he had to leave at 6.30pm. It was 4:30.
God help us.
He carried on until he was stumped for 75 trying to hit the ball to Aylesbury. At this point we were 90-1 off 10 overs with RolfeDog on 9.
Once you've batted with Hamsah, nothing is quite the same, so RolfeDog became bored with Keeps at the other end and got out for 27. Naturally the scoring rate slowed once RolfeDog was out.
Jai Angell batted in heavenly fashion on his debut in front of proud parents and outlasted Keeps who was short of cash and was bowled for 48. Jai was eventually lbw out for 32. When Hollywood was bowled soon after because he was worried that Fliss might get curious and find out what her hubby does on Saturday afternoons, we had a little wobble.
When you have a wobble there's no one better to sort it out than Fats. He was joined by Junaid who hit the winning runs and we won by 4 wickets.
"Next week. I'll take you to Cropedy" said Gilet to Nathalie, "It's lovely there". Gilet calculated what time Hamsah would have to get out at Cropedy to get back to Tesco in time and Middsy wondered whether Cropedy would be a good place for a date.
News had come through that Taggart had defied gravity by making 49 at home but by the time we returned to the club it had crept up to 50 and is no doubt rising even now. Brooksie started getting Stato-disease and sent us all his wicketkeeping statistics for the season as if we were remotely interested. Middsy took RolfeDog's whites home and we all agreed what a lovely ground Leighton Buzzard is. Especially if we win.
Hamsah hurried back to Tesco just in time for his shift, only to find James Raine was doing it for him.
Harry Kane was not available for comment
BRCC v DIdcot 2s (H)
Saturday 18th May 2019
======-======
Ridge in WideFest as Brooksie Gets Diving Practice
Middsy Catches a Stunner and Maybe ANother
Rain Intervenes as Match Well Poised
But Keeps Keeps His Hair Dry
======-======
Dinton 187 all out (46.5 overs)
BRCC 103-5 (18.4 overs)
Match Abandoned - Rain
Yes, on his return to the side Middsy took three catches - or was it four? – we await further news.
Our game was one of only two in the league to be abandoned due to rain. A week previously, Challow had bowled almost no wides and chased a small total by 5.15pm. This week we bowled 44 wides and conceded 54 extras against weaker opposition, but the total was too large for us to reach before the game came to an end … yes …at 5.15pm. There may be a lesson in there somewhere.
Without Birdy playing we needed someone to talk rubbish and Keeps said how much fun it must be to play cricket in different continents. No sooner had he said this, than with great irony, incontinence struck (geddit?). At the fall of the first wicket he ran off and baptised a large tree. This he did in breach of a TPO and his case comes up next week. The tree withered and died during the game.
The aforementioned first wicket was taken by Cooperman courtesy of Middy's hands at slip and for forty minutes The Wandering Minstrel Cooperman and Dakes beat the bat regularly only to find that Didcot were hanging in there at 50-1.
There followed a tactic of the most dastardly kind. Those who played for the team ten years ago will remember how RolfeDog was placed regularly at short-leg or silly point in the hope that his endangered species would be rendered extinct.
Due to boredom a plan was hatched for Cooperman to bowl a no ball so that when the Free Hit followed, RolfeDog's mortality a few feet away at short leg would again be endangered, there being no field position changes allowed for a Free Hit, and all that.
His teammates had not allowed for his quick thinking and general cowardice, however. To words of encouragement like "You Wooss" and "You Wimp", RolfeDog fled to the far side of the boundary before Cooperman bowled. He gave thanks to Graeme Swann who had once set the precedent by doing the same at Old Trafford in an ODI. At least on that occasion an umpire had sent him off out of concern for the player's safety. At the Ridge, the player's safety was of no interest to anyone.
We had to break the partnership so Dakes did the only logical thing by taking himself off and replacing him with Hillarious. Middsy then caught a Stunner, low one handed at slip. Two wickets, two catches for Midds.
The afternoon then continued as a WideFest with Gilet at the other end dropping his standards sharply towards the end of his 53 ball spell by actually bowling a wide himself just as Lord Lucan rode by on Shergar.
There was another Free Hit and RolfeDog, who was by now stationed safely on the boundary was asked by his very amusing teammates if he would feel safer on the other side of the rope for this ball.
Keen to restore his popularity, RolfeDog reverted to fielding close and went into juggling mode at second slip when offered a chance by Kieran Beasley off Hillarious. He generously palmed the ball on the third attempt with great accuracy into the empty pocket of Middsy standing beside him. This has not been done before during a game at home to Didcot in May. Or so Gilet-Statto informed us.
Three catches for MIddsy … so far.
There followed a sequence of runs, wickets and runs and lots of diving around for Brooksie. The surprise of the day was Hamsah "Tesco" Ahmed who talked his way on as a left-arm slow bowler and bowled 8 overs 2-14. It does help that he fields like a Jack-Rabbit and has a quicker ball that is probably quicker than when he runs up over 25 yards. He wants to revert to seam after Ramadan (or Ramadam as Brooksie calls it) but permission may be withheld.
He has one unusual characteristic for a slow bowler: that of a tendency to sledge himself for his previous delivery while running in to deliver the next: kind of like listening to Sky TV working 5 or 6 seconds in arrears.
Talking of Brooksie, as we were but which we try to avoid, he got very excited when he took one from Hamsah and, imagining the batsman had nicked it, hurled the ball high in the air to the mid-wicket fielder while doing a little Nobby-Styles jig down the wicket. All to complete silence from his teammates.
Andy Griffiths caused us a bit of bother and thrashed 49 before being caught by Hillarious. Dakes had taken a catch off Gilet a little earlier to general surprise, and Gilet had got his mobile out and updated his career average.
We finally bowled them out when the other part of our Tesco double-act, Gilet-Stato bowled Rob Green, who usually plays for Chelsea Reserves.
Gilet announced that he now only needs 3 wickets for his 100 in the league and we are all very excited about this.
Sheri Loxton provided our tea and Allan pretended to be useful in the kitchen. The standard of the tea was so high that Brooksie was soon on the phone to Roz to ensure she does not become complacent. This time Gilet did not ask Sheri whether the food had been bought at Tesco, so RolfeDog did it instead and the answer was 'no'. This put Hamsah's job at risk, which is a good thing as he always tells us he needs to go early form cricket to work.
He certainly batted as if he needed to leave early and even outscored RolfeDog. When Hamsah was caught for 31 (RolfeDog 6no), Keeps strode out in a nice warm cardy but was well caught by the diving Luke Higgins who may be the son of Professor Higgins of My Fair Lady fame - on the other hand he might not. The suspicion was, that Keeps saw the rain coming and did not want to get either his cardy or his wavy hair, wet.
Keeps left to comb his wavy hair and was replaced by Midds who looked good, even without wavy hair, but played on to one that bounced a bit. RolfeDog (by now 8no) watched all this with some surprise and also watched Matt BrightHollyWell launch a few boundaries as drops of rain started.
There then followed a Bizaare Decision. HollyWoodWell appeared to nick one, but off his body to the keeper. "Howzat" eleven Didcotians politely enquired of their umpire. Just when we thought the umpire had nodded off, up came the finger to which HollyWellBright remarked "Oh! – I'm out then" followed by the canny observation "But I didn't hit it". The umpire considered this for a moment and told everyone that as the batsman was pretty certain about this, he was no longer out.
This could be a significant new development on future treatment of "Howzats". As the Didcot players politely pointed out, things are unlikely to work in the fielding's side's favour if an umpire asks a batsman if he thinks he should have been given out. What a career RolfeDog, with all those LBWs, might have had if that precedent had been set 50 years earlier.
So BrightHollyMatt remained, but the drops of rain became more steady. Faced with a Duckworth-Lewis situation RolfeDog, then Hollywood, did the only thing you shouldn't do, and both got out.
In the circumstances RolfeDog was unlucky. Given out LBW he advised the umpire that in his honest opinion he did not think he was out and that he would like to carry on batting, if you don't mind, and mentioned that he was just as reliable in these matters as his batting partner at the other end. Maybe he did not say this with the same conviction as HollyBrightWell had and to his disappointment, the precedent set only five minutes before was overturned. RolfeDog was shocked to learn later that the decisions were based on how good looking the batsmen were.
By the time that Brightwell (I'm tired of wordplay) was bowled for 19 we were playing in a monsoon which brought to mind the ten drops of rain which took Minster Lovell off the pitch and denied us victory last season.
Dakes advised the umpires that in his opinion it was too wet for canoeing let alone cricket and swam off.
The rest of the afternoon was spent wondering when the game would be abandoned and watching Man City thrash Watford in the FA Cup final. With the score mounting to 6-0 we wondered when that game would be abandoned too, because ShakEy and Shaun who were at Wemberley, would be psychologically damaged (as if we'd notice).
Hamsah watched the football having called in with a sicky, at which point Tesco's shares dropped sharply.
Eventually we said goodbye to the friendly Didcot team, but not to all of their kit, much of which was collected by Andy Griffiths the following Wednesday.
For Middsy, back in the team, the evening had only just started.
After RolfeDog had smoothed the way with some outstanding small talk, Middy introduced himself to the rather attractive lady-friend that Sheri had brought with her. "My name is Melanie and I live near Sheffield" she told him, to which Middy, ever ready with a smart chat-up line was heard to reply: "I'm Martin and I scrub up pretty well too".
She was mightily impressed that he had "played on for 8", whatever that meant, and there was suspicion that phone numbers may have been exchanged so that he could explain this and other forms of dismissal in more detail later.
We may never know whether Middsy pulled off another stunning catch. If so, he would have told her that she was his fourth catch of the day and hopefully mentioned that RolfeDog had kindly contributed to both the third and the fourth with a combination of juggling and smooth-talking that others can only marvel at.
We await the truth about Middsy's evening with interest (in the same way as we can't wait to find out if Hamsah is still working at Tesco).
RolfeDog has Middy's Size 12s which were left behind at the club and is holding them hostage until the truth comes out.
Jacob Rees-Mogg is quite tall
Didcot 4 vs BRCC 2
Saturday 18th May
===============
Saints Alive!! 2s win Again
World's Grumpiest Scotsman Contest reaches Fever Pitch
===============
BRCC 193-8 45 overs
Didcot 166-10 44.3 overs
Won by 27 runs
Storm clouds were gathering as we arrived at Didcot's recently built splendid new facility and before even a coin had been tossed, the Didcot captain was asking what the par score was at this stage of the match. He explained to Taggart, who was standing in for stand in skipper Chesh, he of the recently broken finger, that the rules on DLS seemed a bit vague on the Cherwell League site. Having written said rules, this made Taggart a little bit grumpy.
When the coin did eventually head up to the ever blackening sky, Taggart had counted 8 BRCC players in attendance and so having called correctly, had little option but to bat. Out he went to open with Hugo, to face a decent couple of opening bowlers who spanned just about the full range of ages in which it is possible to play cricket.
At the younger end of the scale, Matthew Ford (aged 14, looked about 9) did for the stand in stand in skipper who chased a wide one and nicked off for a solitary run. This turned up the grumpy dial by a notch. Hugo fared a little better, playing some nice shots for his 15, before the other end of the scale, 'Steady Eddie Martlew' (age; definitely more than 14, looks …. well people in glass houses and all that), bowled him round his legs.
Jovan's stay at the crease was short and uneventful (at least as far as the scorers were concerned), and in went the (relatively) cheerful world's second grumpiest Scotsman, back for a flying visit from Ireland, to join Farhan at the crease. They muddled along quite nicely, adding 20 odd before, in a sign of things to come, Farhan hit a ball to long on. Aware that he speaks quite softly and that perhaps Doug's hearing might not be all that it was 30 years ago, Farhan decided to wait until Doug was 2/3rds of the way down the wicket before shouting (?) No!. Doug did a passable impression of the QE2 on a U turn and made his ground. At the end of the over, he asked Farhan why he didn't take the run, to which he replied " I didn't want to get run out". The grumpomenter went up a notch.
A couple of overs later, hit, repeat, result: no more turning capacity in the ship and Doug was run out for 6. As he grumbled back to the boundary, reports were coming in that the grumpometer needle was bending at the top of "Quite a Bit" and could go into "Very" at any moment.
Rizwan swung at a couple without success and then watched sadly as the ball bounced off his pad and rolled at snail's pace towards his stumps, apparently unaware that he was perfectly entitled to kick it away.
Enter The Real Saint. The skies were continuing to darken all around, but bizarrely, not immediately above. It was like there was a huge halo over the ground.
Farhan played round a straight one and departed for a well made 27 and Carlton was in and out in the space of 2 balls without bothering the scorer. After what had seemed an OK start, we were now 7 down for 70 off 22 overs as Dales came to join the The Real Saint.
You would have got pretty good odds on what happened next, a fact that was not lost on Doug, who likes a little flutter, and did nothing to alleviate the pressure on the grumpometer needle. I'm sure he won't mind me saying so, but The Real Saint's batting would never put anyone in mind of James Vince. It wasn't always elegant, but it was an absolute triumph of pragmatism and common sense over flash and blind ambition. Both he and Dales were resolutely defending anything remotely on line and dispatching the half trackers and full tosses with great effectiveness. This is div 9 cricket. There is always going to be a hittable ball coming along shortly and both showed great patience and concentration in compiling what was potentially a match winning partnership of 122.
The Real Saint got to 50 with about 5 overs left, and a couple of overs later Dales hit a fine shot to the square leg boundary for 4. His team mates applauded and Dales duly lifted his bat, only to find the applause muted and fading away. It was for the shot, not the 50. Never mind, try again. Another fine shot crosses the rope, the applause goes up, as does the bat, but no, still not there.
With 2 balls of the innings left, and still no confirmation of 50, he went for a big drive, missed and was bowled for a fine 48. Sufiyan then slapped the last ball of the innings for the 2 Dales needed and we closed on 193-8, with The Real Saint unbeaten on 61.
With 80-100 runs more than we looked like getting at one point, we went out for the second innings feeling like we were in a decent position. The first 4 balls of the innings however all went down the leg side and were all called wide, so in effect our 193 was now only worth 189. Carlton did manage to induce a very sharp chance to gully which did not stick, and then a regulation caught behind, which Jovan dropped, but fortunately in an upwards direction straight into the hands of Dales at first slip. He then got their skipper to hit one up in the air which was looping reasonably gently towards a widish mid off. Three fielders converged on it but Doug took the responsibility and warned all off with a positive call. At this point 8 spectators reached for their phones, quick accessed BetFred and put their house on Doug catching it.
There is now a homelessness issue in Didcot.
Doug approached Taggart at the end of the over. "What a day I'm having. I'm unfit, overweight, got run out and have just dropped a dolly. I am sooooo grumpy!!!"
Response: "You're grumpy!!??!! I got out to an 8 year old, my ankle is being held together by 2 support bandages and some gaffer tape, my bowlers look like they're bowling blindfold and my best catcher just dropped a dolly! Don't be giving me 'I'm so grumpy'"
Realising that his mantle as World's Grumpiest Scotsman may be slipping away from him, Doug fell into a subdued silence, that whooshed his grumpometer up to maximum and put him firmly back on top of the WGS rankings.
Which cheered him up a bit.
The SISI skipper's plan had been to hold himself back to the later part of the innings, or preferably not bowl at all on account of the aforementioned ankle, but we were going at over 5 an over and not really looking like taking a wicket, so he brought himself on in an attempt to regain a bit of control. Farhan came on at the other end and started a bit erratically, but settled into a decent rhythm and gradually we eeked the rate back. Taggart bowled a mean spirited (if you were from Didcot) spell taking 2-20, including the dangerous and top scoring Paul Costello with a peach of an away swinger, and at drinks we had dragged them back to 88 for 3 off 23. With Taggart finished, he turned to the hero of the day, The Real Saint, who after a couple at the far end, switched to the pavilion end and produced a spell of spin bowling that their umpire described as 'ragging square'.
Sufi came back for a short spell at the other end and took an excellent return catch to dismiss the last batsman who looked like he could take the game away from us, and the build up in pressure forced a risky run from Sykes that turned into a fatal one with a direct hit from Farhan.
Sufi's 1-39 didn't seem a fair return as he had bowled better than that and as The Real Saint could do no wrong today, a return of 2-29 seemed good enough. Inbetween times, the now confirmed WGS sent down 5 economical overs for 17 and picked up 2 as well, including a return dolly which he didn't drop, all of which cheered him up, which in turn made him grumpy.
Whilst relating all this irrelevant drivel, it is also worth pointing out that Sufi, as well as bowling well, was a real burst of energy in the field. Mark Neal who was the only player not to bat or bowl also contributed significantly in the second innings effort and Carlton, whilst not at his best with the ball, has a hell of an arm and swept the long boundaries to great effect. The rain never came (much to the disappointment of the Didcot captain who was itching to use the app) but by the end, the clouds that were around the ground (all around the ground) were properly black, but immediately above us there was a golden light shining down cathedral window style. Seems the sun always shines on a Saint.
There are a lot of things we can do better (59 extras!!!!), but there were a lot of things we did well and for now at least ….
We are top of the league, I said we are top of the league.
BRCC v Challow & Childrey (A)
Saturday 11th May 2019
======-======
Bledlow Ridge Lose as the Batsmen Score Twos
Dakes and Gilet In "Both Have Wonderful Figures" Shock
Man Bitten by Cat Ensures Happy Ending
======-======
BRCC 105 all out (41.2 overs)
C&C CC 106-9 (27.1 overs)
Lost by 1 wicket
So that's win-lose cricket. In the first League Match of 2019, we were losing for most of the game, winning for most of the important part, and lost just at the end. All by about 5.15pm.
Remarkably all our players arrived in time including BenDog who was helicoptered in from outer space, one of the territories he now rules as King of JP Morgan.
Gilet wondered aloud why he had recently been mentioned 11 times in a Match Report for a game in which he had not played, and more pertinently, why people kept calling him Statto.
Dakes declared that he would bowl if he won the toss, so we batted first, but not before a very respectful minute's silence which was observed at Challow and across the League in memory of Hairbear and a young man from Didcot CC.
Challow's bowling and fielding was rather better than we had experienced so far this season and their opening bowlers were most unreasonable in not bowling anything down the legside.
Going was slow even by RolfeDog's standards, so much so that once the opening bowlers had been replaced, Hugo at the other end succumbed to boredom and was bowled.
This brought in Lord Keeping who mistakenly thought he had netted all winter and played a few extravagant shots without making contact, before beginning to get in the groove just as RolfeDog (Global Head of Insecurities) was out for 12 in 20 overs which represented an increase in scoring rate.
From here on in, the team began to author its own destruction. BenDog hit a six and a four and edged to gully for 33 (top score) and soon afterwards Dakes was caught at deep mid-off for 17 (second top score) trying to play over the top. Asked why he tried it he replied that he did not really know why he did it, it just happened. If only I had thought of using that excuse during my 37 years of marriage.
This brought Brooksie and Birdy to the wicket together both of whom are about 70 years old and have been married to each other for over 37 years without an argument. Thinking it was 37 years ago, Birdy called his partner for a quick single but sadly it was not quick enough and a beautiful relationship ended as Brooksie continued on his way to the pavilion in much the same way as Birdy had done against Kimble the previous week.
During their brief partnership – by which I mean their innings together, not 37 years of batting bliss,- a few of us others had time to walk around the ground and discuss our current job roles.
BenDog announced that he had just been promoted to the position of JPM's Global Head of Global Mineral, Animal and Vegetable Horse-Trading & Superhero with Special Responsibility for Marzipan. He also has the role of Head of Outdoor Markets for the UK and Africa Including the Saraha and for Investment in Oasis Futures.
Fats, whose batting had featured briefly between RolfeDog's and BenDog's innings, was able to announce that he had just been appointed Global Head of Racquets Fitness and Leisure with Special Responsibility for Thame and the Vale of Aylesbury. Regrettably however he is not yet the most important person in his household.
Unimpressed by any of this horseplay, Hugo announced his appointment as Farrier-in-Chief to Keeping Stables, something that he thought up on the hoof, or possibly on the spur of the moment (do keep up).
Unfortunately Hugo only deals in hooves (or hoofs) not knees, because Birdy's knee misfired at this point and he called for a runner, like this: "I need a runner". RolfeDog thought that he could complete a perfect running trio of Brooksie, Birdy and RolfeDog but Hugo dared to think he was faster and got to the dressing room first.
Just as we settled down to the potential comedy of Birdy trying to run Hugo out (ie run himself out by proxy) Junaid did it for him. That's five BRCC runouts in two matches.
Five of our last six batsmen made 2 each (and six in all); we were all out for 106 in only 41.2 overs and were left wondering if our huge totals last year really happened.
Dakes and Cooperman (Head of Global Open Mic Events) found the Challow openers, particularly James Smith in aggressive mood. There was a good deal of ball chasing and Ben Hillarious dropped his lipstick once or twice.
"Dakes needs to come off" said Brooksie (Head of Fortune Telling) with the score at 45-0. A few minutes later the score was 54-6 and Dakes had five. At this stage we were winning.
The game was cat and mouse, and when Marc Gregory hit the ball into the enormous hands of Hugo it was cat, mouse and horse, of course. Gilet (Assistant Stores Manager, Tesco Princes Risborough) was creating pressure with a mean spell and achieved a first by inducing a gravity-defying airborne catch by the Global Head of Racquets Fitness and Leisure, who is usually well grounded as well as well rounded.
With eight wickets down, Wiilliam Humphries then appeared to have won the game with a quick 23, when Hillarious bowled him with his second ball bringing in skipper Martin Turnbull with five to win. Beaten by Ben's first two balls, he smote the next just over Dakes' head for a single, lining himself up to face Gilet at the start of the following over: their No11 batsman facing the bowling of our No11 batsman.
Turnbull chanced his arm and hit the ball to the boundary. His celebration suggested that he has not often hit the winning runs. Gilet ended with the exceptional figures of 2-16 off 9.1 and Dakes, 6-45 off 10. It is not often that these two are said to have "wonderful figures".
Gilet-Statto was able to calculate Dakes' Economy Rate without difficulty by dividing 45 by 10, but by the time the rest of us left for a beer at Dakes' local he was still working on the decimals points of his own Economy Rate.
At the pub we learnt that Dakes has ordered a new car from his employers, Williams Racing on the basis he wouldn't ever want to be caught speeding.
Hugo agreed to play this Thursday's T20 against Chinnor Vets as he might be able to make useful contacts in the event that any horses under his care develop dodgy knees or need medical attention; there may be a problem here, over the interpretation of 'Vets'. Then, the subject of Geoff Tombs came up, as it always does, and it was later learnt that he had missed cricket this week on account of being bitten by his cat. So the day was not all bad.
Theresa May is not available for comment.
BRCC 2s vs Kimble 2
11th May 2019
Chesh in 6 shocker
Kimble prove susceptible to the straight one
Bears bowl 10 straight ones (9 bowled, 1 lbw)
BRCC 171-10 (36 overs)
Kimble 84-10 (24.5 overs)
BRCC won by 87 runs.
Having observed a poignant one minute's silence on his home square in remembrance of James, the 2s started this year's campaign with a crushing victor over Kimble 2. As Shakey (warmly welcomed back into action) observed, had Hairbair been with us he would have been over the moon and no doubt leading the celebrations, probably by tearing off round the boundary waving his hands in the air.
On paper this looked like a very challenging fixture for the 2s. The Ridge had only narrowly beaten a similar Kimble team in the recent friendly and the 2s had lost convincingly, scoring only circa 50, in the away fixture to Kimble last season. However, we did come armed with a secret weapon in the form of Hamzah, albeit nursing an injury, playing down from the 1s. Hamzah had to leave around 5pm so the plan was simple - bowl first to allow Hamzah to take 5 wickets and then open the batting with Hamzah to allow him to score a quick fifty before he had to leave.
All good plans … unfortunately, our temporary captain Chesh (in the absence of the injured Sniff) lost the loss and we were put into bat. The best option might then have been to push Hamzah down the order to allow him to punish Junaid-like the change bowlers. However, with our normal opener Jovan a late arrival (for reasons known only to him – he seemed to blush when questioned) Chesh opted to open with Hamzah and himself. At first it looked the right decision with Hamzah hitting a four and two off the opening few balls – before gloving the final ball of the over to the keeper. The words here we go again sprung to mind!
However, from an inauspicious beginning the Ridge battled back commendably to achieved a defendable total of 171 from 36 overs (all out). Chesh batted doggedly for 37, hitting a six in the process, before unfortunately running himself out when his fifty looked probable. Jovan made some good strikes to total 19. And your's truly managed a somewhat fortuitous 26 (perhaps justifying an elevation from my normal batting position of number 11 – just saying!!). It was great to see Shakey back at the crease, batting has if he had never been away and scoring an effortless and stylish unbeaten 18, before our number 11 Mark Neal was stumped first ball. The other highlight of the innings was a first senior run for Aaron, a fourteen year old junior making his senior debut.
The advantage of being bowled out in 36 overs is that the second innings started early (after an excellent tea provided by Chesh!) and so there was time for Hamzah to bowl before he had to leave Hamzah duly met expectations delivering two wickets with a unique brand of off spin intermixed with potent arm balls. Carlton was the other opener and his heavy balls caused the batsmen many problems (and also the keeper – Chesh - when a few deliveries strayed down leg) – eventually Carlton bagged a well-deserved wicket. Enter Sufiyan who bowled excellently to take three wickets (to upstage his brother) and Shakey who would have taken a wicket had Carlton not dropped a very difficult chance (according to Shaky it was a dolly that his grandmother could have pouched!). Shaun wrapped up the victory with an impressive 4 wickets from his typically pacy and creative spell (excellent yorkers and slower balls).
Much credit is due to Chesh who proved again an excellent skipper and kept well throughout the innings – unfortunately he fractured a finger so will be out for a while. And again, congratulations to Aaron on his first senior appearance.
Come on the bears!

(David Saint)
BRCC vs Hambleden
35 over Friendly - Sunday 5th May 2019
Hambleden 110 – 12ish (35 overs)
BRCC 145-5 (28 overs)
BRCC won by 5 wickets (and 35 runs)
Having played perhaps 2 Sunday fixtures in the last 2 years, The Ridge put out its second Sunday side of the season in 2 weeks against a very genial Hambleden side on the first weekend of May. As with the previous week, the match was preceded by a very heavy night at the newly refurbished club as the Hairbear memorial walkers went into full blown party mode (assisted by a slightly inebriated DJ).
Hambleden had rung in on Saturday to say that they were short of players, but we said to come along and we would help them out with fielders. In the event they arrived with 9 so David Saint (an oft time Hambleden player) switched sides. Having been abandoned by his other half for the weekend, Birdiie found himself with nothing to do on a Sunday, which is unusual because normally he only has nothing to do on Monday, Tuesday, Wednesday, Thursday and Friday, so skipped off home to get some kit and join Ben Hillary (who had also arrived with no kit) as a 2 games in a weekend player.
Chesh had raided Henry's piggy bank and went out to toss an old penny, which Hambleden called correctly and put us in the field. As the batsmen and umpires waited patiently in the middle, the skipper gathered his team around him (minus Birdie who was still kit hunting) and introduced everyone to each other. This was jut in case we had all forgotten the players we played the last league game of the season with, or perhaps just to make sure that everyone knew who Tom Hickey was. One (slightly) truncated version of Churchill's darkest hour speech later, Gilet opened the bowling up the considerably less hilly hill.
Gilet's predictably monotonous line and length was boring the batsmen to death, while Carlton at the other end (off half a run) seemed to be scaring them to death and so the scoring rate was pretty pedestrian. At the end of each of their 4 over spells, Gilet had gone for 8, and much to his chagrin, Carlton had gone for 7 (although Gilet pointed out at length in the tea interval how a misfield had cost him 3 so actually his figures were better. It's expected that the statute of limitations on said misfield will run out in 2025. Somewhere Hollywood was chuckling.).
Neither had managed a wicket, but Hambleden were now 1 down as the batsmen had met in the middle of the wicket to see where the best view would be of Riz throwing down the stumps with a direct hit. Tom Hickey came on and was a bit short early on (as was his bowling) and went for a few, but induced the batsmen into another risky run, enabling Carlton this time to effect a direct hit to put them 2 down.
TLB settled into a better line and length and bowled well in partnership with Ben Hillarious (now fully kitted out thanks to a long suffering mother), who despite claiming to be as stiff as board after playing yesterday, bowled a particularly frugal 7 over spell, picking up 2-10.
Birdie had since reappeared although given the number of jumpers he was wearing, you could have been forgiven for thinking that Dickers had taken his place, but we were now 11 of number and suitably attired.
Taggart had been having a chat with one of the oppo on the boundary and on discovering that they had very little batting left, immediately gave Chesh the nod that he was ready to bowl. Having dispatched 1 back to the hutch for 3 runs there was brief pause while Hillarious and Jovan decided to swap jobs and put Hillarious behind the stumps. As we were already well behind any kind of respectable over rate, Birdie then served up the most ignominious moment of Taggart's long career. Wearing precisely none of the traditional wicket keeping kit (pads, gloves, helmet, box) he shouted down to the bowler.
"Don't bother waiting, just bowl and I'll catch it. Standing up bat"
… and 2 balls later, he did just that as the batsman top edged a sweep (it just gets worse) and Birdie pouched the catch.
The next batsman decided that Taggart had to go and after 3 huge hacks, none of which made contact with the bat and all of which somehow construed to miss the stumps, fell to Taggart's (even) slower ball.
Having picked up 3-5, Taggart wandered off to fine leg muttering about how no-one would have dared to stand up to him, even in full kit, 125 years ago when he was quick, however the gloom lifted slightly when it was pointed out to him that he had gone for less than Gilet and picked up 3 wickets into the bargain.
Hambleden had now picked up an 11th man who was due at the ground any minute, but with Suffiyan and Rizwan both getting into the wickets, we had technically bowled them out for 58 in the 23rd over. As it was a practice match however we offered to bowl out the 35 and let them go back through the batting order, so their opener Rosier came back in, hit a few, retired to let the newly arrived no. 11 bat come in and at the fall of the next wicket, came back to hit a few more.
The scorers had had a nervous breakdown but a total of 110 was agreed as a target and after a David Saint tea, Chesh and Jov went out to see what they could do about it.
The most exciting point of the innings was in the 21st over when Chesh's score got above the number of overs bowled, from where he accelerated to 46 not out as we passed the target. He was accompanied by an exciting (but short) knock from Carlton, a very brief stay from Suffi, and a dashing knock of 20 from Rizwan, before Birdie came in and hobbled a few singles to see the target off.
With still a few overs available (in theory Hambleden had agreed to bowl the 35 as well), Chesh finally got to 50 and we called it a day there.
Earlier in the day we had seen the cartoon like figure of Rolfie running round the ground. He was heard to gasp, "Nice to see Sunday cricket again, can't stop, going too fast" Presumably Chesh's scoring rate was the barometer.
A thoroughly pleasant day's cricket against a splendid bunch and as we move into the first league games of the season with 3 wins from 3 and our fantastic new clubhouse and a couple of grand already gone over the bar, the club looks in even better shape than we ended last season.
Watch this space.
BRCC v KImble CC – Home
45 over Friendly Fixture – Saturday 4th May 2019
---------------=---------------
Junaid Celebrates New White Shoes with Winning Six
Kimble Run Out of RunOuts
Gilet Misses Match but Swallows a Laptop
---------------=---------------
Kimble XI 158 all out (Nearly 40 overs)
BRCC XI 162-9 (Less than 45 overs)
Result: Won by 1 wicket
If this had been a Cherwell League Match it would have been all over after half an hour, at the moment when Gilet arrived (as a spectator: we were restricted to one Ginger per team for this match)) with our League-Issue laptop.
Under certain League rules, if you have a laptop and they don't, then you win. This could signal Gilet's most significant role this season.
By the time of Gilet's arrival, lots of things hadn't happened: we hadn't made Kimble change in the portakabin, Cooperman, who lives about three quarters of a mile away as the crow flies, had not beaten Dakes to the ground (or anyone else for that matter) and Birdy hadn't started singing.
Cooperman is one of a number of players to be attacked by "Surprised the Season's Started" Syndrome, a condition that cricketers have suffered from down the ages and which continues to this day despite the existence of Emails, Texts, WhatsApps, TeamSnap (don't you love it) and AnyOtherKindofSnap.
Ben Hillarious wondered aloud when the League Season starts, and RolfeDog wondered silently how many Emails, Texts, WhatsApps, and TeamSnaps, not to mention the Fixture Card, Ben had had to overlook, in order to ask this question.
Anyway, Cooperman arrived by the time of the second ball which was also our first wicket, bowled by Dakes (who has forgotten how to bowl wides.]
This was the second match in a row where we had taken the first wicket with the second ball and when Gilet was apprised (ask me Birdy) of the fact he went into meltdown and had to be rebooted with a Hewlett Packard charger.
Then when Hamsah bowled someone with his first ball they were 0-2 off 7 balls. The only explanation was that both batsmen had been dazzled by Junaid's new white shoes.
Now we get to the Match Report Accuracy Problem. A post-match inspection of the scorebook revealed that as Scorer Taggart became familiar with the laptop scoring system - under Gilet's guidance, Gilet having batteried up to 78% - he became less interested in the written format. The scorebook was partly completed and partly not…or perhaps he became a laptop and just froze, this being an insanely cold day for playing cricket.
I cannot therefore give you the names of all the Kimble players although there was definitely a Raza, and probably a Raja, certainly a Spinks and a Martin, but the others will have to remain unnamed for this report.
They started to counterattack against Hamsah by waving the bat hard at the ball and got up to 70-odd for three before Hickey-Wickey struck by having 'Raza caught by Hamsah'. which nearly rhymes. Not long after that, someone who had nearly 60 hit a big shot into the outfield in the direction of our smallest player who ran and caught it as though it was a piece of pizza; unfortunately 'Hickey-Catchey' does not rhyme, but he ate the pizza anyway.
On the anniversary of the day at Stoke Green when Dakes commented "Isn't it nice without Taggart?" he juggled the bowling: he took 1-6, himself, Hamsah 1-29, Ben Hillarious bowled well for 2-14 off 6 and Ginger Tom likewise with 1-15 off 5. This is where my memory fails me and as Gilet may have swallowed the laptop before going to Wycombe Wanderers (5.30pm kick off if you are reading this in 2085 AD) I cannot remember everything.
WWFC were playing Fleetwood FC and if the laptop had been a Mac there would have been a joke about Fleetwood Mac, but it wasn't so there isn't.
Eight people bowled: Dakes, Hamsah, Junaid, Fats (not to be confused with "flats" which Ginger Tom was not wearing, see last week's Stokey Report), Hillarious, Ginger Tom, Hollywell and of course Cooperman who got someone out caught by Junaid off a bouncer. They might all have got a wicket for all I can remember but Brooksie, RolfeDog and Birdy definitely did not, as none of them bowled. Fats made steam train noises as usual and was hit for an enormous six by a passing locomotive.
RolfeDog and Birdy dropped about half a dozen catches between them as, inspired by Dakes' juggling, (see earlier) they both performed juggling acts before taking their slip catches.
We had tea. One of Roz's. Lots of it. Makes you wonder how Brooksie can leap about if he gets fed like that every day.
We batted, Hamsah had to leave early for his job at Tesco. Hamsah working at Tesco, is what enables Gilet to have the time off work (he works for Tesco) which allows him to watch Wycombe Wanderers.
Time-short, Hamsah started things off with a six over extra. RolfeDog was bowled by an offcutter from Raza who then had Fats adjudged next ball before BrightHolly joined Hamsah for a few fireworks. Hamsah realised his shift was starting soon so holed out for about 36.
Birdy came in and looked comfortable, or about as comfortable as someone with half his spinal cords missing and a shot knee, can.
The game paused for a half hour at this point while the Stump-to-Stump walkers arrived from Downley in memory of HairBear to a round of applause from the players.
The Walkers then posed for some photos behind the bowler's arm as BirdDog was facing. This did not get him out so The Ridge decided to try a few runouts.
In 1965 I saw Colin Bland run out Ken Barrington as Barrington trotted a gentle single while whistling "Music while you work". Fifty-four years later I witnessed an unnamed Kimble player run out Steve BIrdDog as he ambled an easy single while whistling "That'll Be The Day" - or was it "Run Rabbit Run"?
Conveniently the fine leg fielder hit the stumps at the bowler's end with enough time to spare for Bird SteveDog to realise he should just keep on ambling to the pavilion.
He ambled off, Dakes slothed on, whacked a few then whacked one back to the bowler who deflected the ball on to the stumps as Bright HollyMatt tried unsuccessfully to make his ground and instead had to go off to the pavilion for a good cry. He made about 37.
Still 40-odd needed. Dakes gave a catch and we were 6-down with 30+ to get Brooksie swatted and hooked, got us close and was bowled. WhatsApp was now going beserk with score updates and what with WhatsApp and Teamsnap and all that stuff, RolfeDog was overheating in Gilet-fashion.
A few to get, some safe defensive shots from Junaid off Raza and then Hillarious decided it would be best to be bowled rather than get involved in another runout as his dad generally relishes the chance to give him run out.
Cooperman came in with about a dozen needed, to join Junaid, like The Spy Who Came in From the Cold, and provided us with Comedy RunOut Moment No 3. He hit his third ball in the air to Point who dropped the ball, virtually landed on it and grabbed it just after it hit the ground. Cooperman took this as a cue to run down the wicket to the far end as if possessed by the spirits of Groucho Marx, Max Wall and Steve Bird.
RolfeDog, now umpiring, sent him back, but it was too late, by about 10 yards and in true Music Hall tradition Cooperman went off with a big smile.
So in came Ginger Tom. He took "Centre", or might have been "Middle", but whichever it was, planted his bat in front of off stump and batted as though it was the easiest thing in the world.
The only thing threatening victory was a mismatch of scale. Ginger Tom needs three paces to every one of Junaid's who called GT back for a second run when GT was barely half way through the first, but luckily a gust of wind got up and blew GT to the other end. Two more singles meant two to win and Junaid hit a full toss for six just as Gilet was imploding at Adams Park at the sight of Jacobson scoring direct from a corner, the first time this has happened in May. Gilet offered thanks to Gareth Ainsworth but most of all to Hamsah.
"Yesssss" screamed Hamsah on WhatsApp as he stacked another shelf at Tesco and added an extra row of tinned fruit in honour of Gilet. "When does the League season start, asked Hillarious?"… "I thought that was a League match", said Cooperman. "What's a League Match?" asked Ginger Tom.
"It's a game played between two men with laptops while a cricket match takes place" said Taggart. "League matches always start after the last Wycombe Wanderers' match" WhatsApped Gilet from Adams Park … "Unless we're in the playoff's of course".
RolfeDog smashed his phone to bits with a hammer.
Dean Elgar 'carried his bat' twice last year in tests.
BRCC v STOKENCHURCH CC – Away
35 over Friendly Fixture – Sunday 28th April 2019
---------------=---------------
Gilet Hit for Six by a Ginger Tom
First Known Appearance of a Leppard and a Ginger Tom on a Cricket Field Together
Jess spends Afternoon Looking for her Car
---------------=---------------
Stokenchurch XI 159 all out (34 overs)
BRCC XI 163-3 (29.2 overs)
Result: Won by 7 wickets
Stokenchurch were pegged back to 159 all out largely due to the bowling of two Gingers only one of whose balls was pinned for six against the sightscreen. At least that's how it felt at the time said Gilet.
Hickey-Wickey, now better known as Tom Bowler, or Lucky Dip (geddit?) was not hit for any sixes and in taking 3-24 conceded less than double the runs conceded by Gilet who took 3-13 which is good, seeing Tom is considerably less than half Gilet's size.
Remarkably, we arrived with a scorebook and wicket-keeping kit, but we failed to bring a wicket-keeper in what was otherwise a highly successful debut for Teamsnap.
Captain Sloth had forgotten to put his clocks forward in March so was a little late but once he arrived in Jess' car and parked it on the shortest boundary, he appointed Chesh to keep wicket and opened up with Gilet and Matt Brightwell – a pair of bowling criminals if ever there was one – in order to test Chesh out.
Like Ben Foakes last year, our 'keeper took a catch off only his second ball at the highest level, to dismiss Gary Murton who has scored about three million runs in the Cherwell league. Someone called Leppard smashed Matt Hollywood for a four but he hadn't spotted (geddit?) Hugo prowling in the covers and Hugo soon moved swiftly through the long grass to catch the Leppard off Matt Brightwood. The young Leppard had proved fair game.
Birdy declined a slip catch off Gilet who decided he had better bowl the batsman out instead and then they were not-many-for-three.
Tom Hickey's first ever delivery at the highest level of the game was notable for the Camel Spin (performed mostly in Ice Skating) which he demonstrated as he landed on his belly.
He was bowling in "flats". This prompted quite a performance during the next few overs, not to mention confusion with 'Fats' who was also fielding at slip. Somehow Ben "Chesh" Foakes established that he and the pip-squeak Hickey share the same shoe size and some rigmarole was undertaken involving trying to tell Proud Dad Lovebite (spectator) where to find a spare set of shoes in the dressing room before sending JLB around the boundary with false instructions as to where a shoe-swap was to take place.
Finally when Dakes bowled Murton Junior some time later for a promising 20 JLB was called back from the furthest point on the ground. Hickey Junior and Chesh managed to tie laces from one another's shoes together so they fell in a heap. Or was I dreaming that?
In between times Carlton had got some away movement with the ball and Hugo had a few overs too, bowling mainly at Chris North who was compiling an aggressive 66.
Inevitably Dakes' first ball of the season was wide down the leg side but he did well not to match his league record of four consecutive wides.
He bowled lazily and deserved to be replaced by Ginger Tom who was now wearing crampons. Fats had a go at the other end but was soon replaced with the guile of Rizman (or The Guile of Rizman as it is sometimes known) who saw off L North with a super-slow parabolic delivery.
Hickey-Wickey finally got the wicket we'd been needing when Matt Hollywell snaffelled a catch off Chris North. H-W then bowled Plumridge for 18 and soon after, Latif for 23. Latif had plundered Marlow for 150 the previous day but had no answer to Ginger Tom's crampons.
The last batsman edged his first ball off Ginger Tom to Fats, but Fats decided Hickey-Wickey had taken enough wickets for an Upstart and grounded it so that Carlton, who had fielded like Viv Richards during the afternoon, could take the last wicket instead.
Ginger Tom led the team off, closely followed by Chesh who was keen to get his shoes back.
For our opening partnership we went mostly for height, sending out Hugo with RolfeDog to face accurate opening bowling from Springett and Leppard. Try as he might, RolfeDog couldn't knock the spots off Leppard, but Hugo tested the solidity of a brick wall 70 yards away with a gentle flick for six off Springett, before departing for 14.
Naturally Hugo outscored RolfeDog as did Fats who reeled off boundary after boundary making 51 in only 15 scoring shots of which just four runs were not boundaries. Stato Gilet could hardly contain his excitement.
Fats then retired himself and Captain Dakeseye who was umpiring asked RolfeDog what he thought about this 'retiring' concept and got a curt reply.
While Dakeseye considered this, Bright Mattwell arrived at the wicket, took aim and hit a full toss due North to the boundary where Chris North took the catch. Magnetic North in fact, so little did he have to move.
BirdDog joined RolfeDog and Dakes soon announced that RolfeDog would be facing his last over. No one wants to spend that much time with Birdy anyway so RolfeDog expired on his last ball for 36. This brought in Rizwan who smashed 19 not out in much less time than it took Birdy to make…well…19 not out and we were home by 7 wickets.
A good pre-league-season friendly played on an excellent wicket and with a fine tea. The likes of Ginger Tom, Hugo and Carlton were introduced to Birdy's dressing room wit and all agreed how funny he was.
Satisfyingly, Dakes' car (well Jess' car) was hit at least once and the Champagne Moment was Gilet's accidental collision with the ball when fielding at deep mid-on, despite his best attempts at evasive action.
It remained for Chesh to interview Tom Bowler about his three wickets and Ginger Tom pointed out he would have had four if Fats had not shelled a catch.
He's learning fast.
A man called Colin Ingleby-Mackenzie captained Hampshire in the sixties
Bledlow Ridge 1s v Banbury 4s
Home : Saturday 1st September 2018
----------
Ridge Win Again Despite Presence of Non-Playing Captain
Planets Realign as Dakes, RolfeDog, Gilet (and Taggart) Resume Rightful Roles
HairBear 'Goes Indian' and Celebrates Season Mostly in Horizontal Position
----------
BRCC: 286 (50 overs)
Banbury: 171 all out (36.2 overs)
Result: BRCC Won by 115 runs
And so, in the last match of a long and successful season, order was finally restored.
Captain DakesEye became a Sloth again, RolfeDog, with more runs on the day than BenDog returned to his rightful position of top run-scorer, Lloydy spilled a dolly, we had a proper 'keeper wearing scuba gear, Hollywood had a bowl and Gilet was back in the wickets; Henry and Doug were watching on the sidelines and Geoff turned up to remind himself of former glories.
Talking of which, BenDog needed just 18 runs to beat Middy's record of 753 league runs in one season, made back in 1933 – and did he string it out or what?!
We opened up with the now-traditional Hamsah firework show. Opening bowlers just can't stand it (see MR two weeks ago v Buckingham) as they expect opening batsmen to pat the ball back in the traditional manner.
No team has used a pinch-hitter up the order as we have done in 50:50 matches and if I didn't know Captain DakesEye better, I'd say it was an inspirational move; more likely he got the idea from a discarded cigarette card lying on the patio floor somewhere.
Banbury players all got into a state watching Hamsah launch some air-shots, air-shots as in air-guitar: great play but without contact with the instrument. When Luke Wetherill offered him some advice from square leg then dropped him next ball, Hamsah was up and running and it all went very quiet. In fact there's not much running involved when Hamsah is batting (thank God) and when he was bowled by a low one from the aforementioned Luke Wetherill early in the fifth over, his scoring sequence had been 1,4,4,4,4,4,6 = 27: 41-1 after 29 deliveries of which RolfeDog had blocked at least nine.
Mr Wetherill responded with "that's enough of that filth" and RolfeDog at the other end was inclined to return the compliment but didn't, instead saying there was no need for a send-off and this caused a bit of a hissy-fit.
Under instructions from Middsy, RolfeDog tried to run BenDog out a few times alas without success. BenDog was focussed and determined and certainly determined not to be run out.
Just after drinks RolfeDog was himself run out at the non-strikers end when in an act of revenge BenDog struck the ball back so that the outstretched finger of bowler Seb Finch deflected it on to the stumps with RolfeDog out of his ground. Out for 62, one short of his age, a score more and more difficult to reach as the years pass by.
Not so hard for BenDog (aged 42) who expired on 43 not only caught by a Badger but also bowled by a Badger. Well O. Badger actually.
His total runs for the season? 779. Geoff Tombs' season's record for a RidgeBear? 780… OMG!... LOL…albeit in the South Mid Bucks Short-Ass Wine-Connoisseur's U16 League, back in the 70s or 80s.
Great news came through from the 2s at Kingston Bagpuize: Chesh and Taggart were both out for 0, having we understand, managed to meet midwicket and effect the first ever double runout off the same delivery, the umpires adjudging them both dismissed in order to save time. Back at our place, Hollywood was undone by a full toss from a Badger and Allan joined Middsy on 167-4.
Where was DakesEye?
Answer: in a trance on the boundary occasionally shouting "We want 400" on the basis that if RolfeDog can make 50 then batting must be a piece of cheesecake.
The person most likely to get us somewhere near 400 was the person on the boundary shouting "We want 400". Not even padded up, hardly even dressed. "We want 400… get on with it…. we want 400".
Middsy knew better, judging the wicket too slow to take inordinate risks. Allan, being an animal lover briefly took kindly to the Badger before being dismissed for 18, becoming his third victim and completing Badger's set, as it were.
LLoydy joined MIddsy and decided Middsy was a good judge of the wicket and built up the score steadily, immune to cries of "Get on with it Lloydy" from Captain DakesEye who occasionally flung his beard on the floor in frustration.
Eventually Middsy ran passed one and was either stumped or run out – hard to tell - which brought Junaid to the wicket for a cameo in which he struck the Badger against the sightscreen and the RSPCA was called. He too was stumped by Alistair Short, short of his ground, then with the score at 226-7 out hopped Birdy and with it any chance of the sort of ridiculous total that DakesEye, now putting his beard back together, was mumbling on about.
He and Lloydy took the score up to 286-7 which was reached with a final boundary from Lloydy who will be 50 in two months' time. LLoydy ended 47 not out, as if to demonstrate how difficult it is for some of us to make a score which matches our age. Birdy with 24 not out did at least match his maturity in terms of years. We ended the season 7-down with Lloyds and BirdDog at the wicket with DakesEye due in next. Not to mention Gilet who has hit at least one boundary this year.
Sheri Loxton made a good attempt to knock Roz off her lofty perch and there were warnings of Tea Wars to come. She did however receive a reprimand from Gilet for not shopping at Tesco and thereby depressing the share price.
BenDog, an investment banker with a house the size of a small country and a car which turns into an aeroplane, was heard to say in a severe attack of irony that football is a great game but spoiled by all that money. RolfeDog spilled the contents of an egg mayonnaise sandwich all over his bib and had to be wiped up. "Who's coming to RolfeDog's funeral?" asked BirdDog who went to put on his spare body parts in preparation for a spell behind the timbers.
Not only had DakesEye not batted he had decided not to bowl. Finally, finally, therefore, our best bowler, Mike Statto Gilet was given the chance to open and to bound down the hill, the first time this has happened on the first day of a month. He extracted two LBWs from Umpire Graham something that no other Ridge bowler has achieved all year, at least not on the first day of a month.
Adnan Ahmed who had caused us a bit of bother with 70-odd at their place achieved a first for the day, namely a bit of action from DakesEye. He had tried giving a catch to Lloydy earlier but gave up on him and hit one to Dakes who
back-pedalled at mid-on to take a catch meaning another wicket for Gilet.
Then Short was caught short, caught by Hamsah and they were 75-4 all dismissed by Gilet.
Dakes did the only thing possible at that point and took Gilet off. Hamsah at the bottom end had been replaced by Junaid who bowled Kieran Churchill and had Luke Wetherill caught by Matt Hollywood. Allan replaced Gilet and had to bowl a lot to the aggressive and effective Andrew Prior. Non-Captain Dakeseye played a tactical blinder based on an old Chinese Board game wherein he removed a playing piece, in this case a fielder, every time Prior hit a boundary, just for the hell of it, mostly to annoy the Dog family.
Allan removed Richard Wetherill (aka "Dad" by his captain) caught by Junaid. Junaid's final bowling figures were 6-1-23-2. He was replaced by Matt "I can't bowl" Hollywood who eventually removed 3-year-old Seb Finch who had batted stubbornly for a while.
Talking about "stubbornly", Dakes was by now mentally "curled into a ball in the fork of a tropical tree" which Google says is where sloths mostly live. NO he wasn't going to bowl, NO he wasn't going to change the field, and at the moment RolfeDog hurled his eyebrows onto the ground in frustration, DakesEye exclaimed "I am going to do the opposite of everything RolfeDog suggests".
RolfeDog suggested DakesEye shouldn't run off and put his whole head in a large ice bucket and DakesEye became suddenly deaf.
There was a tight run out chance which went begging, prompting RolfeDog (who has never kept wicket in a league match) to give BIrdDog some wicketkeeping advice. "How long have you been playing cricket?" asked BirdDog which was probably the wrong question to ask RolfeDog. At the next opportunity RolfeDog threw the ball in when the sun was right in BirdDog's eyes and thought it very funny.
All this was the perfect build-up to a sharp stumping attempt off Brighthollywell. As BirdDog has been playing cricket for less than fifty years it was rightly rejected out of hand and this resulted in a tizzy-fit from BirdDog whose mantra this season has been "It is what it is". Except when it isn't presumably.
That BirdDog was clearly in a state of mental collapse became evident when he celebrated Junaid dropping a difficult skier (thinking he had caught it, obviously). By now Gilet was in a stage of panic with four wickets to his name and only two wickets left to take. Fortunately there was yet another Wetherill available to bat and Captain Joseph obliged by hitting one up in the air to Allan who caught it comfortably because he mistook it for one of the many cup cakes we had had for tea. BirdDog kept silent as by now he had lost all idea of when a batsman is out or not out, but Gilet made a delightful little skip, known as a Pique Turn in the world of ballet, the first time this has been performed by a Wycombe Wanderers supporter taking his fifth wicket. In September.
Finally Wellbrightholly got someone out who was aged more than three, Junaid taking a Skier off Prior (geddit?) to general celebration for the end of a season in which we had broken and established various club records. Statto's figures were 9-2-31-5 and at last he had the best average (6.20) and best Strike Rate (10.80) in a match. Is there a future for DakesEye we pondered having won without him again as it were. For his part we had won by 115 runs despite moving all the fielders out of the way and watching the game from high up in a tree.
No doubt Statto and Taggart will lock horns and produce the season's statistics. As far as our league status is concerned we came second by just three points to Challow, who also won on Saturday. They had no games abandoned for rain during the season. We lost a potential 19 points in each of three games abandoned, so we might well have won the league by a clear 54 points. No other side in the top eight divisions had three matches abandoned.
We lost one game, v Twyford at home. Only Oxford Downs 1s went the season unbeaten and they were promoted into the Thames Valley as Division 1 Champions. Charlbury 2s who won Division 8 were the only other team in ten divisions to lose just one game.
Our evening petered out quietly except for the five hundred or so cans of lager and numerous jugs of beer which were consumed over the next six hours, and except for the full evening of karaoke and except for Indian food ordered by Sharon, for fifteen people, which by now included HairBear.
Bear asked that nice man Hollywood for advice about what to have and accepted the recommendation of Phall which within the hour had almost killed him and which he somehow blamed on RolfeDog on whom he threatened revenge between bouts of exceptional nausea and lying on the ground.
BenDog proved he not only holds the record for The Ridge League Aggregate Run-Scorer, he also won the season's award for Worst Ridge Karaoke Singer Ever. RolfeDog got occasional stick and was able to retaliate by grabbing the mic and asking the audience who the 1s top scorer was that day. ShakEy arrived and had some red.
The world therefore, was back to normal. Lloydy left for another party dressed up as something like a Mermaid (or was it a Dolly?!), HairBear was laid out on the floor, the girls were dancing to the music (except when BenDog took the mic), the blokes were gathered in a small group somewhere else telling blokey jokes, finding everything funny, bursting into laughter and making "aaaaarrrrggghhh" noises for reasons which could only be blamed on alcohol and a general lack of education.
The 2s returned at some stage.
Taggart described his second consecutive duck in some detail. His 91 not out seemed a long time ago. He said he would be bowling again next year as he could see no future as a batsman.
Normality had indeed returned.
James Goodband is currently unavailable for comment.
Bledlow Ridge 1s v Sandford St Martin 2s
Away : Saturday 25th August 2018
----------
Family Bust-Up as RolfeDog Disappears Down Black Hole Created by Chitty-Chitty-Bang-Bang
Gilet Combusts as SamDog Makes 132 and The Ridge Secures Promotion on Day of Records
Umpire Gains Revenge as Guilty Verdict is Passed in Post-Match Court Case
----------
BRCC: 382-5 (50 overs)
SSM: 274-5 (50 overs)
Result: BRCC Won by 108 runs
So many questions to answer: Who is the best-looking RidgeBear? Could we win without Dakes? Would we get promotion today? Would we be able to find Sandford St Martin? Who is the fairest of them all? What is Quantum Physics? Does Cooperman chop wood? What is the meaning of Ben Ackland Snow? Why was Ben Keeping not available?
Just as we mused on the last of these questions a silent car landed gently on the car park. Its doors and its boot opened and a mechanism removed the driver from the car, placed him upright on the grass, removed a kitbag from the boot, placed it in his right hand and remotely closed all the doors which flapped behind him like a pigeon completing a bath.
If this was Wallace, where was Gromit? And was the vehicle a Chitty-Chitty-Bang-Bang for grown-ups?
On second sight this Wallace-in-a-Tesler turned out to be an investment banker with beautiful wavy hair, suave good looks and over 600 runs banked (geddit?) for the season. It was not Wallace, it was his personal adviser BenDog alias BenGod.
"Why are you here BenDog?" asked BirdDog "You are not available". A stunned BenDog imagined all those WhatsApps, text messages and team lists on the website and realised his butler must have missed them all. 'What is the market like for replacement butlers?' he mused.
"I was always available", he pleaded', I said I'd let you know if I thought of somewhere to go on holiday even further away than Cornwall.
"Like the Silly Isles" asked BirdDog, remembering the one geography lesson he ever attended. "Like the Scilly Isles" corrected BenDog who had studied metaphysics at Hogwarts and instinctively knew BirdDog had misspelt the word in his mind.
"You'd better go and see Captain SamDog" said BirdDog.
BenDog walked into the dressing room at the moment SamDog was saying to RolfeDog what a relief it was not to have BenDog in the team and the worry about what time he would arrive. BenDog had in fact managed to arrive early for a game he wasn't playing in.
"Well he's got to play said RolfeDog" and went to tell Birdy he was dropped. Birdy for his part, made the point that as Sandford St Martin (SSM) were far more intelligent than us, he had to play because he had been to Princes Risborough Uni.
"Well I could go home and spend the afternoon with my wife" offered BenDog. SamDog instinctively knew that this was the last thing that Hermione would want and that in any case she would not give him catching practice (see last week's report re the Loxtons).
So SamDog fired RolfeDog, his father, mentor, tutor and cricket coach. Axed, without ceremony. "After all I've done for you" said RolfeDog. "Remember when you locked me in my room in Year 8, until I finished my Quantum Physics homework?" asked SamDog "I told you then, you'd pay for it some day".
"In that case, said RolfeDog, I'll go and spend the afternoon with Hermione, remembering the day he accompanied this six-foot blond, former ladies Rowing Blue to a Varsity Rugby Match, when a number of people randomly stopped her to congratulate her on her choice of handsome partner (and Hamsah and Hollywood hadn't even been heard of then0 and to ask him for investment advice.
And so it came to pass that every Dog has its day even if it means that SamDog and BirdDog conspire to replace RolfeDog with BenDog. BenDog in a fit of jealousy forbade RolfeDog from visiting Hermione.
A cricket match broke out and the Greatest Living Batsman in History, aka Midds, opened the batting with The Greatest Living Batsman of 2018, BenGod.
The first great news of the afternoon came from The Ridge 2s where Chesh had successfully run out Taggart without facing. "Taggart is the only person we'd want that to happen to more than you RolfeDog" said one of his good mates, Brooksie or Birdy. Later, in the evening Chesh would spend hours trying to make up for it by buying the Scotsman alcohol under the impression that it helps to feed the patient with his favourite poison.
SSM only had ten but the opening trio of Ben Ackland Snow (BAS) was making the ball sing, with similar bowling from Ben Taylor at the other end. A bowler can still bowl a good ball without a full complement of fielders and so it was that Midds got a cheesecake (or a Jaffa if you did not go to Princes RIsbro Uni) from Ben Taylor who also once went to university.
Captain SamDog joined BenGod and started with a series of fluent shots through 3rd man off the middle of the edge. Records were beckoning. First a 50 for SamDog, 100 partnership, then a 50 for BenGod, 150 partnership and so it went on.
Gilet was in the scorebox where injured SSM captain George Thorne was using a computer programme to score. The combination of this technology and all these Ridge landmarks made Statto-Gilet occasionally set on fire and froth at the mouth. RolfeDog, still reeling from the afternoon's events was called upon to revive him with a series of fine jokes.
There was almost a runout when in a rehearsed move, a SSM fielder at cover slid as if celebrating a goal for Man U (chance would be a fine thing) and propelled the ball hard off his knee to extra cover who almost ran SamDog out.
Otherwise the batsmen were making hay, this being a ground in the farming community as the sweet aroma of manure nearby reminded us, but Nathan "Skippy" Marsh came on as fourth change and asked a few questions like "Fancy a barbie mate?" in a distinctive Antipodean accent.
He should have bowled earlier but one can only assume that he was not allowed to bowl for the first 80 minutes to satisfy some immigrant quarantine regulations, or perhaps there is a language barrier or perhaps SSM do not recognise his university degree.
The partnership reached 236 and with Gilet on his third sedative, BenGod missed one from Skippy and was cleaned up, which was a special treat for someone who has spent the last six or seven years cleaning up after a brood of children.
On returning to the pavilion he kindly donated his score of 94 to RolfeDog.
SamDog eked out his first league century by trying to run both himself and Fats out before reaching the milestone with a deft edge for four off Skippy Marsh who congratulated him with a fist punch. This Gilet noted, was the first time such a friendly gesture had ever been made by an Australian bowler to a centurion since Shane Warne said "Well batted Freddie" to Flintoff at Edgbaston in 2005. Freddie's innings was on a Thursday however, so SamDog's was even better in Gilet's view and Gilet had to be revived with a Tommy Cooper gag.
SamDog went on to 132 including one large straight six, until the moment that his father decided he should film a few shots for austerity, or is it posterity, whereupon the very next ball he hit one off Ben Ackland Snow hard to deep extra cover where he was caught. I see from looking at the scoresheet, that the catcher was somehow also Ben Ackland Snow which only goes to prove that the said individual has solved the conundrum of space and time. Having mastered Quantum Physics he has apparently now turned his attention to Accountancy to which he has brought his knowledge of time and space to improve the Faster Payments system and with any luck will stop my money disappearing down a black hole which is the problem with Quantum Physics.
That paragraph contained two long sentences.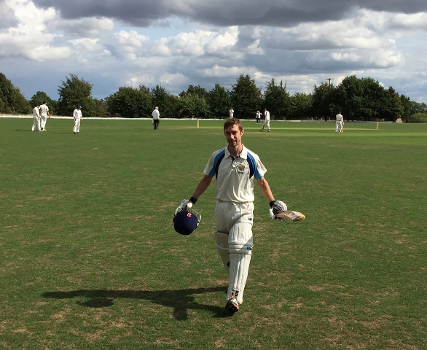 Gilet observed that this was the first time a left-handed 'keeper-captain had ever made 132 for The Ridge. At Sandford.
Fielding is hard work against a big total but SSM stuck to their task although there was one unfortunate moment when BAS made a sliding boundary stop only to propel the ball over the line with both knees in the aforementioned practised-manoeuvre. The words "baby giraffe" were muttered by one of the awaiting Ridge batsmen, probably Ben Hillarious and an investigation is under way into this example of bad manners which is usually the domain of BirdDog.
Talking of BirdDog, he said: "We don't really miss Geoff Tombs do we?" Everyone else agreed then talked about him for half an hour.
Fats had been sent in as a token right hander and he and Junaid kept up the momentum despite their general reluctance to run. Junaid it seems, runs on his toes and being quite a big chap made me think of an Amazing Dancing Bear. Junaid made 28 and Fats 20 before Brooksie (26no) – who is always up for a little asterisk -was joined by Allan (10no) and took the total to a Ridge record breaking 382-5 with Skippy ending with three wickets for SMM.
Tea was excellent and included Carrot Cake (Roz take please note) but despite this it took a lot to prize away Statto-Gilet from the scorebox, the computer and all those records. Astonishingly on this bright Summer's day it began to rain – potentially our fourth rained-off fixture – but happily after a short while BAS's face reappeared again from the clouds and we were OK.
SSM's priority was to get a full five bonus points. Cooperman - who I learned on the way home is a Thespian (or as they say in Spain, a "Thethpian" – ask me Birdy) on his return became the first RidgeBear to open the bowling with a man-bun and after a while induced a catch from Ben Taylor, snaffled by Allan who for once caught the ball without any unnecessary falling over.
During Martin Anson and John Springer's second wicket partnership of 68 the traffic lights in SSM turned green somewhere and a long line of cars arrived. This was the returning SSM 1st X1 who were encouraged by the sight of the score at 50-1 on the scoreboard with a target of only 77. Unfortunately the 77 was the Duckworth Lewis par-score for this particular over (there being a hint of rain about) and the D/L score grew by increasing margins during the afternoon.
Cooperman's first eight overs went for 1-29 and Junaid's first six, 0-32. Ben Hillarious eventually bowled Martin Ansom (pronounced 'Handsome') for 24. John Springer was joined by Skippy Marsh and they put on 80 while Gilet-Statto bowled another mean but wicketless spell there being a league conspiracy not to get out to him.
Eventually Springer knicked-off behind, caught SamDog bowled Allan bringing someone called Derek Hoebrugger to the wicket, a name that just reeks of intellect and The Ridge immediately felt insecure. It was a long time before Hillarious bowled him in his second spell for 43 with the score 241-4 and five batting bonus points in the bag.
It only remained for BAS to fall to a fine diving catch by SamDog and while BAS hung around for a moment while the decision was confirmed we witnessed the unusual sight of the batsman's teammates on the boundary telling him to get off which he did without complaint or throwing his bat, or smashing anything.
SSM ended on 274-5 with Skippy making a cultured 85no, not something you can often say about an Australian.
Both teams had a Bird who did not bat, bowl or even fly (BenGod has a car that can fiy FFS) and BirdDog got the Thanks for Coming Award this week ahead of RolfeDog who was credited with Ben's 94 of course. Among SSM's did-not-bat batsmen was Fred Lamb who was spared from slaughter.
The computer programme produced more scorer's delights:
Junaid bowled 40 dot balls, Gilet 42 and Cooperman was wedged in the middle with 41. Statto took 0-38 off 10, Junaid 1-63 and Hilarious 2-63. We won the other match by only bowling 30 wides against SSM's 57 which we generously did not applaud. In fact not only are we promoted we are the Wides Champions for the whole of the Cherwell League with 292 to date and we have done pretty well with 62 no balls too. A total of 354 extra deliveries means we have already bowled an additional match.
Availability for next week was checked and is a revolving door: SamDog would be in Corsica; Brooksie would be somewhere abroad too but not Corsica; Fats would be away; Hillarious was working; Cooperman would be chopping wood on holiday in Dorset (in a kibbutz we suspect). But we'd get Hamsah, and Matt Brightwell back in a remake of Bollywood meets Hollywood, plus Captain Dakeseye, RolfeDog (fresh from a day's holiday in Sandford St Martin), not to mention Lloydy (God help us).
SSM may have been struggling in Div 2 but all their players know how to enjoy themselves and were particularly generous in congratulating us on our season's success, something we milked for all that it was worth. And thank you for the beer, Ben Proctor.
Their clubhouse became quiet however for a rather serious matter. A Hearing commenced over a written allegation of unacceptable behaviour against one of their players. How serious was it? The presence of Skippy in the public gallery made it feel like a Kangaroo court.
The allegation was read with gravitas by senior player Simon Smith. Smith looked around in vain for support from his Amazing Dancing Bear (The Alan Price Set, 1967) but Junaid was already halfway home with Allan. A fair-haired cricketer known to belong to SSM but as yet unidentified stood accused by Panel Umpire, Anton Saverimuttu - who was present as Witness for the Prosecution - of removing Anton's belongings from his seat in a public hostelry some time during the previous winter and worse, taking over that seat for the rest of the evening.
He might have got away with it. He might have stayed straight-faced and successfully dobbed one of his fair-haired mates, or even a ginger. He might have kept the truth to himself. As it was, it was soul-destroying to see Tom Goffe (3-0-17-0 v Oxford II, fairly respectable) crumble abjectly in the face of the thinnest of evidence presented by Simon 'no Dancing Bear' Smith (1.5-0-15-0 v Oxford II, completely useless), like a child who had had his big fingers in the cookie tin.
He blurted out: "It Wasn't Me…" (Shaggy, 1999) "…honest, it's just a ShaggyDog story" and as his face turned from pale to crimson he was formally identified by Anton and in a particularly sad example of complete mental disintegration, Thomas Goffe, of no fixed address in the batting order, made a full and heart-rending confession so that the case for the Defence crumbled. To think that the Prosecutor (Smith) and the accused (Goffe) had bowled together in tandem only recently in their famous Duckworth-Lewis victory over Wolverton.
Goffe looked around in vain for Duckworth or Lewis but neither were there to help him having also cadged a lift home with Allan and Junaid and so Goffe was condemned to drink a yard of ale, or that length which he did not spill, bare-chested in full view of the public gallery.
Ever-generous even in the most trying of times, several RidgeBears quietly advised him never to play a game at Bledlow Ridge. The Red Kites which circle the ground in search of carrion have given up on SamDog on the basis that what meat there is would be impossible to get off the bone. Goffe's carcass on the other hand, has just enough about it to feed a small family of scavengers for a week and Bledlow Ridge CC's Public Liability Insurance does not extend to convicted criminals.
I have seen cricketers dressed in horse-riding gear after cricket at Horley, I have watched a player run naked around the ground with a stuffed donkey for company at Eynsham and have now witnessed the total humiliation of a Fixture secretary at Sandford St Martin. It almost makes Bledlow Ridge seem civilised, (were it not for the presence of BirdDog).
We left to a Guard of Honour and made our way home.
We had answered so many questions: We could win without Dakes; we did win promotion; we could find Sandford St Martin; Tom Goffe, is the fairest of them all (and the most guilty); we learnt that Quantum Physics is just Faster Payments for Bright People; Ben Ackland Snow is an Accountant living in Peckham; Ben Keeping was not, not-available.
Only one unanswered question remains: who is the best-looking RidgeBear? With Hamsah, Hollywood and RolfeDog back next week, it's going to be a tight contest, regardless of whether or not BenDog shows up.
We'll get Hermione to decide.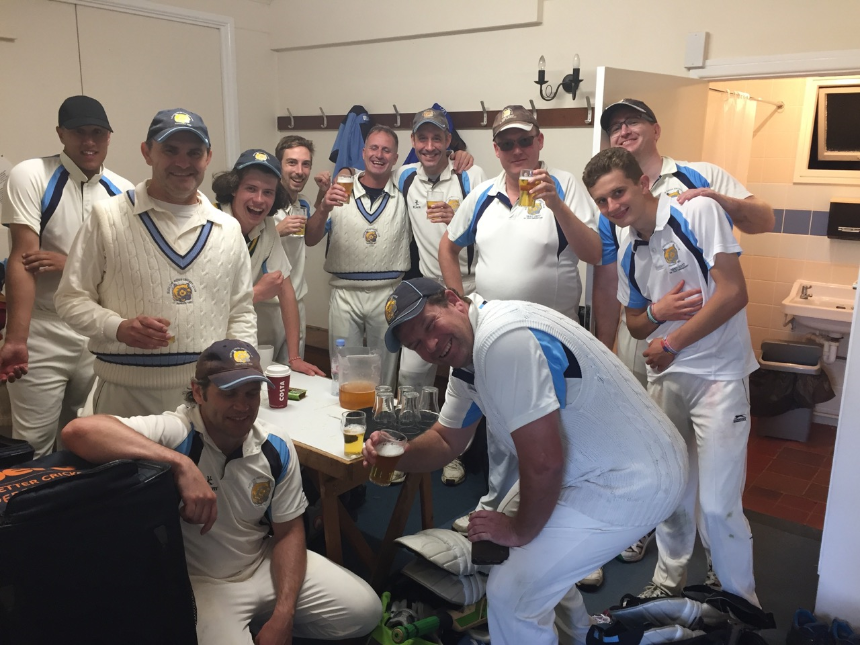 This is a story of fiction and any resemblance to real cricketers is purely accidental
Bledlow Ridge 1s v Buckingham 3s
Home : Saturday 18th August 2018
----------
Ridge Win Love-In with Buckingham
RidgeBears are Compared to a Bunch of Flowers
Allan Reveals secret Behind Catch-of-the-Season
----------
Buckingham: 111 all out (32.3overs)
BRCC: 113-2 (21.1 overs)
Result: BRCC Won by 8 wickets
At 12.20 for a 12.30 start we were one short. The peace was disturbed as a large kitbag crashed in followed by its suave owner.
"Bloody Hell Birdie – you told me it was a 12 o'clock start" mumbled an out-of-breath BenDog who had at least three hairs out of place.
In our house this sort of thinking is described as "Pretzel Logic". One can only imagine that if Birdie had said "12.30 start" BenDog would have arrived sometime before midday. He had after all travelled all the way from Henton for this match, a journey which is clearly harder to time accurately than a trip from Cornwall - see two previous match Reports where four hour journeys each way resulted in scores of 2 (in a victory) and 103no (in an abandoned match - ha ha).
Everyone was on their best behaviour owing to the events of nine weeks ago. I sometimes think that all it takes is a bit of aggro for everyone to get on famously. Three years ago, after the then CCL Committee abdicated responsibility over the behaviour of East Oxford in a home match, we almost had a love-in over at their's. They were a good deal stronger than us the second time around though and we'd have lost by more than five wickets had it not been for a fine spell by the usually-invisible Cooperman and a fine catch by that rare species, the legendary Harry "Rolfe: you make very funny jokes" Balakrishnan, both of whom are rarer to spot nowadays than a Cuckoo in Spring.
Everyone was polite. The Buckingham umpire gave the impression at first that he might be rather officious but proved to have a good sense of humour (GSOH – LOL) and a soft glove. He and Graham Hillarious had a good day.
The ump should have lent his soft glove to SamDog first ball of the match. "Slip catch coming, first ball" whispered RolfeDog to BirdDog in the slips, and Captain Birdseye ran in and induced an edge from Michael Taylor. As our keeper had not been directly included in the conversation he acted surprised when the ball came to him in the air – as you do when keeping wicket - and… well… shelled it.
With the score 23-0 Raj Lali hit one off Birdseye to Junaid who snaffled it and he wasn't even wearing gloves.
The second wicket took a while to arrive. Junaid replaced Dakes to the sound of Birdy twice cooing "Booootiful" after fine deliveries. "Too many Booootifuls" complained RolfeDog. "Fantastic" cooed BirdDog to the next delivery, this being the new word he had learned the week before.
With the score at 46, and Mike Statto Gillett now bowling at the other end
("G -I -L- L- E- T- T" he told the scorers clearly at the start of his spell in case they had been reading match reports and put him down as plain old Statto), Anant Peshavaria flicked at one down the leg side off Junaid and was adjudged caught behind.
And with this came the one tense moment of the game. We genuinely believed he was out and Graham thought he was too.
The batsman said something as he departed. "Whatdidhesay" asked Captain Birdseye. "I think he said we're a bunch of flowers" replied Brooksie. "No!" replied the batsman "I said 'You're a Bunch of Idiots' ". Grateful for this clarification we gathered ourselves into a bouquet while Anant, in a moment of remorse, went to great lengths to explain that it was us he considered to be Idiots and not the umpire and in no way did he consider the umpire to be anything less than a very fine gentleman.
This seemed to become more important that the dismissal itself and he walked off quite briskly without smashing any furniture with his bat.
For some reason in all this, I asked Allan Loxton where he had been on holiday as he had missed a couple of games. Alan explained that he hadn't gone away, he'd simply spent some time with his wife.
I mean… what's that all about?
We were about to find out, after all Men are usually from Mars and Women from Venus
Buckingham were well behind the clock and Taylor was trying to push the score along when he flicked a ball from Junaid in the air, behind square, (see what I did with the rhyme there? … ah, 'there's' another rhyme!).
It's hard to do justice to a catch in writing, but the facts are that the ball had gone over Allan and past him on its way to the boundary when he leapt backwards and sideways and performed a double-reverse somersault in the tuck position (See Olympics - Diving, 2016) before combining this with a Fosbury Flop and emerging with the ball in one very outstretched hand. For good measure it was his 'wrong' hand.
Perhaps I should just tell you that the Buckingham Umpire said: "You'll never take a better catch than that" and James Hickey called out from the boundary: "That was better than your catch last year RolfeDog". RolfeDog made a note never to sign any more autographs for him.
Whatever training the Loxton's had put themselves through during Allan's time off cricket had paid dividends and several players asked Allan for a copy of the manual. "We spent our break doing catching practice" said Allan.
Moments like that inspire a team and that was the start of a regular flow of wickets. Vichal Valambhia lost patience and edged to SamDog who by now was clinging on to everything hurled at him which eventually included the grand sum of 20 wides out of a total of 111.
Junaid with 3-30 off 5 (strike rate 10 versus Dakes' strike rate of 36: just saying) had ripped the heart out of their middle order and as BirdDog had run out of adjectives, Junaid had to come off. He (Junaid not BirdDog) was replaced by Ben Hillarious while Gilet (strike rate infinity: just saying) continued wheeling away from the bottom end.
Talking of 'wheeling away', it should be noted that BenDog has now developed the Gilet Dutch Windmill Underarm Method of returning the ball from the field to the wicketkeeper in the method pioneered by Gilet (see match report: Horley away). BenDog used this method after several chases in a sort of Banker-Does-Statto Tribute Act, while pretending to save his really powerful overarm throw for later.
To cut a long story short, and this is already a long story, Hillarious, who was wearing all his own kit, took five of the next six wickets including Caught and Bowled off consecutive deliveries, something which even Statto could not even remember happening before, in August. BirdDog said "Boootiful" several times and reached for a dictionary just as Statto called for a smart phone.
Then, just as he was saying "Boootiful" yet again, BirdDog was hit in the heart by an edge from Thomas Buggey, via SamDog's soft glove and clung on in case a defibrillator went off anywhere.
As Gilet was too busy checking economy rates on his smart phone, he was replaced by Allan "Can Do No Wrong" Loxton. A little asterisk here: Allan did in fact perform one forward roll over a moving ball that evaded him, which just proves that like Andy Carroll, he is much better in the air.
'That's "C -A- R- R- O- L- L" thought Statto, imagining how he would call out the bowler's name for the scorers if Andy Carroll was playing. Which he wasn't as he is always injured.
Allan bowled 17 fine deliveries in three overs and dismissed Brijesh Valambhia with a full bunger, snaffled by Dakes (what are the chances of that?). Allan ended with 1-6 off 3 overs and an economy rate of 2.00, the same as Gilet, 8-2-16-0 who was by now thumping all the bowling stats into his smart phone.
Hillarious had the stubborn Tim Riley caught by SamDog before castling Matthew Dipple's off stump and walking off with figures of 5.3-0-20-5 which caused the wicketless Gilet, to stamp on his smart phone in disgust.
It was only just past 2.30 so we did not take tea straight away and in any case Roz wasn't fooled this time so hadn't put the kettle on.
RolfeDog hit the first ball for four: what are the chances of that? And the fourth too (although the ball, a lifter, kinda hit him for four). As the bowler Matt Dipple arrived to bowl the fifth he pulled up and got in a bit of state over Hamsah advancing down the wicket at the non-striker's end in a rare case of backing up. Dipple then got in a right tizzy for the same reason before the sixth "You are taking the piss" he explained (or "taking the pith" as they say in Spain) only this time Hamsah's bat was still behind the crease which was even more annoying.
To cap it all RolfeDog hit the last ball, when it was finally bowled, for four. Three in an over: what are the chances of that? To put it in perspective Wycombe Wanderers have not yet managed one league goal in the whole of this season, let alone three.
Hamsah tried a few batting pyrotechnics in the second over delivered by 'Spraggy'. Opening bowlers don't like it when a batsman tries to smash every ball out of the ground and Hamsah was clearly causing offence. Then he faced Buggey and hit balls one and two for six and four and it got a bit quiet.
"You've got a higher strike rate than me" said Hamsah in-between overs. "Nothing to be ashamed of" said RolfeDog.
This might have been the reason why, next over, Hamsah was then bowled by the nice Spraggy who had just said "All we want is a friendly game of cricket" and gave Hamsah a send-off starting with "f" and ending with "off" for which he abjectly apologised on being reminded by the Buckingham umpire that he is supposed to be the nicest man in the team.
BenGod arrive at the crease at 32-1, adjusted his hair and started smashing it around. The ball that is, not his hair. It was 49-1 at tea of which there was a lot.
When BenGod, who must have had too much cake, skied a full toss off the leggie Andy Humphries to the boundary it looked safe but Matt Dipple somehow caught the ball one-handed while off balance, performed a mini-salsa and miraculously remained within the boundary rope. "You'll never take a better catch than that" said the umpire.
"That's the only time two one-handed catches have been taken near a square-leg umpire on the same afternoon. In August" said Statto, who was repairing his smart phone.
Dipple's mood reduced from angry to grumpy.
SamDog joined RolfeDog with the score at 74-2 and generously allowed RolfeDog to make nine of a partnership of 39. SamDog hit a six to the short boundary: "How can that go for six?" chuntered the bowler Michael Taylor who hadn't quite grasped the concept of a boundary rope. SamDog moved on to 25 not out.
The game ended slightly anticlimactically with some wides especially as wides are our speciality. Everyone walked off clapping and shaking hands just like they did at a happy-clappy open-air service I once went to.
On the patio, ShakEy WhatsApped the whole world but failed to mention that Brooksie again won the "Thanks for Coming" Award although to be fair he did provide a glorious assistant who provided a glorious tea, which was mentioned with admiration by Buckingham after the game, in the mood of general bonhomie.
Twyford and Challow won so we now need 17 points from two games. Captain Birdseye announced he would be at a wedding next week involving two similar people and we wondered if Hari would be marrying Cooperman so they could both do fielding practice together and make a comeback.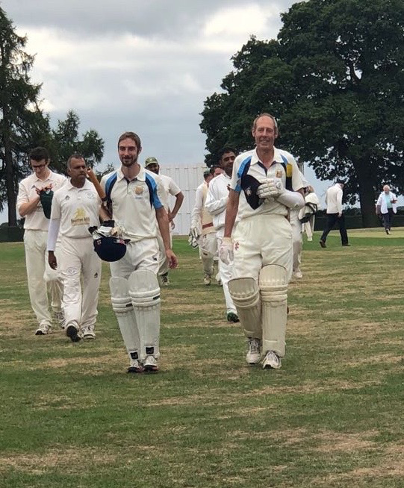 BenDog said "Sorry lads, I've got to leave straight away" as if this was anything new. "Birdy told me the game would end at 7pm and it's already 5.15".
No one from Bledlow Ridge CC is on holiday in Cornwall this week.
Bledlow Ridge 2s v Bletchley Town 2s
Away Saturday 18th August
BRCC 74-10
BTCC 75-2
Lost by 8 wickets
Terrible pitch
We Lost
Nothing funny happened
No lies were told, comic licence employed or apocryphal stories related in the compilation of this report
Bledlow Ridge 1s v Minster Lovell 2s
Away: Saturday 11th August 2018
----------
Ridge Defeated by Drops of Dangerous Rain
Ben Keeping's Average Increases to 15 Runs per Mile
Hillarious and Brooksie Divide the 'Thanks for Coming Prize' which is a Share of Hillarious' kit
----------
BRCC: 357-5 (50 overs)
Minster Lovell: 54-1 (13 overs)
Result: Match Abandoned - Rain
On a day when Challow & Childrey were bowled out for 61 by Eynsham yet got 10 points in defeat, Bledlow Ridge made 357 in 50 overs at Minster Lovell (ML) and got just 6 points for an abandoned match. A little bit of rain was deemed enough to take the players off after 13 overs had been bowled in reply with the score 54-1 and not a hint of sawdust anywhere. 20 overs are needed in the second innings for there to be a result.
Let's face it – and without diminishing our batsmen's achievements - Minster Lovell had largely given up after about twenty minutes.
By this time Hamsah had already hit enough boundaries to make it clear we would make a large total. RolfeDog had gone early to a sharp catch behind the wicket which in the context of the rest of the fielding was little short of miraculous.
Three of four lost balls were recovered during the afternoon by Rolfe "Sniffer" Dog after ML had made little effort to recover them themselves from the river or look for them from the bank beyond. In retrospect then, it was not that surprising that the ML umpire (who had started the game with the unusual entreaty of "Let Battle Commence" rather than the more traditional call of "Play") should be so keen to take players off in the lightest of rain. More surprising was that ML should be happy to go off despite being in desperate need of any points they could get in their fight against relegation.
We had arrived in bright sunshine. Cilla Hillary arrived too, not with Graham and Ben, but on her own. For this week's edition of "Where's My Kit?", Ben had arrived only to realise it was sitting on the sofa at home. Usually it is in his father's car in a garage somewhere or bits of it are scattered within other players' kitbags.
But Cilla, loyal as ever, made a 60+-mile round trip so that Ben could sit all afternoon in his kit and watch the others bat, before fielding for 13 overs.
There had been some concern at the dryness of ML's ground. The drought had caused many areas of the outfield to crack open. Much of this had been filled with topsoil and the boundary brought in on one corner.
None of this bothered Hamsah who started by trying to break mid-off's hands twice and by peppering the car park on the other side. As encouragement, every time he played a defensive shot a round of applause broke out from his teammates and RolfeDog reflected on how much applause he might have had over the years if this rule had applied to him.
Ben Keeping – alias BenDog – had travelled back from Cornwall for the second week running (life's just one big holiday) in an attempt to improve his average of 0.25, ie 2 runs for every 8 hours travelled.
He played the perfect anchor innings as Hamsah made his way to 90 and was out with the score at 144 after 20 overs. Hollywood carried this on before being bowled for 25 having tried to break one bowler's hand with a return drive.
ML were pleased to see him go but this brought in Dakes who is having various personal competitions with teammates mostly on the wicket-taking and wicket-average side. He is now involved in a six-hitting competition with Hollywood and Hamsah and this continued as he made 49 with 3 sixes, in about 10 minutes while in his sleep, including one huge effort over the pavilion (worth 9) which ML recovered quickly, probably because it did not involve any fishing.
When Dakes was out he credited these runs to RolfeDog whose cap he wore for inspiration and returned it to him a lot more sweaty than when he had started. For RolfeDog's part, there was a moment when he looked at the scoreboard when it showed 202-2 and reflected happily that he had contributed 7 of them.
Junaid went out to bat, described previously as "Like Hamsah but with defensive shots" and returned five balls later to be described as "Like Hamsah". The one disappointment of the day - apart from a few drops of rain and an umpire's determination to end the game – was how near we had come to having two brothers score a century for the club in the same season, Junaid having made a century for the 2s a few weeks earlier.
All this time, Brooksie had been put down the order to protect him from the new ball, then the slightly old ball, then the old ball, and most of all from himself. He commented that he would have like to open after all but with Hamsah not RolfeDog and thus ended a long friendship with RolfeDog who retaliated by refusing to get him a cup of tea.
Luckily Brooksie was able to spend much of the afternoon chatting with BirdDog and when they could not think of anything to say about sex, there were long silences, and when they could, there was a lot of exaggeration.
SamDog – rather short of runs this season – went out to join BenDog who was moving remorselessly on towards a hundred with a mixture of pushes, drives and toussles of his beautiful hair. With late cuts and drives SamDog nursed BenDog past the dangerous 98s and to his second century of the season so that with a final score of 108 not out each hour's travel was worth 13.5 runs.
We had a magnificent tea and a quick headcount confirmed that no player had been lost down any of the cracks in the ground caused by the excessively dry summer and whose condition rain seemingly does little to alter.
Dakes opened up in traditional fashion with five wides but thereafter did a 'Jimmy Anderson' on both batsmen finally inducing an edge from opener Ryan Frost who was caught behind by SamDog.
The ML second wicket partnership made a good if forlorn attempt to keep up with the rate, with Hamsah hit for the Six-of-the-Day by Ashley Horne - bigger than any of Hamsah's or Dakes' and which RolfeDog later recovered from the far river bank.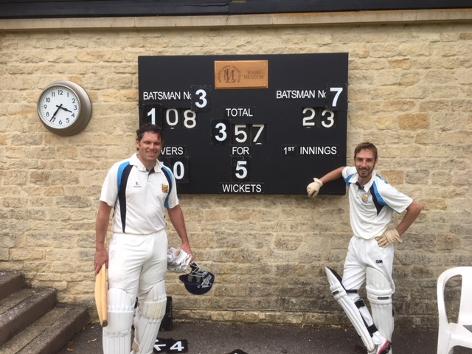 No attempt was made to find this ball at the time, but an old lump of leather was provided in its place before Dakes bowled a few with it, then made the point that a nearly-new ball should have been chosen to replace a nearly -new ball and had it changed.
Batting well, ML were in with a chance of picking up bonus points as we carried on in the lightest of rain which inconvenienced no one, not even the bowlers who were careful to avoid the dry areas while fielding on the boundary.
Gilet came onto replace Hamsah, put Hollywood on the boundary about 80 yards away and cursed him as he ran ten yards in an unsuccessful attempt to make a very difficult catch. "That's why I put him there" said Statto. "I'd have preferred it if you had put me 10 yards to the right in the first place" retorted Hollywood who a little earlier might have run one of the batsmen out had Dakes not been standing in the way. I know what I'd have done.
And then… it spattered slightly harder for a minute… yes marginally harder but not as hard as the rain at Lords in which the Indian batsmen are facing Jimmy Anderson as I write.
One of the officials pulled up a set of stumps. We looked for signs of rain on the run up, wickets and surrounds and couldn't find any. No one had slipped or slithered, no one had fallen down the cracks cause by the excessively dry conditions and ML were going well on 54 for 1. Was it too wet or too dry? No one knew.
Once you come off for rain it's difficult to come back on even if it is scarcely spitting, unless you are playing a test match at Lords v India, where they have just done exactly that.
There was a dilemma when it did stop completely for a few minutes. At this point the ML captain said that the groundsman (who was nowhere to be seen) wouldn't like us to play and he was terrified of him anyway because they'd played once before when it was a bit wet and the groundsman had got quite cross. It was not clear what the pitch was being protected for unless one of the tests v India is due to be played at Minster Lovell.
The umpire was busy looking for anywhere that might be wet and carried out an experiment, rolling an old ball for a few yards which proved it had previously been raining. At this moment RolfeDog gave him the nice shiny new ball that had just been found, which was probably not a wise move.
If you wait long enough on a grey day the rain will eventually come down harder and finally it did and with it any further chance of going out to play. We could have got about 30 overs in instead of consuming more tea and cake.
The Ridge was therefore again scuppered by rain, for the third time this season to a team in bottom or second-bottom place, this time with 357 on the board. There is a rule in 50:50 matches that forbids declarations. It's not a Cherwell rule, it is copied directly from the rules of the HCPL, which are copied from the ECB rules. We considered sending in our batsman with the instruction to deliberately give away their wicket to hasten the end of the innings, but decided quickly that was not in the spirit of cricket and up (or down) there with the player somewhere in the country, who recently threw the ball over the boundary to prevent a batsman getting a century, so discarded the notion, but it might have got us another 19 points!
Had we done so of course BenDog would not have made a century and would have paid someone a lot of money to have us all killed.
A disappointing end to the day was lifted somewhat when, having hurriedly dressed to make an early start back to Cornwall, BenDog dragged his kit through the changing room, went bright red and exclaimed while looking at Birdy, "You've put Deep Heat in my underpants". "Don't worry you can take them off after four hours driving" said Birdy who was giggling like a 10-year-old.
The dressing room finally emptied so we assumed that Ben Hillarious had taken all his kit with him rather than put it inside his teammates kitbags. There was panic about the missing scorebook after we'd left but it was eventually found at the bottom of Dakes' kit along with Ben Hillary.
News had come though of an extraordinary result at Eynsham nearby, where the home team had been bowled out for 65 and had then bowled Challow out for 61 with Sam Whatshisverylongname taking 6-10 off 10. SamDog and RolfeDog stopped off there en route to give thanks and to return Luke Smitten's cap.
It turned out that credit for victory did not go to Sam Aforementionedbowler but to Tom Gerken who had promised to run around the field naked if they won. Challow thought this worth the 15 points they would sacrifice for the sake of Tom fulfilling this promise.
Luckily for SamDog and RolfeDog, they arrived in time to witness the event, shown here, and to offer condolences to a toy donkey which had been chosen to protect Tom's modesty. Two thoughts here: 1) why the presence of a toy animal at a club where players like to get naked? (don't answer: it's a rhetorical question) and 2) no wonder Tom's one victim was LBW shouldering arms if this is what he looked up and saw as the bowler ran in.
It was a day of strange news as one of our close rivals Twyford, had cried off on the morning of the match and forfeited 10 points. More bizarrely Taggart had made 91 not out for our 2s - with this, the umpires realised that all sense of reality had been lost, so they abandoned the match.
This did not alter the fact that on this particular day 357 had not been enough for The Ridge to win. There was one more piece of good news though: BenDog had got back to Cornwall in record time with the added incentive of a change of underwear on arrival and had made it in 3.5 hours not four, thus bringing his average per mile down to 15. Not even a drop of rain could alter that.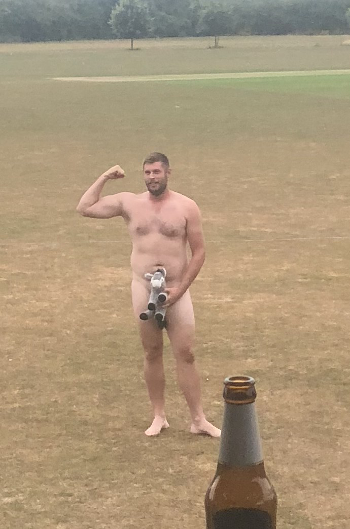 No ducks were harmed during the writing of this report
Bledlow Ridge 2s vs Stokenchurch 2s
Home: Sat 11th August
____________
How the hell …. ?
Actual language adapted for publishing purposes
BRCC 233-3 (45 overs)
Stokenchurch 95-6 (24 overs)
Match drawn BRCC 15pts, SCC 7pts
Saturday morning 01.00hrs. A decent percentage of the 2s are at the club (Sniff, Taggart, Saint, Shaun, Jov, Hairbear). Arriving 12 hours before 'play' is called, suggests impressive dedication, except that this was still the night before the morning after as we said goodbye to probably the most important RidgeBear never to play a game for the Ridge, the inimitable Tommy Beattie. There was cricket, there was beer, there was Jenga, there was karaoke, there was dancing, there was wine, there were speeches, there was much hugging, there was more beer, there was a presentation, there were some teary eyes, there was more wine, there was even a hospital dash (all good thankfully). It was a sweetly sad night.
Saturday morning 10.00hrs. A decent percentage of the 2s (see above) are softly weeping to themselves in between bouts of vomiting and swallowing handfuls of Ibuprofen to calm the hammer drills going off in their heads. Collectively they have one question they are all asking;
How the hell ….?
Saturday morning 11.30. The covers are pushed off. After 4 weeks of Saharan type drought and 2 days of rain, the pitch is a vivid deep green. The kind of green that would have the long absent Cooperman declaring "Whoa man, that's like … really … like … green." And the grass on it seemed to be growing at a rate you would normally only see on a time lapse camera. 90 mins of sun and a quick run with the mower later, Sniff went out to toss, won it, and came back in to announce that we would bat. Collectively the team have one question they are all asking;
What the hell ….?
Stokenchurch started the day in 3rd place in the table with more than a sniff of promotion. They had brought pretty close to a full strength side that contained 2 of the top 4 run scorers in div 9, the top wicket taker and another bowler who featured in the top 10. Despite a morale boosting win against Nondies last week, The Ridge were in 8th, a position we look destined to be glued to. Nevertheless, Chesh and Taggart (yep seriously, he's still doing it), went out and batted carefully, very carefully, the kind of soporific carefully that could have emptied the stand at Lords as quickly as Botham emptied the bar. The 48th ball of the innings was the first to reach the boundary (off the bat) as Taggart worked out why he had taken his bat out there and creamed one to extra cover. But 4 balls later, Chesh got a wonder ball. It pitched about a foot outside off stump, jagged at a right angle (ish) and thudded into said peg. Chesh stood for a moment, looking bewildered and thought to himself;
How the hell ….?
Enter Jai Angell at 3. Taggart warned about the vagary of the pitch as he walked in and having dutifully defended the first ball Jai decided it was actually fine and slapped the next one over extra cover for 4. And so it began. Taggart clipped a few to square leg (collective gasp of astonishment), Jai smashed 10 fours in his first 14 scoring shots and the scoreboard began to take on a moderately respectable look. After Jai had taken a particular liking to Sam Leppard (purveyor of Chesh's wonder ball) and dispatched him for 3 4s in an over, skipper Plows decided to play his ace and brought on Jack Springett, a young off spinner who had gone through us at their place earlier in the season and was sitting top of the div 9 wicket taking list on 34 from 14 matches. Bowling up the hill at the Ridge is not the most difficult end in the Cherwell, but it does require you to push the ball up on what would be a fuller length on the flat, especially if you're bowling slow. He didn't quite work that out and without ever getting too brutal (we didn't want him coming off too quickly) both batsmen milked the bowling effectively and Taggart began to see it so well that many of his shots were coming off quite thick edges.
With Jai on 35, and starting to think every ball should go, his more (life) experienced partner called him down the wicket for a chat. "Forget the game, forget the score, get 50. Oh, and if you call me through for any more 2s, I'm going to beat you to death with my bat" It took him 6 scoring shots. As Jai progressed serenely, Taggart's score was now reaching hitherto unimagined levels. In the clubhouse, Shaun and Hairbear figured they were still drunk and hallucinating, Shaky was posting Whats App updates with provisos like "this is real, honestly" and Chesh was just sat quietly, shaking his head and thinking:
How the hell ….?
With Taggart on his highest ever league score in any form of league cricket (45), his more experienced (run making) partner, who at the start of the day was precisely ¼ of Taggart's age, called him down the wicket for a chat. "You're playing some horrible hacks. Get them in 1s and get to 50". 6 more horrible hacks, 2 dropped catches and 3 singles later, he finally got a short ball that was hit off such a thick edge that it might have been mistaken for the middle and went for 4. Most batsmen on reaching 50 politely acknowledge the applause with a gentle raise of the bat. Taggart did this, then off came the helmet, both arms up, a hug for his partner and a bit of a one man Mexican Wave. He stopped short of kissing the wicket, but otherwise it was a celebration worthy of a double hundred at Lords on debut to win a test. Celebrations on the sidelines were equally ebullient. Chesh and Sniff shouted loud, Shaun stripped off his shirt (no, me neither) and Hairbear vomited again. Stokenchurch were very gracious but you could see the question that was collectively in their minds;
How the hell ….?
Taggart celebrated a few overs later by top edging one to a fielder on the mid-wicket boundary, who seemed to have caught it, only to drop it over the boundary for a 6 (drop number 4!). He then sent out for lottery numbers. BetFred had long since stopped taking bets on whether Jai would get a hundred (the only thing that looked less likely was a Stokenchurch fielder actually holding on to a catch from Taggart), so it came as quite a shock when on 91, he got a full bunger from slow left armer Bains which collided with the top of off. It was all the more surprising as the over up to that point had consisted of 2 smashed to the boundary for 4 and 2 deliveries that were called no ball on account of them bouncing twice before reaching him. But 9 short it was to be for a chanceless, imperious innings that contained 15 4s and 2 6s. The score was now 184-2, meaning that the old dog and the young pup had put on 163, which I am sure Gilet (who will not be mentioned in this report) would confirm, is the highest partnership for any wicket, for either team in the last 4 years (when we started recording partnerships). The previous best of 150 between Rolfie and Rory, also featured a 40+ year age difference. Determined to finish top of every list, Keeps is now on the lookout for an octogenarian who can hold a bat long enough for him to smash 164.
Fahan came in and made a bright and breezy 18 before being trapped in front. He had suggested to Taggart, who had now worked his way into the 80s, that he should just smash his way to a hundred. Funny, I thought Fahan had seen Taggart play before. Besides, Stokenchurch, having given up any hope of holding a catch, were now deploying 2 sweepers on each boundary plus a long on and long off. Shaun came in, grabbed a quick single and made a very decent attempt to run out his now dead on his feet partner, but the wilting Flower of Scotland survived to carry his bat for 91*, which he wasted no time in informing Jai was just a little bit better that 91 without the asterisk.
Shaky posted it on the Whats App and momentarily the internet looked like breaking as a billion cyber dudes typed;
How the hell ….?
After the least complicated tea of the 2s season (it was all made by the same person) Stokenchurch came out and their early intentions were clear, at one end at least. Sam Leppard launched himself into the bowling, making a quick 23 before David Saint just pulled his length back a little and induced a skier to backward square where ……. well who else but probably the possessor of the worst catching record in recent years. But sometimes you just have a day and it stuck. The Saint went on to maybe his best spell of the season, removing 2 more leg before and running up an impressive 3-41 off 10. Rohit had bowled without much luck at the other end and gave way to the owner of the 2nd worst hangover in the team. Shaun was quick and in combination with DS, brought the run rate down from 9 (27 off 3) to around 3.5 after 20 overs helped particularly by the other opener Langford who was still in single figures at drinks. Along the way he induced a sharp catch to Taggart (you're making this up!) at point and completely confounded Langford with a slower ball off which Jovan took an excellent catch.
On any normal day, Hairbear coming on to bowl might have had people wondering, but reality was suspended and so it seemed like the natural thing to do. In his first over, he brought about a hook shot that was landing in Taggart's general area and despite a bit of a lunge he did NOT take the catch, proving that there may still be some shade of normality left in the world. Taggart claimed that he picked it up late and to be fair, everyone was aware that it was getting dark. Very dark. Hairbear bowled the same batsman with a full bunger in the next over, by which time it had begun to rain. It had been drizzling for a while, but now it was definitely raining. The umpire decided that it was a bit much, on came the covers and off we went, with no-one really complaining. Half an hour later, it was looking a very astute decision so the captains shook hands and settled for a draw. Stokenchurch were 96-6, with no realistic chance of getting close, but they had only had half their overs, so the draw points were split equally, 3 a piece.
So on a day when our 1s scored the 11th highest total in Cherwell history, our 2s made 233 against one of the best sides in the division and bowled them out of the game (if not out), the only side above the 1s in 6 got bowled out for 61 and lost, both teams stayed exactly where they were before, but in slightly weaker positions.
How the hell ….?
Bledlow Ridge 1s v Eynsham 1s
Home: Saturday 4th August 2018
----------
The Ridge Scrape Home on Wicket of Uneven Bounce
Keeping Finds 'Miles Driven' Easier than'Runs Scored'
The Beatles' Music is Slammed by the Next Generation of Ridge Cricketers
----------
Eynsham: 95 all out (28.1 overs)
BRCC: 96-6 (22.1 overs)
Result: Won by 4 wickets
If it had been a golf match Ben Keeping would have won the prize for the longest drive. As it was, his four-hour trip back from holiday in Cornwall yielded two runs (which reduced his batting average from just over 9,000 to about 85), no wickets, no catches and later in the day, several pints of beer as he considered the possibility of driving all the way back, for so long that five hours and several pints later, it made no sense to do so.
Enysham had arrived en masse well before 11.30 for a 12.30 start but without wicketkeeper Jacque Cousteau who has apparently sunk without trace following the match report for the game played on 2nd June. His replacement did not wear a diving suit, helmet, goggles or breathing apparatus although his flippers did look a size too large.
It was a good thing they arrived early as they were able to cut, roll and mark the strip and put out the 30 yard discs, although marks were deducted for not putting the sightscreens in place before the game commenced. Had it not been for drink-driving laws they would probably also have stayed longer than the home team after the game was over, as this proved to be the perfect cricket match: it lasted 50 overs, ended mid-afternoon in bright sunshine with a fully stocked bar and platefuls of leftovers from another of Roz' specials.
Eynsham won the toss and chose to bat not realising they had just rolled a number of IEDs into the wicket. What they got was fizzing, spitting and shooting… before we told Brooksie that that was not appropriate behaviour from a fielder.
Sam Hollingshead was caught by Hamsah in the unlikely position of Gully off Captain Birdseye before skipper Sam Jones – who had made 29 of the first 35 runs, edged one to Sam Rolfe off the bowling of someone not called Sam, unless Hamsah has been pretending all along.
There then followed an example of the first Repeating Phenomenon which has occurred several times this season (see earlier reports) where the batsman pleads that he hit the ball down on to the ground instead of upwards to the keeper.
"What the Sam Jones is going on?" said wicketkeeper Sam and received a clip around his ears from his dad for bad manners.
Fortunately for The Ridge the umpire adjudged him out which means that Joss Goff's shot (Twyford) two weeks earlier which ended in the hands of first slip might just have been out too… but I'm not bitter. At least Sam Jones agreed he had hit his.
That was a good wicket to get, not least because we now had two batsmen not called Sam at the crease so it was less confusing. It was also much more classy to have someone called Roland batting, yes Roland batting, not Roland Batting, and his surname Margerison is even more classy - the best we can do in our side being James Goodband and Matt Brightwell, whoever he is.
Anyway, enough of this rubbish. Hamsah and Dakes began to chip away. SamDog stood up to the stumps for one ball, nearly had his nose rearranged from a lifter and retreated again. The score went from 35-1 to 46-5 in a short time despite each batsman taking the precaution of wearing bomb disposal suits and riot protection headgear. What they weren't prepared for was the odd scud missile which added to the variety of dismissals of which four were bowled or played-on and six were caught (five behind the wicket)
Hamsah bowled Dan Clarke with his best ball of the season, an inswinging yorker but he had overstepped the mark, something we normally associate with Steve Bird and rude stories. This batsman stayed around to cause a bit of trouble until he was eventually caught by SamDog off Hamsah which is about as unlucky as you can get.
All this while, BenDog was quite chatty at slip - having made such a long journey - a position in which he had been retained from the previous week in spite of, or perhaps because of, his 50% catching record. We learnt among other things how attractive he had been to the opposite of the species when in his late 20s he had loadsamoney and an Aston Martin (not to mention extraordinary good looks as we reminded him). Moving onto the current era, he described his occasional frustration with England's cricket - even though they were in the process of winning a wonderful test match against India - with a sentence that started "I told Hermione she had to make the children lunch before finishing the gardening, and then when I sat down to watch the cricket I couldn't believe…". It makes you wonder what all those nannies, not to mention several butlers, are doing most of the time.
Anyway, more than enough of this rubbish. We had six wickets by the time Tom Gerken came to the wicket. He took a temporary liking to Ben Hillarious, before realizing what the RidgeBears have learned the hard way, that 'temporary' is the best option, as Hillarious is best in short doses. He (Tom Gerken) hit one huge six which is the only known instance of a pie being hit out of the ground by a gherkin. It was lucky that Dakes didn't swallow them both. Tom G then let Hillarious bowl him with a trench-cutter.
Hillarious (2-29 off 6) also got Tom Smith which seems to me to be a perfectly normal name, like Sam Jones for example and one can only assume Bill Brown was unavailable and was what had let Roland Margerison, or perhaps Ben Smitten, into the side in the first place. Ben Smitten incidentally was bowled by Hamsah who ended with 3-24 off 7.
Junaid had taken over at the top end from Dakes (3-24 off 12) having already stunned us with a piece of fielding excellence when he rapidly got into a position to back up a loose throw-in and save some overthrows, something rarely seen in our team (backing up that is, not overthrows). He stood out for this alone although he was difficult to miss in smart white trousers and contrasting shoes. He has not however, yet learnt to stop the ball with his feet (Shaun) or to perform a forward roll while letting the ball through his legs (HairBear).
Having watched ShaunDog bowl one over, Junaid (2-6 off 4, best strike rate of all of 12, best average of 3 and economy rate of 1.5, just saying) finished with the wicket of Nigel Walker caught behind off SamDog and with that surname you can't really hang around in the hope of being given not out.
SamDog ended with five catches, putting him ahead of Hollywood who is not a wicketkeeper and which only goes to show how much we missed Mike "Chairboy" Gilet who wasn't there to tell us when this last happened. Luckily Gilet was not missed at all as I can give you the answer: it has never happened before.
Gilet was missing under the pretence of supporting his football team: "Why would Gilet miss playing cricket to watch Wycombe Wanderers?" enquired Mrs Hollywood sagely after the game. In truth he needed a week off from being victimised in match reports so he won't get mentioned here save for two things: firstly Sam Jones said after the game that he had been nice to his bowling in the first match but he would have smashed it all over the place this time, and secondly with The Chairboy away, both our teams won their matches before 5pm. Just saying.
Eynsham had set us 96 to win. Roz was informed that we would not be taking tea yet and it is just possible she cursed RolfeDog who a half hour earlier had told her during a drinks break, that she need to get a move on as Eynsham were already six wickets down and we'd probably take tea early.
Not even the British can have tea at 2.20pm so RolfeDog and Hamsah went out to bat in a new passive-aggressive partnership and I will leave the reader to guess which was which or who was who. Or whom.
There was a small clue in the field Sam Jones set to the second over. Having remembered Hamsah's pyrotechnics in the first match, he placed various fielders on the boundary only to see Hamsah's first ball fly over slips for four as he attempted to knock the Golden Ball off West Wycombe church.
Alas there was to be no Golden Ball's day for Hamsah whose second shot exoceted straight into the hands of the player he had yorked first ball with a no ball, Dan Clarke. The fielder failed to return the compliment and caught it on the deep Extra Cover boundary, before in a fit of guilt, wheeling away over the boundary rope in order to evoke some controversy. Unfortunately there was no one in at Lords to take the call for clarification of the law and so Hamsah was adjudged out. It is possible that from now on we may see top level cricketers catching the ball on the boundary before tearing towards the crowd in celebration (Roy Essandoh, Wycombe Wanderers FC 2 v Leicester City 1, FA Cup Qtr Final 2001) and taking off their shirts only to receive a yellow card (Steve Brown in the same match).
BenDog went next, plumb LBW to Nigel Walker, the umpire failing to realise how far he (BenDog that is) had travelled for this innings and that he is a very important investment banker. Gilet texted to say that every four hours in the car had been worth one run.
RolfeDog followed after two boundaries, deciding to tuck his bat inside his right pad to a ball from Sam Hollingshead (unnecessarily long name) and thereby appear to be leaving a ball on middle-and-leg.
We were in a bit of trouble at not-many-for-three (bad work with the scorebook someone), but Dakes and Hollywood started a revival until Hollywood was LBW to a scudder for 16 at which point SamDog stuck around for a while with Dakes, without actually scoring a run.
He was able to direct ball-hunting fielders to a lost ball from a six by Dakes which had landed a good thirty yards into the flourishing Wildlife Garden next door. With this we were treated to the second Repeating Phenomenon of the year, already described at least three times in earlier match reports. The ball was found, somewhat miraculously in the long grass, sorry wildflowers, in exactly the position pinpointed by SamDog who had watched it go in, only for the finder to question whether it was the right ball. Suspicion seems to remain that a UFO is dropping slightly used Cherwell League match balls into all the fields and hedges surrounding all the grounds so that no one can be sure that the ball they have found in the right place is the one that was lost.
Anyway, SamDog forgot to bat properly and was caught. This meant that RolfeDog (8) had outscored SamDog (0) and Hudson (2nd X1: did not bat) but that the latter two did at least manage to match RolfeDog's runs on the day, with eight catches, Hudson having got three, something BenDog can only dream about .
Captain (Corporal?) Jones rotated his bowlers from the bottom end, leaving Sam Unnecessarilylongname 4-29 off 11, unchanged at the top.
Try as he might, Captain Jones could not get Captain Birdseye out although Brooksie, who came in in his rightful position of No 7 to win the match, did his best first ball, calling for a quite reasonable single, but forgetting that Dakes does most things, including batting and bowling, in a stupor from which he can only be awoken with a loud call of "YES".
Dakes survived and after a cameo 10 runs, Brooksie made us all chuckle (RIP Barry Chuckle, Chuckle brother, comedian and Malcolm Ashby lookalike, who passed today, 5th August, aged 73) by hitting the winning boundary straight into the safe hand of Nigel Walker, who might also once have been a very good wing three quarter for Wales.
And so with four wanted, it was left to Junaid to finish the job. "What's Junaid's batting like?" enquired BenDog of RolfeDog. "Like his brother Hamsah's…" RolfeDog replied "…except with defensive shots." "Thank God for that" said BenDog with some relief.
Thus it was, that Junaid carefully took guard and blasted his first ball through midwicket for four and made me look a complete arse.
A win by 4 wickets. Challow got 20 points from a draw with Horley (well played Horley) while Twyford beat Oxford 3s narrowly, so we stay 2nd but with Twyford well in contention.
It was about 5pm when the day really started. Eynsham stayed for plenty of refreshment in the old time-honoured fashion and discussed how we could fit more people called Sam into the game next time. BenDog dithered over whether to travel back, Hollywood was joined by his wife who Taggart, on return with the victorious 2nd X1, called Mrs Hollywood all evening as he could not remember her name (it's 'Felicity', Tags, or 'Fliss' if you can't manage four syllables after a pint) and Captain Birdseye' was joined by his mum and dad who are trying to work out where Dakes has got all his energy from this year - we think it's the beard.
Everyone reflected on the moment in the game when Dakes fielding in the covers, called to Brooksie who was fielding at Long Leg. As if that was not ironic enough, he asked Brooksie to move 10 yards to his left. I'm not saying Brooksie missed the opportunity of a lifetime but if it had been me I'd have put my hands on my hips, stamped the ground and said: "I have been fielding in this position to our bowling for fifteen years and know exactly where to stand, thank you very much".
Eventually after putting much of the world and cricket to rights we said goodbye to the last of the Eynsham players but not to Ben Smitten's cap which I recovered and am currently keeping as hostage for some purpose or another. We know he is intelligent as he is smart enough to have put his name in his cap (unless his mum did it for him) so perhaps he deserves it back.
The rest of our 2nd X1 were back by now and the quality of the conversation gradually went downhill though they were only partly to blame. Dales, yes Dales (who got five wickets for the 2s and should not be confused with Dakes who only got three wickets for the 1s) eventually went home but left his wallet behind. As the bar regrettably does not yet have contactless payment we called him back. Instead of collecting his wallet and hurrying off home, he decided that as he had come back he might as well have enough drink and continue the slightly morbid game of "Dead Or Alive?". This involves naming a player from our vintage or earlier, at High Wycombe Rugby Club and declaring or guessing whether their blood is still warm.
Taggart and BenDog got into a very pretentious game of "Name Your Favourite Book and your Favourite Song" where each tried to name an author or musician the other hadn't heard of. Where was David Oxford English Graduate the one time you needed him? He once left a textbook behind at Teddington that was so heavy I had to get someone to put it into the car.
BenDog came out with the classic "I'll tell you someone who writes a good book" as though authors set up an industrial production line. It turned out to be Charles Dickens which was rather better than Taggart's Enid Blyton, although Taggart tried to rectify the situation by bandying about the name of Robert Louis Stevenson which as everyone knows is the name of the man who invented the steam engine. The best Hollywood could come up with was one entitled 'Best SAS Manoeuvres 2005' so we moved on to music.
Hudson said he had listened to some of his parents' Beatles records once and declared they weren't up to much. At the time I took this to mean The Beatles but on reflection he has complained about bad parenting from time-to-time. When RolfeDog mentioned Sgt Pepper as a classic album, HairBear, who kept mentioning the names of bands that I cannot believe exist, said "Nah, it's all too samey". Thus one of the most ground-breaking albums of all time, with songs as diverse as She's Leaving Home, Lovely Rita Meter Maid, For The Benefit of Mr Kite and When I'm Sixty Four (next year actually) was written off in a single casual statement by a Bledow Ridge lower middle order batsman.
HairBear went from reasonably sober to reasonably pissed in the sixty seconds it took him to take a comfort break during which Mr or Mrs Hollywood must have laced his drink. On return and as he had not batted, he whined on about wanting a bowl, so much that RolfeDog went and got him one from the kitchen to quieten him down.
We finally packed up and left. We reflected on Hamsah's news that he had passed his driving test and that in contrast Shaun, despite starting driving into walls three years ago at aged 16, has still not driven beyond the gatepost of No 6 RIdgeside. Stuart Murdoch for his part, began to go white on realising what he had done in passing his test this week. There he was, waiting, tee-total for his dad to be ready so that he could drive him home; he was then off to collect his sister from somewhere. And so the rest of Stuart's life will pan out as a taxi driver for his dad (to whom he owes 3,791 trips) and for his sis (quantity unknown), on perpetual standby.
Best to have failed that test Stuart, or to have somewhere in Cornwall to escape to. The four-hour trip would be worth it. Ask Keeps.
Greg Inge, Seb Gibson and Mark Weller of Eynsham were not insulted in this match report and got off lightly for reasons unknown.
Bledlow Ridge 2s vs Oxford Nondies 3
Away: Saturday 4th August 2018
_________
Ridge 2s sail the Longboat home with 16 overs to spare
Dales reveals why he taught PE rather than History
Nondies 121 all out (32.2 overs)
BRCC 122-4 (28.4 overs)
Won by 6 wickets
As we entered the changing room on a picturesque little ground in Islip, we were greeted by Dales smiling face and the first of what was to be several 'pop quizzes' for the day. "Guess who was born in Islip?" Now given that both Hudson and OGIMD were in the team, sending the average IQ way beyond this year's average score, you would have thought that we could have knocked this little piece of English history straight out of the ground. There were some random guesses; Winston Churchill, David Beckham, Madonna (??), before Chesh tried to bring some sense back to proceedings and asked for a clue. Was it a politician, and was he recent?
"He was a sort of politician, and a good couple of hundred years ago. His middle name was 'the' ".
As more random guesses floated around the changing room (Winnie the Pooh, Alexander the Great, Henry the Eighth) my will to live floated gently out of it into the shimmering outfield just as Dales revealed the answer. Edward the Confessor (born 1003). He must have been a good age.
I'm not sure what it was that Edward was famous for confessing, but he would have denied vehemently any involvement in the preparation of the latest incarnation of div 9 pitches we were faced with. The surface didn't look as bad as Thame, but you could almost see the writhing snakes just below the top. As we embarked on a serious discussion on how to play on it, whether to bat first, pace on vs pace off, back foot/front foot, Dales piped up again.
"Did you notice that the playpark we walked past is themed? It's based on a Viking Longboat. Anyone know why?"
Hudson discovered that no matter how far the will to live has drifted, it is still too strong to allow you to kill yourself by holding your breath, OGIMD, having only completed 3 further degrees since the last match, made a note to get one in making yourself temporarily deaf, and we en masse looked sympathetically towards Sufiyan and Farhan who had travelled up in the car with Dales.
As it turned out, Islip was where Edward the Confessor had made his last stand against the invading Vikings. It's unclear as to whether he chose the place deliberately, or just happened to be at home watching Love Island when they arrived, but it was the site of a great battle, which was then commemorated by the building of a playground. It seemed a strange place for the Vikings to be invading, given that Islip would be a genuine contender for the title 'Town Furthest from any Coastline' but we them realised that actually discussing it would only encourage him further, so we turned our attention to cricket.
All plans were scuppered when Sniff proved himself to be a consistently useless tosser, but the spirit of Odin threw a thunderbolt at Nondies' skipper Saleem (I'm going to go out on a limb here and suggest he does not have any Viking blood) and he found himself saying that they would bat.
Islip CC jumps immediately ahead of Lord Bills on the grounds that they have sightscreens, however it seemed that the wheels had been forged from Thor's hammer so they were a little less portable than would be desirable. As the nearest fielder to the screens, Taggart moved them for the first over and them informed bowler Saint that he choose over or round and stick to it, cos they weren't going anywhere again.
Having examined the pitch, our bowlers clearly deemed it unsuitable for bowling on and so decided the safest thing to do would be to consistently deliver the ball on the full. This let Nondies get away a bit faster than we would like. The word fast however was never used in the description of the first wicket (run out) where their opener, while shouting push push to his partner, ambled one and a half and then dived in just as the next batsman was approaching the crease.
Sniff made some rapid bowling changes, bringing Dales on at one end in the hope that it would give him something else to think about, and eventually Farhan at the other. Dales wheeled away relentlessly, threatening the batsmen's ankles with some short pitched stuff, and getting a 'one for the over' for a half volley that the batsman only had to nod at to duck under. In all the pitch excitement, no-one really noticed that Dales was consistently taking wickets (5-22), and when he made way for debutante Carlton, they were 6 down with only 2 left on account of 2 of their originally selected players getting held up in a traffic jam at Valhalla. Carlton picked one up on debut, Farhan was quick and unlucky, and David Saint was a bit grumpy about having been taken off after 2 and came back to get a cheap tail ender.
As we left the pitch, there was much grumbling about how defendable 121 might be on that surface.
After a top notch tea, where the water for the tea was just left out in the sun and was amply hot enough, Sniff announced that Taggart opening against Thame 2 weeks ago had not in fact been a practical joke, and that he was going to do it again. And so the Batman and Robin of the Ridge (Chesh and Taggart (dynamic duo, it's ironic, keep up)) opened the innings. Chesh tickled the first ball for 1, Taggart swiped a full bunger off his shoulder that was deemed to be there or thereabouts waist high, next ball for 4 and thanks to a couple of extras, we were 8-0 off 1. At the end of the over, the head-banded crusader came down the wicket for a stern word with the boy wonder.
"I want a call every ball!! Doesn't matter where it goes, or how far it goes, a good clear call! Understood?"
Bowing to his more experienced opening partner, Taggart began building up the volume and variety until a loud 'NO RUN' for a leg bye was met by an incredulous look from the man of steel (yeah I know that's Superman, but go with it, we're sort of on a DC Comics theme). Slightly non plussed, Taggart looked around to see what had so upset the Dark Knight, only to find that the umpire had answered the little more than polite enquiry from the bowler in the affirmative.
22-1 and the pitch was starting to live up to what we were expecting. As the bowlers settled into decent rhythms, batting got a little harder, but OGIMD was punishing on the loose stuff and Taggart was patient (barring a couple of loose swishes) and made it to the 18th over before going the same way as Chesh (7) to a different bowler for 21. With the ball softening a little, the mischievous parts of the pitch were now more theatre than threat and OGIMD and Farhan batted very well to get us to within 5 runs of the win before Farhan was adjudged in front for 19.
With OGIMD at the other end on 46, newbie Carlton came to the wicket, swished and missed, swished and missed again, and then swished and smashed the ball 18 inches short of a 6, leaving the scores level and OGIMD needing to hit a 4 for his 50. First ball of the next over was short, he stepped back and decided to make it safe by hitting a 6, which he surely would have had the ball ever come back from ground level. Smacked him in front and he was gone. Sniff went in, faced a wide which won us the match and came back asking what all the fuss was about.
We were umpired all match by someone from Nondies (which seemed a bit strange as they had only 9 players) and lost 4 wickets LBW. It's possible that he made mistakes (obviously just mine, the other 3 were plumb in front), but if he did, they were certainly honest mistakes, and he turned down a lot more than he gave. Didn't catch his name, but if he ever reads this report, I hope he will accept our thanks for doing both innings. That's a luxury you don't often get in 9.
As Dales switched on the shower he got hit with a blast of cold water. "ooh, that was a bit refreshing. This is interesting. Who knows where showers originated from? Anyone …… anyone?" Tumbleweed blows through an empty dressing room.
With the 1s all wrapped up by 5, we were back at the club with both teams on the patio by 6 o'clock for only our second 50 point weekend of the year. This despite the fact the aggregate number of runs from both games was less than Keeps' total for the season, a stat that Gilet (who will not be mentioned in this report) would have thought so obvious as to not be worth mentioning, and Keeps, had he thought of it, most certainly would have.
Bledlow Ridge 1s v Horley 2s
Away: Saturday 28th July 2018
----------
Rain Defeats The Ridge But Makes Brooksie Happy
Alan and George in Slithering Contest as Hamsah and Gilet Each Take Four Wickets
Gilet's Brain on Statistical Overload
----------
Horley: 168 all out (52 overs)
BRCC: 62-2 (12 overs)
Result: Match Abandoned - Rain
The carphone rang. It was Brooksie. "It's going to piss down all afternoon" he said cheerily after 70 consecutive days of sunshine.
A win at bottom-of-the-table Horley would help us pull away from one or both of the other top sides, Challow and Twyford, who were playing each other.
In bright sunshine Horley were 3 for 3.
BenDog caught Andrew "Shagger" Parker off Dakes in the first over. Shagger who had made 82 in the first fixture went quickly back to his nest.
Unusually this was the only wicket Dakes would take during the innings though he was mean as usual. "Great shape" called SamDog after one particular delivery. I reflected that SamDog and I had known Dakes for about 20 years since he came to High Wycombe CC as a junior and that in all that time he had received a number of compliments (probably as many as half-a-dozen) but "great shape" wasn't one of them.
Hamsah, had given up expecting anyone to take catches after BenDog shelled one off Henry "Half" Moon, who, try as he might, couldn't get anyone to put him out of his misery at facing Hamsah on a lively bouncy wicket. Hamsah chose the better option of hitting the wickets and bowled David Quinney and "Half's" father (presumably) Perran "Full" Moon (as if you need a nickname with a name like Perran) who departed with the comment "Well that worked well" as he was bowled the first ball after altering his stance.
Half Moon began to burn brightly, this, only two days after Friday's lunar eclipse had caused a Red Moon. After 68 days of consecutive clear skies, the sky had clouded over Britain on Friday evening so the Great British Public could not witness the event for themselves. Photos from elsewhere in the world only proved what we know already: that the moon is made of Red Gloucester.
Later BenDog shelled Half Moon again who turned around and said "hard cheese". By now though, they were 28– 5, Mike "Statto" Gillett having accounted for Richard "Lion" Hart and Mark "Bath" Tubb. Two wickets close together is a rarity for Statto - he finds it hard to bowl just after taking a wicket as his mind is busy updating his average.
He was also busied with regularly recalculating George's Diving Score. This, George was maintaining at around 50% for Success, but well over 80% for Style…at least until he gave chase to a lost cause down the hill which ended up with a self-tripping manoeuvre and a belly-slither into the hedge. Once Statto had allowed for the Neymar Factor, George's percentage for Style rocketed to 94%.
So far so good and no sign of rain, or of Brooksie who was very quiet at gully. The only other aspect of our fielding of note (other than all BenDog's dropped catches while standing in for RolfeDog at slip, no offence meant) was Gilet's method of throwing the ball in underarm in an action reminiscent of a Nineteenth Century Dutch Windmill.
Why he chose Holland for inspiration when there were many fine windmills in Buckinghamshire to Yorkshire is anyone's guess (though orange may have been his favourite colour at school) but the outcome was almost the exact reverse of his bowling action with less accuracy.
As the ball softened, Horley fought back. BenDog shelled a chance at slip off Half Moon (did I mention this before?) this time off Hillarious who seems destined to bowl a few unlucky overs before being taken off. BenDog had been promoted to first slip as RolfeDog was by now fielding in one of the euthanasia positions under the lid, Short Euthanasia Leg in fact. It was on crossing to Silly Euthanasia Point on the other side that the plug had been pulled on Bath Tubb who chipped one up two balls later and RolfeDog was given a bear hug by Gilet which nearly asphyxiated him.
The comeback continued with an assault by Simon Cox and for us, the unusual experience of sensing relief when a delivery only went for five, as the previous two had gone for six. Hamsah accounted for him on his return, snaffled by RolfeDog in the more usual lid-position of Short Euthanasia Leg.
Drawing inspiration from George, Alan went for the double-legged side-slither. The ball passed him to the boundary, so he gained low marks for Content but 95% for Style putting him straight into the lead at the first attempt. Eat yer heart out, George.
Unluckily for 16-year-old Half Moon, he had been unable to get out before the return of Hamsah and having given up on Keeps at first slip, tried SamDog behind the stumps but the latter got BenDog fever and shelled a diving chance. It was only at this point that BenDog realised Half Moon was too young to buy him drinks and so snaffled the hardest chance of the lot later in the over. Half Moon departed for a brave 21 runs and 32 bruises.
Mark "Imp" Hillman batting at 8 was joined by Julian "Frank Lloyd" Wright batting at 9 boasting well over a century of years between them. It was only after the game that The Imp told RolfeDog that this was his first league match for 20 years and "Frank Lloyd" came along to add that "We haven't batted together for 25 years."
"Well I am very happy for you both" I said looking back on their partnership that took Horley from 91-7 to about 150 -8 in roughly five minutes. When The Imp deposited Dakes well into a field with an enormous blow, Statto announced that this shot adversely affected Dakes' economy rate by 0.04 runs per over, the first time this had ever happened at Horley when rain was forecast.
We then went off for rain. "I told you so" said Brooksie. Tea was hurriedly prepared and RolfeDog, Gilet and Brooksie were all enjoying a cuppa when the umpires announced we would not have tea after all and would resume the innings. They calculated that one over had been lost to each innings and that the time remaining for tea-proper would be reduced by 20 seconds for every cuppa consumed.
Alan finally caught The Imp off a big blow to deep midwicket though not before one shot to cover point had caused Hillarious to take cover (geddit?) in an 'I'm afraid-of the-hard-ball" sort of way, whereupon BenDog noticed that a tube of lipstick had fallen from Hillarious' pocket.
At last Frank Lloyd holed out too, offering a skier to RolfeDog who could almost hear Gilet's brain recalculating his bowling average as the ball descended. A moment too late, RolfeDog realised that taking the catch might mean another bear hug from Gilet, and to his disappointment found the ball in his hands and set off in the opposite direction.
Now nine down, young William "No-Nickname" Connor hit some fine blows before attempting a single to Hamsah at deep mid-on from Gilet's bowling off the last ball of the innings. Fearing for his personal safety and for the safety of Hillarious' tube of lipstick which the latter had put in Gilet's pocket for safe keeping, Gilet screamed "Underarm, Underarm" and at his first attempt, Hamsah perfected the Nineteenth Century Dutch Windmill underarm-throw action and ran the batsmen out by yards.
168 all out, Gilet 4-44 off 12 and Hamsah 4-37 off 14 … and talking of 'safe Keeping' RolfeDog reflected that BenDog had caught two from four and RolfeDog three from three, prompting Hollywood to point out that both players needed to do more to match his season's total of catches.
We took tea and Dakes took enough cake to explain the earlier comment of "great shape". When it started to rain, Brian Standish, the Chairman of the Cherwell League surprisingly had no idea what the rain rules were and was doubly confused when taking the extra tine for cups of tea, into account.
Taking advice from Statto (who wouldn't?) he announced time and overs would be counted back from 7.30 and that the latest the game could start with the full 46 overs remaining was 4.50pm. Statto took his seat in the scorebox, calculator at the ready. RolfeDog and Brooksie faced a few balls, went off for rain at 4.55 and resumed 15 minutes later at 5.10 only to be told that there were now 40 overs left. RolfeDog started to question how five overs had been lost at 3.5 minutes per over during the 15-minute break but almost lost the will to live so didn't.
The score started to rattle up but Brooksie was LBW for 7 and then – for about the fifth tine this season – RolfeDog was bowled by someone roughly 14 years old. This brought in Georgeous to join BenDog, or BenGod as he is called when batting.
Georgeous had trouble recalibrating to Richard "Lion" Hart's pies, which had Dakes been batting he'd have swallowed whole. At one point Umpire Standish tried very hard to leave the pitch for rain but Umpire Hillary stood his ground and the rain blew over within a couple of deliveries.
The score rattled along to 62-2 off 12 overs but then the heavens did open and Brooksie said "I told you so" once again. Lots of references to handbooks were now taken and calculations made but the sound of thunder meant that we could not take the field for half an hour whatever other calculations applied, under the ECB Safety Guidance for Thunder and Lightning. Yes really, I kid you not.
These rules deserve a match report of their own but because a former cricketer in Malaysia once took a bath outside in a bathtub made of tin during a thunderstorm, the ECB have decided to protect us from ourselves. Yes, it is true there have been some bad injuries on a cricket pitch but the habit of sheltering under a tree which was so popular in the 60s has now gone out of fashion and generally speaking cricketers tend to stay indoors during a monsoon anyway.
Nevertheless the ECB warns that players might be in danger if "You feel you hair standing on end" and now I know that I have spent the last thirty years of my life only one thunderclap from immortality.
The rain did for us in the end though BenGod was able to up his average with 18 not out and we all thanked Hollywood for coming. It was then discovered that any countback should have been made from 7pm, not 7.30 anyway, at which point Gilet spontaneously combusted.
We parted for the club to celebrate Chesh's score of over 60 for the 2s, though Brooksie went straight home as he is teetotal. My carphone rang. Brooksie's voice said "It's nice and sunny in Henton" … so at least the day ended with good news for everyone.
No calculators were sacrificed while writing this report.
Bledlow Ridge 1s v Twyford 2s
Home: Saturday 21st July 2018
----------
RidgeBears Lose Unbeaten Run as Batsmen Fail to Fire for the First Time
Statto Hits Record-Breaking Boundary
Laws of Physics Re-Written by Magic Bullet-Ball
----------
BRCC: 149 all out (40.2 overs)
Twyford: 150-3 (35.2 overs)
Result: Lost by 7 wickets
People don't walk like they used to. In our village they even have a Walk to School Week where mums and dads drive that little bit further to reach a car park from where they walk their children to school.
Saeed always cuts it fine so maybe he walks to Bledlow Ridge. He could come from High Wycombe with Twyford captain Mohammed Shafaqat who also lives there, except that we know from the first match that he is not a walker. And in any case this would not help either of them arrive any earlier.
RolfeDog and Brooksie walked out to bat ahead of the Twyford team who were not ready by 12.30. The top of the wicket started breaking up from the third over and Brooksie was its first victim unable to get out of the way of one that snorted.
Lloydy followed when he was adjudged to have hit one to the 'keeper, then Hollywood tried to go big too early and skied one, which brought in Georgeous.
Georgeous played two delicate (gEorgeous) late cuts to the boundary and then, so he said, was bowled off stump by one that pitched on leg. 'Unplayable, Extraordinary, Unfair'.
In contrast, RolfeDog at the other end, Umpire Graham and the bowler, all agreed that George had simply played down the Piccadilly line to a ball pitched on the Metropolitan. RolfeDog imparted this news to him later and George went into therapy.
RolfeDog was joined by Captain SamDog on an unpredictable surface. When RolfeDog went for 32 of 75 from the first loose ball bowled by Shafaqat It seemed a lifetime had passed but there were still almost 30 overs left.
By this time Twyford were down to 10 men with young Harvey Kimble injured but The Ridgebears failed to capitalise on the gaps in the field. SamDog nicked one behind when well set on 23 and 'walked'. Brothers Hamsah and Junaid offered strong resistance but went for 19 and 14 respectively, Hamsah to a fine catch off a skier taken by Adnan Shahzad.
Saeed hung around while Ben Hillarious came and went And Then IT Happened…. Mike 'Statto' Gilet came in to bat… and… ran a two and then… wait for it, hit a four. He later announced that this was the first boundary by a Ridge No 11 through midwicket within a few months of becoming a father, against a town name which appears in eight counties. In July.
Roz was unsure how soon we would need tea. We said 'a couple of minutes' and Saeed duly obliged by trying to emulate Gilet, not by producing another child as that was not a sufficient challenge, but by hitting a boundary to mid-wicket. He would have succeeded but for Harris Malak taking the catch: the fourth aerial catch taken by Twyford during the innings.
149 all out in the 41st over. This was well short but on a dry wicket of very variable bounce it could have been enough, provided of course we did not gorge ourselves (or George ourselves) on Roz' tea bonanza.
It might have helped our cause if we had not shelled six chances of varying degrees of difficulty from opener Umar Zaman. Hamsah was one of the unlucky bowlers, Hillarious the other (several times).
Gilet came on and bowled Majid Aslam which brought in Harris Malak who looked like he would get out to almost every ball but didn't. Our failure to take our chances had cost us, but we finally nailed Umar Zaman with a catch at slip by RolfeDog off Saeed, which in traditional fashion he made more difficult than it was by falling over in the process. The rest of the team in traditional fashion had to pick up his fragile figure and dust it down.
Twyford were winning the race to 150 but a rush of wickets always seemed possible when Junaid, cool as you like extended two large hands to grab a blow from Haron Qayyam that appeared destined for the boundary. The first 1st team catch – said Statto – by Junaid, off the bowling of Gilet in the history of the whole wide world.
Junaid replaced Saeed at the bottom end and bowled accurately.
And Then IT Happened.
With about fifty needed, three wickets down, 'keeper-batsman Josh Goff was adjudged not to have nicked one to first slip - a seemingly regulation chest-high slip catch
Josh Goff's school had never had a Walk to School Week and so he remained rooted to the spot awaiting we assumed, for a car to arrive. We asked the umpire if he would assist us but he decided that Goff had somehow defied the law of physics and hit the ball downwards even though the ball had pitched and was on its upwards trajectory.
At least he thought Goff had hit it; the player himself offered the opinion that he had not hit it at all meaning that the ball had presumably taken a late left turn from our own 'keeper's waiting hands into those of RolfeDog standing a few feet to one side of him. A sort of Magic Bullet (see JFK 1963).
And with that went the last chance of winning the game – a final turning point. RolfeDog resisted – only just – the temptation to tell Josh Goff to *** (G)Off ('Walk' Off obviously). As a pressure-release Goff started blasting the ball to all parts, while Harris survived a very faint sound, again off Junaid and otherwise squirted it to those parts of the leg side not previously explored. We lost by seven wickets, with a misfield which summed up a bad day.
The bowlers had done well but had been let down by the batsmen who did not build a large enough score to create pressure and by fielders who did not match the normal high standards of this season. Junaid on his debut performed well in all three departments.
Shortly after the game there was not a single Twyford player or supporter In view despite the early finish and the well-tended club bar. It was not that long however before a post came through from Scott on the club's WhatsApp Group page. A number of the Twyford team were celebrating in Chairborough Road, High Wycombe (an unlikely venue) including his mate Shafaqat
How did he get there? He might have chosen to walk. On the other hand, he probably hadn't.
Theresa May is on holiday in Brexit
Thame 3s vs BRCC 2s
21st July 2018
Ridge average IQ goes up by 15 points as OEUG returns
Extra spell in classroom does little for Hairbear's continuing education
News of Taggart's debut as an opener gives Rolfie fresh heart
BRCC 2s 177-5 (45 ovs)
Thame 3s 178-4 (31.4 ovs)
Lost by 6 wickets
It takes a fair amount of research and intelligence just to get to Thame 3s' ground. On the website it says Lord William's School, and whilst that is technically where you are playing, the procedure for getting there is that you drive into the school's visitors' car park, ring your skipper and ask how the hell you get to the cricket pitch. He then tells you that "everyone did that" and you need to park in the leisure centre next door and walk yet further away from the school. Upon mentioning this to one of the Thame players when I eventually arrived, he said, "Yeah, everyone does that".
Is it me?
A good job then that we had upped the intelligence quotient of the team this week by including the cricketer formerly known as OEUG (Oxford English Under Graduate). I say formerly because since his last game, he has graduated with about 8 degrees in any and every subject involving Law or the English Language and so should now be known as OGIMD (Oxford Graduate In Multiple Disciplines).
Having been a student for the last 15 years, OGIMD felt particularly at home in the "changing room" which bore a striking resemblance to a classroom. Suitably inspired, Shaun, currently known as ALGPR (A level graduand, pending results), decided that an intellectual warm up would be in order and used the magic marker board to challenge Hairbear to a game of BRCC hangman.
Shaun: 8 letters, clue, in this room
Hairbear: Z
Shaun: Nope
Hairbear: X
Shaun: Nope
Hairbear: J
Shaun: Nope
Taggart: Try a vowel you muppet (in a nurturing and encouraging tone)
Hairbear: Oh yeah! S
Shaun laughs, Taggart despairs and OGIMD makes note to take another degree next week in teaching rurally educated cricketers the alphabet.
Move on a few of the longest minutes of everyone's life. Board now reads HA_RB_AR
Hairbear: Is it Haurblar?
Tags starts trying to swallow his Deep Heat in an attempt to overdose, Jovan cracks 2 ribs laughing and OGIMD makes a note to make it a joint honours in helping rurally educated cricketers remember their names.
At this point Sniff walks in with a teacherly swagger, ends the frivolity by putting Jov in detention and announces that he lost the toss and we're batting, but it's OK because it's an absolute road and he was going to bat anyway. Chesh and Tags to open. At this point Jov needs oxygen to be resuscitated.
It was only 2 stops on the train from the changing room to the pitch and when we got there we went out to examine the aforementioned "road". I have seen roads that looked like this, but only after a brigade of heavy artillery have gone down them, realised they had forgotten to turn the oven off, reversed back up it and then gone down again. There were some even parts where the weeds had been killed by the caterpillar tracks and nothing had grown back, which was better than the outfield which was sporting some particularly nasty rather tall stinging weeds. The fetching blue string boundary 'rope' would have nicely set off the bright white sight screens, if there had been any and there was a man from the Tour de France measuring the slope across the wicket to see if it was too steep to include as a 1st category climb in next year's edition.
Thame's opening bowlers were also magicians. They were both able to bowl 3 variations off the same length with no discernible change of action. There was the one that came through, the one that rolled along the ground and the one that went vertical.
Chesh gloved one behind, Jov decided to take the vagaries of the wicket out of the equation by planting both pads in front of the stumps and letting the ball hit them, and Tags, having batted for 10 overs for 3 at a pace that would have had Rolfie tutting about slow scoring, got a full length ball that reared and clipped the top glove.
Fahan tried to dig in but was bowled by a ball that only just pitched on the strip and after being joined by OGIMD, Haurblar came off blaming the pitch for a ball that had hit halfway up the stump … on the full.
OGIMD had worn a few, but had also found the boundary a couple of times and was joined by Shaun. The heat was starting to take its toll on the fielders and wasn't helped by the extra gallons of hot air that were coming out of the keeper's mouth, and the ball was softening a little, but 39-5 never looked like it was going to become a game extending total.
They soldiered on however and gradually began to exert some control. At the second drinks break (30 overs) OGIMD had got to 41 and Shaun to 38 and the score was just over 100. Taggart, who was now umpiring and was unusually grumpy, started to count off the batsmen's runs as they approached 50. OGIMD got there in good time and carried on pushing the rate along. Shaun however became somewhat becalmed and whilst umpiring the 43rd, Tags let slip to OGIMD that he reckoned that Shaun was on 45 and at the current rate could get to 50 if he batted until Tuesday. OGIMD then tried to farm the strike in reverse, but each time he pushed for a single the ball rather inconveniently went for 4. With 2 balls left however, Shaun finally got one away for the 2 he needed at that point to take him to 51, and then just to emphasise how easy it was to bat, plinked the last ball over mid- wicket for 6.
177 for 5 hadn't exactly put them out of the game, but 138 run partnerships don't come along every week in the 2s, so we booked passage on the Queen Mary to get back to the changing rooms for tea in good spirits.
A goodly number of top order batsmen in the Cherwell League will tell you that the Tiflex ball on a less than good pitch, particularly a dry one, is a bit of a hand grenade for about 15 overs. To take advantage of this as a bowler however, you need to a) use the pitch, and b) put it in roughly the right place. This we have not managed in too many games and despite some decent bowling, a flying catch from Sniff and a body flexing feline catch from Chesh, we shipped far too many runs early on and after 12 overs, Thame had muscled their way very close to 100 for 2. Dales calmed things down a bit from one end, Chesh revved them up again from the other and Huerbier settled into a decent spell after a some wayward early stuff.
Mark Neal has been a trouper this season, always cheerful, always willing, but usually batting low and not bowling very often, so as a last throw of the dice, Sniff threw him the ball. Thame needed about 20 to win, had 15 overs to get them and 8 wickets left, so you could argue that it wasn't much of a kindness. His first over went for a few, but first ball of his second was a half volley on leg stump, which Ian Chappell, who had played well for his 49, chipped agreeably to Mark's best mate at mid-wicket. As the batsmen had crossed, it was Justin Avery on 80* that faced the next ball, which he chipped agreeably to Mark's best mate at mid-wicket. Surely not! Everyone in for the hat trick ball, apart from David Saint, who was told to stay exactly where he was. And the next ball …. A rank long hop which the new batsman smashed rather disagreeably over mid-wicket for 4, as he did with the next. Game over.
The frustration for Sniff as skipper would be that he had 3 bowlers in his team who would have been salivating at the prospect of bowling on that wicket, but weren't fit enough to turn their arms over. Nevertheless, there has been considerable progress in the approach and attitude in the 2s over the last few weeks, and we no longer look like a team that you can walk all over. With availability looking increasingly good over the next couple of weeks, there's still a couple of results left in this team.
Match Reports
Saturday 14th July
A Tale of 2 Draws but 1s stay top as Challow slip
Class distinction shock as Ridge field player posher than Keeps
Midds comes Home
Taggart in 2 report sensation despite playing in neither
BRCC 1s 237-5 (53)
Oxford 3s 233-8 (47)
Match drawn BRCC 16pts OCC 10pts
BRCC 2s 165-10 (39.1)
Oxford 4s 146-9 (45)
Match drawn BRCC 17pts OCC 15pts
Hollywood established himself as the most successful tosser in BRCC history (1 from 1) and bats. 2 leg byes off the first.
What's the alarm code? Who has keys? Does anyone know which pitch we are on? Why don't the stumps fit in the holes? Where is Saeed?
Thank god for leg byes. 7-0 off 6. with regular pinch hitter Rolfie at Lords, the scoring rate is looking a bit soporific. Brooksie gets bored and whacks a couple of 4s to put the 12.30 starting 1s back in front of the 1pm starting 2s
Sniff establishes himself as a useless tosser and is invited to bat. An Angell smokes the 4th ball to EC for 3 and smashes the first ball of the 2nd for 4. Saeed has arrived!
Brooksie and Fats have tiptoed back so as not to wake the sleeping watchers and after a brief visit from skipper Hollywood, normal service is resumed. Keeps is playing with the normal aplomb, and batting with Midds, yes Midds, who looks like he's never been away. Scoring rate is up to almost 4 an over. 65-3 off 17
Jai has crashed a couple and gone to a leading edge. Jov has smashed a couple then played round one. Chesh has expertly threaded one between slip and keeper for 4 then obligingly walked on account of the next one being caught at 2nd slip. 30 mins gone. 3 wickets gone. Might get to watch the England game after all. 37-3 off 8
Keeps has gone for 50, which probably constitutes a failure in the context of this season. Midds is still there on 27 as Birdie limps to the wicket forgetting that he is not injured until after he bats. A low murmur of "Middsy's Coming Home" can be heard as the anticipation builds. 133-4 off 34
Chirpy lot Ox 4s. Much heralding of "Good Areas" as the ball slides a yard down the leg side. Not as daft as it sounds though because anything on the stumps is being battered to the fence by Junaid. "he's playing by numbers" declares the Ox skipper. Yes mate, mostly the numbers 4 and 6. Saeed got a brute of a lifter off a pitch that had played pretty well up to then. Marcus and Vajid have been and gone and captain Sniff is at the wicket. Junaid finally holes out for 46. 95-8 off 21. .
Midds completes his 1st 50 for the Ridge in 4 years, and his gazillionth overall. Birdie's hit a couple of 4s and has now embarked on a run of 19 consecutive singles #getmiddsyonstrike. 173-4 off 43
Rizwan and Sniff are still together. Riz playing an uncharacteristically reserved innings, with a few whacks interspersed. They have put on 36 for the 9th so far. Chesh checks WhatsApp and cheers with delight "Midds got 50". Fahan responds "Who's Midds?" Tumbleweed moment. Fahan goes and hides in shame. 131-8 off 31
One ball left in the innings. Midds on strike on 94. Currie bowls, Midds launches, he misses, bowler hits. The fairytale ending is denied. Innings closed 237-5 off 53.
Birdie bolsters the averages with a 33*.
It's competitive, but it ain't a done deal.
Score? 1-0 to Belgium. Oh the cricket? We're halfway through tea mate. Riz was unlucky to find a fielder and David Saint who bats at 11 because he can bat, put on 28 with Sniff (31) for the last wicket, including an over where he hit 14 off a 7 year old who promptly went down to long leg and cried for the remainder of the innings. 165 all out off 38.1. Despite never really looking like it would be, it's competitive, but it ain't a done deal.
A well kept scorebook and an active Whats App account make retrospective minute by minute reporting reasonably easy, but when everyone is out on the field it gets a bit trickier. Whilst there may be some license in the above timings, they are mostly pretty accurate, however for the second innings, you get all we know in one hit.
In the absence of the mighty Dakes, the opening bowling partnership boasted a combined age of 36. Hamzah's new partner was Robert Armstrong-Jones, of Eton and West Wycombe, prompting Keeps to immediately enquire what the cost would be of adding 3 surnames and 3 hyphens by deed pole. RAJ was debuting after just one net and after a slightly nervy start, settled into a good spell. When asked what he thought of his new opening partner, Hamzah (1-84) opined that Robert (2-39) was good, but possibly not an opener.
Oxford started well and at a reasonable pace, with opener Parry underpinning the innings with 60 before falling leg before to Al. It was Al (3-29 off 8) and Gilet (1-45 off 12) who put the brakes on and dragged it back so that it looked like Oxford were dropping out of any chance of a win. Captain Hollywood positioned himself such that he took another 2 catches, bringing him back up level with Sam for the season. One of these was off Gilet, making it a round dozen he has taken off his school mate's bowling and this appears to be going some way to mitigating the misfield he made off Mike's bowling in Yr 9 which cost an extra run.
With 4 overs to go, Oxford were still 50 adrift and 7 down and it only looked like 1 team could win it, with the draw a short odds favourite. However the well set Cahir and Dogar had other ideas. With Hamzah back on, there was pace on the ball as it hit the bat, and considerably more immediately after. It went to all corners and with 2 balls left to to be bowled, Cahir launched into one that went into orbit. It was up there long enough for the batsmen to run 1 and then cross for the second before it was taken by Hollywood. Or was it? The batsmen maintained that they didn't cross, meaning that the new batter would NOT be on strike. The Ridge, and in particular Birdie, maintained that they had, meaning the new batsman would be on strike.
Birdie's application for the role of Child welfare Officer is still under discussion, but may not have been helped by his insistence to the 16 year old in question that he was incorrect. At this point the Oxford captain came onto the field and told Birdie in no uncertain terms that if he had something to say, he should direct it to him as skipper, not to a 16 year old. Showing an admirable consistency, SB duly obliged and gave the skipper both barrels.
In the end, Graham decided that they had not crossed a second time and with one ball left, 5 needed to win and 2 wickets left, there was now only on team that could win and it wasn't us.
Sadly from a dramatic point of view, but happily for the Ridge, the last ball was a non event and Oxford finished 4 short in their 47.
For those of you missing the excitement of the timed commentary, it was about half an hour later that the Challow result came in. Remarkably, they had also made 237, and Banbury of all people, had finished 4 short on 233-9. It meant that we had shipped one point to them, but remained on top of division 6.
We were playing on the same wicket as the 1s had played on last week and bowled Challow out for 130 after making 313. It had been dry ... very dry and looked well suited to the spinners. It was something of a surprise therefore, particularly as it has been 30 degrees all week without a drop of rain, that the pitch was less dry than last week. Jamma (Thames Water's new most wanted) had done a very good job of ensuring that the wicket would hold up.
Nevertheless, Sniff decided that he was opening with Saeed down the hill and Junaid up. Whilst it did not rag square as had been widely predicted, Saeed bowled well and had both the ball and the batsmen turning in both directions. Despite a resilient 21 from De Silva, Oxford found themselves 3 down relatively quickly, but with a partnership developing between Oates and Baldock.
Runs were not flowing, but the wickets were no longer tumbling either and the prospect that 165 was actually enough to get the better end of the game was looming. Saeed then got one to go absolutely straight and had Oates trapped leg before, a decision (from your correspondent) which was met some disgruntlement, however this was nothing compared to what followed.
The next batter chased a wide one from Saeed (3-46) and nudged it catching practice style into the hands of the safest slip fielder on the pitch (Vajid). He was not a happy boy. The bat was slammed into the pads, the helmet thrown off and kicked all the way back to the pavilion. As he rounded the pavilion, all car owners listened nervously for tinkling or alarm sounds, but thankfully he contained his disappointment.
Said slip fielder had now replaced Junaid (4-25) at the bottom end and trapped another Baldock, presumably son of the batsman at the other end, leg before.The batsman dutifully walked off, but the non striker was livid, and let the umpire (his own umpire) know exactly what he thought of the decision ... repeatedly.
It was fast becoming apparent that the remaining Baldock was Oxford's only real chance of winning as there followed a procession of young lads. They were keen and well disciplined, but the experience of Vajid, David Saint and Saeed was making it difficult to progress.With Baldock on 45, back came Junaid. He bowled one down the leg side which the batsman flicked at. There was a clear sound, Jovan caught it, juggled it and caught it again. Up went the umpire's finger. The batsman was too busy arguing with the fielders about why they were appealing to see this and stood his ground. It took an uncharacteristically calm intervention from your correspondent, walking in from the square leg umpire position to get him to leave. He had been livid about his son's dismissal but was now incandescent.
With still 7 overs to go, they were 9 down and the captain was batting with the number 11. Given some of the shots played earlier, number 11 will be lobbying for at least a 3 place promotion next week as he played straight and risk free. There was one very big shout against him for a leg before, but Oxford's umpire (who, for what it's worth, I thought was very good), declined to give his team any more reasons to lynch him.
They saw it out for what was probably a fair result, from the best 2s bowling performance of the season.
No Tardis's were damaged in the compiling of these reports
Bledlow Ridge 1s vs Challow & Childrey 2s
7th July 2018
Ridge smash their way to Top of the Table
Gilet 7 for outshone by perfect spell from Brooksie
Dakes 78 outshone by patient 16 from Keeps
"No-ball gate" continues
BRCC 313-9 dec (51.3)
C & C 130 ao (30)
BRCC won by 183 runs
There was indeed a lot of shining going on as the top 2 in division 6 met at Meadow Styles, not least the glint of the div 6 championship trophy (assuming such a thing exists). It may be early in the season to be talking about league deciders, but given the records of the 2 teams concerned up to this point, it was hard to avoid the conclusion that the winners would have the League to lose.
By a vagary of the British weather and the out of date Cherwell league rain rules (if only we knew someone on the committee who could get something done about that), BRCC went into the match unbeaten, having already played Challow, but in second place, 12 points behind them. The normal response to winning the toss in Challow's position would be to bat, the pitch having been generally agreed to be looking as flat as **** (to use the technical terminology), so Dakes could barely contain his surprise (and pleasure) when having called correctly, Alex Lynch opted to bowl.
So we all slathered on a litre of Hazmat grade sun cream and headed into the middle.
The hero of our tale was umpiring at square leg (Oi! If you want to be the hero, you write the bloody report) and as opener Luke Cheshire whizzed a couple past a slightly bemused Lloydy, he was starting to think it wasn't a bad decision to bowl. On ball 5, Lloydy reckoned he had finally managed to get a thin nick on one, however the other umpire disagreed and given that it had thumped into his pads plumb in front, he was on his way. Keeps made a slightly better fist of leaving the last ball and we were 0-1 from 1.
In the second over, Brooksie at least got the runs ahead of the wickets with a lovely cut for 4 to point, followed 2 balls later by a nicely timed 4 to square leg. On neither occasion did he take so much as a step out of his crease, which may have been an expression of his confidence in his timing, combined with the lightening quick outfield, or it could have been a statement of intent to get absolutely nowhere near the end Luke Cheshire was bowling to. Keeps hopped about a bit, hit a few back to the bowler and after 9 consecutive dots decided enough was enough, got a scruffy edge on one and used the powers invested in him as Lord of whatever to command Brooksie through for a single. Two balls later, the pitch showed itself to be slightly duplicitous and as Phil went to clip the ball through mid wicket, it just stopped on him a little and he was caught at mid on off a leading edge.
As they were waiting for the incoming batsman, Keeps cheerfully commented to our hero that we were 12-3 when he had to rescue us the last time, so actually 13-2 for was a step in the right direction.
Actually it should have been Enter Gorgeous George, but for a "wholly acceptable reason" GGG had arrived at the ground late, which was reason enough to be grateful that Taggart and Rolfie were 15 miles apart as they would have then spent the next week discussing whether Penalty Time was applicable. But if Gorgeous isn't available, there's only one man you can send in without disillusioning the opposition to the notion that you are the best-looking cricket team in the CCL. Enter Hollywood!
Hollywood is a big lad and 32 degrees is a hot day, even for someone who looks like he spends his entire life on a sun bed, so he decided that running was definitely not a sensible option. His first scoring stroke was a 4, as were his next 3. In fact, by the time he had got to 41, he had run just 3, and collected the rest in a series of brutal boundaries. He bullied the other opener out of the attack and traumatised the first change bowler, while Keeps held down the other end. Ever the giver, this prompted Keeps to comment once again to our hero that "It must be brilliant for Hollywood to be able to play freely, knowing that there is no chance of a wicket going down at the other end." 6 balls later, gone for 16!
They had however put on an invaluable 70 partnership by this point and the moment all the ladies were waiting for had arrived. The handsome twins were batting together! It was all too fleeting but not without incident. In particular, GGG may have been lucky to survive a run out appeal, having smacked the ball extremely hard, directly at Taggart's head. The bowler, much to the disappointment of all Ridge regulars, actually got a hand on it to deflect it away, however our hero had already headed boundary ward and downward in search of sanctuary. GGG had set off on a very dicey run and the ball was thrown at the stumps, but by the time Taggart had surfaced from his trench with a severe case of PTSD and a tin hat on, all he saw was a broken wicket and a batsman in his ground. He explained that he was too busy watching his entire life flash before his eyes to notice the point of impact and to be fair to C & C they accepted the decision with good grace.
Perhaps blinded by all this shining handsomeness, C & C took off all their seamers and introduced a variety of spinners. Hollywood felt the beginnings of a bead of sweat and as sweating puts him in breach of his image rights contract he was forced to hole out for a savage 55 (11 4s, 1 6). George wasn't much more sympathetic to the bowling and made 52 in a partnership of 86 with Dakes, and then Samdog got the biggest cheer of the innings when he hit a boundary and didn't get out next ball. His partnership of 94 with Dakes meant that when he finally went just 5 short of a 50, we were at 273-6 off 46, and C & C were really really fed up.
Dakes was struggling to believe what was being offered up and was hitting the ball to all corners. He got particularly riled when Taggart sent him back for a leg bye on the basis that wafting the bat in vaguely the same hemisphere as the ball did not constitute playing a shot. The batsman declared the decision ridiculous while the bowler congratulated the umpire on the decision, declaring that batsman get away with far too much. He wasn't quite so sure however when Dakes, in a fit of pique, smoked the next 3 balls to the mid wicket boundary for 4 to bring up his 50. The bowler shuffled off mumbling something about it being the umpire's fault.
Hamz was pushed up the order for quick runs, but this theory proved flawed as it took him 13 balls to get his 29. There was a hint of collusion when Dakes and Hamz met in the middle of the pitch to discuss who they were going to let C & C run out (Dakes (78) went on the basis that he was knackered) and when Hamz finally holed out 3 balls into the 52nd, we were forced to declare on the basis that Gilet wasn't prepared to change his shirt for 3 balls. 313-9 however looked pretty decent on a pitch that was starting to pop a bit.
It was suggested at tea by someone from Challow that perhaps we had spoiled the game by not declaring at 260. He forecast at that point that it was going to be a really dull draw but it's funny what 300+ does to your mindset.
A typically superb Roz Moran tea was accompanied by several attempts to delay the resumption on the basis that there was footie on the telly, however it was decided it was easier to ignore Keeps continued insistence that his 16 was actually the backbone of the innings, on the pitch than in the changing room so out we went.
We're running into a third page now, so I'll make this bit quick.
Dakes was knackered and bowled 6 overs off half a run. 2-16 with no wides. Just saying!
Hamzah took 3 wickets, but Taggart nicked 2 of them back on the basis that you need to bowl off 22 yards, not 21.
Al bowled better than his figures suggested, but sent down the obligatory 2 full tosses so had to be replaced by Keeps (what were you thinking?!?) who did the same in the next over and had to be replaced by Brooksie, who returned the near perfect figures of 0.1-0-0-0.
Gilet bowled well, but couldn't match Phil's economy rate, going for 35 off his 10.3 overs.
He did however take 7 wickets, and thus won us the match (if you don't count Keeps' quite brilliant 16).
So having smashed Challow twice, and beaten everyone else in the League (barring rain and one wicket against Minster Lovell), we are top by 7 (we really need to find someone to talk to about that). Football is coming home but England aren't and you can get a very decent curry in Chinnor at 11pm on a Saturday night.
We've had worse days.
BRCC 2s v Kimble 2s
Away – Saturday 7th July 2018
Eleven Ridgemen fall to the Nine of Kimble
Cool diplomacy as Captain Chesh and Umpire Graham quell moments of dissent
ShaunTrap absconds with proceeds of Summit Meeting tickets (pursued by a Bear)
-------------
Kimble 240 all out (40 overs)
BRCC 53 all out (27 overs)
Lost by 187 runs
------------
An empty Kimble ground on a sunny day half an hour before the start of a cricket match is rather an attractive if lonely place.
As RolfeDog and the Kimble captain surveyed the scene, the arrival of David Saint was much like the first sight of another human being by survivors on a desert island.
Players trickled in but very few of them belonged to Kimble whose captain said he had lost four to the firsts that week or that day or even that hour.
The sound level increased with the arrival of Hillarious and the non-arrival of most of his kit which, he revealed, was in the boot of his dad's car which was in a garage for repair. One assumes the car rather than the kit was in for repair.
Mysteriously Ben could only relate this to one item of kit at a time so firstly he texted all and sundry at about 11.45 that he would need a shirt and then, an hour later while changing, announced that he did not have any trousers.
RolfeDog obliged with the shirt and Jovan with the whites and Ben decided he would audition for a remake of Madness' Baggy Trousers.
HairBear had once played at this ground wearing Dickers' whites – or "tent" as we liked to call it - but today he spent the pre-match deliberations complaining about the ongoing heat and that he was already "40 degrees". Being a Ginger he may indeed have been hotter than anyone else.
We assembled, ten of us ready to field, for another of Captain Cheshire's rousing Churchillian motivational speeches.
In the event this was more like a Parliamentary Brief with every potential aspect of the game covered except for the fact that the opposition might blast 240 with a team of only nine men. Suddenly an eleventh Ridge man appeared at the door in the form of Malik whose promptness with two minutes to spare would put Saeed to shame.
Had we opened the match with a hat-trick the game would have been over there and then but for the one run required for victory. As it was, during the second over a trail of opposition cricketers, ready-changed walked across the car park at approximately 10-yard distances to bring the Kimble contingent to nine.
We had already managed quite a few wides by the time in the fourth over the ShaunTrap bowled one of the openers. "Great reward for pressure" enthused the irrepressible Chesh. This prompted a brief debate after which the team concluded that with the score at 24-0 off three overs and with a chest high full toss having been despatched for four the previous ball, the wicket was more a reward for complacency than for pressure.
This brought in the diminutive Kimble No 3 Ateeq Ahmed whose shirt design, rather unusually, sported a large dark rim under and around each armpit as if someone had swapped his can of Brut with a spray can of dark creosote.
Either way his arms were well oiled and after a sighter or two he smacked a decent ball from Hillarious into the field and shortly another, against the sightscreen.
RolfeDog was in best ball-searching form chiding anyone who was looking for the ball somewhere other than where RolfeDog was standing. The field had been planted with peas which – I had never seen this – grow on stalks meaning that you can see the ground below, rather unlike the wildflower garden which is developing on the 'Keeping' side of Meadow Styles.
Chesh made a poor joke about being 'peed' off and then repeated it when nobody reacted. Everyone was peed off with RolfeDog however when the youngest member of the opposition, aged 13, found the ball nowhere near where RolfeDog was looking and made his discovery with the now traditional remark "I've found a nice shiny looking Cherwell League ball, just a few overs old, in the place where I thought it went in, but I don't know if it is the match ball."
With recent match reports in mind RolfeDog was keen to quash at birth, the possibility that aliens were randomly dropping nearly-new match balls into fields surrounding the Kimble ground just as they have been at The Ridge and confirmed that the probability of it being the match ball exceeded 100% so we carried on with the game.
Unfortunately, although he quietened down a bit Mr Ahmed had rather a good game. Chesh rotated his other bowlers, Vajid, Junaid (3-60) and Farhan and the wickets gradually game, one held by Junaid who is a Good Catcher, another by Chesh who is also a Good Catcher. The wickets which fell, fell at the other end however, until Ahmed eventually 'walked' for a nick behind caught by Jovan off the Real Saint (appreciated by the fielders) for 88 making way for Raza Shah and Nisar Ahmed to have bit of a blast at the end until we bowled them out needing only to take eight wickets to do so (Kimble having just nine men).
The only other incident of note had been an unrequited appeal for LBW by The Real Saint which ended with him lying on his back doing a "dead ants" turn, for which he was awarded 8/10 for style + 1/10 for needlessly drawing attention.
We found that England were 1-0 up in the WC Quarter-Final v Sweden and the absence of any loud cheer from the pavilion at this goal was explained by the shortage of Kimble players together with the need to provide an umpire to support Graham and a scorer. There had therefore been only three people watching the game at the time Harry Maguire rose above all the Swedish defenders and scored, bringing to mind "McGuinn and McGuire couldn't get no higher" (Mamas and Papas, Creek Alley, 1967)
It was agreed that if the openers padded up in advance we would watch the end of the match and RolfeDog was rewarded by someone walking in front of the telly just at the moment Deli Alli scored England's second goal.
Buoyed by England's 2-0 success we found ourselves 16-7 off about 15 overs,then Farhan scored our second boundary off the last ball of the 19th over and it was at this point that the top scorer exceeded 5.
HairBear, a Gilet-Statto trainee, because obsessed with low-scoring records in the Cherwell League (CCL) and was delighted that Farhan's boundary took us out of the lowest ten scores in CCL history, the lowest ever being exactly 10.
The brevity of our innings up to the point that Hillarious, batting No 10, joined Farhan at the crease is impossible to match with sufficient brevity in words, so I say no more about the first eight wickets, except for a strange discussion that took place after the loss of our 7th.
By this time, Captain Designate S.Niff was on the field kindly doing some voluntary square-leg umpiring and Captain Extraordinary, Chesh, was scoring. Chesh was forced to do so while answering rapid-fire questions of a critical nature from Malik, starting with the batting order.
Some would argue that Malik's dismissal bowled, while pirouetting 180 degrees on one leg trying to hit a regulation delivery to Glamorgan, had done little to advance his case for promotion up the order. Malik however saw it differently, then moved on to captaincy, bowling and field placing, before moving on again to Brexit, climate change and the Meaning of Life.
Captain Chesh dealt with this with the cool of an experienced diplomat, promising that he would attend to the matter when not having to acknowledge signals from the umpires and generally watch the game. A Summit Meeting was offered at which he was prepared to 'drill down', 'take it to the next level', 'run it up the flagpole' and 'peel back the layers of onion', an event for which Shaun began to sell tickets.
By now RolfeDog had taken over at square-leg and Hillarious and Farhan, batting with exemplary defence, were showing some resistance and hitting the odd boundary giving us hope of survival, although we were only 23 or so overs into the innings.
Umpire Graham chided both batsmen for chatting for an unnecessarily long time between overs and keeping the fielding side waiting: "But there's plenty to talk about" responded Ben. One couldn't help thinking that of the two batsmen involved Ben was probably doing rather more of the talking and Farhan, more of the listening. There's also not a lot to talk about when your score is 40-8 with twenty overs more to play out and most of your kit is in the boot of your dad's car in the local garage.
It was against this backdrop that a minor umpiring incident emerged as the – until now – quiet and thoughtful - Arun Singh, fielding at mid-off, demanded of Farhan that he be ready to bat.
This might have been a reasonable request a) had he been an umpire and b) had Graham not been dealing with a recalcitrant stump at the bowlers end where he was trying with only partial success, and no help from mid-off, to secure the stump and replace a rebellious bail.
This cut no ice with the fielder who chose Graham as his next target then took his reprimand with poor grace, continuing to do so after the next wicket when Farhan fell to a very fine diving catch for a plucky 17.
Order was restored just about, though one sensed that if might have been easier for the Kimble skipper if he had been more familiar with all his players.
As far as I can remember, Kimble had not supplied a match umpire – a point which eluded some of the opposing team - whereas Graham umpired the entire match at the bowler's end on behalf of both teams, in searing heat.
We had also provided another non-playing official at square leg for a number of overs during the second innings.
With Farhan's dismissal we had the exciting prospect of ShaunTrap batting with a runner on account of a recurrence of a hip injury. We were spared the fun however when Ben was bowled and in scoring 53 we had lost by 187 runs, Nisar Ahmed taking 6-25.
HairBear announced with great excitement that our score was not in the lowest 200 totals in CCL history and for that we were grateful and we could not wait to inform Gilet who had probably made a wirelsss connection to Kimble anyway.
Malik was no longer around when Chesh convened for the Summit Meeting and an angry mob gathered demanding their ticket money back from ShaunTrap who was nowhere to be seen either. Goodband gave chase.
A discussion followed about the 1s victory by an almost identical margin (183 runs) v former league leaders Challow and the absence of some of our bowlers in the coming weeks. "Gilet is bowling very well but not taking many wickets" someone remarked as the news came through that he had bowled Challow out almost single-handedly with 7-35.
RolfeDog was the last RidgeBear to leave and could see no other signs of life. He reflected that an empty Kimble ground on a sunny day half an hour after the end of a cricket match is rather an attractive if lonely place.
BRCC 1s v Banbury 4s Away
Saturday 30th June 2018
Cpt Birdseye leads The Ridge to Victory Again
Lord Keeping of Toad Hall now scoring more runs than his bowling concedes
Ridge early batsmen culled by Badgers
-------------------
Banbury 4: 189-9 (53 overs)
BRCC: 190-3 (41.4 overs)
Result: BRCC Won by 7 wickets
"Last time we played here I hit one onto the roof of the DHL building" said Hamsah on the journey up. "One of their older players said he's only seen it done three times".
That player was Steve Partington who was rolling the wicket he had prepared when we arrived, was organising teas, had got the bar rota sorted and then opened the batting.
Unfortunately Mike Stevens was not available to umpire so could not give him LBW second ball as he had three years ago, as a reward for a week's hard match preparation.
Instead, Steve cut an impressive figure in helmet, thick glasses and mouthguard as he faced up to Captain Birdseye's first ball. Either he was planning to do a bit of spot-welding while at the crease or had heard about the vagaries of Dakes' first-ball-of-the-match each week.
"See if you can avoid bowling a wide first ball" said RolfeDog to Captain Birdseye who had once opened a new season with four wides. Amazingly the first ball was straight and true which fooled Umpire Graham who was already in the process of signalling a wide out of habit and was forced to retract, or redact which is a word I learnt recently, or 'learned' even.
Birdseye bowled straight and true for much of the afternoon getting Edward Phillips and Seb Finch early. Partington proved harder to remove as he had by now dug a trench, welded a bit of corrugated to the roof and was resisting all-comers.
Well all except Gilet-Statto, who, fresh from giving the inexperienced 63-year-old RolfeDog a lesson in shining the ball, breached his defences and got him LBW with a bouncing bomb.
Partington de-partington-ed and if SamDog had caught Adnam Ahmed early doors the innings might have finished early doors, but he didn't so it didn't.
As it was, there was time for Dakes to experiment widely with his bowling options allowing Ben Hillarious and Shaun "Shauntrap" Dryden plenty of practice for when Dakes would be away in a couple of weeks' time.
Shaun was pleased to accept this opportunity only breaking the news to Captain Birdseye that his holiday would coincide with the Captains' once his spell was complete, so the experiment was all a waste of time.
Hamsah bowled in two spells with great accuracy and as usual was the unlucky bowler in respect of the dropped catch. He eventually returned to get Sophie Mitchelmore caught by SamDog (reason for celebration in itself) but not before Ahmed had built an innings which threatened to take Banbury well past 200.
In the event he was well caught by Brooksie off Hillarious for 72 whose final figures were 8.4-1-26-1. Interesting figures those, since the innings went the full 53 overs exactly.
This is explained by the Keeping Phenomenon: in fact it is more like a Keeping Ritual wherein Keeps sees how many balls he can bowl before getting banned for bowling two no balls above waist height.
This time he managed 14, ie 2.2 overs. This ECB rule is nonsense in the context of young bowlers plying their trade in, say, Division 6. A young talented leg spinner for example – who needs to learn his art and keep bowing - might have two high deliveries go for two sixes and yet be removed from bowling for 'endangering the batsman' … absolute nuts!
Ben Keeps however fits none of the categories 'young', 'talented' or 'spinner' so it is always with great relief that his teammates watch the umpire terminate his spell for the greater good of the team in particular and of cricket in general. There was almost an argument however as Umpire Graham insisted he had to come off and the batsman implored Graham to keep him on. At least on the day the rule worked to our advantage as that brought Hillarious back and later Dakes who ended with 5-34 off 10 making him the highest wicket-taker to date in the division.
Gilet poached another wicket somewhere too, caught by SamDog which all seems too much of a coincidence really.
In the end Banbury set just 190 to win which could have been a whole lot more had Adnan lasted longer and had McTaggart been fit to bowl
Tea was par: those of us with longish memories remember the day when Banbury produced a truly magnificent spread. It had been ordered in by a catering company who had got rather confused with other orders and sent a wedding banquet to Banbury CC by mistake leaving us to ponder how the young couple and their guests were getting on somewhere else with a few sarnies, pork pies and Wagon Wheels, on the greatest day of their lives.
RolfeDog went out with Brooksie for the usual ritual sacrifice and was bowled by a badger. A Badger in fact, first name Alex.
The scene began to resemble the Wind in the Willows as A Badger had nailed a Rabbit and after a fine aggressive innings by Brooksie, A N Other Badger, this one by the name Ollie, bowled him a long-hop. The book says Brooksie was caught by a Finch but there is no mention of a Finch in the famous book written by the then Secretary of the Bank of England, so I rather suspect that Brooksie was in fact caught Owl bowled Badger for 37.
Anyway, he left the field looking rather Ratty, paving the way for a second ritual Rolfe-Sacrifice whereby SamDog chipped another long-hop back to the bowler and suffered the ignominy of being both caught by a Badger and bowled by a Badger - or to be pedantic (and who isn't?) of being caught by O Badger and bowled by O Badger. This, as everyone knows is something Stoatally different and is occasionally referred to as completing the Set (geddit?).
During all this time, Lord Keeping of Toad Hall had been batting sublimely as he has been all season. He progressed past 50 while Captain Birdseye was still scratching around in the Wild Wood. The Great Lord may never make it to be Secretary of the Bank of England but he is one hell of a Banker to his teammates.
Try as they might, the Eight Bowlers of Banbury could not Weasel either of them out and just when Lord Toad was beginning to near a century and with it, a definite absence of any match report, Birdseye opened his shoulders and showed his class as someone nearly said of a large Cuban athlete (Dakes only qualifies in respect of the word "large").
He hit two sixes and won the match though neither threatened Hamsah's rare feat. With the match over the DHL warehouse ceased to be at risk from any stray deliveries (geddit?).
Lord Toad (86 no) marched off to great applause and comments like "Oh Bliss, Oh My". He was able to quote his batting average to three decimal points as he crossed the boundary, arousing suspicion that he is now receiving Gilet-Statto updates wirelessly while batting.
We then watched some exciting World Cup football on telly and when Gilet-Statto jogged the telly by mistake a couple of Uruguay players and Ronaldo of Portugal fell over.
Steve Partington said it was only the third time he'd ever seen that happen.
Ian Duncan-Smith was unavailable for comment
BRCC 1s v Sandford St Martin 2s Home
Saturday 23rd June 2018
Gilet goes wicketless but finds his trouser cord
RidgeBears lose intellectual battle but win cricket match
Birdy wears Shaun's clothes in battle of Time & Space
-------------------
S St M: 193 ao (52.3 overs)
BRCC: 196 -6 (45.5overs)
Result: BRCC Won by 4 wickets
Sandford St Martin arrived with car loads of students. Clearly The Ridge was not going to be able to match their level of intellect and intelligent discussion. One player, watching Gilet warm up in the nets commented that it is remarkable how bowlers have so many different methods with which to propel the ball to the other end of the wicket.
He might just has well have said: "Look at that chap's strange bowling action", but being polite he didn't and just chatted about Einstein's Theory of Relativity instead and in particular that ''massive objects cause a distortion in space-time" as anyone who has ever shared a changing room with Dickers would know.
Sandford batted. Their batsmen were like Russian dolls in reverse: each time we got one out a bigger one came in.
In a nutshell they raced to 29-0 off 6 but although they batted for all but three balls of the permitted 53 overs only Greg Pearson made over 16.
Captain Dakin Birdseye greedily took 4-47 while Hamzah was a little more expensive, but still effective with 3-67. Ben Hillarious managed 1-13 off seven overs upstaging Gilet-Statto who also conceded only 13 off 7 overs. Gilet decided not to concentrate on taking wickets, but more on containment, in the sense that his new trouser elastic kept his shirt contained within his trousers for most of the afternoon. This alone justified the comment about the strange action referred to in the second paragraph of this piece.
While all this was going on we had the incident of Shaun and the Mobile Net.
Shaun had bowled his first spell of the season. This had included a number of deliveries to a Ben Taylor who had played a wide range of impressive and aggressive strokes very few of which had made contact with the ball. RolfeDog was just musing that Ben Hillarious was wasted on the deep square leg boundary when next ball, Mr Taylor made contact (law of averages) straight into the hands of said fielder who did not have to move an inch. Ben did however perform a neat little ballet manoeuvre on catching the ball to give us the impression that staying inside the rope had not been easy.
Being only about 3 years old, Shaun was taken off after six successful overs but soon found himself haring after a shot which he stopped with his foot inches from the boundary while still running full tilt. He only came to a stop on hitting the horizontal bar lying across the open end of a mobile net situated a few feet beyond the boundary – which from now on shall be called a ShaunTrap.
In brief, Shaun's body stopped instantly except that his little legs didn't, which shed doubt on Einstein's view on the relationship between Space and Time. These little legs only stopped running when they realised Shaun was by now on the floor having struck the metal bar with his manly chest causing it to bend appreciably - the bar that is. – bringing into play Shaun's Theory of Elasticity.
Drama Queen that he is, he lay there until his father – one ShakEy Dryden - arrived with the news that had Shaun bothered diving as the ball went passed he would not have run into the ShaunTrap. Luckily Shaun was more ShakEn than Stirred and in the event it only hurt when he laughed, RolfeDog telling him lots of jokes to cheer him up, and that.
The outcome was Shaun, Sharon and ShakEy looking very twee as they sat on a bench, while BirdDog who had been sitting out this week due to injury, forgot that he was injured, offered to field as a substitute for our newly broken man and squeezed his way into Shaun's kit. He took the pitch as some sort of muscle-bound-looking Buzz Lightyear and proved just as ineffective as Shaun at stopping the ball without histrionics.
SStM set us 194 to win and after Roz did her best to reduce our lifespans with another gourmet tea, The Ridge made a ritual sacrifice of two RolfeDog's in the first over in order to give the opposition encouragement.
Both fell to Ben Ackland Snow – he who had commented on Gilet's bowling before the match. He has three names as he is as tall as at least three people and is at least as intelligent as all of our team combined.
He bowled an outstanding spell and the RolfeDogs lived in hope for a full 12 overs that Brooksie would join them with a 0 to his name, a hope that was dashed only in the 13th over when he got off the mark. He had 8 after 20 overs but the RolfeDogs grudgingly had to admit that his patient innings with Hollywood who was going silly at the other end, set up our hard-won victory
There was still a lot to do when Brooksie was caught for 35 by those Three Wise Men, Ben Ackland & Snow, but Dakes kept up the momentum while watching Hollywood pepper the field.
One of these shots brought about a return of this year's new phenomenon whereby a fielder hops over a boundary fence to retrieve a ball, picks up a bright match ball from precisely the point where the shot has landed only to declare "It's not the match ball' as if by some astronomic phenomena nearly-new replica cricket balls have been scattered over the place to confuse match-ball-hunters.
That last paragraph contained only one sentence.
Anyway HairBear made 7 after Captain Birdseye's dismissal for 22 and Hollywood's for a very lucky 73, mostly in fours and sixes. This brought in Allan to join Hamsah who had stunned us all by not trying to hit his first ball into the stratosphere where Einstein might catch it and bung it into a black hole.
He was also wary of the bowling prowess of top scorer Greg Pearson who had accounted for Brooksie, Birdseye and HairBear and was making a decent bid for Man of the Match (in the end Albert Einstein shaded it, so to speak).
Indeed another strange thing was happening… another new phenomenon: Hamzah was batting sensibly and was playing defensive shots. Whatever next?: a RidgeBear running full speed into a ShaunTrap perhaps? Lord Lucan riding past on Shergar?
SStM decided against recalling any of Ben, Ackland or Snow (2-19 off 13 overs), gambling instead on the slow bowling of Ian Reynolds to the surprise of all those RidgeBears with a lower IQ than B.A.S., ie all of us.
it was Allan who hit the big six that added to Hamzah's good work and got us very close, before in a bizarre moment with just four wanted for victory and 8 balls left, Hamzah drilled a shot with great power only for its journey to the boundary to be interrupted by Allan who took its full force much in the way the bar of the ShaunTrap had taken the full force of Shaun and his little legs a few hours earlier.
Instead, next ball, Hamsah went for subtlety and finished the game with a delicate leg glance to the square leg boundary and left the field to applause and to the sight of Statto looking at his mobile phone before declaring 'That's only the third time since the age of 13 that Hamzah has made a score of over 15 without hitting a six, in a year which is not a leap year and when there's a World Cup".
At this news, we all stared into a vacuum.
It remained for us to share a beer or two with the opposition who later sent a message by email to say what a nice ground we have (probably true) and what a good bunch we are (definitely true) all of which just confirmed what an intelligent bunch they were, even though they have no idea the Earth is flat and the Moon is made of cheese.
Rob Brydon is away.
Bledlow Ridge 2s v Bletchley 2s
Home – Saturday 16th June 2018



Ridge defeated despite strong performances by Young Guns
Chesh auditions for remake of DARKEST HOUR
"Shock" appearance of debrillator
------
BRCC- 211-7 (45 overs)
Bletchley – 212-5 (38.2) overs
Lost by 5 wickets
Despite posting our best total of the season by a considerable amount the 2s lost to league leaders Bletchley by 5 wickets on a barmy afternoon at The Ridge.
RotlfeDog was surprised that all the team arrived well in advance of the start of a home match, he not being used to this sort of thing in the firsts. Taggart and RolfeDog learned to their great pride that they were appointed to Chesh's Senior Management Team for this match and shared responsibility for the running of Captain Chesh's Barmy Army or Young Guns (YG).
Chesh won the toss – Lucky Tosser – elected to bat and gave a Churchillian speech about commitment, pride and the fact that if you were batting down the order it didn't mean you weren't valued. He could have saved time simply by saying "David, I know you can bat but you're No 11 today all the same".
At the moment that RolfeDog was dissolving into tears of emotion there was a knock on the door and his friend Graham Keens from Bledlow Village and Bucks O60s appeared at the door with a gift, announcing "I have a defibrillator here for you John". RolfeDog fainted with embarrassment and was resuscitated with the help of the defibrillator and a bicycle pump.
Chesh and Jovan opened and Chesh hit his second ball for four which was some kind of a record. He and Jovan put on over 60 before Chesh was out for 14 to be replaced by Efan. Meanwhile Jovan was slapping the ball through the covers off the back foot with the face of the bat and to fine leg off the front with the inside edge. He was bowled for 41 at which point RolfeDog, the No 5 enquired of the whereabouts of HairBear (YG).
The Bear had chosen to wait until he was the next in to bat, to make an extended visit to the Little Room from where he explained through the locked door thathe would not be available to bat at No 4, if the rule about going out within two minutes of the previous wicket, was still in force as he still had much to do.
RolfeDog bored the spectators for a while but witnessed the shot of the day from Efan (YG).at the other end. Efan made 31 and RolfeDog 13 before HairBear who felt all the better for his commercial break, slapped 32 and while doing so, gave Kelvin some valuable sprint training during his first outing of the season. Farhan (YG).and Junaid (YG).maintained the pace and took us to 211 with 29 and 16 not out respectively.
The Bletchley innings commenced. Chesh had advised RolfeDog that Junaid likes to bowl with his cap back to front. It had not been anticipated that David Saint would bowl an entire spell wearing a cap, albeit it the right way around. The cap acts as a kind of rudder apparently and is particularly effective for bowlers running down the hill.
In essence we took a marvellous catch (Junaid) and a sharp catch (The Real Saint) but our failure to hang on to some other chances cost us the opportunity to put Bletchley's batsmen under enough pressure even though we took wickets at intervals.
Farhan was the pick of the bowlers bowling with a fluent action and good pace and accuracy.
Junaid took a wicket without wearing a cap either way around. Taggart who replaced Farhan was suffering from the effects of not bowling for six weeks and found it hard to find his length. Well he found his length but not Farhan's and as a consequence we had some ball-searching to do in the Stud Farm.
After one of these visits Taggart bowled a yorker which was successfully defended. "Try hitting that for six" said Taggart invitingly to batsman Rubel Miah but instead of replying "I needn't bother because I know there'll be another juicy delivery along soon" the batsman started following Taggart back to his mark and a brief verbal exchange followed at which point the umpire, an inscrutable individual called Martin (formerly known as Sniff), stepped in and threatened to smash both their faces in. Well that's what he was thinking, anyway.
Taggart did bowl Rubel out shortly afterwards and shook him gently by the throat as he walked off before mentioning to the rest of the team that that was his 200th wicket for the club, not that records mean anything to him and all that. RolfeDog said it was a happy coincidence that taking his 200th wicket followed shortly after conceding his 200th six.
As a proud member of the Senior Management Team (SMT) RolfeDog made one suggestion all afternoon which concerned the positioning in the field of Captain Chesh off the bowling of Mark Neal. Unaided by a defibrillator this suggestion was the Kiss of Death as the next two balls went into the position just vacated by Captain "Churchill" Cheshire and RolfeDog resigned as a member of said SMT.
Chesh entered Wonderland and bowled three overs. The second was bowled with cap AND sunglasses which normally Trumps bowling with only a cap.
Chesh appears to smile at the batsman as he bowls but no one knows why. Indeed there was a lot of inscrutability about as The Umpire Formerly Known As Sniff met The Cheshire Cat – The Cat With The Inscrutable Smile.
Ken Hollis then took a liking to Chesh – who doesn't and how can a batsman resist that smile - and gave us some more ball -searching practice before they won the game off our 28th wide in the 39th over. Well actually it was the 28th wide of the innings not the 28th wide in one particular over although it might have felt like that at times.
The day's cricket concluded with another rousing speech from Captain Chesh. In it he recognised that if the freedom of the West depended on our team's blood and sweat, then democracy was assured for another 100 years, even if Mr Trump became Dictator of Europe in which case Brexit would have been a Good Thing.
At this, RolfeDog collapsed and was revived by a defibrillator which just happened to be lying around, fortunately moments before Captain Chesh prepared to administer the Kiss of Life.
David DImbleby is currently on vacation in North Korea.
BRCC v Eynsham Away
Saturday 2nd June 2018
Gilet goes wicketless but finds his trouser cord
Brooks takes five wickets – conspiracy suspected
Hammy strains his Hammy
BRCC: 223-8 (50 overs)
Eynsham: 106 all out (37.2 overs)
Result: BRCC Won by 117 runs
The weekend started when the 2nd Team Payer of the Year Trophy for 2015, which had sat on RplfeDog's office table for three years, was handed over to Taggart to give to the newly returned Hari who was playing at home for the 2s..Hari responded by taking four wickets.
This bright news contrasted strongly with the appalling events that followed at Eynsham where Phil Brooks had his best bowling analysis in a league match as he scuttled five Eynsham batsmen and with it, their reputations and our sense of justice.
The Eynsham pitch had been underwater only 36 hours before the match so their wicketkeeper James Merrill was taking no chances. As the Ridge openers walked out to bat, Merrell's headgear, goggles and snorkel showed he was ready for deep-sea diving should it be required at any moment. Jacques Cousteau turned in his watery grave.
His first dive resulted in his first appeal and this trend continued most times he caught the ball. On the first occasion RolfeDog enquired whether we might be awarded a wide, not realising this would prompt an unceasing babble of what might loosely be described as sledging or more accurately described as verbal water-skiing without the right equipment, for the next hour.
Although a lot of work had been undertaken to get the game on, the wicket behaved much as might be expected in the circumstances and batting was hard against the bowling of Ben Weller and Thomas Gerken.
RolfeDog was particularly careful not to be bowled by a Gerkin but Brooksie did get bowled by Weller because he was laughing at a sledge that described RolfeDog as his father. Were this the case, the good-looking genes had been withheld, obviously.
SamDog, possibly Brooksie's half-brother, joined RolfeDog. SamDog tends to play away games as there are not so many red kites about looking for carcasses. He hit two blistering drives before being undone with a half tracker that hit a mine and looped with the trajectory of a softball in space before landing splash on the base of his off stump on the second bounce.
Up to this point RolfeDog had convinced onlookers how hard batting was but then Gorgeous George came out for the first time in two or three years, did a little assessment, decided batting was easy, and dispensed with RolfeDog's services, RolfeDog not being in the picture frame when the throw to Cousteau Jnr came in, owing to his difficulty running in wellies.
Out walked the second best-looking man in the team, Hollywood, to join the first. Hollywood deferred to Gorgeous' ascendant looks by kindly allowing him to score all but 8 of their valuable partnership of 42 before he was replaced by Dakes after chipping one to mid-off.
Dakes showed patience as a batsman. That's worth repeating: Dakes showed patience as a batsman. It was needed, as batting was mostly harder than George made it look before he too was out. There was a lot to do when Birdy flew to the wicket even though the chirping from the fielders had long stopped.
Nothing much exciting, interesting or funny happened for a long while unless you include the over from Captain and Head Sledger Sam Jones in which Dakes was beaten four times but survived. What he and Birdy did do was build the score up so that when Dakes sunk for a hard-earned 41, the stage was set for Hamsah.
He obliged and created quite a splash. "I want go get 50" said Hamsah. "Just bat" said Birdy. Hamsah soon hit a six. "Don't try it again said Birdy" so Hamsah hit the next ball for six. These two put on 59 in 7 overs. While batting Hamz told Birdy he wanted to know how many runs he had got. Birdy forbade such action so it was nicely synchronised that that both of them ended with 39, their runs eventually coming in waves.
This allowed Ben Hillarious a few balls to face without running himself out and then Allan too, who hit his first one exceptionally hard only to see it trapped by the bowler with a first touch that we are unlikely to witness from any England players at the forthcoming World Cup.
SamDog had been scoring for a lot of the innings and needed a bit of help adding up at the end and with the help of differential calculus we ended up with 223-8 – a fine total on this wicket.
Dakes and Hamsah did not get a wicket in their first spells and they were probably put off by some very shallow sledging from Brooksie who was told to "Shut up you tart" by RolfeDog who wanted to get that in before the opposition.
Allan swooped at midwicket and opened our account by running out Ben Smitten who looked even older than RolfeDog. Then came a strange period when, with a ripple effect everyone decided they were too injured to bowl. Dakes started it, then Hamsah decided he had a bad hammy (Hammy's hammy?).
Luckily Hillarious did not feel this way until he had splashed out with a couple of wickets. Gilet came on at the other end, declared his knee unfit for bowling after his first over (water on the knee?) but on hearing that his replacement would be Hollywood who is always too unfit to bowl, Gilet's knee injury miraculously disappeared.
Gilet was very boring but Allan was this week's unlucky victim of the ruling that if you bowl two chest high full tosses you can no longer bowl in the match even if they were not dangerous and were hit for four by a youngster. Captain Jones seemed particularly keen to have him taken off. The ECB need to look at this one again (this is Division 6 after all). Twenty miles for nine balls: it's almost like being a batsman.
We had run out of bowlers. Dakes looked around but everyone looked away except Brooksie so he got the ball. And with it a cricketing miracle or Tsunami depending on your point of view. He must have signed some kind of suicide pact with the batsmen who found various ways of hitting the ball in the air into the hands of Buckets Hollywood (seven catches this year) Bucket sBird (3 catches in the match) and Buckets Georgeous who managed to make an easy catch look difficult.
By the time Gilet had ended his spell wicketless, Brooksie had four. At least he could count, as on being asked innocently of course, how many wickets he had taken, Gilet lifted one finger, rather menacingly I thought, even though the answer was zero. For those of you with statistical inclinations like Gilet,his figures were 5-5-10-0 of which the 10 included one Narrow, so it was a reasonable spell. And he had proper cord keeping up his trousers.
He was replaced by Hollywood and although Eynsham had lost wickets for as long as Jones was at the crease they were in with a chance but he was Brooksie's fourth victim.
And then, a difficult moment: with Brooksie having four already Mark Weller hit the ball in the air roughly in RolfeDog's direction. In a flash RolfeDog imagined the terrible scene: Brooksie with his fifth wicket and worse, the prospect of the bowler running to embrace him in much the way Fez had done so years before, although hopefully this time, without tongues.
The only smart thing to do was to drop the catch but sadly instinct took over and Brooksie had five and chased RolfeDog all over the field, arms outstretched.
At number 10, wicketkeeper Merrill came out to bat: scuba diver's helmet, goggles and shirt down to his knees. He did not face however and watched No 11 Tom Gerken who had injured his ankle while bowling, limp to the wicket and be surprised that the only ball he faced kept low and bowled him lie a dambuster bomb.
There then followed the unusual scenario of Merrill giving Gerken a rollocking for wasting Merrill's chance of winning the game singlehanded despite wanting 118 runs to win and being only armed with a snorkel.
We returned to the Ridge some of us, happy to celebrate some more. RolfeDog cleared up and found the 2015 2nd Team Player of the Year Trophy in the home team dressing room.
It now sits once again, on RolfeDog's table in his office. Brooksie might win it next year.
CAPTAIN'S REPORT CARD

Captain: Martin Harris Team: BRCC 2 Opposition: Nondies 3 02/06/18

Result: Nondies 40 all out BRCC 43-0 Won by 10 wickets

Area of Activity

Grade

Comments

Pre-match communication

B

Martin has adapted himself well to adopting modern communication techniques like WhatsApp and it is good to see him joining in with the banter at times with gentle witticisms. Well done Martin, keep it up, but just the one message as to who has the keys will do!

Arranging teas

C+

I feel this is an area where Martin could perhaps be a little more forceful. If he looks at the team sheet and doesn't see any obvious candidates, he will end up doing tea himself every week. Come on Martin, don't be afraid to tell the players they have a job to do. Stick a pin in the team sheet and get them told. Nice job on the tea though, however watch out for the overuse of pork based products in this league.

The toss

B-

Good job on calling Martin. Well done and of course normally in div 9 bowling first is the right call. One small note of caution. Count how many players are actually at the ground before opting to bowl. Sometimes having 6 fielders plus the bowler and wicket keeper for the first over can play into the opposition's hands a little

Use of bowlers

A-

Great to see young Charlie Carter getting first use of the new ball (0-9 from 5) and I was impressed with how Martin kept the foot on the throat by bowling Hari Bala right through (10-2-16-4). An inspired decision to give Junaid a spell on debut (4.1-1-11-5 incl hat trick). Perhaps at 30-8, some might have been tempted to share a little of the bowling around, but good to see Martin not just knock the opposition down but kick them repeatedly in the head!!!

Killer instinct

D-

In contrast to his highly professional deployment of his bowlers, Martin needs to work on suppressing his compassion for individual players in the opposition. Just because the kid at the other end is 13, has more protection than Theresa May, doesn't seem to know which end of the bat to hold and is sobbing gently as he approaches the crease, does NOT mean we go easy on him. Fortunate to have 'club royalty' (in joke) on hand on this occasion for consultation and the right result next ball. Keep working on this Martin and remember that mercy is for wimps 😊

Field Placement

A+

Admittedly it is a lot easier to set the field when you are bowling a side out for 40, but Martin showed some excellent initiative and authority in this area. Noticing that Lloydy was not looking at his most svelte, he placed him at 2nd slip where he took 2 very sharp catches (a rarity indeed in div 9) and when Hari asked for a mid-wicket, he was told in no uncertain terms that he needed to bowl at the off stump. Great work Martin, well done!!! Remember, when batsman hit the ball into gaps, it's not because the field is wrong, it's because the bowler bowled in the wrong place.

Batting order and participation generally

B

Tricky situation chasing down 40 as we have to hope not too many people will get a bat, so nice decision to open with Jovan (16*) and Fahan (12*). Shame we couldn't get debutante Rohit into the game, but he was down to bat at 3 and Jov tried his hardest to get him in, but Nondies refused to actually catch any of the dollies he put up.

Post match

B

Nice piece of delegation to get Chesh to do the money and availabilities (as he had done sod all else all day), and nice bit of tidying up and general administration. Martin needs to better familiarize himself with the match reporting system (or find someone under 25 who knows how to work a smartphone). Sloping off early is OK when you lose, but when the result goes the right way, it is good to see the captain sit around for hours, get steaming drunk and enlighten the rest of the club as to the wisdom and cunning of their captaincy strategy.

Overall Grade

B+

Martin is a likeable and popular member of the team, and whilst these are nice attributes in normal people, I would like to see Martin work a little more on being a nasty b@$&@%(). I'm sure that as the season wears on, the unending chore of selection, the ever absence of sufficient keys to get into the clubhouse without setting off a nuclear alert, the seemingly infinite number of reasons why players are late, the Friday night call offs, the inability of bowlers to understand the excellent field he has set them, the inability of batsmen to understand that they are meant to score runs before they get out and the incessant and interminable flood of advice from every other club member as to what he is doing wrong will soon grind him down to the empty lifeless husk that is most ex captains.

In the meantime, great work Martin, keep it up!
BRCC 1s v Horley 2s

Home
Saturday 26th May 2018
---------------------
Brooksie and Keeps forget their wallets in runfest
Shagger puts up a fight (!) for Horley
Pavilion Clock Keeps Mexico Time
----------------------
BRCC: 344-8 (50 overs)
Horley: 199 ao (54.3 overs)
Result Won by 145 runs
At 10pm on Friday night, Taggart called to tell me that the club clock was saying 3.30pm and I needed to bring a new battery the next day. I went to The Village Store on the way to the match, paid nearly a fiver for a pack of four only to find the clock was working perfectly.
Which was more than my eyes were doing, as a first over duck in a score of 344-8 proved. A fall from grace after last week's 92.
There's nothing much wrong with being bitter and twisted so a couple of hours later, when Brooksie hit the ground, his head, his arm, his elbow and who knows the ball too and was adjudged out for wait for it… 91 there was cause for much celebration particularly from RolfeDog.
That served him right for putting all the rubbish he could find in RolfeDog's rucksack at Lords the previous day and blaming it on Lloydy.
Most of the batsmen enjoyed themselves. This time, Brooksie was rapier to BenDog's banker (see Challow report). With scores of 98, 64 and now 46, BenDog is clearly accumulating runs and hemorrhaging beer money. It had been a tough week on international markets.
We then had The Curious Incident of the Lost Ball Which Was Not Lost when a shot bounced over the fence on the Stud Farm side. The nearest Horley fielder went to look for it and immediately found a bright, hard, newish ball in exactly the spot the ball had gone and pronounced that this was not the match ball. There being no other ball in the area at all this was a strange conclusion to make, but Horley's umpire bought the idea and the game was stopped while the box of spares was brought out before everyone concluded that none were as good as the ball that had been lost then immediately found a minute or two earlier.
"That…", said BenDog, trying to sound intelligent "… is not even village, it's hamlet" which RolfeDog pointed out is the title of a Shakespeare play. "Who is Shakespeare?" asked HairBear who looked like death… like Hamlet in fact.
Still embittered, RolfeDog implored his mates not to applaud Brooksie's 50. Brooksie counts every run just like BenDog counts every penny so that when the 50th run came he ran down the wicket waving his bat around like a demented cossack with a sabre. It is rare to gratefully acknowledge applause that you haven't received but Brooksie managed it, whereupon RolfeDog's teammates weakened and acknowledged his acknowledgement of his fifty, much to RolfeDog's annoyance.
On BenDog's dismissal someone looking a bit like Mark Brightwell came to the wicket. This particular person had spent two weeks in a sun lounge in Slough which the operators called Mexico.
Our groundsman puts a lot of work into mowing the outfield and surrounds but Hollywood wastes it by blasting sixes straight into the field. Luckily, although playing similar shots with all his might, Brooskie's trickle to boundary and occasionally though the fence which is this week being covered with chicken wire to prevent such an eventuality. It will also prevent chickens getting through if anyone brings any.
Hollywood made 53 mostly with boring sixes and more ball-hunting by Horley. Dakes took over from Hollywood and made 50 (that's how you do it BenDog) and by this time RolfeDog had the satisfaction of seeing Brooksie out for 91, even though he (RolfeDog) had brought Roz out of the kitchen to witness the 100. This was a particular shame as there are few things Roz is allowed to come out of the kitchen for. It would have made a good plot for a Shakespearean tragedy or alternatively a story by someone HairBear has heard of.
BirdDog did what BirdDog does and made 37 while the much-awaited season's debut from Hamsah was a score which equalled RolfeDog's and for which RolfeDog was most grateful.
This brought a highly-dishevelled HairBear to the wicket. He made an aggressive 18 not out in his sleep, while the highlight of the afternoon was the run out of Ben Hillarious, adjudged so by his dad much to the merriment of his mum and sister, watching from the pavilion.
Allan made 0 not out without facing a ball and we were all relieved that Gilet did not bat.
Tea was the usual Five Star Spread from Roz after which we informed her that she has the job for life.
The question for the Horley innings was whether The Ridge could bowl them out before a) bowling so many wides we lost the game, b) being docked penalty runs for slow over rate, and before c) Dakes had to go to a party. It was a race against the clock which was showing the right time, for Mexico at least.
To cut a long story short, and this is already a long story, Buckets Hollywood took his fourth and fifth catches of the season then got a run out, only going to prove how effective two-week sun lounges in Slough can be. As further proof of this Hollywood won a race to the ball against Hamzah in a kind of "When Hollywood Beats Bollywood" turn of speed. RolfeDog caught Henry Moon (known as Half Moon). while his father Perran Moon (a Perran being a very rare alignment of planets apparently) was LBW to Allan.
Gilet is very mean with wides so got through his overs quickly. In Dakes' case the only runs he concedes are wides. Hamzah does not bowl many, Allan bowls a few but BenDog put the victory in doubt.
BenDog came on to bowl Left Arm Slow Tripe as opposed to Left Arm Medium Tripe.
The result was the same ratio of wides but with much less effort and somehow with more wickets, four in fact which only goes to show. Taggart has proved for years that all you have to do is trot up and bowl slow left-arm and batsmen commit Hari-Kari. Allan is working on reducing his speed in order to achieve the same mystifying results. Talking of Hari Kari, he is back next week to play and to collect his 2s Player of the Year trophy for 2015
Andrew "Shagger" Parker had come in at three and remained to the end being encouraged by teammates calling out his name which he told us he had acquired as a result of the activity he had been involved in when he received the call to play in this match.
He claimed to have ignored the call but we knew this was not true because for all cricketers, the opportunity to make a century is better than sex, although that can depend what age you are.
Anyway with Horley nine down he was in sight of a hundred but first had to pass Brooksie's 91. Brooksie the 'keeper baited him to go down the track to some rubbish from BenDog and was duly stumped which at least potentially gave Shagger more time for other evening activities and enabled Dakes to get to his party. (Who would invite Dakes to a party?)
It also, extraordinarily, put BenDog at the top of the run-scoring and wicket-taking lists. Now that is a tragedy.
Our third victory in three completed matches was crowned by the presence of the King, Martin Middleton, having a beer with the second best batsman in the club, BIrdDog.
Celebrations went on into the evening. When RolfeDog finally got home at 10pm he was greeted with the enquiry: "What time do you call this?" and was able to clear customs by answering, "About 3.30 in the afternoon".
Bledlow Ridge 1s v Twyford 2s (Away)
Saturday 19th May 2018
--------------
Ridge Victorious in Twyford Wide-Fest
Umpire McTaggart Swallows Rule Book
BenDog Contemplates Marital Good Fortune
--------------
BRCC: 288-6 (50 overs)
Twyford 171 ao (33 overs)
Won by 117 runs
"No Scott and no Birdy -what a relief" said RolfeDog on the journey to the ground.
After the – as yet unreported - chaos of last week's abandoned match v Oxford I suppose it was good to have Taggart back.
Last week without him no one knew where the balls were (in the cupboard) or where the scorebook was (well erm, in Taggart's house) or where my trackie bottoms were (in his kitbag). This week we hit the jackpot: he was there but umpiring not playing. It's like true love: can't live with him, can't live without him.
And when your umpire is on the League Management Committee, is the only person on the ground who knows the Playing Rules and his name is McTaggart, well you're going to hear about it. Made us wish Scott and Birdy were playing.
The Inaugural 'See Who Can Arrive Later Than Saeed' competition, was won by Captain Birdseye who went to Wolverton who are not in our Division, thus giving RolfeDog ammunition for the rest of the afternoon.
SamDog won the toss and decided to sit in the sun while the rest of us batted and watch the Inaugural Most Wides Bowled In An Over competition which enabled us to reach 45 off the first five overs for the loss of Brooksie, caught one-hand-one-bounce.
They had a few young hurtlers one of whom pinned RolfeDog on the belly-button with a full pitch and caused the first of a number of interventions by Twyford captain Mohammed Shafaqat who had an interesting day.
His comment that this should not have been called no-ball as he claimed RolfeDog had been hit on the leg elicited an invitation from 'RolfeDog to inspect the bruise and a subsequent …. erm 'discussion' with a fielder all of which came to a halt when from 90 yards away, SamDog, that most lippy of wicketkeepers, yelled out "just get on with the game". This was rather like being told by John Bercow to respect women, so in a state of shock we did so and played on.
Umpire McTaggart (shoulder injury caused by bowling too much left-arm-slow-crap) was by now in his element. It was just unfortunate for Twyford that they came across him in top form having swallowed the 50/50 Cherwell Rule Book whole.
He next took delight in refusing a number of leg byes when our batsmen had pretended to try and hit the ball, by calling "I'm Not Having THAT" in an authoritative manner before undergoing Aashort cross-legged dance routine.
No Balls of any description are now followed by a free hit and in this match were also followed by enquiries from Mr Shafaqat such as "What Rules are we playing today then?" to which Umpire McTaggart always had a ready answer.
BenDog, fresh from 98 v Challow was by now batting like a million dollars which you might expect for someone who works for an American investment bank even if it is just loose change.
Eventually BenDog was rather well caught, for a fine 64 of a partnership of 136 at 146 for 2. SamDog arrived and hit one blistering cover drive before smearing a long hop only to see one of the young opening hurtlers dive full length and catch him. Captain Birdseye arrived, smashed the leather off a half volley only to see Hurtler No 3 grab a caught and bowled with both hands.
So having watched the seam bowlers spray it around, three fine catches had been taken and we were a bit shakey (or ShakEy) at 160-odd for 4.
Lloydy came in to bat wearing a Gerrards Cross shirt with "The Ceramic Tile Co" emblazoned on the front which was proof that he has not paid a sub for about nine years or obtained any of the goodies that go with it. He may however have had his bathroom fitted for free.
He was cautious to start with as if sampling a new wine. He also developed a new batting technique which involved using the bat more than the pad.
RolfeDog – who had by now been batting so long and so slowly that everyone on the boundary was asleep – agreed with Lloydy that they would play out the overs of accurate non-spinning off-spin form Shafaqat and another decent bowler whose identity remains unclear at the time of writing. It might have been Majid Aslam however he has only been credited with bowling four overs on the Cherwell League report card.
No doubting who Umpire McTaggart was however and the innings continued well until he signalled a wide off a delivery that hit Lloydy's ample figure, almost dislodging a few ceramic tiles in the process, at which point both RolfeDog and Lloydy did the decent thing and told Umpire McTaggart to pull himself together and withdraw the wide call.
Lloydy had wandered slowly down the wicket to make himself understood and Twyford took the opportunity to return the ball and take the bails off in a kind of Gentlemanly-Act-Meets-Ungentlemanly-Act. Mr Shafaqat again got in a bit of a kerfuffle. I do understand that it is not always clear from Lloydy's running speed whether he is attempting a run or not but this was not in the Spirit of Cricket so McTaggart intervened with "I'm Not Having THAT, I've Called Dead Ball" and so we resumed.
Lloyds bashed it about. RolfeDog's innings expired for 92. HairBear had a quick thrash, all in his own kit. We finished at 288-6, with Lloydy a fine 51 not out, a score from which we had lost at Twyford three years earlier. The bowling figures ranged from 3 overs 0-36 to 9 overs 0-20.
The WhatsApp gang excitedly WhatsApped everyone they know and got a photo from Birdy in reply. This being the Royal Wedding Day (Megan and Harry for those of you reading this in 2065) it rather looked as though Birdy was getting married to Larty, somewhere sunny.
The tea ladies were thanked for their tea so many times that they fainted with embarrassment and Dakes and Gilet set to, bowling eight of their ten allotted overs in succession with Dakes getting four and Gilet … zero.
Dakes' wickets included an LBW drawn from Umpire McTaggart in the painful fashion that befits a bowler-umpire trying for better season's figures than the bowler.
In order to do this the umpires had changed ends at half time much to RolfeDog's delight as he was then able to state that this contradicts the Laws of Cricket, the Customs Union and the Laws of Nature. Quick-thinking Umpire McTaggart countered that the Laws have changed (of Cricket presumably) and MCC Member Brooksie sniffily replied that his club were the guardians of the laws and he hadn't heard anything.
Dakes put Henry Wilkinson to the sword (geddit?) before making changes and we revived the Wide-Bowling competition as BenDog got very confused about which were right-handers and which left-handers. David Saint was using BenDog's radar too but Freddie Wilkinson tried to hit a straight one to Kingdom Come and SamDog, with a lot of yelping while the ball was orbiting the sun, finally located the orb and caught it. Surprisingly, not in his mouth.
Chesh celebrated his day of not batting and not bowling by tearing about and confused us all when a batsman hit one to him and took a single, by calling out "There are no singles to me in the field". He later explained this Fake News by explaining it was not a description of what had just happened, but a prediction, which proved correct as thereafter, confused, Twyford, did not run any more singles to him.
This brought Mr Shafaqat to the crease and after a while he was able to just reach a wide delivery from BenDog and nick it behind but not so clearly as to make him feel like walking ,so he stayed there and we noted that for once he had no complaints about the umpiring. Neither did we either for the record and BenDog put things right shortly afterwards with a catch by Lloydy.
Strangely although six wickets down, Twyford remained with a chance for as long as Joss Goff (22 at scrabble) batted aggressively and we had difficulty completing our overs due to a glut of wides.
McTaggart was almost beside himself with the news that we would be deducted 6 runs, yes runs, for every over not completed by 7pm and we faced the prospect of losing the game at 7pm with Twyford something like 200-9, 88 runs behind. At least this day quashed the myth that McTaggart and RolfeDog's captaincy has been responsible for slow over rates, a burden they have had to bear for a few years.
Fortunately Saeed's radar was set properly and he took two wickets, one a slow motion return catch, before Captain Birdseye decided enough was enough and returned to claim his fifth wicket. Gilet came back and dismissed the dangerous Goff to complete an equally fine spell and one which did not require him to buy a jug of beer in the pub afterwards.
So another win, a beautiful evening at Twyford's local pub where BenDog wondered out loud why on earth Hermione had married him. We tried very hard to think of a reason but failed completely although someone did suggest it was because of his smooth hair and dark-rimmed glasses.
The next day McTaggart expressed disappointment that Dakes had awarded his umpiring as only 16/20. This was explained as deductions for: knowing too many Cherwell Rules, too much loudness, changing ends at tea, being Scottish, not waiting for a run to be completed before exclaiming "I'm not having THAT, you never played a shot", acting Scottish and setting off back to The Ridge in the wrong direction.
For the rest of us, the prospect of listening to Birdy again next week was partly alleviated by the good news that Aston Villa will be in the championship play-offs on Saturday so we will all be spared Scott's burgeoning Brummie accent. Sometimes listening to Taggart can be a joy in comparison.
Bledlow Ridge 1s v Challow and Childrey 2s (Away)
Saturday 5th May 2018
-------=-------
Ridge end fallow run at Challow
RIDGEBEARS BANK ON A BANKER FOR RUNS
Birdseye and Gilet in WhatsApp Wars
C&CCC: 226-6 (50 overs)
BRCC: 230-7 (45.2 overs)
Won by 3 wickets
"That's a Lockheed Lightning Rolfey…" exclaimed Brooksie as he spotted a WWII war plane suspended above the road on the Wantage By-Pass.
That was our fourth by-pass having already by-passed Wallingford, Wallington and Didcot as part of Brooksie's master plan to avoid any unknown delays in the City of Oxford area.
"…Though it might be a Lockheed Martin, or perhaps it's a Vought Corsair or even a Brewster Buffalo – don't you know your warplanes Rolfey?". I had passed his parakeet test at Stoke Green the week before but now I stood accused of warplane ignorance and, faced with four choices, remained silent.
Ben Keeping called half an hour into our journey to announce he was just setting off having had to take a child, or a wife, or a nanny or even a horse or a horse's nanny to the doctor. He weighed up the odds, took the Oxford route after all and arrived just after we did.
As beautiful grounds go, Challow's is up there with Long Marston and Aston Rowant. We lost the toss and fielded in extreme heat, reflecting – as it were – on the President's prediction in April that the first round of the league season would be put back to 8th September on account of waterlogged pitches.
After Dakes and Ben Hillarious had opened with a side-splitting spell conceding just 22 runs off 10 overs, Dakes replaced himself with The World's Greatest Banker (WGB) who brushed back time and his hair and bowled his first competitive overs for five years since his Fake Shoulder Injury. An over later and Dakes tried some Left Arm Slow Taggart and was surprised how slowly it was possible for a human to bowl.
WGB attempted a tight fiscal policy to begin with but did offer the batsmen some cheap credit under the strict interpretation of wides within the 50/50 format we were playing. Unfortunately for him he got one of the openers out and No3 and Captain Alex Lynch began to take advantage of some loose quantitative easing so WGB was replaced by Allan who showed what left arm bowling is all about.
Allan bowled one, then once again showed his trust in Hollywood who caught his third catch off Allan in three matches.
C&CCC (I rather like that abbreviation or "abbrv") began to build up a good score with a partnership of over 100 between Lynch and C Robson whose main contribution was to provide a lot of other Robsons to the C&CCC team.
Allan bowled in partnership with Fats (aka Simon Martin) who went through his range of vintage steam engine noises, occasionally letting off steam by telling the batsmen both how lucky they were and how well they were playing, at the same time.
The batsmen did test HairBear with a couple of up-and-unders and we learnt that more research is necessary, then Mr Lynch offered a humorous chance to Ben Hillarious who dropped a giggler as they say.
Allan took 2-33 off his 10 in a fine spell. Fats eventually dismissed both batsmen in qujck succession: a kind of domino effect (Fats Domino?) and Lynch was particularly unlucky to be caught Dakin bowled Fats. "What are the chances of that?"
Captain Birdseye is taking to this captaincy stuff very well and showed great experience in bringing himself back on once the dangermen had disappeared. He and Hillarious, now on for Fats whose boiler had finally run out of water, pegged C&CCC to 226-6 off their allotted 50 overs with Dakes 1-24 off 10 and Ben 0-40. Taggart bowled 0-23 off a mean, stingy 8 overs as you'd expect.
Taggart who seemed to be enjoying himself in as much as that is possible, remarked how much friendlier opposing teams seem to be now that he is no longer captain. He also mentioned that he had never been able to decide which came first: the chicken or the egg.
We were quickly 12-3. A traditional start saw RolfeDog, HairBear and Hollywood back in the pavilion. Dakes with 20 began to restore order to the markets then The Rapier Keeping (WGB) was joined by the Cudgel Brooks, like Robin joining Batman to save the world.
Ben started with some phishing outside the off stump but soon settled into some fine smoothing both straight, through mid-off and mid-wicket as boundaries became mere commodities.
Brooksie was a little more agricultural as suits a country boy and certainly showed austerity early on but progressed and extended his account by clearing (clearing – geddit?) the boundary with two big sixes.
As the target came closer Brooksie then made a bid for a single without factoring in the speed of the fielder and this call was shorted by The World's Greatest Banker at the other end so that Brooksie's innings was foreclosed for 43.
One of the features of 50/50 cricket is that a minimum of five bowlers is required and C&CCC gave lengthy spells to their youngsters including a left-arm seamer with a huge engine and two leg-spinners. The WGB had reached 98, only two short of an annuity, and was facing a leggie whereupon Fats on the boundary exclaimed "OMG if you were on 98 this is the sort of bowler you'd want to be facing". The WGB gave it the 'charge' (geddit) but extended his overdraft with the result that the leggie comfortably cleared the batsman's debts. "LOL" is all I can say to that.
We were six down with Birdy and Fats at the crease - bags of experience for this situation though Birdy, to our surprise was beaten in flight (unusual for a Bird), which allowed Fats and Hillarious to tickle us home much as Pooh and Piglet might have done if this was a children's story.
We learnt that someone from Cheshire had batted rather well for 56no for the 2s and there were rumours of PlonkerGate in which Captain Birdseye and Gilet the Filet each called the other a Plonker via WhatsApp: Birdseye for reminding Gilet the Filet a draw was not possible in 50/50, and Gilet the Filet for telling BIrdseye they weren't playing 50/50 so the 2s could draw if they wanted to, thank you very much. Something fishy was going on.
And so to the prospect of a boring trip back with Brooksie. I suggested going through Wantage town centre this time so we could see the statue of King Alfred the Great. "What the one who got an arrow in his eye?" Brooksie replied.
OMG! Gawd help us.
I lost the will and so we drove past that warplane on the Wantage by-pass once again and I realised this could have been a Messerschmitt for all Brooksie knew
RolfeDog.
Angela Merkel is not available for comment
Stoke Green CC v Bledlow Ridge CC
Village Knockout
Sunday 29th April 2018
-------=-------
Ridge Routed in Stoke Green (not Routs Green)
Was Taggart missed at all? Captain Dakes makes defining comment
HairBear in remake of 'The Wrong Trousers"
--------=--------
BRCC: 124-8 (45 overs)
SGCC: 127-3 (15.1 overs)
Lost by 7 wickets
Report
For those of you with a poor attention span (Birdy), illiterate (Brooksie) or time-poor (Marcus) who have asked for shorter match reports, here it is:
We lost.
For the rest of you:
The match started the previous evening with a fifteen-message WhatsApp sequence concerning the whereabouts of HairBear's black kitbag at the club in which I finally ascertained that 'on the right inside the clubhouse' did not mean 'in the ladies' loo' but meant 'on the right inside the home dressing room'.
So it was that on Sunday morning I collected from this position, a black bag which was surprisingly large for a Bear who rarely has his own trousers, has lost his bat and usually cannot find the rest of his kit.
I lugged it to Stoke Green CC which was the only interesting feature of travelling with Brooksie, to discover that I had collected a large black Kookaburra bag whereas HairBear owns (presumably more predictably) a small black Slazenger bag.
At Kimble two years ago, HairBear wore Dave Bird's cricket whites in the first remake of The Wrong Trousers. This was something of an indictment of HairBear's eating habits. Two years later and he can fit into my spares which either reflects well on HairBear or badly on me.
A kind of Kit Jumble Sale ensued in the World's Small and Most Chaotic Dressing Room and Our Favourite Bear ended up with a medley of clothes which almost fitted perfectly.
On a very cold afternoon, the captains tossed up, we elected to bat and watched Birdy drive into the ground for a 2pm start. At 1pm RolfeDog and Hairbear walked out to bat.
Had we been playing a Zoo we'd have been well prepared, boasting in our top seven: Dog, Bear, SamDog, The Sloth and Birdy. Sadly we were not.
We played two matches.
In the first, the ball hooped all over the place, moved in the air and off the wicket; the batting team had to contend with tight bowling, difficult conditions and a slow outfield.
In the second match which was played after tea, the ball seemed to do nothing at all, batting was mostly a breeze, the outfield seemed a lot faster and the boundaries a lot shorter.
That we reached 124-8 off our 45 overs was largely due to SamDog and Birdy who work together like Tom and Jerry. RolfeDog had succumbed for nothing, HairBear for just 3, and Hollywood also for zero before The Sloth at least managed a six to the short boundary in his innings of 8 (third highest of the innings). Brooksie then managed 2 before being caught at slip off the 7th ball of an over.
How we all laughed.
SamDog was watching much of this with bemusement at the other end, wondering if it would be possible to better partnerships of 3, 4, 1, 20 & 4 all in the first sixteen overs.
Well he and Birdy managed 55 in the next 17 after Birdy was dropped first ball and despite Zulfi Butt opening his spell with four maidens. SamDog went for a complete half hour scoring just one run before hitting one into the road which bounced into a well-fortified garden. This was guarded by a small Pekingese big enough to frighten off Brooksie, so they found another ball.
SamDog's six narrowly missed a bus going to Heathrow and thereby the opportunity to hit the biggest six ever, landing – or perhaps disembarking – somewhere like Bahrain.
Birdy was both watchful and aggressive and was only troubled when after a close runout, the part of Sam's brain that does running and calling, packed up for a while, resulting in a few midwicket encounters with his partner, somehow none of which ended up in a dismissal.
Birdy was LBW for 28, a number he clearly has a problem with (see last week's report) then there followed a brief but valuable contribution from Cheshire (well from Haw Lane actually), then a briefer one from Allan and 1 not out from Hudson while SamDog opened his mighty shoulders at the other with another six, ending 57 not out. Raja Khan took 3-22 off his 8 overs and Saud Ahmed 1-16 off his 8 which was both mean and uncalled for.
We enjoyed a very fine tea, of which the best moment was when Captain Sloth said "Isn't it nice without Taggart"- and we all agreed that it was.
I subsequently learned that Dakes' remark was made at almost exactly the moment that a 17-year-old rugby player in another part of Bucks, was telling Referee McTaggart to "F*** Off you [extreme expletive deleted}". Well they can't all be wrong can they?
We then played the second match and this report should be a lot shorter. About a third of the first half in fact as they won in 15.1 overs, the 'point one' belonging to HairBear of which more later.
We went out with high hopes but Stoke Green had obviously changed the wicket at half time and Dan Simpson greeted Dakes by peppering the boundary and road with fours and sixes. As the last six of this first over was being retrieved and the over had cost 20 already, I dared to suggest to Dakes that he bowl round the wicket. "I can't bowl round the wicket" he replied. I have never been keen on receiving a firm biff on the nose, nevertheless I am extremely proud of the self-restraint showed in not making the blatantly obvious reply.
Gilet fared slightly better and only went for one six and it was a relief at the end of the fourth over – one in which Gilet beat the bat a couple of times, to realise this was the first over of their innings in which they had not hit a six. We had managed three in 45 overs.
In fact, after four overs they had reached over 60. In the fifth, Dakes induced Simpson to drag-on to his stumps, for 40 at an estimated strike rate of 250. At least we had managed as many drag-ons as you usually see in an episode of Game of Thrones.
Then, shock horror, new Batsman Singh, clearly out of Tungh, hit his second ball from Gilet hard to HairBear at cover who quickly took his hands out of RolfeDog's pockets and held the catch.
Kashif Abassi and Palmar, whose first name I cannot find so I'll call him Arnold, were clearly in a hurry and the score continued to rocket until a good over from Allan, at the end of which he remembered the trick he played on a batsman the previous week and bowled a high full toss with the same end result that Hollywood took a good running catch.
Dakes decided it was time for Brooksie to have a bowl and for us to have a laugh which we did. There was less laughter however from Hudson-Drama-Queen who had spent an hour at home taping up a knee-scrape from five-a-side footy only to remove the whole lot with one diving stop. He left the field temporarily for a good cry (See Simon Lloyd at Horspath, 2016).
It can only be out of sympathy that Dakes deferred the over he had promised HairBear and brought Hudson on with 9 runs wanted, 9-per-over being the going rate. (Chesh has blown his chances last week by taking a wicket). Would James get on to bowl or not? Hudson managed to concede just seven in an over in which Dakes felt this was not the right time for Hudson to take his first ever wicket and shelled a catch.
Hairbear did not let us down, his only delivery being hit to the 90 yard boundary for four and we all trouped off.
Except for Gilet, who is fast becoming the club's Statto and almost ran to the scorebook to confirm he had only gone for 31 off four overs, 7.75 being slightly below the going rate.
With new covers, new sightscreens a scoreboard under construction and also electronic scoring, Stoke Green are a friendly group clearly on the up and the Caribbean disco afterwards got Birdy's feet itching.
The day ended up back at our clubhouse where a tiny black Slazenger kitbag was found hiding out of sight at the back under a bench in the home dressing room. It contained Hairbear's kit and Dickers' trousers.
RolfeDog
William Rees-Mogg is away but will return next week after holidaying in the 18th Century
A Bledlow Ridge X1 v an Aston Rowant X1

Home – Saturday 21st April 2018
Ridge Squeeze Home in Fluid First Outing
Taggart Rules the Waves
Robbie Carter in Irony Shock
Aston Rowant X1: 165-7 (40 overs)
BRCC X1 : 169-8 (39.2 overs)
BRCC won by 2 wickets
Within only 10 days of the announcement that all cricket at Bledlow Ridge would be cancelled until 2023 due to heavy rain, The Ridge sneaked home in the last over of a 40 over match in which at least fifteen players were treated for sunstroke.
Fortunately Ian "King Canute" McTaggart had bid the rain cease earlier in the week and by dint of private communication with Rowant via underwater megaphone had kept the fixture afloat, so to speak.
RolfeDog had drowned in a storm of emails about the sodden pitch which had come in waves but just when we thought the fixture would be sunk, Groundman Jamma was joined by the Head of Rolling, Mr Steve BIrdDog for a tidal wave of hard work and preparation.
Captain "Birdseye" Dakin, formerly known as "The Sloth" could not be bothered to walk to the wicket to toss up and told Rowant they could bat if they wanted to, which they did.
Dakes put Chesh where we could not hear him and from there he ran out a batsman who assumed Chesh was not only incapable of fielding, but incapable of throwing. Appearances can be deceptive.
Although not captain, McTaggart took himself off as soon as Rowant's new overseas-professional-with-a British-passport got going, leaving the lucky Alan Loxton the pleasure of bowling to him and testing our fielders' ability to identify lost balls in "Keeping's field".
Alan fooled the other batsman into giving Matt "Hollywood" Brightwell a fine running catch off a steepler and was later rewarded by being replaced with Chesh, probably the low point of his career so far.
Ben Hilarious had opened up well at the top end before being replaced by Captain Birdseye who, now captain, was more animated than ever previously known. When not bowling Dakes found himself fielding at Extra Cover without knowing who had put him there. His parents never showed up to watch, a smart move as Dakes would have been lured to the boundary like Jason and the Argonauts to the Sirens, and certain oblivion.
Now that I've completely lost both Birdie and Brooksie and anyone else ending in "ie" with that sentence … back to the cricket. Chesh not only bowled but took a wicket, the return catch thudding satisfyingly into his chest where he grappled with it before sending it into orbit from where is almost landed on Taggart's head, but didn't.
Luckily the British-Overseas-Pro had had to retire at 50 and when he did so the game had returned to normal and normal also meant three wickets for Ben Hilarious in a fine second spell, all the more so as he had mentioned at one point that he could not run. One of these wickets was a catch-behind by Brooksie who hurled the ball even higher than Chesh had done, again in Taggart's direction, but with equal bad luck. Another wicket was a catch by BirdDog and the third a catch by the opposition's substitute fielder James, who reminded us that he had spent much of his week in the employ of Simon Tremlin cutting our outfield so that BirdDog could roll it.
In between time, David Saint had a good bowl and we had the Curious Incident of Rain Stopping Play During a Heatwave.
Forgetting temporarily the flood of discussion, emails and emotion that had gone into getting the game played despite April's mostly monsoon-like weather, Taggart ran us off the pitch at the first drop of rain, as he did not want the possibility of any damage to a pitch which would be used for another friendly next week – a game which would only be played if we could raise a team and if it wasn't called off for more rain.
As soon as the rain (what rain?) stopped and we realised that McTaggart is neither captain or groundman, we resumed. Luckily we only lost 17.5 minutes which is the equivalent of five cigarettes or seventy-three vapes and after a brief conference it was decided that under Duckworth-Lewis no overs would be lost and no runs added or deducted, only that Cricket Can Damage Your Health.
Chesh did not get another wicket thereby proving that lighning does not strike twice but Ben had his aforementioned fine spell and Alan got another go when the prospect of Chesh taking a second wicket proved too much for all of us.
Rowant ended with 165-7 off 40 overs, and we wondered if Dakes had ever been described as a 'cat' before – a word used at one point to describe his fielding by a player desperate to remain in the team.
We were treated to a fine tea by The Real Saint with the appropriate volume of biscuits and cakes so that not even Birdy complained.
With brilliant timing Robbie Carter showed up at tea with Charlie and complained there was no cricket. Many of the world's ills were put right during the next fifteen minutes during which Charlie considered saying something but thought better of it. Robbie commented that his daughter Molly could be really grumpy (takes after his mum) and this is the first known instance of irony by a Carter since Vera told Tex his bowling was useless.
RolfeDog opened up with Chesh who was proving hard to shake off in this game and did so to a chorus of jokes about being back-in-a-minute and other gems he had never heard before in a fifty-five year career.
In a sort of "up yours" approach to batting RolfeDog almost hit the first ball of the season for four but didn't and after Chesh had hit a few powerful shots into the offside field (adding to the suspicion that he now bats on steroids) RolfeDog hit the first six of the season well into the Stud Farm, so that back in the pavilion BirdDog had to be treated for shock.
Chesh eventually nicked one behind and proved his Australiasation by 'waiting for a decision'. His replacement Matt Hollywood started smashing the ball around but, clearly unnerved by RolfeDog's big hitting, played on for 14, trying to emulate his partner. This brought in Brooksie whereupon RolfeDog lost the will to live being LBW for 23.
Dakes succeeded in hitting a bigger six than RolfeDog just to prove that he can and belted the ball around for 25 until he tried to hit one out of South Bucks but only got the ball as far as the wicketkeeper. Brooksie (13) and Hilarious (unknown) followed soon after and we were in a bit of Schtuck.
The run rate had slipped as we tried to rebuild the score, that is until Alan started hitting out only emphasising how slowly BirdDog was batting at the other end. Alan's innings of 27 turned out to be match winning but not before he and The Real Saint had made way for Taggart who gave us a few scares in the traditional manner before BirdDog was shocked into action and hit over the top for four just so that he could creep into pole position with 28 not out. We won by the slimmest of margins with four balls to spare.
This was a welcome victory in a friendly warm-up match which gave Brooksie his first winning game for two years. Does that tell you something Brooksie?
Reflecting on our victory over the weather we stayed and soaked up the atmosphere and hoped that our win would have a ripple effect and turn into a deluge rather than prove to be a drop in the ocean. Our thoughts then turned to next week's weather, use of the same pitch for next week and whether we should put the covers on.
It was decided not to, on the basis that a drop of overnight rain would be good for the pitch the following week. I woke up a few hours later in the middle of the night not to the sound of a light drizzle but to thunder, lightning and the heaviest rain of the year so far, all of which was somehow the most satisfying moment of the whole week.
RolfeDog
No plains were flooded in the writing of this report