Bledlow Ridge juniors meet at 6.15pm on a Friday night from the 21st April (2017) through to September (parents, the bar is always open!) and we offer coaching for cricketers between the ages of 6 and 15. We have a number of qualified coaches, old hands and senior cricketers there every week and cater for every ability from novice to junior county standard.
For 2017 we will be running five age group sides who will be taking part in competitive fixtures at U9, U10, U11 and U13 . Details of the fixtures will be published shortly, but Friday nights are about more than just preparation for matches. It's fun first, cricket next! If you're new to the Ridge, you don't need to book, you don't need to tell us you're coming and we have all the kit you'll need to get started, so come and get your kids involved with a great sport at a great club.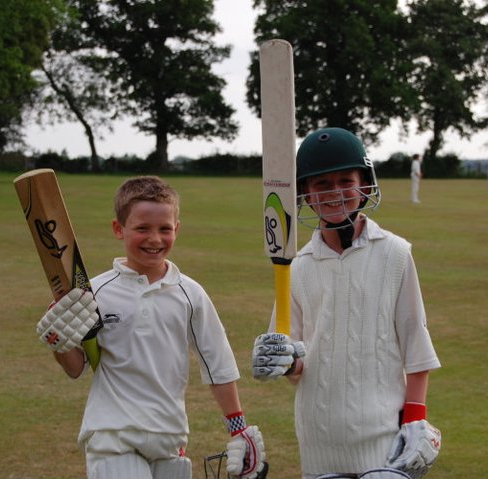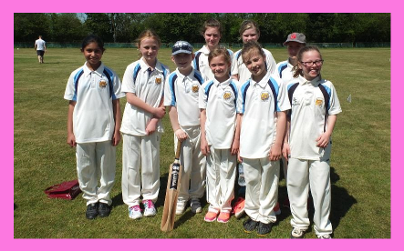 2016 was a historic year for the club as we fielded our first ever girls team.In the space of just 2 years, the girls' section has expanded to be the fastest growing part of the club. At the start of the 2017 season we had almost 30 girls registered and they train every Friday night under the watchful eyes of Chairman Wendy Langan, Dom and regular visits from 1st team captain, Taggart.
The senior side fielded their first lady player this year and Naomi Dattani, captain of Middlesex Ladies was recently a guest coach at the club as part of the Ridge's drive to make cricket a sport for any and all-comers.
We take our responsibilities to the kids in our care very seriously and have a number of policies in place regarding the conduct of coaches, players and parents. You can view these policies in the clubhouse, or by clicking here. (You will need Acrobat reader)
A Typical Friday night at the Ridge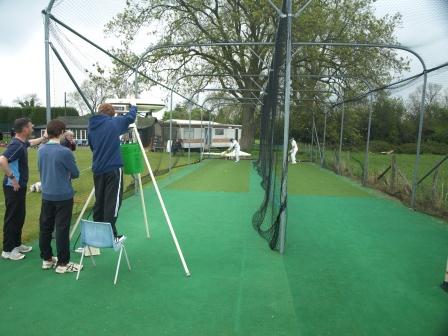 The Bowling Machine
Youngsters typically progress faster with their batting than bowling (hitting things is much easier than putting them where they're meant to be!) and once we're confident that they can take care of themselves at the crease, the bowling machine allows the coaches to precisely control the length, line and pace of the delivery.We can then gradually increase the difficulty and learning capacity in a safe and controlled environment It's only when one of the kids asks what it's like to face a hundred mile an hour delivery that you'll hear Angie and Sophie (our child welfare officers) come running across the outfield screaming Nooooo!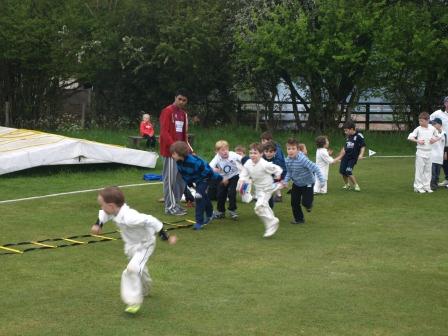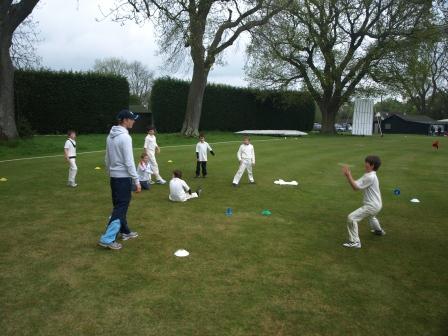 This might look like the start of a fun assault course to you, but actually it's a method of improving pedal dexterity and developing speed, agility and concentration.
But if your 7, it's still a fun assault course!
Catching and throwing practice with soft and semi hard balls helps to increase the kids' hand/eye coordination and confidence.
And when it's played as a game of catch/volley ball, it's fun!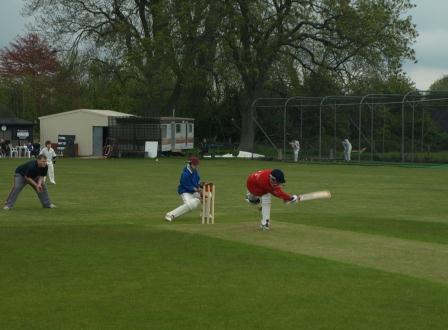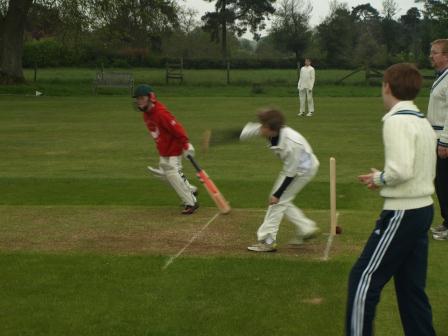 On the Pitch
Once the kids have learnt the basic skills to a level where they can play meaningfully and safely, it's time to don the pads, gloves and helmets and get out onto a pitch to play real cricket.
As well as experiencing the wonders of a real pitch, this gives the coaches (liberally sprinkled around the outfield) the chance to bring the kids game awareness up to speed in areas like calling for runs, backing up and sharpness in the field.
It also ensures that the groundsmen are kept busy